Improving School Environments by Design
Incorporating some of the best design principles means selecting the best products and systems currently available
Sponsored by Inpro, NanaWall Systems, and SOPREMA, Inc.
Accessible Showers
Shower stalls are also an area where accessibility is paramount in school facilities. ICC ANSI 117.1 Section 608: Shower Compartments is the governing standard here and offers guidance based on the type of shower being provided. Three specific types of showers are covered: transfer showers where a wheelchair-bound person can transfer to a (usually) L-shaped seat; roll-in showers that may or may not include a rectangular fold-down seat; and an alternate roll-in shower with a partially enclosed configuration. For each of these options, minimum clearances, sizes, and dimensions are identified for adequate accessibility by a person in a wheelchair.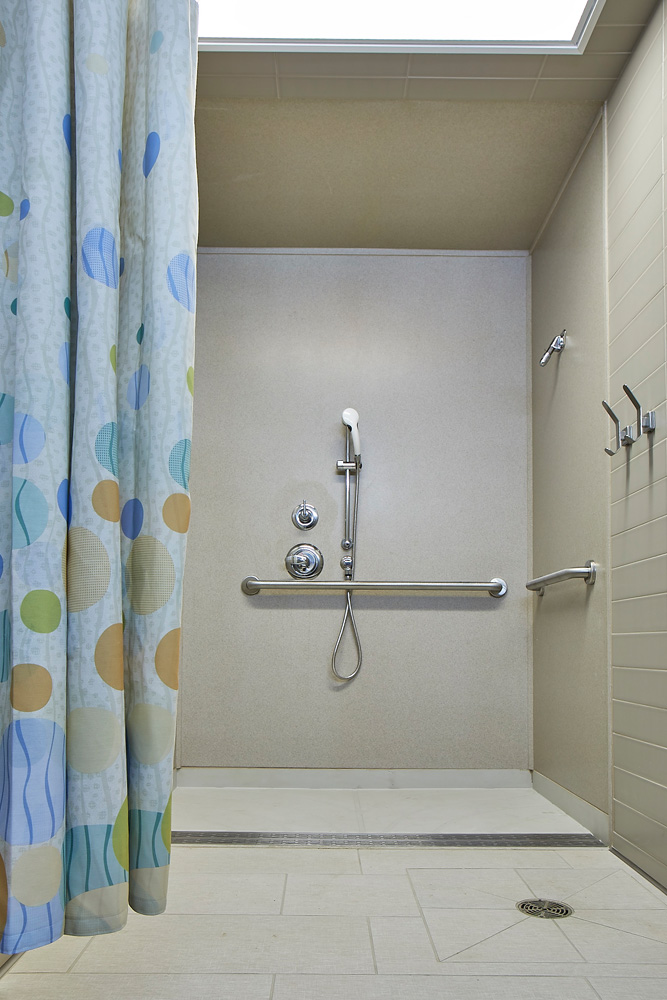 Photo courtesy of Inpro
Accessible shower stalls made from durable solid-surface material can be fabricated in advance to meet project requirements.
Beyond the physical makeup of the shower stalls, there are specific requirements for some details too. These include requirements for grab bars showing the locations, dimensions, orientation (horizontal or vertical), and details of the size and shape of the grab bars provided. Additionally, requirements for the different types and shapes of shower seats are spelled out in detail. All of these parameters are fairly straightforward to address but need to be coordinated based on the type and size of the shower being designed.
Additionally, there are several notable design considerations for accessible showers. One is the use of a trench drain along the leading edge of the shower base to allow for a true roll-in condition with a minimum threshold. Another consideration is the use of shower curtains instead of doors. One advantage of employing shower curtains is the potential for easier compliance where space may not allow for shower doors. Employing a shower curtain with a wide lip and Velcro side-seals edge can lessen the occurrence of overspray, thus reducing slip-fall risk for the bather and any attending staff. Further, the location of convenience items such as soap dishes and caddies is important. The key here is to be aware of and avoid any conflicts with other elements in the shower space, specifically grab bars. Also, remember to take into account ADA Section 308 regarding unobstructed forward and side reach ranges when positioning soap dishes and caddies.
In the interest of simplifying the design of accessible shower stalls, there are fully prepared and assembled shower stalls available that have taken all of these things into account. Some of the preferred ones use solid-surface panels as a shower enclosure and shower base material. Solid surface also offers a great alternative to tile, as there is no grout to trap mold and mildew. Where grout cracks or falls out, there is risk of water getting behind the tile, leading to tiles failing or moisture seeping into the substrate. Further, installation of solid-surface shower surrounds can be finished in one-third the time of traditional tile.
Flexible Space Performance Criteria
We have discussed how operable glass walls can replace the fixed walls of traditional classrooms by opening up interior spaces to common, shared areas or being closed off to create quieter, separated spaces. Operable glass walls can also open up to outside spaces, creating an indoor/outdoor class that provides multiple health and instructional benefits for students. All of these are great attributes for a school building as long as the operable glass walls perform well in a number of key areas, including the following.
Acoustical performance: There are now folding glass wall products on the market able to achieve unprecedented sound control. They utilize sleek, aluminum framing and acoustical glass to achieve optimal sound isolation with a range of STC 35–45. It is important to recognize that the STC rating of any piece of fenestration, such as operable glass walls, depends not only on the STC of its glass but of all of the other materials it is made from as well. Further, the means and methods of assembling the component parts and materials will have an impact as well. Since most fenestration materials are more limited in their ability to reduce sound transmission, the rating of the fenestration as a whole will likely be lower than or equal to the rating of just the glass. The best systems, therefore, are very well detailed to combine acoustically separated aluminum framing and specialized gaskets to hold the glass in place and seal around the perimeter. They also incorporate either insulated tempered glass or multilayer laminated glass with proven high STC ratings to achieve optimized performance. Keep in mind, however, that higher STC ratings in operable glass walls often mean more weight and increased cost. Therefore, it is important to balance the proper acoustical performance needs with these other considerations.
Maximized transparency: Panel frames can be selected that are slim and contemporary, particularly where two adjacent folding panels meet, which means that transparency and visibility are maximized. Of course, if the interior design scheme calls for smaller scaled elements, then horizontal and vertical mullions are also possible. Either way, natural daylight can penetrate through exterior walls, or shared lighting can be achieved in interior spaces.
Folding panel support: With floor-supported systems, the main weight of the unit is carried by the lower wheel assembly gliding on top of a stainless steel floor track. Floor-supported systems are ideal for applications where load-bearing capability of the header is a concern, but they also assist with sound isolation when appropriate gaskets and other components are in place.
Ease of operation: Operable glass walls need to be engineered to be intuitive and quick to operate, allowing staff to easily open or close the system on demand. For a common folding panel design, the running carriage typically rolls on a stainless steel wheel design supported by ball bearings. With a two-point contact of each wheel to the floor track, the system glides quietly and smoothly with less friction by providing an equal distribution of weight on a stainless steel track.
Surface mounted flush sill: A minimal surface-mounted flush sill is one that is ADA and ANSI 117.1 compliant. When installed with finished flooring, it should not only have little if any raised surface, but the gap in the floor track should be minimal as well—as little as 15/16 inch (23.5 millimeters) is available. For easy installation, the shallow sill can be installed on a concrete slab or other subfloor. For design consistency, finished flooring can butt up to the floor track, creating seamless integration between interior spaces.
Integral swing doors: There are times when an operable glass wall is closed, but easy passage through a swinging door is needed for access or code egress. It is thus quite common to specify operable glass walls with swing doors integrated into the side jamb at one end or both to accommodate traffic flow. The height of the doors can match the rest of the operable glass wall, while the width can be any standard dimension up to 3 feet 3 inches (1,000 millimeters). These swing doors may or may not have lower STC ratings than the rest of the system due to their fabrication details. Nonetheless, all other common aspects of a swinging access door can be accommodated, including panic hardware, closers, kick plates, etc.
Energy performance: When operable glass walls are used on outside walls, then energy performance is important both for comfort and minimum code compliance (or better). Testing of the units is available from the National Fenestration Rating Council (NFRC) to verify U-factors, air infiltration, visible light transmittance, and solar heat gain coefficients. Hence, operable glass walls should be specified to meet the same energy performance criteria as other fenestration in a project.
Customization: Most operable glass walls are made to order, which means a variety of customizable options are available. This includes systems that open to the left or right or can be split both ways, either symmetrically or asymmetrically. Of course, the glass type and any visual treatments (translucent portions, etched designs, etc.) can be specified to meet both performance and aesthetic requirements. The panel frames are most commonly made from aluminum for use in schools and are available in many standard anodized or durable paint colors. There are also adjustment features available to assure proper fit in the opening over time should the building settle or other normal movement occur.

Photos courtesy of NanaWall Systems
Spaces separated by folding glass walls no longer need to suffer acoustically, especially in loud spaces like gyms, since new products are available that are designed and detailed to achieve ratings on the order of STC 35–45.
David Esely, AIA, is a project architect with Hollis + Miller Architects. He has observed the performance aspects of the folding glass doors the firm has specified, saying, "When closed, very little sound penetrates, which allows for diverse learning opportunities on both sides of the panels simultaneously. When the panels are open, the opportunities within the space transform and can then be tailored to specific instructors' needs and requirements. This is all done with ease, speed, and frequency."
Notice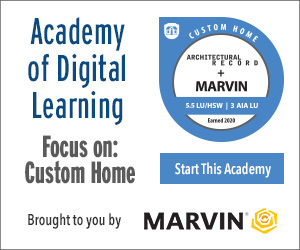 Improving School Environments by Design
Buyer's Guide
Solarity® Solar Shades

Traditional blinds are all or nothing: If you want to block the sun's heat or glare, you have to block your view as well. Inpro Solarity
®
Solar Shades bring balance to this struggle. They preserve the view while cutting glare and heat gain, with our energy modeling showing an annual savings of up to 9 percent in energy costs.
SL64 Acoustical

NanaWall SL64 Acoustical is the only floor-supported folding opening glass wall to achieve STC 45. The system combines acoustically separated aluminum framing and specialized gasketing with sound-enhanced glass to achieve optimal performance. The ADA-compliant surface-mounted flush sill has only 15/16 inch exposed track, creating true seamless transitions between spaces.
ALSAN® COATING SIL 402

ALSAN
®
Coating SIL 402 is a low-VOC, high-solids, single-component silicone roof coating that forms a durable weatherproof layer on low-slope roof surfaces and substrates. ALSAN Coating SIL 402 provides exceptional UV protection, resistance to standing water, and a reduction in energy consumption and rooftop temperatures.