High-Performance Green Trends
New materials save energy, the environment, and promote collaboration in high-performance green buildings
Sponsored by ClimateMaster, Dow Corning, NanaWall Systems, and Tournesol Siteworks
This test is no longer available for credit
Upcycling Wood to Meet Stringent Codes
Architects who are breaking the boundaries with exterior decks and furniture will want to specify the latest wood products that are dimensionally stable, meet green rating credit criteria and commercial fire ratings. New thermally modified wood products using upcycled domestic lumber can provide UC3B durability (25+ year life) and a Class A flame spread rating. They are splinter, warp, and twist resistant and will naturally weather to a beautiful, rich patina.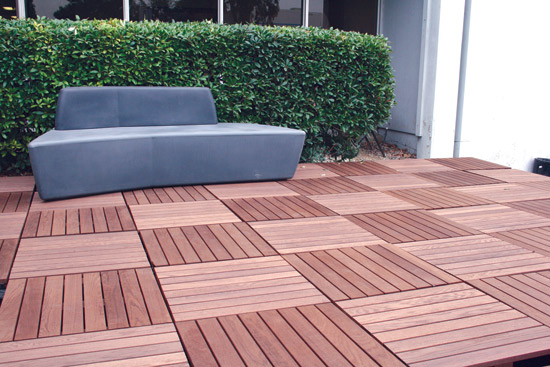 Photo courtesy of Tournesol Siteworks
New thermally modified wood products using domestic lumber can provide UC3B durability (25+ year life), and a Class A flame spread rating. They are splinter, warp, and twist resistant, and will naturally weather to a beautiful, rich patina.
Twenty-five years ago, environmentalists were warning about the destruction of old-growth forests. Primeval forests, composed of hardwoods that are 150 years or older, are prized for their durability, bug resistance, and Class "A" fire rating. As defined by the American Standards of Testing and Materials (ASTM), building materials' fire rating can determine their use in a commercial project. Domestically supplied old-growth lumber, like redwood, has become nearly impossible to find commercially. According to criteria in many green rating systems, the Forest Stewardship Council (FSC) should certify wood selected for use in a project. Founded in 1993, FSC sets standards as to the economic, social, and environmental balance for forests and lumber production.3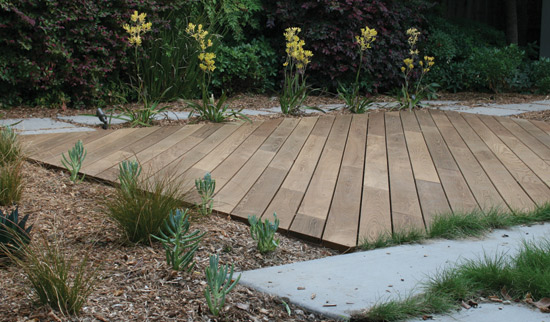 Photo courtesy of Tournesol Siteworks
This wood deck project uses thermally modified wood manufactured from domestic lumber sources.
Commercial owners have come to demand the performance and appearance of South American hardwoods (25+ years unprotected use, high resistance to rot & decay, Class A fire resistance, dimensional stability, and rich dark natural tones) for exterior applications. Architects searching for alternatives for new client demands for sustainable alternatives can now specify thermally modified hardwoods that reduce old-growth logging in the rainforest and still provide the dimensional stability and durability of tropical hardwoods.
Advancements in technology using thermal modification have produced new domestic wood resources as a viable alternative to prevent the continued destruction of fragile ecosystems. Thermal modification is a manufacturing process that originated in Scandinavia, and is used to process tens of millions of board feet annually. Lumber is treated at high temperatures and with steam in special kilns. The process changes the make-up of the wood to create a dark-colored lumber with exceptional rot, pest, and decay resistance. The lumber is 100 percent free of the arsenic, copper, chrome, and other hazardous metals present in pressure-treated wood. In addition to a 25-year plus life span, the wood has a Class A flame spread rating, measured by ASTM E84. The cellular changes that take place in the wood create moisture stability, and prevent warping, twisting, and other wood movement. The wood will naturally weather to a rich patina, similar to the South American hardwoods. No special tools are required to construct decks using this lumber and it can be cut, drilled, and otherwise modified similar to red oak or ash lumber.
In addition to using FSC-certified domestic lumber as a source for thermally modified wood products, architects can also participate in the upcycling of urban forests. The Emerald Ash Borer was discovered in the US in the 1990s, and to date has caused the death of millions of ash trees, many of which were planted as street trees to replace the Elm tree, which had also died decades ago because of an invasive pest. According to the U.S. Forest Service, reclaimed wood from all dead and diseased community trees could equal 3.8 billion board feet or nearly 30% of annual hardwood consumption in the United States. Instead of downcycling this lumber for use as mulch and wood chips, manufacturers are taking advantage of this resource to upcycle or repurpose thermally modified Ash for quality street furniture and wood decking. This reintroduction into the supply chain means not only the reduction of wood harvested in the rainforest, it also reduces the pressure on domestic forests.
Specifying thermally modified upcycled wood from urban forests or wood with FSC certification provides a new means to meet green certifications for renewable resources. Many of these credits focus on the life-cycle analysis of wood used in projects from harvesting through distribution. For example, the United States Green Building Council in version 4 of LEED® is designed to: "encourage the use of products and materials for which life cycle information is available and that have environmentally, economically, and socially preferable life-cycle impacts. To reward project teams for selecting products verified to have been extracted or sourced in a responsible manner."4 Using FSC-certified wood products contribute to meeting the requirements for MR c7 Certified Wood Credit.
There are also community benefits to upcycling the urban forest. Cities that are losing their tree canopies to disease can take advantage of this lost resource by using the wood for site furnishings, small parks, or as part of community buildings. The recent increase in high-tech solutions for rapidly disappearing resources has benefitted both architects who design new construction as well as those who are involved with the preservation of historic buildings.
Materials and Methods Matter
Using appropriate technology and new materials has created new resources for sustainable designers who are solving environmental challenges. The AIA is beginning a program that will allow architects to track green materials and methods, to help architects choose materials for healthier and more efficient buildings. They encourage architects to carefully choose their materials. They suggest that architects focus on the larger areas of a building that are the big "ticket items" and begin their considerations early in the design process.
The AIA recommends that architects: "Don't compromise on performance. Durability, safety, and energy efficiency are important sustainability characteristics, and the greenest choices help on those fronts as well. Products have to play well with others to create energy-efficient and durable high-performance assemblies. Ideally, these assemblies will also be detailed to allow for easy disassembly when the time comes to replace some of their elements, or even the entire building."5
For many architects the latest trend in the green movement means the adaptation of smart technology. Increasing energy efficiency, providing digital controls for smaller, plug-in HVAC systems, creating smart spaces with flexible walls, and saving natural resources by upcycling and using new ecological manufacturing processes are just a few of the next wave of new sustainable technology.
Originally published in Architectural Record
Originally published in October 2014
Notice