High-Performance Facade Solutions
First impressions are important, but it's what's on the inside that counts.
Sponsored by Construction Specialties, EXTECH/Exterior Technologies, Inc., New Millennium Building Systems, and SAFTI FIRST Fire-Rated Glazing Solutions
This test is no longer available for credit
Steel Facades
Opaque portions of facades are needed in addition to the portions that allow in daylight, and often the question arises as to what material should be used to skin or clad those opaque areas. Here, there are seemingly limitless approaches with different products used to articulately detail facades in innovative ways that can transform buildings. While there are numerous choices, one that is being looked at creatively is the use of pre-finished steel panels.
Steel is one of the most commonly used materials for a structural system in buildings. A variety of components such as wide-flange beams, tube steel columns, and steel angles are prevalent in design and construction. Steel joists, roof, and floor deck round out a comprehensive structural steel package. Going beyond the constituent elements, a system-based approach helps to maximize efficiency. When all of the elements work together, the structural system meets engineering, economical, and aesthetic requirements. This holistic design strategy creates designs that are more cost-efficient since they use less material and, summarily, less waste. But those systems need to be coordinated with the design of the facade too, particularly since it is common for current building designs to take advantage of more integrated structural-steel systems. This approach moves beyond the practice of simply specifying individual steel elements and instead allows architects to engage more engineered, holistic ways to achieve cost, performance, and aesthetic goals.
Consistent with this approach, architects and building owners have begun to investigate and create some novel cladding and canopy solutions. One of the ways to do this is by using structural-steel decking (i.e., found in specification Division 5) for facade cladding in lieu of the typically more expensive architectural metals (i.e., found in specification Division 7). Such structural-steel decking is engineered for strength and durability and comes in a variety of profile shapes and depths that are often exposed to the interior as an exposed ceiling in many steel buildings. The attachment and field installation processes are well known and can produce a consistent, controlled performance related to loading conditions. Further, the appearance can hold up well over time. It should not be a surprise, then, to realize that this steel decking is being used not only for the underside of horizontal canopies on building exteriors, but also for vertical facades.
Standard profile deck along with long span deck can be readily installed vertically, minimizing joint lines and creating an attractive exterior cladding. The engineered corrugations in the decking can be sized to hold up against wind, weather, and usage as appropriate to the project location—making it suitable for a permanent or sacrificial skin or a rain screen on a facade. The same material can serve as a sun screen or solar shading device where appropriate. Steel deck is typically galvanized, and there are even options for variations like using stainless steel. Coatings can also be introduced to contribute to the durability of the material and longevity of the facade.
Recognizing the suitability of steel deck in exposed exterior locations, manufacturers can offer a range of pre-finished options using a variety of coatings. The coating systems are as attractive as they are performative. These coatings can handle aggressive conditions like swimming pools with corrosive chlorine, saline environments, or areas of high humidity. They are also effective at handling extreme environments such as marine locations and full ultraviolet exposures. Even in these situations, the pre-finished coating systems can carry warranties and withstand chalk and fade over the years.
These pre-finished products also give architects a broader design palette allowing color, pattern, and texture to be selected to suit particular aesthetics. Regardless of the final look, these new pre-finished deck options eliminate on-site painting or finishing—thus saving time during the construction process. The pre-finishing also helps to assure a consistent and uniform appearance.
Regarding sustainability, pre-finished materials eliminate the need to paint on the job site. Applying coating systems in a controlled setting reduces the risk of exposure to volatile organic compounds (VOCs) on the project site. Durable, pre-finished solutions lead to longer service life and minimal maintenance; longer service life leads to favorable life-cycle assessments. Further, steel is one of the most recycled building products in construction.
Alex Therien, AIA, LEED AP, is the market development manager for New Millennium Building Systems and works with integrated steel decking and cladding. He points out, "These structural products and coating systems were developed to address a design team's aesthetic goals meeting their necessary criteria. By effectively eliminating extraneous materials, this creative facade approach is helping designers achieve their vision without sacrificing aesthetics, performance, or budget."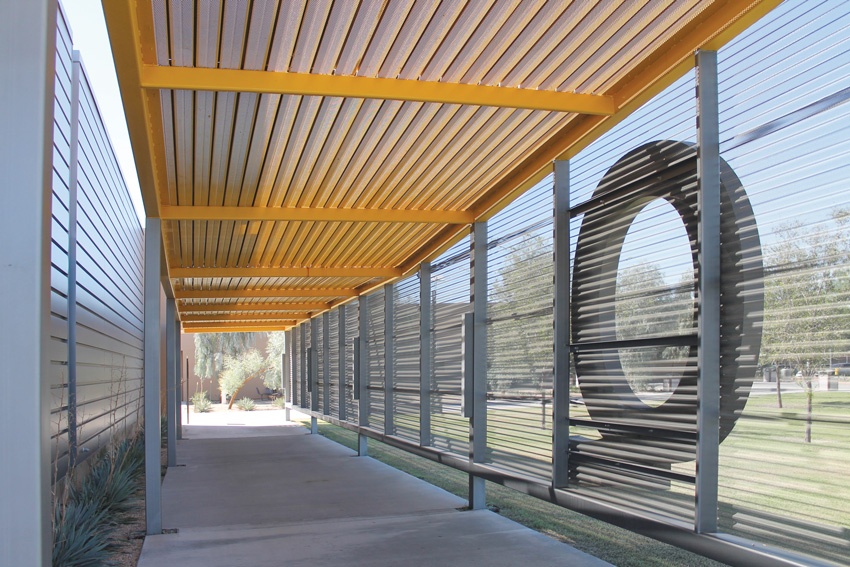 Photo courtesy of New Millennium Building Systems
Pre-finished or stainless-steel deck can be used for a variety of building exterior applications, including vertical facades, horizontal canopies, or sunscreens and shades.
Fire-Rated Curtain Wall Facades
A common means of creating a commercial building facade is to use a curtain wall system that spans vertically across multiple floors. Such systems provide a variety of options for appearance, glazing, and performance to suit a variety of building conditions. In some cases, the curtain wall is also required to meet fire rating requirements, usually because the building is close to or directly on the property line triggering the building code to dictate a minimum fire resistance in the interest of public safety. In that case, the entire curtain wall assembly must be shown to carry a fire-resistive rating as evidenced by independent testing and certification.
The type of products available that can meet this need are those that can show they comply with the requirements of ASTM E119 "Standard Test Methods for Fire Tests of Building Construction and Materials." Following this standard, transparent barriers such as glazed curtain walls that use fire resistive glass and aluminum framing have demonstrated fire-resistive ratings of up to 120 minutes (2 hours). Because it is the whole system that needs to comply, not just any component, manufacturers of such systems are often involved directly with architects and other design professionals by providing a full array of technical services before, during and after a project. They may also be able to assist in code interpretation, product selection and design assistance all before a project is let for bid.
The primary function of fire-rated curtain wall systems is to enhance the safety of the building's design and ultimately that of the building's occupants in the event of a fire. However, they are also multi-functional in that they can be used to enhance the energy performance of the overall building envelope too. Such products are typically more robust than non-rated products and when combined with high-performance glass coatings, they can offer excellent overall U-Factors, Solar Heat Gain Coefficients (SHGC) and Visible Light Transmission (VLT). As a design resource in this regard, some glazing and framing products and systems can be researched as part of a program by the National Fenestration Rating Council (NFRC). This national organization provides the Component Modeling Approach (CMA) Software Tool (CMAST) for determining the predicted energy performance of fabricated fenestration of all types, including curtain walls. They also provide the CMAST Certified Products Directory (CMAST CPD) for Non-Residential Fenestration Energy Certification and Rating as a resource for designers to identify products that have been pre-tested and approved for stated energy-related performance characteristics.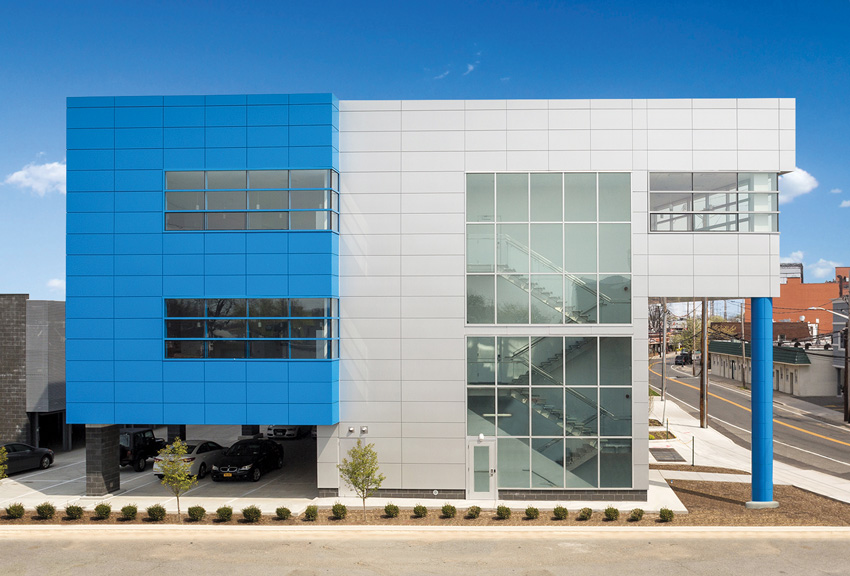 Photo courtesy of SAFTI FIRST Fire-Rated Glazing Solutions
At this private office building in New York, a 1-hour fire-resistive curtain wall system was used to bring natural light into the stairwell while creating a fire separation between the building and the adjacent parking lot.
The same attributes that make these curtain wall systems suitable for fire protection and energy efficiency also contribute to ready customization to include characteristics suitable for protection in other conditions too. This can include impacts from severe weather such as hurricanes or tornadoes, resistance to impact from projectiles or even bullets, and blast resistance where needed. In cases where sound attenuation is a concern, the glazing and the system can be designed to meet Sound Transmission Class (STC) or Outdoor Indoor Transmission Class (OITC) sound ratings. Overall, they can produce a well-rounded, code-compliant, high-performing fenestration and facade system.
From a design standpoint, architects do not have to choose between meeting design or performance requirements—they can have both. The fire-resistive curtain walls can mimic the appearance and performance of their non-rated counterparts and blend in seamlessly. As fire-resistive walls, it is worth noting that these products are appropriate for interior applications as well as exterior ones. They can enable architects to keep a consistent design intent and clear views while meeting fire-rated code requirements for interior or exterior conditions.
Tim Nass is vice president of national sales with SAFTI FIRST, a manufacturer of fire-rated glazing and curtain wall systems. He points out that "Architects will often inquire about ancillary performance levels like sound attenuation, U-Factor or Visible Light Transmission. They are often unaware that these products have been fabricated to match specifications for specific projects and are tested under dynamic conditions for total performance." In that regard, the performance is less about looking things up on a table and more about working with a fabricator to achieve the performance levels desired. From an appearance standpoint, Nass points out "These systems also have the ability to match the non-rated products to maintain a consistent aesthetic between the exterior and the interior." In all, such systems are fully customizable to meet the needs of specific projects.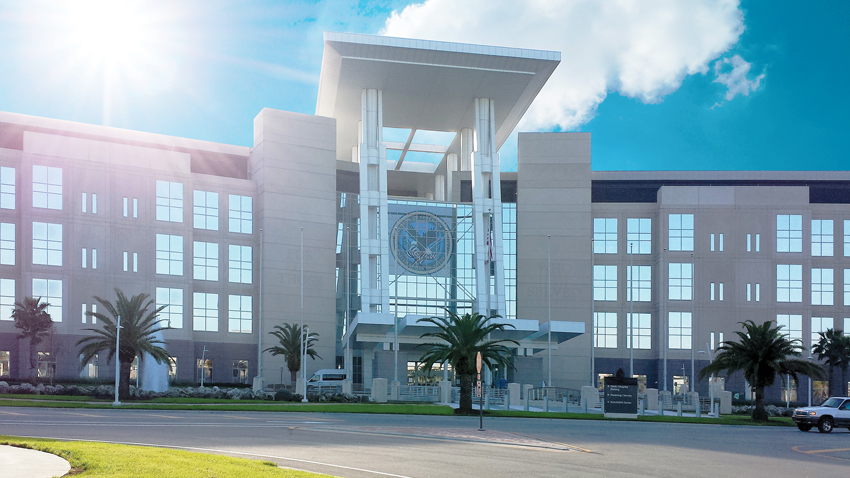 Photo courtesy of SAFTI FIRST Fire-Rated Glazing Solutions
At the VA Medical Center in Orlando, Florida, a 2-hour fire-resistive, hurricane-rated curtain wall that meets HVHZ (high velocity hurricane zone) testing requirements was incorporated into the design.
Originally published in Architectural Record
Originally published in November 2017
Notice