Healthy School Buildings Mean Healthy Students and Healthy Learning
Using K–12 building design to improve student experiences
Sponsored by ASI Group, Construction Specialties, CornellCookson, Elkay®, Excel Dryer, GAF, Inpro, NanaWall Systems, and Scranton Products®
Learning Objectives:
Identify the significance of using independent research as a basis for making design decisions in schools.
Assess the health and safety performance aspects of a variety of design characteristics and materials as they relate to durability and sustainability.
Explain the importance of making design decisions that have positive impacts on student performance, indoor air quality, and health.
Determine ways to incorporate the design principles presented into buildings that are sustainable and high performing as shown in project examples.
Credits:
This course can be self-reported for Learning Units to the Architectural Institute of British Columbia
The American Institute of Architects (AIA) Committee on Architecture for Education (CAE) has more than 8,000 architects and allied professional members across the United States. It serves as a think-tank group "committed to enhancing design of educational facilities through thoughtful, research-based, and collaborative programming, planning, and design." In that vein, the AIA-CAE also includes a very active subcommittee focused specifically on research. Through international collaborations, it has published research findings specifically focused on how physical learning environments impact students from the standpoint of learning, human health, and well-being. Since good health/well-being and good student performance are inextricably linked, there are multiple reasons to design K–12 spaces that promote and protect these traits, not detract from it. Research-based strategies such as creating appealing outdoor play spaces, improving a school's indoor environmental quality, letting in more natural light, thoughtfully selecting surface materials, providing a safe place to learn, and controlling restroom experiences can all help to improve students' health and well-being. With all of the above in mind, this course focuses on some of the products, materials, and methods available to help create functional, healthy, safe spaces for school students, teachers, and others who use the buildings.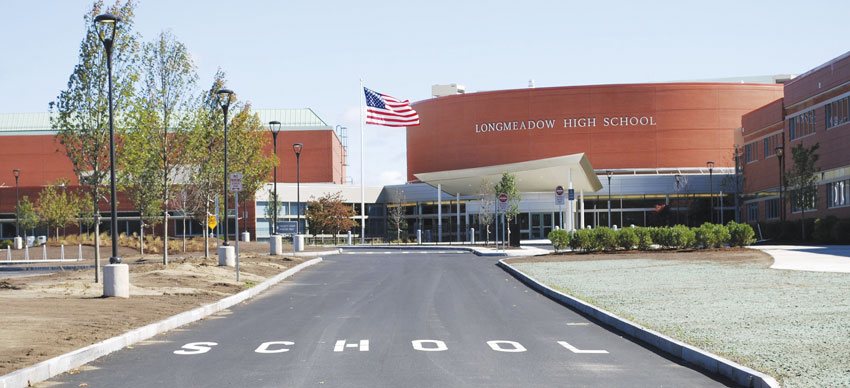 Photo courtesy of Excel Dryer
School environments are intended for good learning outcomes, which means that health, safety, and well-being need to be designed into the buildings to facilitate those outcomes.
Outdoor Areas
One of the fundamental aspects of health that has received more attention lately is the promotion of physical activity by K–12 students, particularly as an alternative to extended, sedentary time periods in front of electronic devices. In order to facilitate that, there needs to be appropriate outdoor spaces for students to engage in organized or spontaneous play, sports, or athletic activities. In many cases, that means a paved area is needed or preferred. Some school designs may use a parking area to double as such a paved open area, or they may be designed for other specific purposes. Either way, the surface of that paved area becomes a significant design item.
Asphalt pavement is commonly used for such outdoor play, parking, bicycle, and pedestrian areas. Invariably, they are seal coated in black asphalt in a traditional manner as part of their ongoing maintenance. That can mean black soot is transferred from foot traffic into school buildings, increasing cleaning and maintenance costs. It can also mean that the pavement gets very hot in the sun, adding to the "heat-island" effect and making them less appealing for play. As an alternative, colored pavement coatings are a cost-effective, sustainable, and transformational option. Coated pavings on school campuses achieve a familiar gray uniform appearance but typically have solar reflectant components that sizably lower the pavement surface temperature, contributing to a reduction in the heat-island effect. Typical two-part water-based pavement coating technology also increases the durability of coated parking lots so the underlying pavement is less vulnerable to the impacts of vehicular and pedestrian traffic.
Perhaps most relevant, multiple studies show an increase in children's playground activity when pavement surfaces are designed with bright-colored coatings. Michelle Carlin, senior product manager of coatings at GAF, notes, "Peer-reviewed studies have indicated that brightly colored stenciling on playground and school yard areas lead to a dramatic increase in students' physical activity. And, whether you are transforming the pavement on an elementary school or a college, coatings that are solar reflective and maintenance deferring offer sustainable and protective designs to help campuses showcase their identity, logos, and culture."
Beyond these features, pavement coatings are cost-effective when compared to traditional asphalt sealing due to the longevity of coatings. Coatings are flexible once applied and designed to conform to the normal expansion and contraction of asphalt surfaces. They are resistant to the harmful effects of UV rays from which pavement needs protection. They are available in a wide range of colors that allow for great creativity and purposeful designs that can enhance sports needs or creative play. They can go a long way toward making the outdoor areas more appealing to children and adults alike.
School campuses can also benefit from stamped asphalt designs to emulate the appearance of pavers without the downtime or seams associated with pavers. Such stamped pavement can be designed to be ADA compliant and still be covered with a coating to protect the surface and add colors. The coatings are slip resistant, and the stamping can be controlled in a uniform manner to prevent any trip hazards.

Photos courtesy of GAF
Coated pavements provide a cost-effective outdoor surface that can help increase students' physical activity, reflect solar radiation, and provide a cultural identity for a school.
Sun Controls
Allowing the outdoors into a school building through the use of natural daylight is proven to improve well-being and productivity in schools. However, excessive daylight can lead to uncomfortable glare and could add more solar heat gain than desired. For these reasons, providing a solution for controlling or directing daylight into interior spaces is important for a successful outcome. Research indicates that there are different design options that can yield the sought-after results.
Exterior Sunshades
Exterior sunshades have become a common and popular design solution, as they let filtered light into a building while still allowing occupants to see out. They are particularly attractive to architects because exterior sunshades are fully customizable to suit the design of a particular project or facility. Different components are available to create a complete system, including an array of patterns, hues, textures, and lighting.
Manufacturers offer a variety of custom architectural metal products, from geometric grilles to screening to cantilevered sunshades to completely unique and custom aluminum facade solutions. It is also possible to work directly with a manufacturer who offers full design assistance, including specification help, CAD detailing, and 3-D modeling.
From a performance perspective, exterior sunshades help protect people and property against harmful UV rays and reduce unwanted solar heat gain inside the building. That can improve the energy performance of a school building and even contribute toward LEED certification. Sunshades can also act as a vision barrier or sight interruption for certain applications. From a design perspective, sunshades are the architectural jewelry for the building that can be used to create highlights by utilizing different architectural treatments, such as perforated blades, twisted extrusions, or LED lit sunshades.
Interior Sun Shades
Controlling daylight and glare from the inside of a building is a design option in many cases for school buildings. Textured roller shades can be used that allow diffused daylight to pass through but use the fabric appearance of the shade to reduce the total light. Thus they reduce glare, add comfort, and produce a favorable light quality inside the building while still allowing views through to the outdoors. The use of natural daylight and views in schools has been demonstrated repeatedly to improve student moods and learning. An opaque or room-darkening choice can be also be added for times when audio visual equipment is in use.
Beyond light quality, interior sun shades have been studied and shown to help with the rejection of solar heat with a positive impact on reducing energy needs for cooling as a result. For example, independent research using computerized energy models run for a medium-sized, two-story building in the Midwestern United States compared a baseline building with no window shades to a building design that incorporated interior sun shades. Different types of shades were modeled that ranged in the percentage of openness in the fabric (i.e., less openness equals more shade fabric per square foot). The results of the modeling and analysis showed that annual energy savings related to space cooling, heat rejection, and ventilation fans could be realized between 5 to 9 percent. These savings were attributed to the ability of the fabric to reflect solar heat and keep the building from overheating on sunny days. Hence, this data demonstrates that it is possible to provide daylighting while still having a positive impact on overall energy use in a building.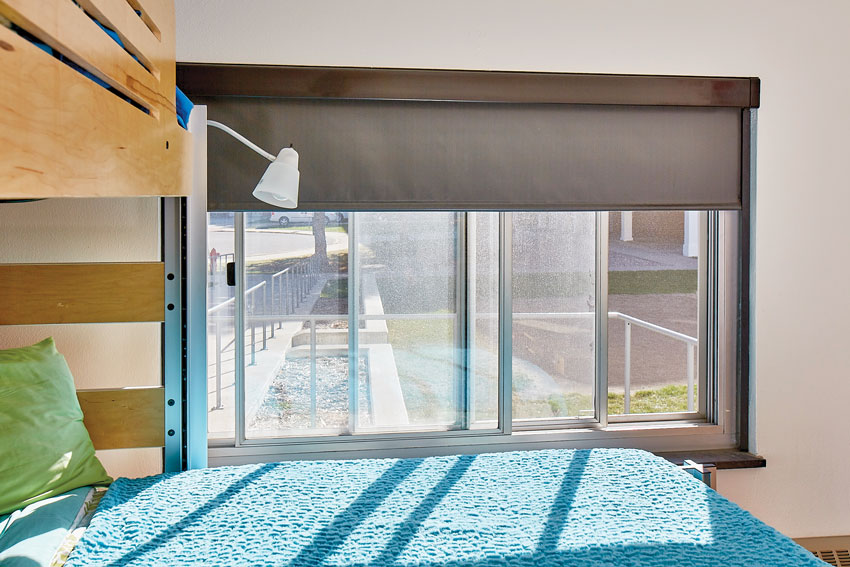 Photo courtesy of Inpro
Interior roller shades with textured fabric maintain connections to the exterior while still reducing glare and helping with energy performance by reducing solar heat gain.
Originally published in Architectural Record
Notice