Health and Safety in Hospitality and Retail
Designing public places in a post-pandemic world
Sponsored by Bison Innovative Products, CornellCookson, Mitsubishi Electric, and Tamlyn
Learning Objectives:
Identify systems that help architects create outdoor spaces that are safe for restaurants, hospitality venues, and retail areas.
Assess some of the common options available to provide enhanced HVAC systems that protect human health while addressing energy concerns.
Explain the importance of selecting products for interior surfaces that are hygienic, easy to clean, and durable for the safety and health of occupants.
Determine ways to incorporaterolling overhead doors and grilles that improve safety and security in retail and hospitality buildings.
Credits:
This course can be self-reported to the AIBC, as per their CE Guidelines.
This course is approved as a Structured Course
This course can be self-reported to the AANB, as per their CE Guidelines
Approved for structured learning
Approved for Core Learning
This course can be self-reported to the NLAA
Course may qualify for Learning Hours with NWTAA
Course eligible for OAA Learning Hours
This course is approved as a core course
This course can be self-reported for Learning Units to the Architectural Institute of British Columbia
This test is no longer available for credit
The events of 2020 have brought a new focus on health and safety to many building types but especially hospitality and retail settings. The ability of hospitality venues to rise to public health challenges quickly and provide customers with assurances of cleanliness, controlled exposure to others, and open, well-ventilated spaces has become paramount. Retail establishments have many of the same concerns but have also become more aware of the need for safety and protection in the event of unlawful entry or looting. This course looks at some of the ways that addressing these concerns is possible through designs that incorporate products, systems, or other components with proven capabilities.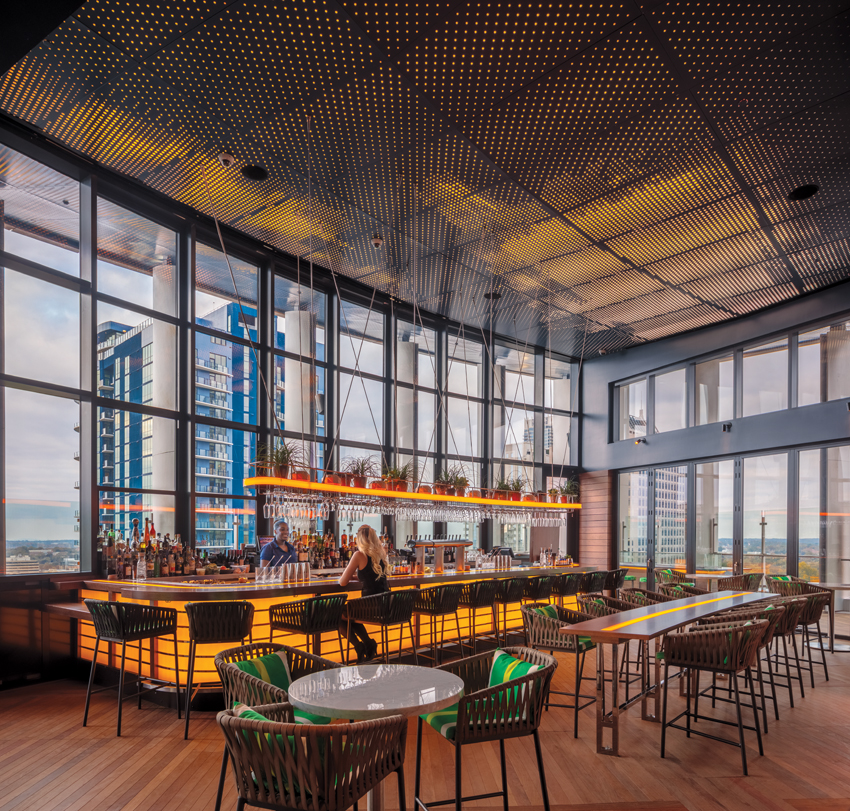 Photo: Brad Feinknopf/OTTO; courtesy of Bison Innovative Products
Hospitality and retail settings are seeking a return of business following the pandemic, and architects are designing spaces now to help with ongoing public health, safety, and welfare.
Relatedly, The American Institute of Architects (AIA) quickly recognized that there are changing needs not only in the ways that retail and hospitality buildings are operated but also how they are designed or renovated. As a result, during 2020, the AIA established a team of architects, public health experts, engineers, and facility managers to assess and prepare the built environment for reopening during outbreak cycles of the COVID-19 pandemic. Ultimately, a report was issued titled "Reopening America: Strategies for Safer Buildings" (available for free on the AIA website). This AIA report, as we will refer to it throughout this course, identifies some basic health issues and operational actions for consideration in retail and hospitality settings.
CREATING USABLE OUTDOOR SPACES
While retail and hospitality buildings are often focused on the interior spaces, the pandemic created an immediate and growing desire to find outdoor spaces for people to safely use, particularly in hotels and restaurants. The Centers for Disease Control and Prevention (CDC) and the AIA report indicate that people are less likely to spread disease in outdoor settings than inside buildings. Rooftop decks, terraces, and patios are a way for hospitality and retail spaces to create such outdoor eating, lounging, or bar areas. Similarly, parklets, or pop-up parks, can help restaurants and other businesses by offering outdoor sidewalk café settings to accommodate more patrons. The challenge architects face when designing these spaces is finding a suitable system of materials that is both durable and aesthetically pleasing while also being able to accommodate sloped substrates, delicate waterproofing membranes, and other common structural elements.

Photos courtesy of Bison Innovative Products
Outdoor spaces such as roof terraces have become prized for their ability to provide appealing, safe spaces for retail and hospitality buildings.
Modular Deck Systems
The answer to this design challenge is often found in modular and versatile deck systems that are supported by either fixed- and/or adjustable-height pedestals. Such pedestal deck systems can commonly be used over any structural surface: on bare structural decks, rooftop decks, roof membranes, green roofs, plazas/terraces, compacted grade, pavement, or pool surrounds. These systems typically allow architects to use a variety of deck surface materials, including wood, stone, structural porcelain, crushed rock, grating, artificial turf, and even concrete to create unique custom looks that are consistent with the design intent of the surrounding spaces. An adjustable-height pedestal system is also an ideal solution for water-feature applications. The system conceals the water supply between the pedestals and beneath the surface materials, allowing water to drain to the surface below for recycling. Additionally, these supports are impervious to water, mold, and most chemicals.
Pop-Up Parks
An emerging trend is to create an outdoor space in the form of a "pop-up park." These are commonly used to reclaim car-designated zones (i.e., parking spaces or extra traffic lanes) for pedestrian use. Pop-up parks vary in size and could encompass a one-car parking space, many spaces linked together, a reclaimed portion of a lot, a whole block, or a full lane. Many parks offer seating areas, gardens, bike parking, exercise, and other amenities. They were first recognized in San Francisco and New York in programs like Pavement to Parks. In some cases, these parks were defined as "removable" to expedite design review, permitting, and construction.
To create pop-up parks, level platforms, such as modular pedestal decks, are built on top of existing pavement and populated with planters, railing, benches, furniture, and other accessories. This allows for low installation costs since they can be installed in a way that does not require reconfiguring the streetscape, doing much if any demolition, or altering utilities. They are typically paired with nearby businesses to help with their use and upkeep. Sometimes, parks can be hosted or sponsored by local groups and organizations that pay to design and build them and agree to keep them maintained. They are usually small scale, affordable, flexible, and often temporary or mobile.
Regardless of where or how they are used, adjustable-height deck systems commonly incorporate three types of components as described in the following sections.

Photos: John Mannillo; courtesy of Bison Innovative Products
Pop-up parks reclaim outdoor spaces for pedestrian use, including seating and dining, making them ideal for restaurants and other establishments to provide options for their customers.
Deck Supports
Adjustable-height pedestals are the fundamental support system for the deck and have become recognized as one of the most labor- and cost-efficient methods of creating a level deck over a moderately sloped surface. High-density polypropylene plastic that is 100 percent recyclable is a common material used to manufacture the supports. This makes them impervious to water, mold, and freeze-thaw cycles. Their adjustability offers tremendous design flexibility compared to traditional deck-building materials and methods. Using a gravity system, the supports do not penetrate but rather protect roofing and waterproofing membranes thus, causing no damage or harm to the surface below.
The location of the pedestals is typically based on a modular layout that follows the size of the material used on the deck surface. Commonly, this is a 2-foot x 2-foot square grid, although many other sizes are possible as well. Adjustable pedestals are available in a range of heights and weight-bearing capacities to suit a variety of conditions or needs. Those decks carrying more weight or requiring more height to achieve a level condition will need a higher grade of pedestal. Adjustable-height pedestal systems can support decks over occupied spaces, allowing space for electrical systems, duct work, and irrigation.
Deck Surfaces
The versatility of adjustable pedestal deck supports means that they can be used to elevate a variety of decking surface materials. The common options include pavers made from concrete or stone, such as granite or travertine. Similarly, structural porcelain tiles, fiberglass grating, composite materials, or conventional wood decking systems can be used in a grid pattern to meet different design requirements. Typically, a galvanized steel paver tray is installed on top of the pedestals to support structural porcelain pavers or others. Surface materials can be removed for routine maintenance, repairs to the roof, or to gain access to other systems.
If a lighter-weight surface material is preferred or needed, wood tiles are a good alternative, weighing only one-third as much as concrete tiles. Typically made from hardwoods in a variety of species, wood tiles are commercial grade, responsibly harvested, and available in standard and FSC-certified hardwood options for sustainability. If maintaining the wood color is desired, wood tiles can be periodically cleaned and sealed. Left to weather naturally, the wood tiles will develop a silvery-gray patina.
Site Furnishings
Manufacturers of pedestal deck systems also offer coordinated, modular elements that are designed to integrate with their deck systems while giving the architect complete design flexibility. Modular wood cubes are available with an array of design options to incorporate seating, storage, and planters. Such cubes are available with a polyurethane lining and drainage holes to host plant life. At other times of the year, the cubes can be repurposed for seating and storage of seasonal items (i.e., cushions and pillows) by placing a manufactured hardwood top on the cube.
If a different look is desired, aluminum cubes are also an option. Designed to withstand temperature extremes, these low-maintenance, durable planters are constructed of lightweight, partially recycled aluminum. Some use an industrial strength powder-coated finishing process that is applied electrostatically and cured under heat, creating a more resilient finish than conventional paint. There are a variety of size and color choices available.
Overall, complete, coordinated modular deck systems as described here can be designed and specified to create attractive, durable, and sustainable outdoor spaces.
Originally published in Architectural Record
Originally published in June 2021
Notice