Harvesting Rain: System Design for Strategic Rainwater Capture
Conserving water through rainwater harvesting saves natural resources, providing water for use in buildings and for site irrigation
Sponsored by Watts Water Technologies, Inc.
Storage Above or Below Ground
Concrete, wood, metal, clay and plastic water storage vessels come in many shapes and sizes. The storage tank or cistern is one of the most critical components of the rainwater system and generally the most expensive part of the system. The storage tank needs to be placed as close to the catchment area as possible and the size determined by calculations based on the demand, frequency of rainfall, surface area, budget and aesthetics. Water flows downhill and the placement of the tank in relationship to the catchment areas and filters is important for maximizing rainwater collection.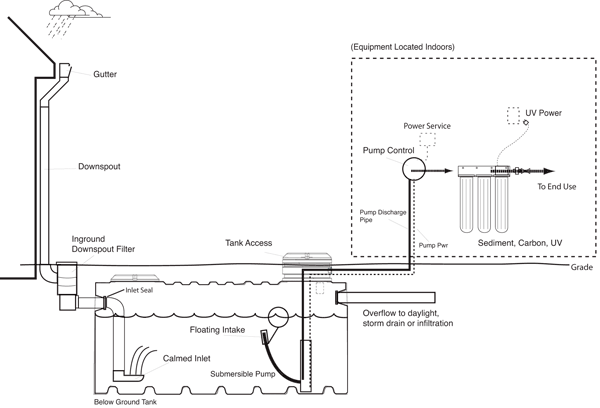 Graphic courtesy of BRAE
Diagram of a below-ground rainwater collection system
Rainwater storage tanks come in many sizes and configurations. They include the following:
Rain barrels are the most widely chosen type of storage by homeowners. They can come in many sizes and typically a 55- to 75-gallon drum is used to water plant beds. For greater storage, barrels can be linked in series.
Galvanized sheet metal tanks are often chosen for urban or suburban locations. Some designers like the rural look of these corrugated round tanks. They are available in sizes from 600 gallons to over 600,000 gallons and are lightweight and simple to build. The larger tanks might be used for schools or high-rise buildings. If zinc coated they are corrosion resistant and the interior can be fitted with a PVC liner or coated with approved paints.
Wooden tanks are also a popular design choice for residential water storage. Reminiscent of railway water towers, they are available in sizes from 1600 gallons to 97,000 gallons. Wrapped with steel cables, these pine, cedar or cypress tanks are site built and lined with plastic or vinyl liners.
Above-ground polyethylene tanks are available from 300 gallons to 10,000 gallons. These tanks must be opaque to be effective for water storage. When used below grade, they must have additional reinforcement to withstand soil pressures. Tank fittings and attachments are integral to the tanks.
Fiberglass tanks are durable, easy to repair and can be placed both horizontally as well as vertically. They can be ordered in sizes up to 50,000 gallons. All fittings are integral to the tanks, avoiding the problems with retrofits.
Polyethylene or polypropylene tanks are often chosen for in-ground installation. Polypropylene is more rigid with greater strength to weight characteristics and polyethylene is more flexible. Deeper installations require thicker walls and interior bracing. It is important to review and follow the manufacturer's guidelines for these tanks. Many underground polyethylene tanks for use in septic systems and sometimes considered for rainwater storage are unsuitable. They may need reinforcement, as sidewalls will collapse when they are empty.
Concrete tanks can be poured in place or prefabricated. Structural engineers should determine reinforcing. A rainwater system must have a careful design for the entry and exit of water into the storage tank. Inevitably, some sediment will accumulate in the bottom of the tank even in the most well designed system. Usually a two 90-degree elbows are configured to turn up and direct water towards the surface channeling water via a calmed inlet to minimize sediment disturbance.
Water should not be extracted from the very bottom of the tank. This zone is known as the anaerobic layer. Water should also not be drawn from the very top of the tank due to the presence of floating debris. Water outlets are placed to extract water somewhere between the top and the bottom of the tank storage area.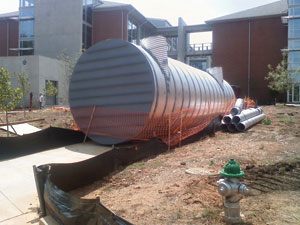 Chart courtesy of BRAE
33,000-gallon underground aluminized-coated corrugated metal tank installed at the University of Georgia, Athens campus for site irrigation
Tanks must be opaque, as small amounts of sunlight along with the presence of organic materials will cause algae growth. They need to be tightly covered and sealed to prevent insects and contaminants to enter the tank. Lids should be tightly fitted and sealed to prevent unauthorized access especially children. All cisterns and storage tanks, either above or below ground must be accessible for cleaning and maintenance.
Local codes may influence whether a tank can be installed above or below ground and whether it will require screening. The height of the water table as well as soil quality will also influence the placement of a tank and designers should review the geology of the site during the planning phase. Consider the following when locating a rainwater storage tank:
Manufacturer installation guidelines
Prevention of overflow into a septic system drainfield
Adjacency to supply and demand
Maintenance
Accessibility for installation and/or removal
Placement on a level pad
Placement in an area not prone to flooding or erosion
By treating a rainwater harvesting system as an integrated part of the overall site and building design, design professionals can develop site "watersheds." A designer may divert rainwater runoff from ground surfaces to landscape areas and separate this rainwater from filtered and stored rainwater catchment from roofs used indoors.
The design of the roof can also be seen as part of the design of the rainwater system. Roofs can be sloped to provide multiple zones or roof watersheds that are integral to both the design of the building as well as the rainwater system. The rainwater system can drive design decisions rather than follow design as an environmental add-on merely to gain points in a green rating system.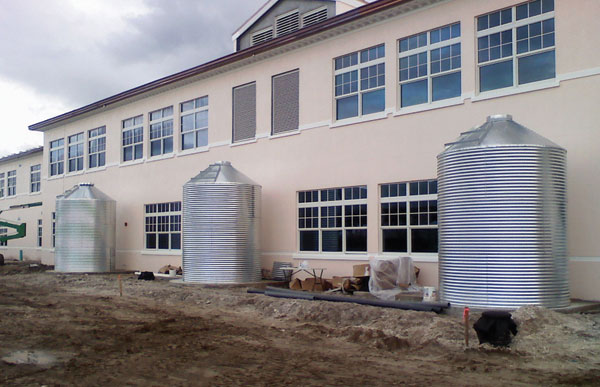 Chart courtesy of BRAE
Multiple 3,000-gallon tanks along the roof's edge collect water for outdoor irrigation at Pine Crest School in Fort Lauderdale, Florida.
Originally published in June 2013
Notice