Green Campus Design
Sponsored by Construction Specialties
Architectural Record

1 AIA LU/HSW; 0.1 IACET CEU*; AAA 1 Structured Learning Hour; This course can be self-reported to the AANB, as per their CE Guidelines; AAPEI 1 Structured Learning Hour; This course can be self-reported to the AIBC, as per their CE Guidelines.; MAA 1 Structured Learning Hour; This course can be self-reported to the NLAA.; This course can be self-reported to the NSAA; NWTAA 1 Structured Learning Hour; OAA 1 Learning Hour; SAA 1 Hour of Core Learning
Learning Objectives:
Discuss how the strategies for energy and water conservation and resilience are deployed at the new Cornell Tech campus.
Define the term "net zero energy."
Explain the principles of Passive House and outline its certification requirements.
Describe some of the design and construction challenges faced by the team behind The House residential tower, slated to be the largest Passive House building in the world.
This course is part of the Resiliency Academy
View course on architecturalrecord.com »
The House
Cornell Tech
Handel Architects
By Joann Gonchar
Not every structure should shout for attention: there's nothing wrong with a well-designed background building. Handel Architects' latest project, The House at Cornell Tech, a $115 million residential tower on the new computer, information, and engineering-sciences campus on New York's Roosevelt Island, could have been a fine example of this notion. Heralded for its pioneering energy-conserving strategies, its form—a shaft extruded from a roughly rectangular footprint—is straightforward, if plain. Its windows are slightly inset, giving the facade's alternating bands of light and dark gray metal some depth. And this skin has other subtle refinements, including its expression as a wrapper, with a louvered vertical "reveal" that extends from the entrance almost to the roof.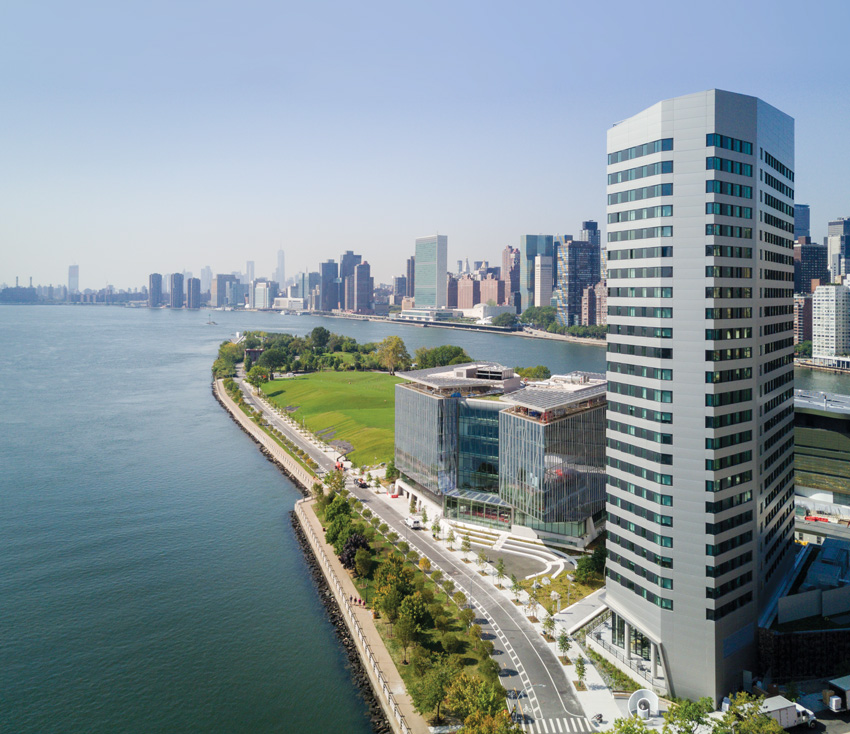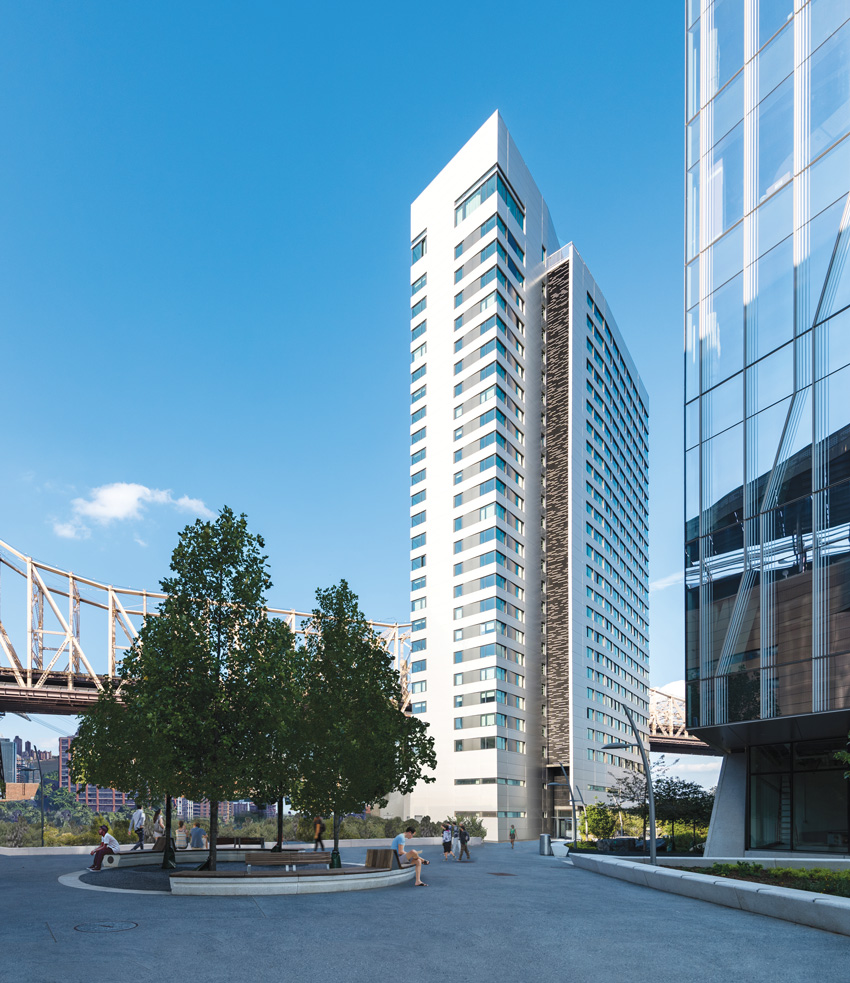 PHOTOGRAPHY: © FIELD CONDITION, EXCEPT AS NOTED; PAVEL BENDOV (TOP)
STANDING TALL
The House (top), a 26-story residential tower, is slated to become the tallest and largest Passive House building in the world. Its superinsulated metal skin is expressed as a wrapper, with a vertical louvered reveal (bottom) that encloses mechanical equipment and extends from the entrance almost to the roof.
There's one problem, however: The House is too tall and too prominent for such a simple response. It sits at the northern end of the 12-acre campus, which could eventually include up to 2.1 million square feet of facilities, and it rises next to the picturesque trusswork of the Queensboro Bridge. The 26-story-tall, 273,000-square-foot building is highly visible from the Manhattan and Queens riverfronts, part of an ensemble with the far more sculptural—and low-rise—Cornell Tech facilities built so far: Morphosis's four-story academic building (page 2) and Weiss/Manfredi's six-story "co-location" building (page 3). It is also significantly taller than the 17-story SnØhetta-designed hotel and executive education center under construction just to the west. Because of its height and placement it dominates its neighbors, but looks flat-footed in their company.
If The House is a missed opportunity for formal invention, it still represents a milestone for green multifamily development. As Handel partner Blake Middleton points out, the 352-unit apartment building for graduate students and faculty is expected to save 882 tons of CO2 per year, the equivalent of planting 5,300 trees. It is designed according to the principles of Passive House—an ultra-low-energy certification system for all building types, not just residential construction.
As part of its aspiration to create a state-of-the-art campus, Cornell included the Passive House goal in its request for proposals issued in 2012. But the developers—the Hudson Companies and Related—were under no contractual obligation to pursue it. Nevertheless, the team embraced this vision and expects official notice of certification shortly. This would make it the tallest and largest Passive House to date anywhere in the world. That is no small achievement.
The main tenets of the program, known as "Passivhaus" in Germany, where it originated, include proper solar orientation; an extra-insulated, airtight building envelope that avoids thermal bridging; high-performance windows; and mechanical ventilation with heat recovery. Handel and its consultants designed to an energy budget that allowed no more than 4.75 kBtu/ft2 be expended for heating and 5.39 kBtu/ft2 for cooling each year and permitted a total energy use intensity (EUI) of no more than 38.1 per year. This figure represents a 73 percent reduction over the median EUI for New York buildings of similar type and size.
The qualities that contribute to these sustainable targets are mostly invisible. The interior looks more like a sleek extended-stay business hotel than an ubergreen dorm. Amenities include a gym and a rooftop lounge with a terrace and grilling area. A ground-floor lounge and coffee bar, which contrasts the exposed concrete structure and terrazzo floors with warmer wood accents, is light-filled and looks out onto the East River and the landscaped campus. The apartments, which range in size from micro studios to three bedrooms, have features like full kitchens with engineered-stone counters. Although glass makes up less than 25 percent of the facade area (a key conservation strategy), the units feel bright, and many offer stunning views of the Manhattan skyline.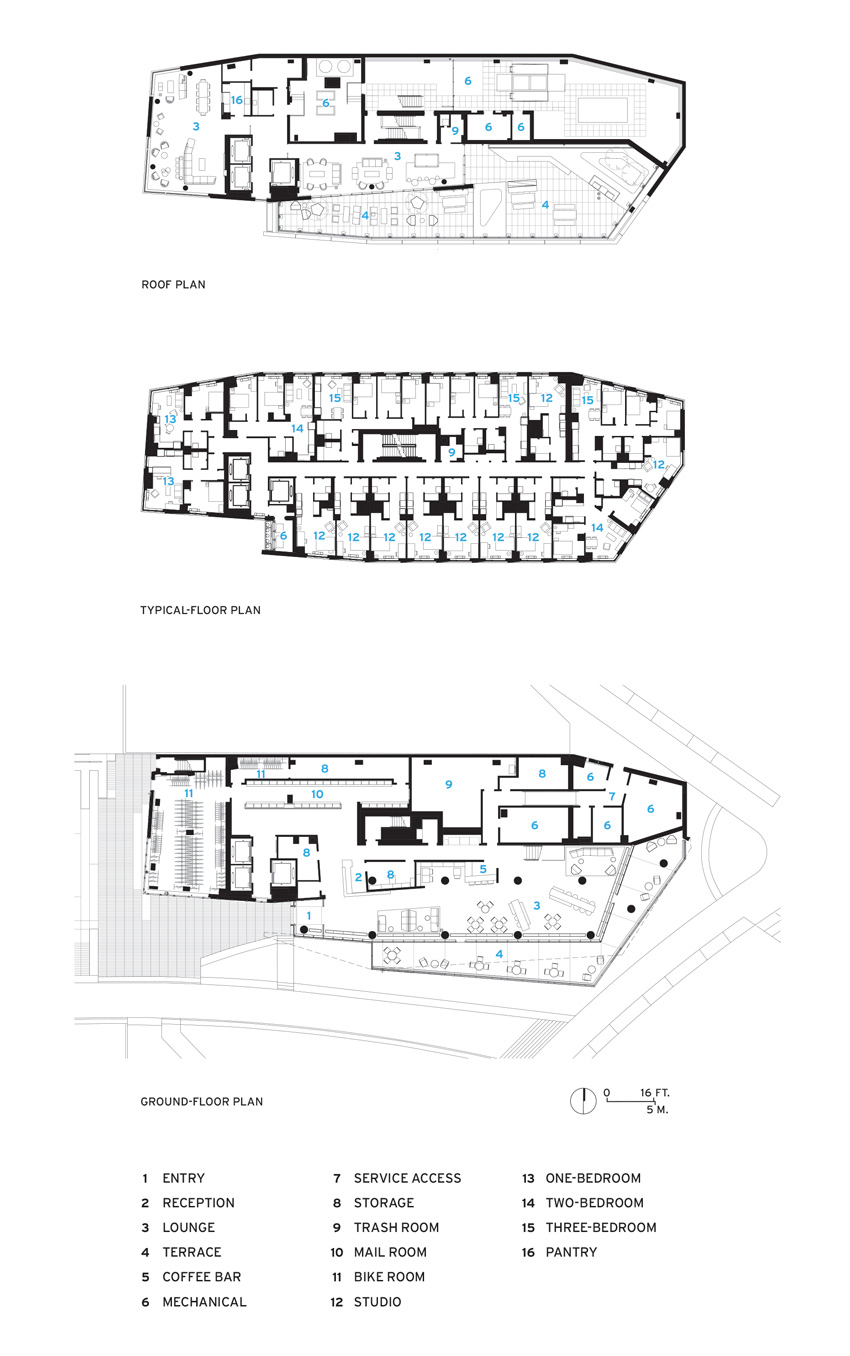 Surprisingly, those involved with the project say that designing a very large Passive House is not necessarily more difficult than one at a smaller scale, such as a single-family residence. From a building-envelope perspective, a larger structure can be easier due to its low surface-¬to-volume ratio, says Lois Arena, the director of Passive House services at Steven Winter Associates. The density of occupancy means there are more internal heat gains, allowing for a reduced amount of insulation than might otherwise be needed to meet the standard's stringent energy requirements.
But despite these advantages, the exterior envelope still needed a unique approach. "There is just a tremendous amount of area to cover with high-performance materials and details," says Deborah Moelis, a Handel senior associate. These materials and details included a custom exterior-wall system prefabricated in a Penn¬sylvania factory in 9-foot-tall by 36-foot-long sections. The panels arrived at the site complete with air and vapor barriers, mineral wool insulation, and the triple-glazed, operable windows already installed. The strategy helped speed construction but also improved quality by minimizing the number of joints that had to be sealed in the field. This in turn contributed to the building's airtight properties, which were confirmed with a post-construction blower door test required for certification. According to Arena, the building passed with flying colors, with infiltration 75 percent below the Passive House limit of 0.6 air changes per hour at 50 pascals of pressure. "We smashed it," she says.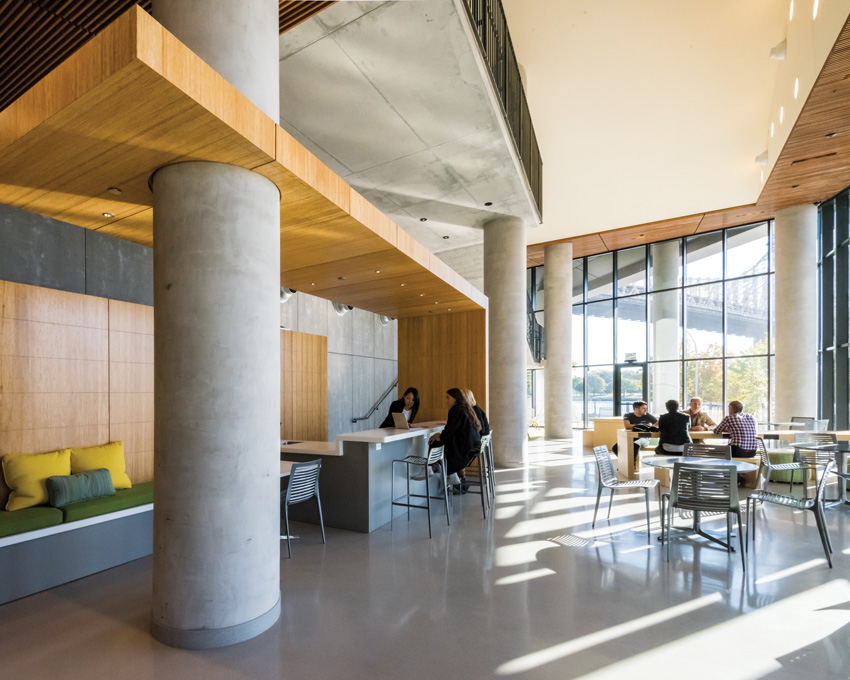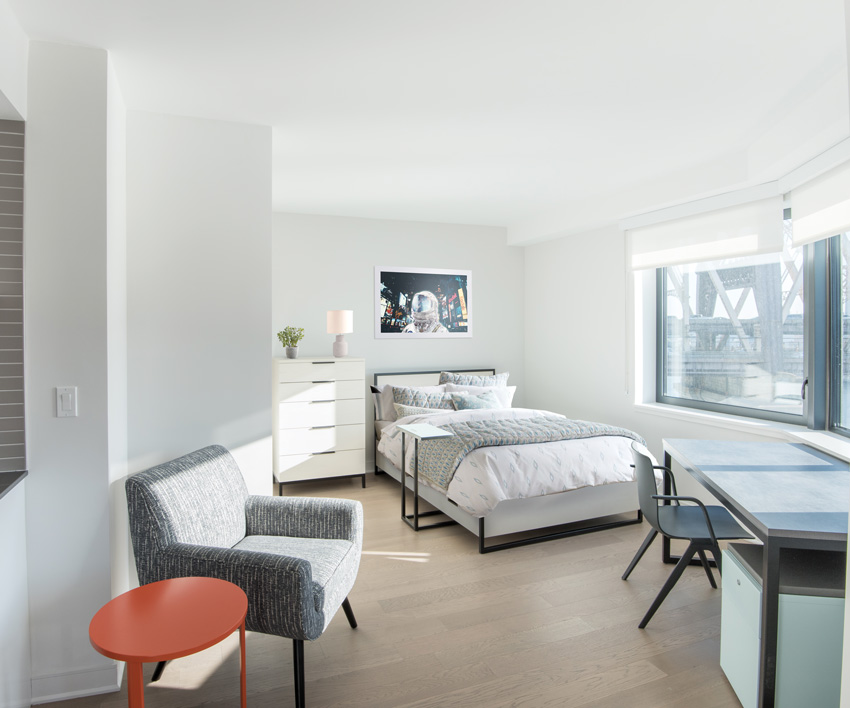 PHOTOGRAPHY: © FIELD CONDITION
CREATURE COMFORTS
The building's amenities include a lounge and coffee bar (left) in the lobby. The space offers views of the East River and the campus and combines exposed concrete structure and warmer wood accents. The apartments, such as a studio (right), have ample daylight, even though the skin is only 23 percent glass.
The design of the mechanical system was also tricky, since equipment appropriate for Passive House buildings of this size was difficult to find. The team devised a customized central ventilation system, with two energy-recovery ventilators (ERVs) on the roof supplying tempered fresh air to the apartments. For heating and cooling, they opted for a low-energy variable refrigerant flow (VRF) system with individual evaporators in each living room and bedroom. These wall units are tied to condensers located on small balconies on each floor, hidden behind the vertical louvered reveal. But the evaporators have about twice the capacity that consultants from BuroHappold Engineering determined was necessary, simply because smaller units were not available.

PHOTOGRAPHY: © FIELD CONDITION
ZIPPED UP
To speed construction and reduce the number of joints that would need to be sealed on-site, the facade panels (left and right) were fabricated in-factory and delivered to the site in 9-foot-tall, 36-foot-long sections with insulation, air, and vapor barriers, and triple-glazed windows already installed.
Hudson and Related paid a premium for Passive House construction and are said to be crunching the numbers to figure out exactly how much. "It depends on what you select as your baseline," Arena explains. "For a developer that usually builds to LEED Gold, the premium isn't that big." Sources expect that the cost will come down as demand grows and more suitable products and equipment become available.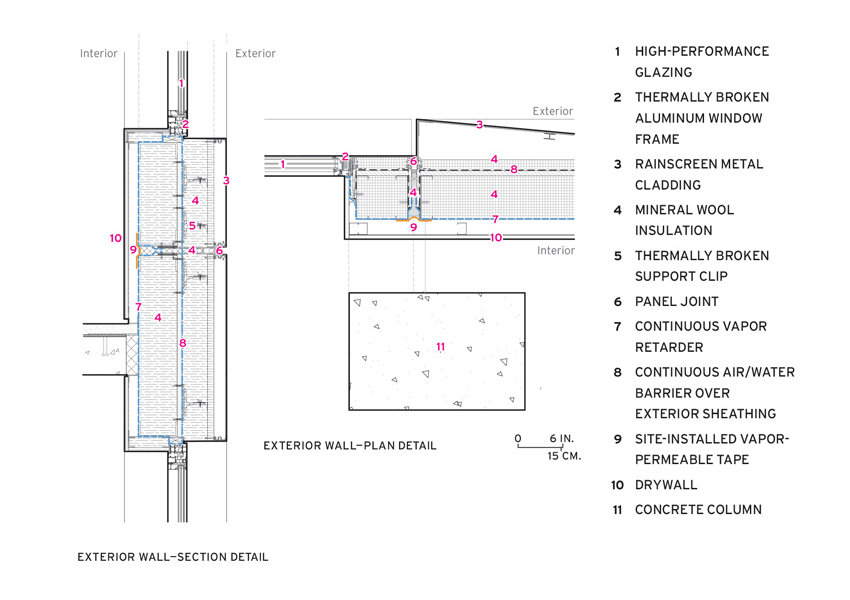 DIAGRAMS: COURTESY HANDEL ARCHITECTS
And demand does seem to be growing: Handel and Steven Winter Associates are working on several Passive House projects, including one that will be even larger than The House—a mixed-use complex for New York's East Harlem neighborhood, with 655 affordable rental apartments. The two firms are also collaborating on an 18-story office building in Boston that will be designed according to Passive House principles. These projects will be a good thing for those cities and the planet—and even better if designers can demonstrate that "Passive House" need not be synonymous with plain vanilla.
Credits
Architect: Handel Architects — Gary Handel, Blake Middleton, Deborah Moelis, Ryan Lobello, project team
Consultants: BuroHappold Engineering (structural, m/e/p/fp, lighting); Steven Winter Associates (Passive House, accessibility); Vidaris (exterior wall); Future Green Studio (landscape)
General Contractor: Monadnock Construction
Client: Hudson Companies and Related
Size: 273,000 square feet
Cost: $115 million
Completion Date: September 2017
Sources
Metal Wall Panels: Eastern Exterior Wall Systems
Curtain Wall: Oldcastle BuildingEnvelope
Moisture Barrier: Intesana
Insulation: Roxul
Windows: Shüco
VRF System: Mitsubishi
ERV System: Daikin
This test is no longer available for credit
Originally published in Architectural Record
Originally published in November 2017
Notice