Facades: Beauty Starts Skin Deep
The first chance a building has to make a statement is with its exterior. What that statement is partially depends on the materials and systems used, and how they're incorporated into the designer's vision.
Sponsored by CL-TALON®, Construction Specialties, Guardian Glass, and New Millennium Building Systems
This test is no longer available for credit
Designing Expansion Joint Covers into Facades
Commercial buildings of any size require expansion joints between sections of the structure to allow a building to expand, contract, or shift laterally due to imposed forces. Those movements can come from temperature changes, causing materials to expand or contract, winds that move or sway the building, settlement over time, or seismic events. A well-designed series of expansion joints will allow sections of the building to move independently of each other without damaging either the structure or the finish materials.
In addition to allowing for movement, expansion joint covers also need to be able to insulate and protect the joint opening from outside elements. If water or moisture make their way into the joint opening, then the building could be susceptible to leaking, moisture damage, mold, or other deterioration that could cause failure. Therefore, metal covers with a water and vapor barrier installed behind the cover are common, as are fully watertight solutions that fit into a joint opening. Similarly, if airborne dust, dirt, or other objects get in behind the expansion joint cover, then it may not function properly since the anticipated movement or sliding of components could be impaired. Hence the expansion joint cover needs to seal against such penetration of foreign matter as well.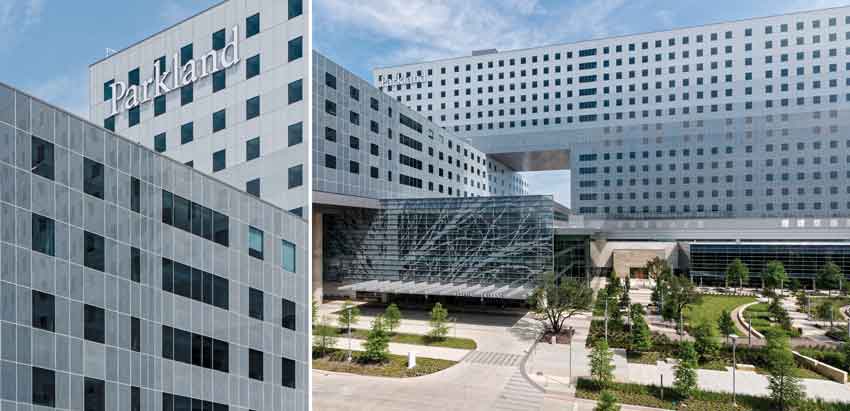 Photos courtesy of Construction Specialties
A design challenge at Parkland Hospital in Dallas was determining how to integrate the expansion joint covers directly into the facade system. This involved incorporating the glass finish and accommodating movement all while being water- and airtight to maintain building performance.
From a design standpoint, architects often look for ways to hide or integrate expansion joint covers into the overall design of the facade. Fortunately, such integration is entirely possible without compromising either performance or aesthetics. Manufacturers routinely provide multiple options for covers that can be infilled with the same materials as the facade thus creating a continuous appearance. The metal of the expansion joint cover itself can also be custom colored to match a building's facade and become virtually undetectable.
When an expansion joint cover type is identified that meets the aesthetic criteria for a project, architects can then work with manufacturers to verify that the performance criteria is met. Some provide considerable technical assistance and, when applicable, they can conduct cycle testing on a joint cover to verify their performance. From that standpoint, architects should have confidence that the solution they specify will both perform well and blend into the overall facade design in a minimally invasive way.
Kevin Smith, PE, is the engineering manager at Construction Specialties and provides technical assistance to architects on a regular basis regarding expansion joint covers. He points out that "a successful building design requires intricate detailing and integration of the expansion joint cover system early in the process. This will ensure a fully weathertight system and minimum interruption in the architect's vision. The goal is to provide a minimally invasive solution that meets the performance standards of the building envelope." This indicates that manufacturers care as much about meeting the design requirements of expansion joints as they do about their performance.
Controlling Air with Facade Louvers
Building facades often require a precise means to provide intake for outside air as well as exhaust air for HVAC systems. While the size and locations of such intake or exhaust openings are determined in concert with mechanical engineers, it is typically the architect who determines the aesthetics and how the louvers integrate with the facade. Commonly, the solution lies in selecting architectural louvers that allow for proper airflow while preventing water and even wind-driven rain from entering plus providing frame joinery that is integral to the adjacent facade. Fortunately architectural louvers, like expansion joint covers, can be designed to meet these performance needs and be readily customized to integrate into virtually any building facade.
Louvers are available in a range of performance categories, including storm-resistant, extreme-weather-resistant, impact-rated, acoustically rated, drainable, non-drainable, operating, and even blast-resistant selections. But it's not enough to just pick from one of these different louver types when specifying them. The louver system also needs to be independently tested and certified by the Air Movement and Control Association (AMCA). This is the third-party testing agency for the louver industry that provides a means for manufacturers and products to have consistent and accurate published performance data. No louver model should be used without the appropriate AMCA seal located on the manufacturer's technical data sheet. In particular, AMCA Publication 511 dictates the proper presentation of data and other required technical procedures for certification of air-control devices under the AMCA Certified Ratings Program. ANSI/AMCA Standard 500-L1 is the basis of this program and outlines the testing protocols of louvers. It includes a laboratory method of testing louvers for ratings in the categories of Air Performance, Point-of-Beginning Water Penetration, and Wind-Driven Rain. In addition, Free Area is included as a calculation, rather than a test, but is also a crucial performance indicator.
Aesthetically, architectural louvers offer considerable design flexibility. Louvers can be installed to be oriented either horizontally or vertically. They can be custom curved, outfitted with creative blade color patterns, use varying blade depths, or include asymmetrical blade frequencies and staggered blade placement. LED lights can even be added to create a dramatic or subdued accent. Louvers can be selected and specified in a range of profile styles with different appearances across the louver blade areas. Many are available with a full palette of color options, including color shifting, wood grain, and faux stone finishes. There is even at least one product that offers a louver hidden by perforated sheet, allowing all the air movement, security, and sight screening of standard louvers but with a fresh modern appearance.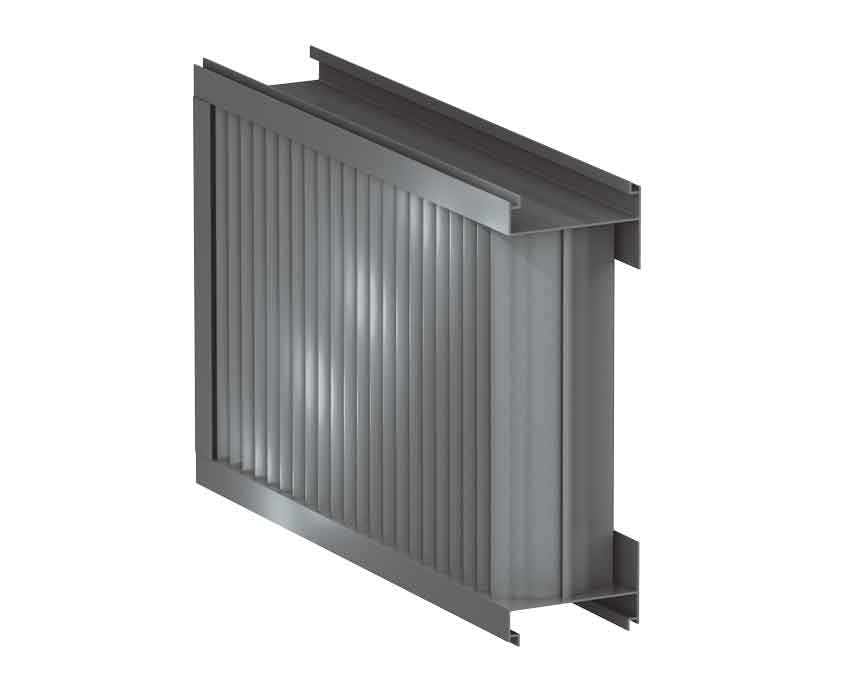 Image courtesy of Construction Specialties
Storm-resistant vertical mullion louvers, such as the one shown here, are AMCA tested and certified for levels of air performance, water penetration, and resistance to wind-driven rain.
Conclusion
Building facades provide a wealth of design opportunities with a wide range of materials and systems to choose from. The decisions made related to the facade impact the exterior design of the building and the performance needs to integrate with the structure and control wind, water, sun, heat, air, and the normal movement due to expansion and contraction. By keeping up to date with manufactured products, innovations, and creative applications, architects can design vibrant, resilient buildings that perform more than skin deep.
Originally published in Architectural Record
Notice