Fabulous Functional Flooring
This ubiquitous finish material is the setting for great commercial building design as long as it is durable and long-lasting
Sponsored by Construction Specialties, LONSEAL® FLOORING, Neolith by TheSize, and New Millennium Building Systems
This test is no longer available for credit
Entrance Flooring
Too often, one of the most overlooked and underappreciated products within a building is an entrance flooring system. Comprised of an engineered mat or grid flooring system, entrance flooring is specifically designed to trap dirt and debris at the door. This means that it not only keeps the rest of the building flooring cleaner, reducing maintenance costs, but it also reduces potential damage from things that can be tracked in on shoes, carts, etc. As such, it is one of the most functional and cost-saving products that can be included in a building relative to their overall cost. Entrance flooring also improves indoor air quality by reducing airborne particles and the need for harsh cleaning chemicals. From a safety standpoint, dangerous conditions, like slippery floors, can be reduced since rainwater can be captured in the system, thus helping to eliminate slip and fall accidents. In terms of design options, there is a wide range of entrance flooring products available with selections readily made to suit all different building types, usage requirements, and budget ranges, not to mention contributing to a positive first impression when people enter the building. Because of the variety of aesthetic options and available materials, it is easy to create an entrance flooring system that readily complements a building's design.
Permanent entrance flooring systems have been manufactured and incorporated into buildings since the 1960s so they have proven themselves repeatedly over time. Products include systems that are made from aluminum or stainless steel with common choices of computer-milled, modular mats, and grids. There are options for both surface-mounted systems that sit above a concrete floor and recess-mounted applications, which require that the concrete slab be formed to accept it. To assist during building design, most entrance flooring manufacturers will provide technical assistance to assure proper sizing coordination, product samples, and other details. Through this collaboration, products can be selected that are best suited to different building types and design factors, such as weather, foot traffic, rolling loads, and ADA compliance. This early collaboration allows architects and designers to gain insights into addressing proper layout and product choices for different situations. It also helps determine which aesthetic options and materials will best suit the overall design intent to either blend with the surrounding flooring or provide a visual accent. Once the project moves from design into construction, the manufacturing team can assist with field-verified dimensions, on-site technical support, product mockups, and sample coordination.
The value of entrance flooring systems is most fully realized by the building owners and maintenance staff since entrance flooring systems are known for their durability. They have been shown to stand up to years of foot traffic, heavy equipment, harsh weather conditions, and tracked-in debris. Many users see the way entrance flooring helps to extend the life of the interior floors, decrease maintenance costs, improve indoor air quality, and decrease the risk of liability caused by slip/trip/fall accidents. In short, they experience first-hand that by stopping dirt at the entrance, the rest of the building thrives.
Wade Brown, product marketing manager of Construction Specialties, notes that "If entrance flooring systems are not designed and included at the time of construction, it becomes the owner's problem to solve how to best keep dirt and water from entering through their front door, and ultimately protect all the buildings occupants from hazards such as slip/falls and poor indoor air quality. The architect's decision on what products to use, or whether to use them, can have a lasting effect on those who inhabit the building over its life time." Overall, by stopping dirt at the entrance, the rest of the building is protected from it. And since entrance flooring systems are known for their long-term durability, it is easy to see why they have very favorable payback periods.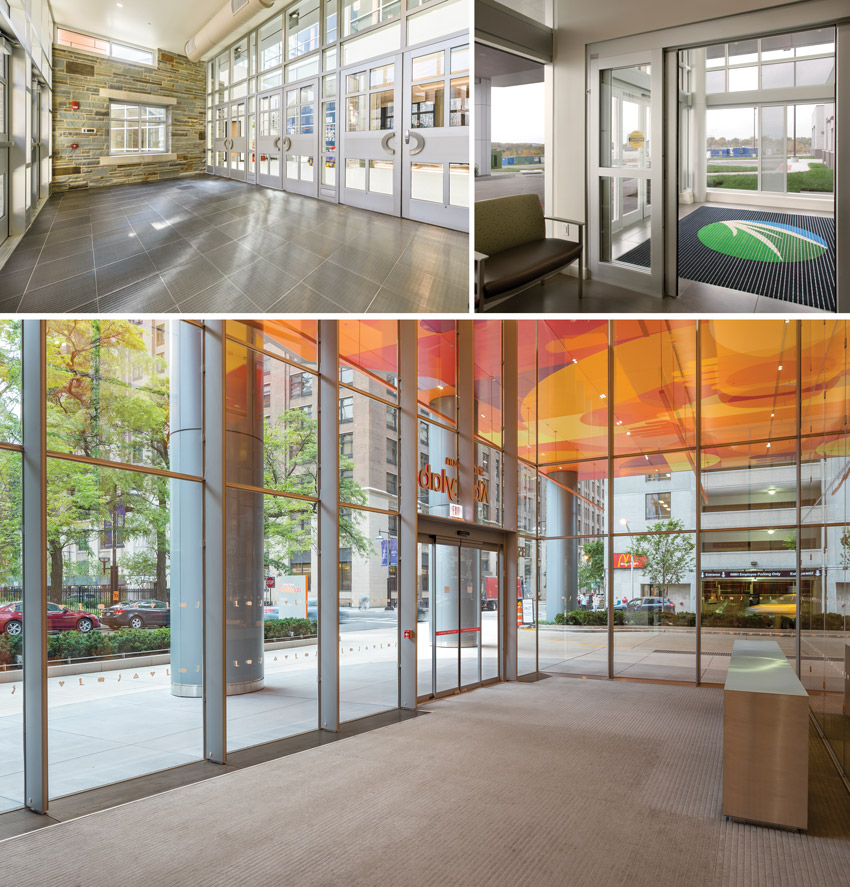 Photos courtesy of Construction Specialties
The many different types of entrance flooring available can provide an effective transition between indoor and outdoor space, such as the Owego Elementary School (top left), or highlight a logo for place identification, such as the Belton Research Hospital (top right). Not limited to just vestibules, it can make up a full front lobby, such as the SRAbility Lab (bottom).
Sintered Stone Flooring
Sintering is a manufacturing process that uses natural materials in powder form and processes them, usually under heat, pressure, or both, to create a desired product. In the case of sintered stone for flooring products, stone and other natural materials are ground to a powder and subjected to specific heat and pressure to produce a uniquely broad combination of characteristics. It is resistant to stains, scratches, chemicals, and heat with a high density, which makes it virtually waterproof—it has a porosity less than 0.09 percent, meaning no sealers are required. For those who maintain the building, they find the dense, nonporous surface easy to clean, including the removal of graffiti so the appearance and color are maintained over time. Even harsh chemicals aren't a problem to use since it is chemical resistant.
From a design standpoint, the surface of sintered stone can provide the look of stone, tile, wood, smooth, or textured surfaces in a variety of colors and hues. However, it is lighter in weight than many other materials, coming in at only 1.1 to 1.5 pounds per square foot for a 1/8-inch thick panel. Further, it is available in large-format sizes ranging from 12-inch by 24-inch tiles up to 60 inches by 60 inches or in full slabs that are 4 feet by 12 feet or 5 feet by 10.5 feet. Larger sizes means minimal grout lines and less concern about keeping those lines clean. The material is also very versatile. In addition to the variety of thicknesses and size formats, it is also available in more than 50 full-body and digitally enhanced decors, allowing design professionals to engage in full creative control over their projects.
When used specifically for floor surfaces, sintered stone is suitable for all types of spaces, from large hotel lobbies to midsize retail or restaurant settings to small bathrooms, and just about everything in between. The degree of wear resistance needed in any of these spaces can be accommodated by picking the proper thickness of sintered stone to suit the situation. The choices of thickness can also help provide smooth transitions with adjacent floor finishes. Depending on the manufacturer, sintered stone can be created to take on the very accurate appearance of marble, granite, other stone, wood grain, tile, and more. This means that designers have a full palate of colors and textures to choose from. Grand spaces can have sintered stone floors that look like marble, granite, or other dramatic stone, including the capability to create patterns and stone imagery that is more readily controlled than stone materials. For restaurant and retail spaces, the colors and textures can be selected to complement the rest of the décor and create spaces that are bold and strong or soft and intimate depending on the situation. For bathroom and kitchen spaces, surfaces that look like marble or create contrasts of colors, including the creation of tubs and other items, can be designed to meet the intended results.
Sintered stone flooring is best installed using common thinset adhesion and grouting techniques similar to ceramic tile installation. The underlying subfloor or substrate needs to be flat and clean as with any large-format product. Self-leveling materials or isolation crack membranes are always recommended to help assure best results. Then an appropriate thinset adhesive can be applied to the substrate and made ready to receive the sintered stone in common fashion. The material itself can be precut by the manufacturer or field cut using conventional cutting tools for tile. Either way, the manufacturer's instructions and recommendations need to be followed for the proper handling, adhering, grouting, and joint work to achieve best results. Standard instructions will often be provided to help avoid installation mishaps.
Once installed and in use, sintered stone flooring can be an ideal solution for large-format tiling in high-traffic commercial and residential project applications. As a product solution, it addresses some of the most common issues with traditional large-format tiles: weight, expenses, and difficulty of installation. Since the product is available in exceptionally thin flooring slabs at 6 millimeters in thickness (¼ inch), they are quite lightweight and fairly easy to transfer from warehouse to construction site. They can also be applied directly onto existing surfaces, eliminating the need for gut remodeling or costly tear-outs while reducing landfill waste.

Photos courtesy of Neolith by TheSize
Sintered stone flooring can create dramatic visual effects while providing durable and beautiful surfaces.
Originally published in Architectural Record
Notice