Maximal products that minimize risk for healthcare facilities
Sponsored by Chicago Faucets, Inpro Corporation, and Rockfon
You are not currently logged in to your CE Center account.
Log in
to view and complete the quiz questions that are embedded in this article.
The evidence-based design recommendation from the Center for Health Design is to "select high-performance sound-absorbing ceiling tiles with a minimum noise reduction coefficient (NRC) rating of 0.90." This will result in "reduced patient and staff stress, reduced patient sleep deprivation and increased patient satisfaction." The Green Globes Assessment Protocol for Commercial Buildings (ANSI/GBI 01-2019) requires ceilings to have an NRC rating of 0.90 or higher in all patient care areas and medication safety zones. High performing stone wool ceiling tiles and panels comply with these minimum absorption levels recommended by the Center for Health Design and required in the standards.
Designers can additionally engage full-height walls or plenum barriers and the appropriate floor-ceiling assemblies to effectively optimize sound insulation or blocking between rooms. Guidelines published by the Facility Guidelines Institute (FGI) for the design and construction of healthcare facilities, which have become mandatory in many states, require that walls between patient rooms, exam/treatment rooms, and operating rooms be full height from floor to floor or roof above and have a Sound Transmission Class (STC) rating between 40-50. Floor-ceiling assemblies need to have an STC 50 rating as well. A stone wool acoustic ceiling suspended below a moderate weight concrete floor slab can increase the STC rating from the mid 40s to STC 52, complying with the FGI guidelines.
Finally, designers can look to safeguard background sound levels as properly balanced: neither too quiet or too loud. Using the existing air turbulence from the heating and cooling systems or an electronic sound masking system can ensure that there is enough ambient sound to mask or cover up all the unavoidable beeps, coughs, and conversations. Employing stone wool acoustic ceilings and selecting the appropriate mechanical devices in the plenum above the ceiling can ensure that background noise levels do not exceed the maximum limits listed in the FGI Guidelines or other building certification systems such as the WELL Building Standard or LEED.
Natural Properties, Naturally
Ceiling tiles using stone wool create a product portfolio that is well placed to tackle many of today's biggest sustainability and development challenges. Stone wool ceiling tiles offer carefully designed, innovative, and sustainable solutions for occupant health and wellbeing, comfort, and safety.
Supported with a 30-year warranty, stone wool tiles are durable and dimensionally stable, don't absorb moisture, will not sag, and do not support the growth of mold and mildew.
Fire-rated products are a necessity for healthcare projects. Stone wool is a naturally fire-resistant material, which means that added flame retardants are not needed. Stone wool tiles for healthcare environments achieve a Fire Class A, with a Flame Spread Index as low as 0 (when tested to UL723/ASTM E84) and Smoke Developed Index (UL) of 0.
"First, do no harm," is an often-quoted mantra in medicine. It also rings true for the design and construction teams responsible for building the essential medical and healthcare facilities in their communities. Safety and health are the top priorities in evaluating materials and finishes for these spaces. This includes not only their composition, but also their cleanliness. WER's director of interiors, Lauren Dickey, NCIDQ, ASID, agreed and added, "In today's medical facilities, infection control is incredibly important, and ─cleanability is huge." Where infection control is the priority, specially treated medical and hygienic ceiling panel surface finishes for stone wool allow cleaning with water and some diluted disinfectants. In some cases, specially treated surface finishes on stone wool ceiling panels allow for more intensive cleaning, following a defined protocol. "Knowing that you can wipe them down easily, that they're not going to sag, and that they're not going to fall out of the ceiling─really gave us confidence in moving forward with the products that we selected," said WER's director of interiors, Lauren Dickey, NCIDQ, ASID.
Stone wool ceiling panels produced within standards for the medical field can be classified to Bacteriological Class B5 and B10. They have a low particle emission resulting in Clean Room Classification ISO Class 5. Stone wool ceiling systems do not absorb water, moisture, or humidity. The inherent qualities of these ceiling panels also resist mold, mildew, and other potentially harmful microorganisms. Stone wool panels earn UL Environment's GREENGUARD Gold Certification for low chemical emissions into indoor air during product usage. The certification process ensures that a product is suitable for environments, such as healthcare facilities, and takes into consideration safety factors that may impact those with vulnerable immune systems, children, and seniors. Indoor Air Quality (IAQ) refers to the air quality within buildings and structures, especially as it relates to the health and comfort of building occupants. Understanding and controlling common pollutants indoors can help reduce the risk of indoor health concerns and enhance the lives of occupants.
Since buildings can─and should─remain standing for many decades, it's essential that the materials used to construct them will last as well. The quality of a physical space or indoor built environment is influenced by so many different factors. Color, light, and materials all impact the character of the space. Health effects from indoor air pollutants may be experienced soon after exposure, or possibly, years later. Building materials themselves can be a primary source of indoor pollutants. Selecting natural materials helps ensure quality indoor air.
Harnessing Image and Sound to Promote Healing
There is an increasing body of research demonstrating that the use of artwork in healthcare settings leads to improved patient well-being and better health outcomes. Additionally, investigation into biophilia and its impact on the calmness and mental state of patients points to the incorporation of such elements in healing environments.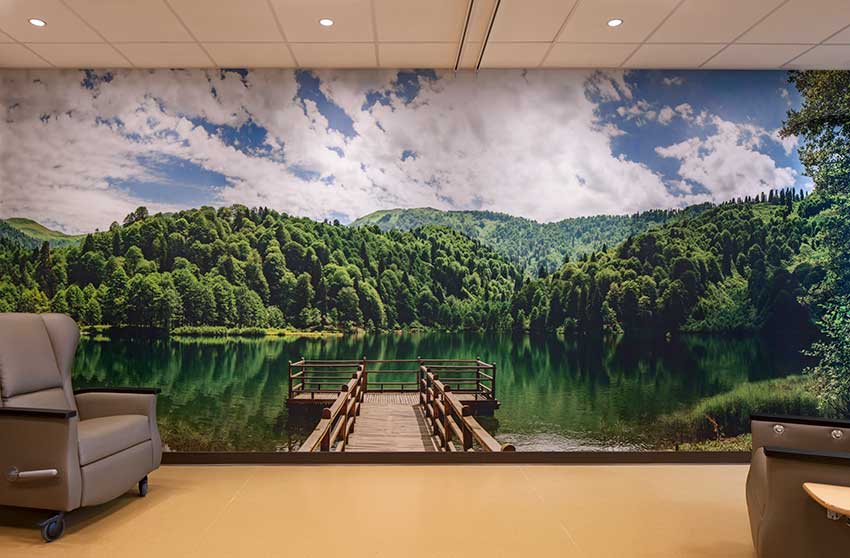 Photo courtesy of Inpro
The inherent human attraction to the natural world has spurred innovation in the architectural community. Designers are capturing endless opportunities to reconnect occupants with nature by incorporating biophilic elements in their designs.
The Power of Art and Biophilia to Achieve Health
In 1984, a landmark paper by Dr. Roger Ulrich helped establish the field of evidence-based design. Ulrich's study found that patients who had hospital rooms with a window required less pain medication and recovered at faster rates than patients in rooms without windows. Since that initial publication, the field of evidence-based design has expanded and numerous studies are revealing that artwork in patient rooms does create tangible benefits, including promoting healing, relieving patients' pain and stress, and increasing their overall well-being.
One term being applied to the application of artwork in healthcare is "positive distraction." Robert Niemenen, writing in Interiors and Sources3, points out that while artwork is just one of several factors that can play a role in improved outcomes, art can serve as a contrast to the often somber work being done in many healthcare settings. "Art is a counterpoint to the complexity of healthcare design," said Cheryl S. Durst, executive vice president and CEO of IIDA. "Incorporating art and artisanal pieces into healthcare environments humanizes the experience, creates a sense of calm, and presents an opportunity to welcome others into these spaces."4
Humans have an innate affinity for the life-supporting aspects of the natural world. This attraction to nature is referred to as biophilia, literally meaning "love of nature." The inherent attraction to the natural world has spurred innovation in the architectural community. Designers are capturing endless opportunities to reconnect occupants with nature by incorporating biophilic elements in their designs.
Healthcare, by necessity, takes place in a controlled, interior space. Patients in healthcare settings often experience high stress, either due to their actual condition or just the difficulties of diagnostic procedures and testing. Ulrich's classic study, which measured the influence of sceneries on patients recovering from gallbladder surgery, found differences between what patients viewed. Certain patients with windows had views to nature, whereas others looked at brick walls. With all other variables equal, Ulrich found accelerated recovery rates and reduced stress for the patients who had views of nature. On average, patients whose windows overlooked a scene of nature were released after 7.96 days, compared with the 8.71 days it took for those patients whose views were of the hospital's exterior walls.
Utilizing nature as a healing distraction benefits all ages of patients. By allowing the lines between interior and exterior to blur, the benefits of the outdoors can be brought inside, connecting patients with nature to improve the user experience in healthcare environments.
Originally published in Architectural Record
Originally published in November 2022
Notice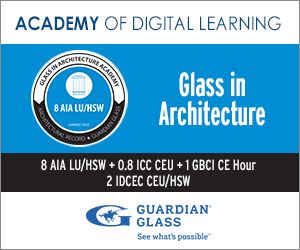 Do-No-Harm Design
Buyer's Guide
Images that makes an impact ... and take an impact!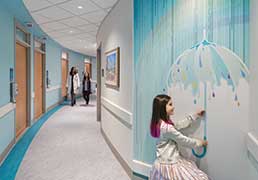 Walls are one of the largest elements of your interiors. Give them a purpose and expand their longevity with Aspex® Printed Wall Protection. Your image, your branding, your statement - Aspex
®
gives you total design freedom while protecting walls from damage at the same time.
Rockfon® Medical™ Plus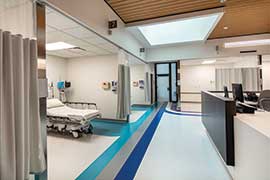 Rockfon
®
Medical
™
Plus delivers high performance acoustic performance with an NRC of 0.90, helping to control unwanted noise within a medical facility, helping create a space for both patients and staff alike. Achieving UL Greenguard Gold for low VOC emissions, it is also fully supported with HPDs and Declare labels.
Black is the New Black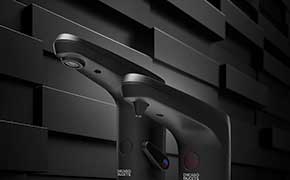 Our most popular touchless faucet, the E-Tronic
®
80 Series, is now available in a rich matte black finish with a matching touchless soap dispenser. Available built-in scald protection and touch-free operation offer the ultimate in user protection and convenience. E-Tronic
®
80 features easy installation, full programmability, and Chicago Faucets durability.