Designing Outdoor Living Spaces
Creating a sense of place using landscape design techniques
Sponsored by Bison Innovative Products, Greenscreen, and Invisible Structures, Inc.
Learning Objectives:
Identify and recognize the health, safety, and welfare aspects of designing outdoor spaces that also contribute to sustainability standards such as LEED and SITES.
Assess the sustainability aspects of different materials and products that are used for outdoor spaces, particularly in regard to LEED and SITES criteria.
Explain different strategies that provide for human safety and minimize environmental impacts in the design of outdoor spaces.
Determine ways to incorporate the principles presented into buildings and sites as shown in case studies.
Credits:
This course can be self-reported to the AIBC, as per their CE Guidelines.
As an IACET Accredited Provider, BNP Media offers IACET CEUs for its learning events that comply with the ANSI/IACET Continuing Education and Training Standard.
This course is approved as a Structured Course
This course can be self-reported to the AANB, as per their CE Guidelines
Approved for structured learning
Approved for Core Learning
This course can be self-reported to the NLAA
Course may qualify for Learning Hours with NWTAA
Course eligible for OAA Learning Hours
This course is approved as a core course
This course can be self-reported for Learning Units to the Architectural Institute of British Columbia
You are not currently logged in to your CE Center account.
Log in
to view and complete the quiz questions that are embedded in this article.
People like to be outdoors, especially when the weather is inviting. Recognizing this, many building owners are asking architects and other design professionals to incorporate specific outdoor spaces into an overall building design. This is true for mixed-use spaces where restaurants or taverns are looking for well-designed outdoor seating areas. It is also true for multifamily residences with common outdoor areas for active recreation or quiet reading and reflection. Even single-family homes are embracing the concept of a well-designed outdoor space that connects the outdoor environment directly to the building it is associated with. This course looks at some of the trends in designing such outdoor living spaces and specific ways that they can be successfully incorporated into projects of all types.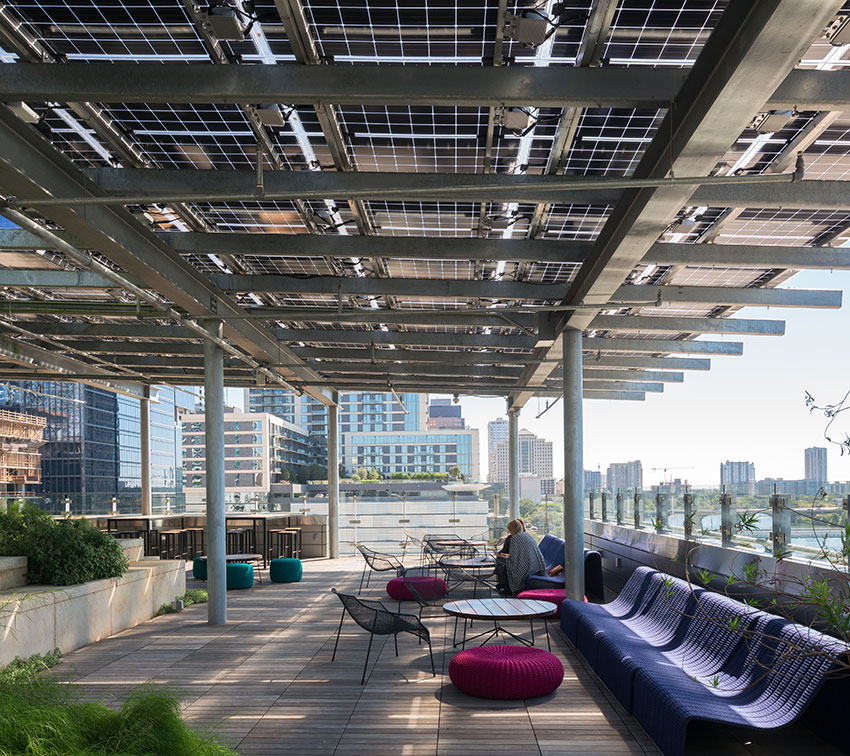 Photo courtesy of Leonid Furmansky; Bison Innovative Products
In many buildings, good design includes outdoor spaces that help improve the health and well-being of the people using them as well as providing benefits to the building owners.
OUTDOOR PAVED AREAS
Most buildings need vehicular and pedestrian access that create intentional or de facto outdoor spaces around those buildings. The common choice is to use asphalt or concrete paving for hardscape surfaces and vegetated surfaces around that, either in the form of grasses, planting, landscaped beds, etc. The concern with the paving, however, is its lack of permeability which leads to design issues of water runoff, retention, and drainage. Not only is it a matter of managing the water, but there is also a legitimate concern about the things transported by the water runoff, such as petroleum products from parked cars, chemicals from landscaping, or other harmful compounds.
In response to this situation, alternatives have been developed in the form of permeable paving systems to replace traditional hard surfaces. These systems use a range of materials and techniques that allow the movement of stormwater through the surface down into the underlying base and subbase. A variety of plant-able and non-planted systems are available that have been shown to help reduce the carbon footprint of buildings, improve water quality, diminish flooding and erosion, and reduce urban heat islands all while creating attractive open spaces.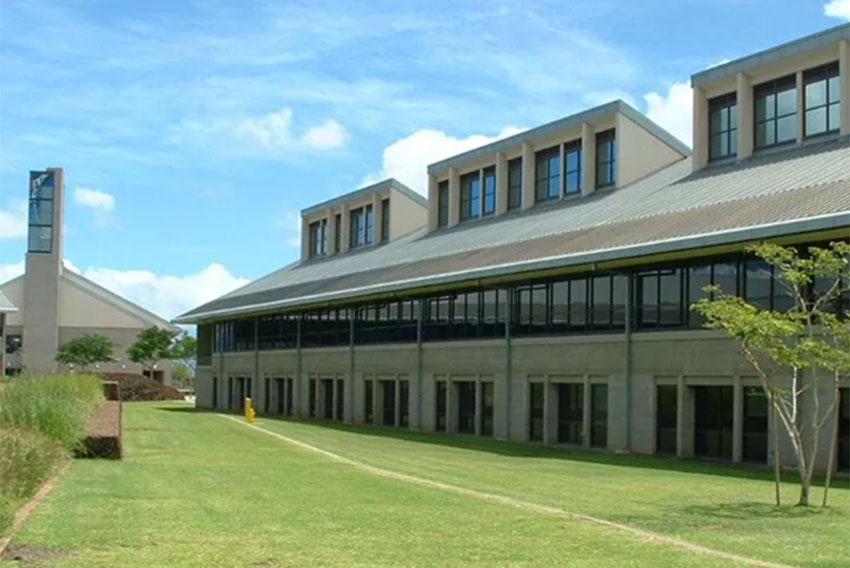 Photo courtesy of Invisible Structures
Porous paving can have a traditional, gravel, or grassy appearance depending on the type of system used.
What Is Porous Paving?
In the most generic sense, porous paving is a specific type of surface pavement or under-surface paving structure that allows rainfall or water run-off to penetrate the surface to the sub-surface below. Intentional voids in the subsurface fill with water and penetrate the soil below thus addressing stormwater issues. Harmful stormwater runoff can occur when a surface is impervious while porous paving allows for infiltration. Depending on the amount of void space, depth, and composition of the base course, a large amount of run-off may be captured in a small area. Engineered systems provide the strength required to support a range of traffic conditions from pedestrian traffic to heavy-duty vehicular traffic including emergency and even aeronautical vehicles. Certain permeable paver systems are designed to support traffic loads, protecting the surface from compaction, and thus eliminating surface rutting.
There are four fundamentally different types of porous paving systems available. The first one is to specify permeable concrete or asphalt which maintains spaces between the aggregate to intentionally allow water infiltration into the substrate. Such porous pavement is installed in a manner similar to conventional concrete or asphalt paving but requires additional attention to the subbase to function properly. There are also three types of manufactured porous pavers that are designed to be set in place on a sub-base. Different products are designed to be either filled with gravel or with topsoil and grass to create a green, planted look. Such manufactured products include concrete paving blocks, rigid plastic porous pavers, and flexible plastic porous pavers. We look more closely at these four choices further on in this course.
Benefits of Using Porous Paving
Regardless of the type of system used, there are several very good reasons to use porous paving in a project. Some of the common ones include the following:
Sustainable Outdoor Spaces: Porous paving can be an important component in the design of green spaces for sustainable buildings by creating multifunctional outdoor spaces that can also withstand traffic. This helps increase the exterior aesthetics by creating outdoor, planted, or even park-like areas that can visually soften the landscape.
Traffic Support: For areas that require pedestrian or vehicular traffic, porous paving systems provide the needed structural support. Concrete or asphalt porous paving provides a more traditional, albeit somewhat textured look while paving systems offer different aesthetics and different loading capabilities. Some plastic porous pavers, for example, cannot support the weight of firetrucks or other heavy-weight vehicles. Some others work well to provide emergency access to buildings when needed but can otherwise look like a grassy, open area with the pavers concealed beneath the growth.
Controlling Stormwater: Porous pavers are a simple, yet incredibly effective way to address stormwater issues. Because all porous paving offers some void space beneath the surface it reduces flooding and runoff. This water absorption reduces flooding and provides protection against erosion of the soil in adjacent areas. In some cases, stormwater can be captured and used for non-potable purposes such as irrigation.
Filter Toxins and Pollutants: In certain porous paving systems, the water is naturally filtered and recharges the ground water/ aquifer. This natural process removes airborne and water-based toxins through natural filtration and bio-mediation, all of which reduce pollution from runoff. Pavers planted with grass also reduce airborne CO2 levels like all planted material through photosynthesis.
Urban Heat Island Control: By replacing concrete and asphalt with grass or gravel porous paving, heat can be reduced in urban areas by providing more natural, less heat-absorbing materials. The increase of "heat islands" in urban areas is attributed to the abundance of asphalt, concrete, and glass in urban buildings. Porous pavement, particularly with planted grass, can mitigate these urban heat islands and reduce the overall temperatures.
Sound Control: Porous paving can help create quieter outdoor areas. It can reduce noise because of the void spaces within the subsurface. When sound waves enter from vehicles or other sources, the voids help absorb the sound energy so less is reflected out to the surrounding area.
Accessibility: Some porous pavers have been tested and approved to meet accessibility and ADA requirements. Flexible porous mats can be used which are forgiving with gradients and undulations on the surface, making wheel rotation easy and smooth. For such applications, it is recommended not to overfill fill the openings in the pavers but only to the top using a sharp angular aggregate for best traction.
LEED Contributions: Grass and gravel porous pavers can contribute to LEED points on green building projects in several ways related to credits in the Sustainable Sites category. Depending on the type of porous paving chosen, LEED points can be earned for landscape and exterior design that reduces heat islands (non-roof). Note that this is not applicable for porous concrete and asphalt, but can be earned with certain porous paver systems, particularly with planted material. There are also credits available for surface water management by demonstrating the reduction of post-development stormwater run-off compared to a baseline – the greater the reduction, the greater the number of points earned. In some cases, earning certification points with the Sustainable Sites Initiative (SITES) is used as a basis for earning LEED points. Note that a porous paving system can also be a key component to earning an independent SITES certification for a project as well. Additional points are available if the porous paving is linked with a green infrastructure system to further control rainwater.
Relatedly, some manufacturers of plastic porous paving systems are committed to using recycled content in their products, with at least one offering 100 percent recycled plastic content across the United States and abroad. Creating plastic from reprocessed resins requires 88 percent less energy than creating plastic with raw gas or oil─1 ton of recycled plastic saves 16.3 barrels of oil, significant processing energy, and 30 cubic yards of landfill space.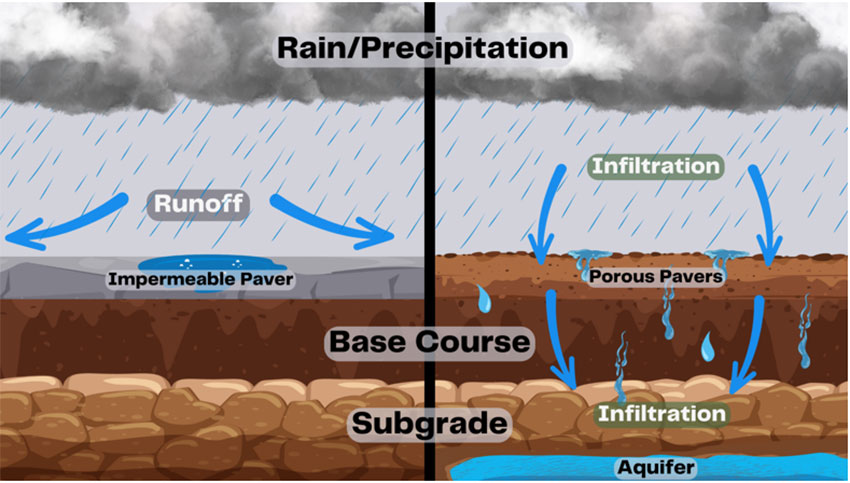 Image courtesy of Invisible Structures
Compared to conventional, impermeable materials, porous paving allows for more natural control and management of stormwater.
Originally published in August 2023
Notice