Choosing Stainless Steel Drains for Caustic Environments
Stainless steel drainage systems provide greater longevity for sustainable wastewater solutions.
Sponsored by BLÜCHER
Sustainable Stainless Steel
Life cycle assessments (LCA) provide a means to verify the impact of a material on the environment that includes economic and social values. Many product manufacturers are beginning to investigate LCA properties of building materials. When considering the many attributes of stainless steel, product durability, cost, non-toxicity and recyclability, stainless steel has many environmental, life cycle benefits.
There are many certification programs for green buildings and in most of these, stainless steel can be counted for points as a material with recycled content. For example, in the U.S. Green Building Rating System, stainless steel can be a contributor to as many as two points under Materials & Resources LEED® Credit 4: Recycled Content. The latest version of LEED recommends that designers apply life cycle analysis to materials that are used in buildings. The goal is to optimize materials used and materials that are produced and transported using less energy. Stainless steel can also contribute to points in Materials & Resources LEED® Credit 2: Diversion From Landfill as stainless steel is one-hundred percent recyclable and there is a strong market for scrap metals.
All stainless steel components in drainage systems can be manufactured from recycled materials and are 100 percent recyclable. Furthermore, it requires no painting or coating, making recycling even easier and cleaner. There is a strong market for recycled stainless steel averaging between 50 cents to 3 dollars per pound depending on the market location. It can be recycled indefinitely without loss of strength and used to manufacture new products.
Recycled Content of Stainless
According to the British Stainless Steel association:
"In 2007, around 27 million tons of stainless steel were produced, taking approximately 16 million tons of recycled stainless steel and other materials to generate this quantity. The amount of recycled stainless steel in any stainless object is approximately 60%, this will increase however as the use of stainless steel expands as stainless steel produced today will not necessarily be recycled for 20-30 years. Stainless steel is made up of:
• 25% Old scrap such as end of life products

• 35% New scrap which is returning from production

• 40% New raw materials added"
Lightweight stainless steel contributes to lower transportation costs minimizing emissions and waste. Transportation is one of the most important source of CO2 emissions. The level of emission is dependent on the volume and weight of the goods carried. A stainless steel drainage system weighs only one third of a cast-iron drainage system and a reduction of cargo weight in turn reduces CO2.
Stainless steel is lightweight. This material can be manufactured in thinner, easier to handle components because of its high, tensile strength. This means that drainage components are easier to handle. As noted earlier, an advantage of being strong and corrosion resistant means that the basic components, particularly those that are tested with heavy foot traffic and caustic wastes, such as drains, last longer and need less replacements.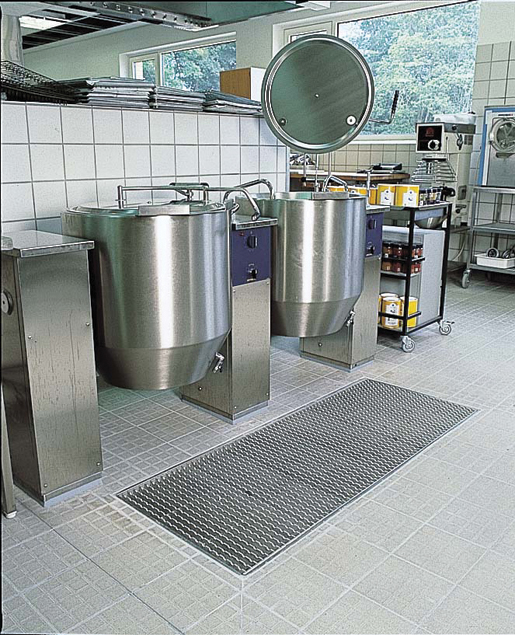 Stainless steel channel drains can be easily cleaned and sterilized for use in many settings.
Photo courtesy of BLÜCHER
The smooth, attractive appearance of stainless steel not only means that this material can be used in public places, but that it can be easily cleaned and sterilized for use in many restaurant applications. It is ideal for use in health care settings. This versatile, strong material is newer to this application in the United States, but it has been used in Europe for many years. Stainless steel drainage systems are a sustainable choice for tough, caustic, and difficult plumbing environments.

BLÜCHER, a Watts Water Technologies company, is a leading manufacturer of high-quality stainless steel drainage products and systems. BLÜCHER manufactures drains, channels, and piping for use in commercial, industrial, and marine applications. www.BLUCHERDrains.com
Originally published in Architectural Record
Originally published in February 2014
Notice