Choosing Stainless Steel Drains for Caustic Environments
Stainless steel drainage systems provide greater longevity for sustainable wastewater solutions.
Sponsored by BLÜCHER
Benefits of Stainless Steel Drainage Systems
Stainless steel drainage systems have functional and aesthetic benefits as well as provide superior safety and durability. Stainless steel drainage systems meet or exceed all of the required codes for effluent transport. Stainless steel is a 100 percent recyclable and non-toxic material and provides an impressively long product life, making it an environmentally friendly and maintenance friendly choice.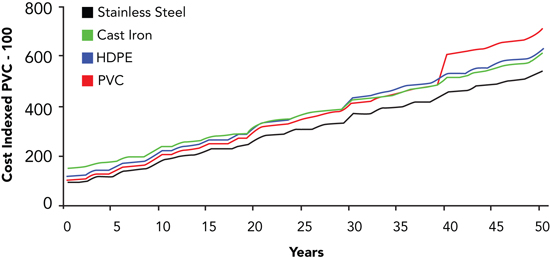 Whole life cost assessment comparisons.
Source: BLÜCHER
Functionally, stainless steel systems provide good flow characteristics which is important when considering a material that needs to transport fats and greases. Stainless steel has a unique smooth surface that guarantees excellent flow capacity. Stainless steel has a greater tolerance for the transportation of fat, which can quickly congeal and clog plumbing lines. The addition of an electric heat element to pipes allows for an even easier transport of grease through the pipelines. Due to smooth, hard, nonporous surfaces, bacterial growth is greatly reduced in stainless steel drainage systems. Using this material to transport kitchen wastes provides optimal performance for difficult projects.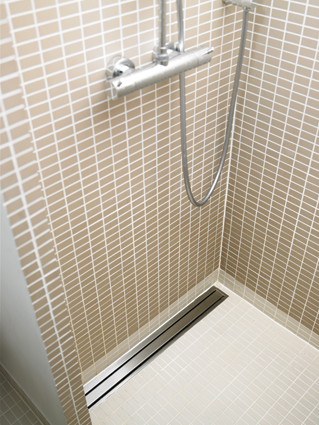 Stainless steel channel drains are both an attractive and hygienic solution for hospital and hotel settings.
Photo courtesy of BLÜCHER
Stainless steel drainage systems are easy to install and require minimal maintenance. The low weight of the smaller steel products means that the weight of a drainage system can be reduced by more than 20 percent compared to cast iron. Push fit connections are also lighter in weight, reducing labor and installation expenses.
Stainless steel is resistant to corrosion, fire, chemical abrasions, deformation, and thermal stress. Stainless steel can withstand a high degree of vibration, and it functions within a wide scale of temperatures. Stainless steel is classified as a fire-resistant material and some alloys with chromium content of at least 18 percent can withstand temperatures over 800°C. The high temperature strength of stainless steel is referred to as "creep strength" or the ability to resist distortion or flaking over time.1 This means that stainless steel provides greater assurance than cast iron piping, which collects rust flakes that can constrict flow over time.
Stainless steel has a greater life expectancy than cast iron in commercial and industrial settings. In comparison to cast iron, a typical stainless steel drainage system will not corrode when used with highly acidic environments. Stainless steel can meet the requirements of high temperatures whether from boilers, grease, or chemical waste.
Stainless steel is strong. Stainless steel offers a combination of low weight and high strength. The advantages of this property means that drainage lines can be hung from ceilings of commercial buildings with longer runs using fewer connections. Stainless steel alloys used in plumbing have ratings from 73,000 pounds per square inch tensile strength to 90,000 pounds per square inch tensile strength. Because this material is strong, it can be placed above or below ground. Even during installation, the advantage of using strong stainless steel drains and drain components is that they can be subjected to heavy construction equipment and vibrations. Stainless steel grates can be specified to provide strong surfaces during and after construction to support heavy equipment.
Easy to clean and constructed of non-toxic materials, stainless steel meets the strict hygiene and cleaning requirements for many settings, from restaurants to hospitals. Stainless steel drainage systems are the choice for buildings that are designed to last and for facilities that cannot be easily closed for the replacement and/or maintenance of a clogged cast iron drainpipe.
Besides prisons, other applications for stainless steel drainage systems include some of the most caustic drainage environments as well as the most visible. Obviously durable drains are required in industrial areas; however, equally difficult applications include commercial kitchens.
The benefits of stainless steel can be applied to numerous building types. Medical facilities and laboratories require drainage systems that are impervious to high concentrations of chemicals as well as biological waste. They require drainage systems, particularly those parts exposed to patients to be easily cleaned and resistant to bacteria. The smooth, nonporous surface of stainless steel components makes them easy to maintain.
In the hospitality market and for multifamily housing, stainless steel adds durability and an aesthetic advantage. Hotels and resorts require systems that are both dependable and visually appealing. They must also meet all codes for handicapped accessibility. Stainless steel shower drains are both attractive and strong.
The Seattle-Tacoma International Airport provides another example of how stainless steel is being used in the Northwest. Cleaning fluids, grease, hot and cold liquids, are just a few of the problematic wastes from an airport concession stand that with a plumbing system failure will lead to large inconvenient closures and replacement costs. There are approximately fifty restaurants at the airport. The waste stream includes soda, syrup, juice, corrosive liquids and fryer fat. Within four or five years, the cast-iron piping that the airport had been using was replaced due to corrosion. As in the case study for Pike Place Market, the installation had to be completed without shutting down the airport. Stainless steel systems provided a means to isolate each vendor and complete the project without a complete airport shutdown.
Supermarkets, restaurants, airports are all public spaces requiring serious drainage system solutions. The replacement cost of a broken or clogged drain is not just the cost of renovation. Plumbing drains are buried in floors and walls, and replacement usually means closing a business for a number of days.
Marine drains, such as those on cruise ships and fishing vessels require drains that are non-corrosive and can deal with harsh ocean salt water. Stainless steel marine grates and drains can be part of either a renovation of an existing drainage system or specified for a new installation.
Stainless Steel Drainage System Chosen for New Orleans Prison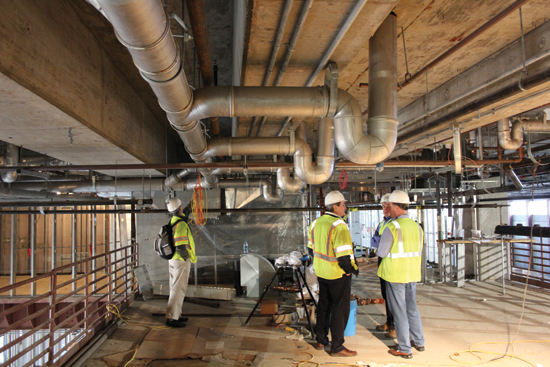 New Orleans Parish Prison, New Orleans, Louisiana, chose a stainless steel drainage system for their kitchen for longevity and durability.
Photo courtesy of BLÜCHER
The New Orleans Parish Prison is a large complex built to replace outdated facilities decimated by Hurricane Katrina. This cluster of buildings includes new prison housing, an intake and processing center, a three-story administration building and a new 163,885-square-foot kitchen/warehouse building. The contractor for these facilities included a number of architectural and engineering firms, including the design team from Huseman & Associates who were responsible for the design of the building's electrical, mechanical, plumbing and fire protection systems including the waste drainage system for this facility. The team knew that it would not be an easy place to replace drains and pipes in the future. They wanted a solution that would last the life of the facility.
Jamey Logrande, vice president and senior project manager with Louisiana-based Huseman & Associates, reviewed the design criteria for the system. At the initiation of this project, there were limited solutions for this plumbing system. The harsh nature of this environment, high temperatures, sugars, grease, and cleaning fluids required a durable material.
The extensive waste system in this facility included 8,000 lineal feet of drainage piping as well as piping used to transport high temperature soups and stews to packaging equipment. When interviewed in 2012, Logrande stated, "We knew of the need for massive dumping of high-temp fluid on a regular basis and, with very expensive, very temperature-sensitive food storage spaces below the kitchen, we knew there'd be no room for error," Logrande says. "We couldn't afford a leak; the result would be catastrophic."2
Logrande investigated alternatives for this project choosing stainless steel as the material to use in this project a new type of drainage system that had been successful in Europe for many years. He was able to work with the contractor and the supplier to facilitate the installation of this unique product. Stainless steel was chosen because of its lightness, strength and longevity. With very low porosity, bacterial growth is reduced in these drainage systems. The long runs and heavy loads that were drained from the kitchen meant that choosing a material with three times the strength of cast iron meant a more efficient use of materials. The installation also included the use of push-fit connections that reduced construction time and saved labor cost. The use of stainless steel over cast iron meant the reduction of the weight of the system by 20 percent adding to the ease of installation.
Completed in late 2013, the facility was designed to feed and store meals for a large prison population. Huseman & Associates won a 2009-2010 regional ASHRAE technology award for this project.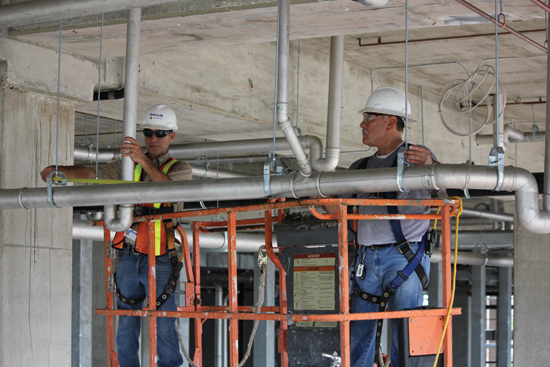 Lightweight stainless steel is easier to install than cast iron. Its high tensile strength allows for long runs of piping.
Photo courtesy of BLÜCHER
Originally published in Architectural Record
Originally published in February 2014
Notice