Appealing and Long-Lasting Hospitality and Retail Design
Design doesn't need to suffer in order to achieve performance
Sponsored by ASI Group, Bison Innovative Products, Bradley Corporation, Cascade Architectural, CornellCookson, CRL, Geberit, Inpro, and Louis Poulsen
Learning Objectives:
Identify and recognize the significance of exterior building designs that promote light, views, and outdoor spaces that improve safety and welfare.
Assess the health and safety performance aspects of interior systems in retail and hospitality settings as they relate to durability and sustainability.
Explain the importance of enhanced restroom design for health, hygiene, and general welfare as part of a well-designed total building.
Determine ways to incorporate the design principles presented into buildings as shown in project examples.
Credits:
This course can be self-reported to the AIBC, as per their CE Guidelines.
As an IACET Accredited Provider, BNP Media offers IACET CEUs for its learning events that comply with the ANSI/IACET Continuing Education and Training Standard.
This course is approved as a Structured Course
This course can be self-reported to the AANB, as per their CE Guidelines
Approved for structured learning
Approved for Core Learning
This course can be self-reported to the NLAA
Course may qualify for Learning Hours with NWTAA
Course eligible for OAA Learning Hours
This course is approved as a core course
This course can be self-reported for Learning Units to the Architectural Institute of British Columbia
You are not currently logged in to your CE Center account.
Log in
to view and complete the quiz questions that are embedded in this article.
Companies that offer hospitality and retail services are seeking the attention and loyalty of their customers, particularly since there are usually many choices available to those customers. As such, hospitality and retail facilities are intended to appeal to a lot of different people, offering both a design challenge and attention to the day-to-day stress placed on those facilities. Therefore, it is incumbent on architects and designers to first create retail and hospitality buildings that help attract customers and secondly to provide an enduring experience that will hold up over time. That means building materials, products, and systems become important tools in providing the needed high levels of design and long-term durability. In this course, we look at a variety of products, systems, and materials that can be considered by design professionals to help meet all these project requirements. The course is broken down into three sections – building exteriors, building interiors, and restroom design.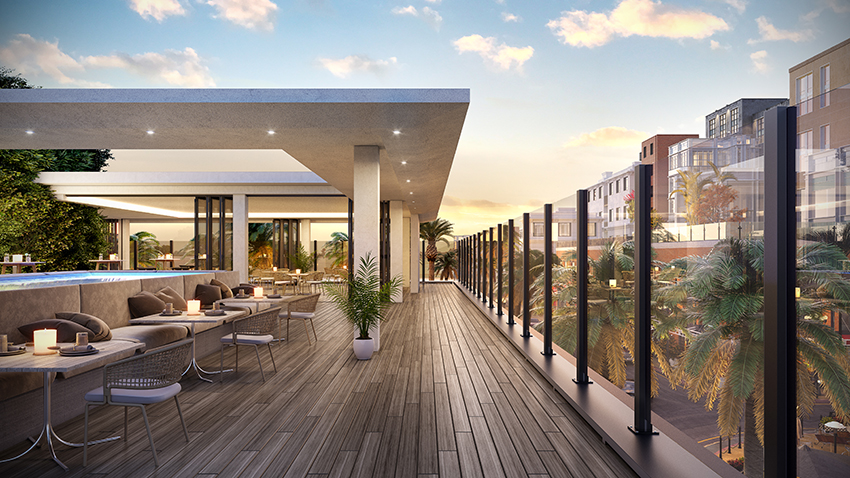 Photo courtesy of CRL
Retail and hospitality spaces use up-to-date materials and systems to create spaces designed to draw people in for a positive experience.
1. Building Exteriors Glazing For Connectivity
Design professionals and business owners have long recognized that glass and glazing designs can have a profound impact on the customer experience in hospitality and retail environments. Transparency, daylighting, and open floorplans have become key factors in attracting customers, improving their interactions, and increasing their loyalty. These factors have also been shown to strengthen occupant morale and doing so often leads to repeat visits.
Recognizing these capabilities, designers have used contemporary glazing systems to raise the appeal of many different types of hospitality and retail establishments. With a wide array of glazing systems at their disposal, architects can design unique and engaging hospitality and retail environments that enhance aesthetics and offer long-term durability. Some examples are summarized as follows:
Restaurants When it comes to fine dining establishments, an effective way to attract customers and create positive experiences is by designing open spaces, including seamless transitions from indoors to outdoors. This produces engaging, social environments with visual stimulation and bustling energy. One way of doing this is by specifying expansive movable walls. These typically take the form of large-scale sliding and bi-folding doors, which can be easily opened at any time of the day. Newer systems feature minimal frames so there's less visual obstruction thus enhancing the indoor/outdoor connection. When closed, door hinges can be completely concealed to deliver an elegant and streamlined look. Available technology allows larger format doors to be used in heights of up to 13 feet.
Stores In retail spaces, first impressions are everything. That's why designing striking entrance systems that quickly catch the eye is key. This sets an enticing tone for what's to come in the retail shopping experience. Monolithic style glass doors are the way to go here. The taller the doors, the grander the entrance, which is why frameless glass doors that are 12 feet tall are becoming more common. New technologies and fabrication methods allow smooth operation of these heavy glass doors, while new tubular panic devices have been developed that can accommodate these heights.
Hotels Modern hotels often feature balconies and rooftop pools that prioritize views. Glass railing and windscreen systems are ideal in these situations because they give occupants uninterrupted views of often captivating surroundings, thus enhancing their experience. At the same time, they're designed to satisfy code requirements for safety and load performance. Such products combine sophisticated design and definitive safety to deliver a functional and high-performance guardrail that enhances views with minimal visual interruptions. Glass panels can be adjusted to produce precise sightlines with a complete selection of handrails and cap rails available. Similarly, glazed windscreen systems are designed to enhance outdoor experiences by combining sought after performance and aesthetic features. Slim front trim and post depths deliver optimized structural performance while producing virtually unobstructed views. No horizontal extrusions are required for support, resulting in striking post-to-post glass spans of up to 5 feet that are capable of handling up to 80 PSF of wind loads. Systems can be specified using 6-, 7-, or 8-foot standard post heights glazed with 9/16" laminated tempered glass.

Photo courtesy of CRL (left) and Here and Now Agency (right)
The well-designed use of glazing in retail and hospitality buildings can create uninterrupted indoor/outdoor connections or maintain views that provide windscreen and railing protection.
Recognizing the different glazing options for any of these retail and hospitality settings allows designers to create inviting, durable, and business-enhancing spaces.
Creating Outdoor Spaces
Accessing outdoor spaces is desirable in retail and hospitality settings because it is appealing to guests, potentially profitable, and sustainable. Outdoor spaces allow owners to bring more guests to their venue, whether for events or day-to-day activities, meaning more potential business. The key is to have a usable, durable, deck or outdoor floor surface that can be fit into the available space, look good, and provide a safe and secure surface.
The answer to these design challenges is often found in modular deck systems that are supported by adjustable pedestals. Such systems give architects the design flexibility to create unique and beautiful outdoor spaces, either on a rooftop, on the ground, or in unclaimed space to create a "Pop-up Park." Adjustable deck systems that incorporate three types of components are commonly available.
Deck Supports High-density polypropylene plastic that is 100 percent recyclable is a common material to make the adjustable deck supports from. This makes them impervious to water, mold, and freeze-thaw cycles. Their adjustability offers tremendous design flexibility compared to traditional deck building materials and methods and provides one of the most labor- and cost-efficient methods of creating a flat, level deck over a sloped surface. As a gravity system, the supports do not penetrate but rather protect roofing and waterproofing membranes, thus causing no damage or harm to the surface below. Adjustable pedestal systems can support decks over occupied space, allowing space for electrical systems, duct work, and irrigation. Pedestal systems are available in a range of heights and weight bearing capacities to suit a variety of applications.
Deck Surfaces Deck supports are designed to elevate a variety of surfaces, including granite or concrete pavers, wood tiles, composite materials, or fiberglass grating. Any modular deck surface material can be removed for routine maintenance, for repairs to the roof, or to gain access to other systems. Wood tiles are particularly popular for their light weight, ease of workability, and attractive appearance. Wood tiles can be laid in a parquet or linear pattern, or mixed with pavers, river rock, stone, plank decking, or other options to create unique aesthetics. If maintaining the wood color is desired, wood tiles can be periodically cleaned and sealed. Left to weather naturally, the wood tiles will develop a silvery-gray patina.
Site Furnishings Manufacturers of pedestal deck systems also offer coordinated, modular elements that are designed to integrate with their deck systems while giving the architect complete design flexibility. Modular cubes for example, made from high-strength aluminum or ipê in an array of colors and finishes, can serve as planters or can include a top for seating and/or storage. Cubes commonly have drain holes and irrigation sleeves that make caring for plants or vegetables convenient and hassle free. Storage can be used for seasonal items like cushions or throw pillows. Similarly, aluminum rock trays that are lightweight and durable add dimension and texture to deck areas. Deck designs can even include recessed lighting to enhance the ambiance of the environment while improving visibility and safety during nighttime or other dark conditions.

Photo courtesy of Bison Innovative Products
Creative, appealing, outdoor spaces can be created on rooftops or as "Pop-up Parks" using adjustable height pedestals and modular deck products.
Overall, pedestal deck systems create valuable, usable outdoor space for both owners and their clients, customers, and visitors. Rooftop decks are a way for hospitality or retail spaces to differentiate themselves from the competition.
Originally published in Architectural Record
Originally published in June 2022
Notice