What's next for air-travel design? Buildings that ease passenger aggravation and respond to the local culture and environment.
Architectural Record
Learning Objectives:
Describe ways of accommodating rapidly evolving technology in terminal design and avoiding obsolescence.
Describe how changing security needs and traveler preferences are shaping the form and configuration of airport terminals.
Describe the climate-control strategy at Jewel Changi and explain how the needs of people and plant life were met.
Explain how ubiquitous computing can be used inside terminals to enhance passenger flow.
Credits:
This course can be self-reported to the AIBC, as per their CE Guidelines.
This course is approved as a Structured Course
This course can be self-reported to the AANB, as per their CE Guidelines
Approved for structured learning
Approved for Core Learning
This course can be self-reported to the NLAA.
Course may qualify for Learning Hours with NWTAA
Course eligible for OAA Learning Hours
This course is approved as a core course
This course can be self-reported for Learning Units to the Architectural Institute of British Columbia
This test is no longer available for credit
Airports of the Future
What's next for air-travel design? Buildings that ease passenger aggravation and respond to the local culture and environment.
Terminals Poised for Takeoff
By Joann Gonchar, FAIA
View course on architecturalrecord.com »
Except for people who have their own jets, most would agree that the romance of air travel faded long ago. But that isn't stopping those who want to be on the move. Worldwide, aviation numbers are expected to double to 8.2 billion passengers per year by 2037, say estimates by the International Air Transport Association. Airports everywhere are racing to ramp up capacity, with $737.3 billion-worth of projects in planning, design, or construction globally, according to one industry-analysis firm.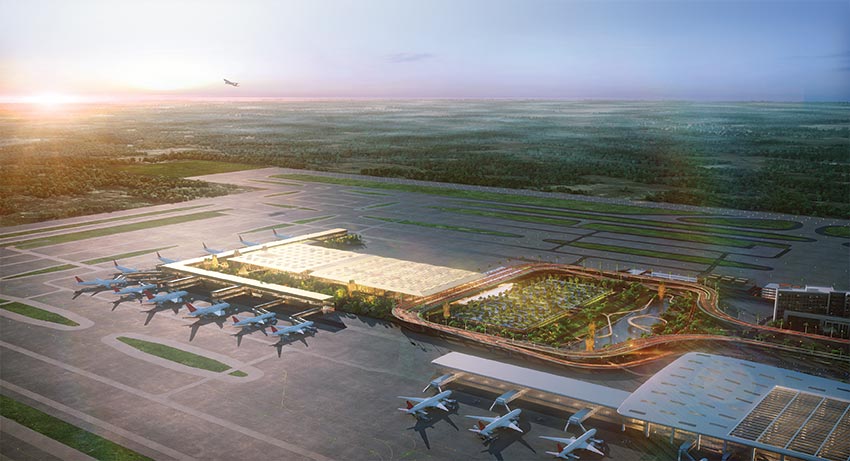 Image: © SOM | Atchain
Kempegowda International Airport Terminal 2, Bengaluru India, SOM
More than many countries, the United States is suffering from outmoded aviation infrastructure, with the average terminal building more than 40 years old. According to T.J. Schulz, president of the Airport Construction Council, at least $70 billion is being spent over five years, beginning in 2017, modernizing 50 medium and large U.S. airports. The lion's share of this sum is going toward terminals—their revamping, expansion, or construction.
For architects, the focus is not merely on moving travelers from curbside to gate as smoothly as possible but trying to improve the ambience of travel. "It's not all about speed and efficiency," says Ryan Fetters, a senior associate in Gensler's San Francisco office. In a joint venture with Kuth Ranieri Architects, Gensler is part of a design-build team for the landside of the $2.4 billion Harvey Milk Terminal 1 under construction at San Francisco International Airport (SFO). The team describes the facility as transparent and daylight-filled, with features such as intuitive navigation, site-specific art, and generous areas for passengers to reorganize their belongings after going through security.
Many architects are trying to elevate the passenger experience by injecting airports with local flavor. "We try to capture the spirit of the place, even if it isn't a top goal of the client," says Laura Ettelman, managing partner in the New York office of SOM. Among her firm's current projects is the 2.4 million-square-foot Terminal 2 at Kempegowda International Airport in Bengaluru, India, organized around a series of indoor and outdoor green spaces. The scheme, inspired by the tech hub's history as a garden city, takes advantage of its benign climate and will offer a "rich, sensory experience," she says.
For architects dealing with a multitude of complex functional requirements and rapidly advancing technology, terminals are buildings that can quickly become outmoded, says Ettelman's colleague Derek Moore, SOM aviation-practice leader. He points to Eero Saarinen's TWA Flight Center at New York's John F. Kennedy International Airport as the "poster child" of this obsolescence problem. Enclosed by a dramatic, winglike thin-shell roof, the building, which was conceived before the introduction of the first commercial jet, was out of date almost as soon as it opened in 1962 (see page 96).
Since TWA, aircraft have of course continued to evolve, though sometimes in unexpected ways. The latest example is the phaseout of the Airbus A380 announced by the manufacturer in February. Sales of the superjumbo jet, designed for long-haul travel and carrying up to 850 passengers, have been stagnant as airlines opted for smaller planes that use less fuel per seat. Many of the budget airlines that serve regional airports, meanwhile, have been flying fewer flights than before, now with larger aircraft, like the Boeing 737 and Airbus A320, for similar reasons of economy.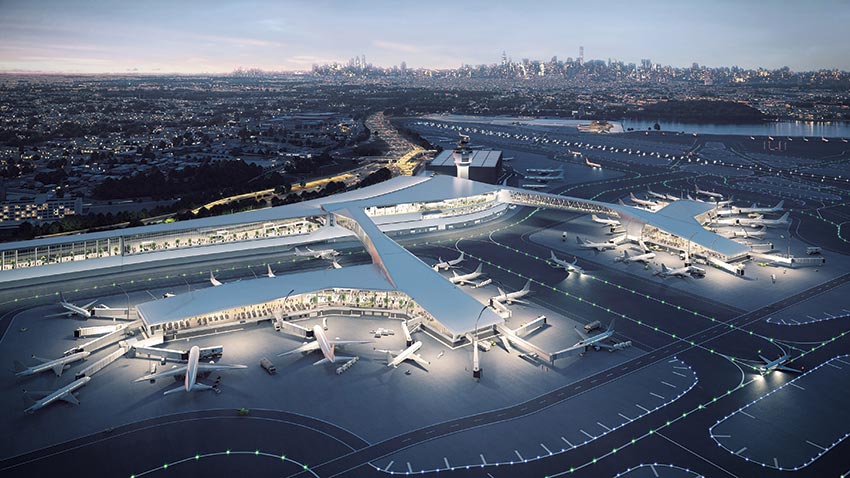 Images: © HOK and WSP;
Terminal B, LaGuardia Airport In New York, HOK and WSP have designed a headhouse connected to a pair of "island" concourses via pedestrian bridges.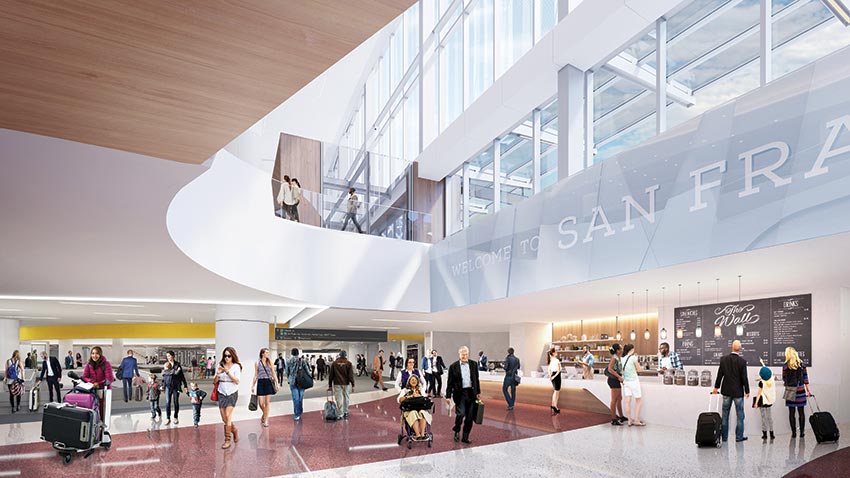 Images: © Gensler/Kuth Ranieri Joint Venture
Harvey Milk Terminal 1, San Francisco International Airport This 25-gate terminal will feature several multistory spaces that allow daylight to penetrate its lowest levels.
Disruption in the airline industry can make a facility outmoded almost overnight. Pittsburgh International Airport occupies a 1992 terminal designed as a US Airways hub to handle up to 32 million passengers per year, many of them connecting to other flights. But after US Airways merged with American in 2013, traffic hit a low, and the airport now operates primarily as an origin and destination facility, with about 9.5 million passengers annually. Officials plan to "right size" by building a smaller terminal, now in schematic design by a joint venture of Gensler and HDR in association with Madrid-based luis vidal + architects. "We currently have ever increasing maintenance costs and aging infrastructure that we can't upgrade," explains Paul Hoback, the airport's chief development officer.
The changes in how people get to the airport are affecting planning as well. More people are arriving by ride-share services like Uber and Lyft, and revenue from parking is falling. Yet, despite this trend, many airports are still building garages, primarily to house their rental-car concessions. One possible future use, should garages no longer be needed, would be as service hubs for automated-vehicle fleets, suggests Chris Donahue, a principal with the Abstract Group. The firm is a consultant to Michael Baker International, the company designing the garage and ground-transportation center at the new Pittsburgh airport.
Inside terminal buildings, the most consequential development is the ratcheting up of security. The screening process has become increasingly invasive and stressful as well as space-hungry, with snaking queues and bulky equipment. But new technologies, such as biometric identification, along with artificial intelligence to help target threats, promise to make security checks faster—less onerous yet more thorough. Facial-recognition systems like the one introduced last December at Delta Airlines at Atlanta's Hartsfield Jackson International Airport (the world's busiest, in terms of annual passengers), should also reduce the amount of real estate that screening requires, say proponents.
Other technological trends with operational and space implications include a growing reliance on automation and self-service. For instance, pre-security areas are shrinking now that passengers routinely check in before arriving at the airport or via self-service kiosks, and often tag their own bags. So-called individual carrier systems (ICS) for baggage handling, which rely on RFID chips, offer improved tracking, speed, and energy efficiency, though they do not necessarily save space. At SFO's Harvey Milk, which will have one of the first installations of an ICS in the country, accommodating the machinery's height requirements "was a bit of a jigsaw puzzle," says Richard Spencer, aviation-design director for Woods Bagot. His firm, along with HKS, ED2 International, and KYA, is designing the air side of the terminal as part of a design-build team.
Seasoned airport designers caution that, while these technologies rapidly evolve, "the story of the next 20 years is likely to be automation, biometrics, and AI, but no one really knows," says Andrew Thomas, a partner at Grimshaw Architects in London. Thomas, who led his firm's team in designing the recently opened 11 million-square-foot terminal at the Istanbul New Airport—said to be the world's largest—recommends against designing tightly to current tech requirements. Instead, he advocates for "deep floor plates and a loose fit."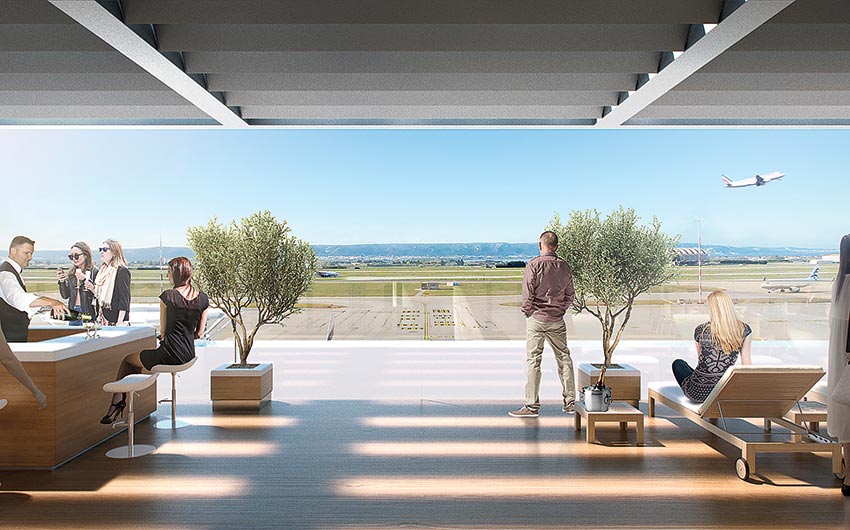 Images: © Foster + Partners
Marseille Airport An expansion for this Mediterranean city, designed by Foster + Partners, will include a terrace overlooking the tarmac and the view beyond.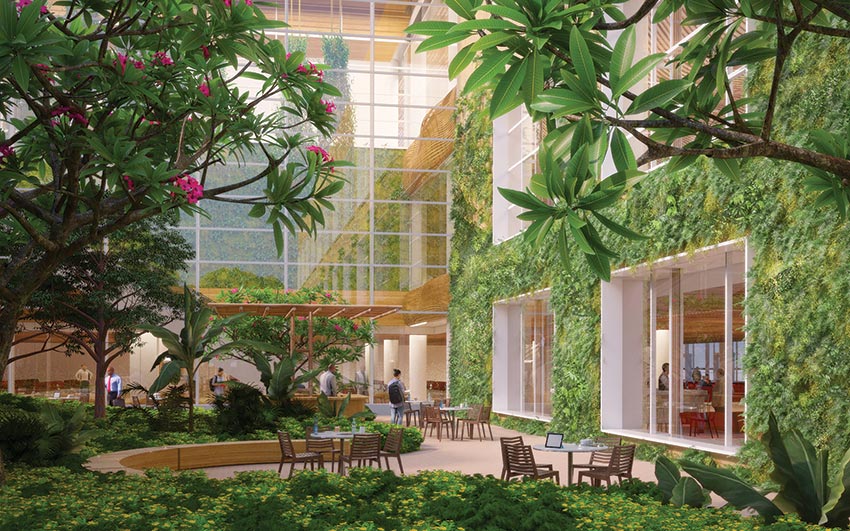 Images: © SOM
Terminal 2, Kempegowda International Airport For Bengaluru, India, SOM has designed a building organized around a series of indoor and outdoor green spaces.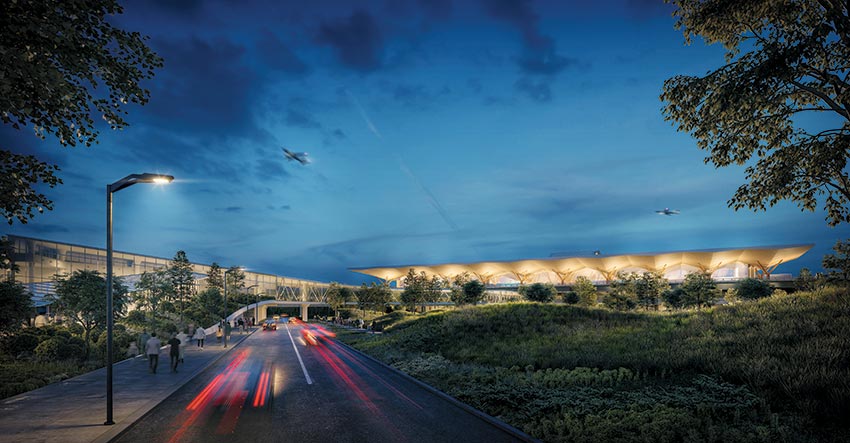 Courtesy Pittsburgh International Airport
Pittsburgh International Airport The subtly undulant roof of the planned new terminal is intended to recall the region's landscape.
Building in such flexibility undeniably makes sense, especially for a greenfield facility well outside the city center, like the Istanbul airport. But projects at urban airports with little wiggle room are trickier. Some, like the new Terminal B now under way at New York's LaGuardia Airport (LGA), require an almost surgical approach. In order to keep the maximum number of gates operational during construction, the facility is being built in phases, "alongside, around, and over" the existing 1964 terminal that it is replacing, says Peter Ruggiero, design principal in the Chicago office of HOK. As part of the consortium chosen to design, build, and operate the terminal through 2050, HOK and WSP have developed a scheme that has a headhouse connected to a pair of gate-concourse buildings via pedestrian bridges. These span over the plane taxi lanes. So far, 16 of the planned 35 gates are open, with completion slated for 2022.
Transparency is a common theme at new airports, as architects endeavor to make navigation as straightforward as possible and reduce passenger stress. At LGA's Terminal B, travelers will always be able to see and anticipate the next step in the process, says Ruggiero. Security will be visible from the curbside, and once customers pass through the screening area, the bridges and concourses will come into view through an expansive window wall. And for orientation at Harvey Milk, designers are relying on strategies such as changes in finishes and manipulation of ceiling planes to provide subtle prompts. They also have created a series of multistory spaces that will allow daylight to penetrate the building's lower levels and give occupants a sense of their location in relation to the outside world. Of course, many tech-savvy people already rely on their smartphones for wayfinding, in addition to using the devices for real-time info about flight status and the length of security lines. "But we hope that light and form will provide the necessary cues," says Spencer from Woods Bagot. Ruggiero points out that gate areas in aviation lingo are often referred to as "hold rooms," which implies incarceration. But he and other architects say that the current thinking is to make these spaces into hospitality environments, with varied seating options, plentiful charging stations, better lighting, and improved indoor air quality. And, of course, the gate areas are readily accessible to retail and food concessions, often highlighting local specialties. Passengers waiting for flights can take advantage, too, of a widening array of amenities such as yoga rooms, children's play areas, or nap pods. Moshe Safdie's Jewel at Changi Airport in Singapore (page 74) even includes a movie theater.
Arguably, the most surprising amenities cropping up at airports large and small are biophilic elements, both open-air spaces and those that are climate-controlled. SOM's Kempegowda project is just one example. There is also the lush valley that is the centerpiece of Jewel; a terrace that will overlook the tarmac and the landscape beyond in Foster + Partners' planned expansion to Marseille Airport; and the garden framed by the revamped Elmira Corning Regional Airport (see page 88), by Fennick McCredie Architecture. All provide an opportunity for passengers to reconnect with the natural world before or after spending hours in a hermetically sealed jet.
The truism that the only constant is change seems particularly apt for airports. Let's hope that the trend toward air terminals with immersive green, soothing environments turns out to be one that endures.
Originally published in Architectural Record
Originally published in July 2019
Notice