Growing Diversity in the Flooring and Building Industries
From the national to the local level, efforts are being made to foster a more diverse workforce
Sponsored by Mohawk Group

1 AIA LU/Elective; 1 IDCEC CEU; 0.1 IACET CEU*; 1 CIM CEU; AAA 1 Structured Learning Hour; This course can be self-reported to the AANB, as per their CE Guidelines; AAPEI 1 Structured Learning Hour; This course can be self-reported to the AIBC, as per their CE Guidelines.; MAA 1 Structured Learning Hour; This course can be self-reported to the NLAA.; This course can be self-reported to the NSAA; NWTAA 1 Structured Learning Hour; OAA 1 Learning Hour; SAA 1 Hour of Core Learning
Learning Objectives:
Describe efforts that two national associations are making to create diversity, equity, and inclusion in the workforce.
List four construction and design professionals who are helping to bring diversity to construction and architecture.
Explain how a book sponsored by two corporations is making a push for more women in the building industry.
Discuss three tools to bring diversity and inclusion into flooring retailer businesses.
This course is part of the Flooring Academy
This course is part of The Flooring Academy
Below are a set of links to articles from Floor Trends. Click on each link below to read the articles and then complete the quiz to earn your credit and certificate of completion.
Fostering diversity in the flooring and building industries is at a critical juncture. For years, a lack of skilled labor has hampered the ability of companies in the construction industry to function and grow. Encouraging women and people of color to consider the design and construction industries as a career path is a way to solve this problem. This course illustrates how a large number of interests are promoting diversity and inclusion, and profiles several professionals who are thriving in the industry.
The National Association of Home Builders Forms Diversity, Equity and Inclusion Task Force
The National Association of Home Builders (NAHB) announced it has formed a Diversity, Equity and Inclusion (DEI) Task Force. The task force was created to review and establish best practices for developing and sustaining policies designed to enhance a diverse and inclusive membership that is representative and reflective of all communities that seek the American Dream of homeownership.

NAFCT for Training, Education and Diversity
New to the flooring industry, the National Association of Floor Covering Technicians (NAFCT) has entered the industry—and society—at a time where technology is essential, ingenuity is paramount and diversity and inclusion are strongly encouraged. With that, the organization is making a concerted effort to do its part in not only diversifying itself as it works to improve education, training and communication within the flooring installation industry, but to promote diversity and inclusion within the industry as well.
Danielle Clair Simpson
How Flooring Retailers Can Encourage Diversity in the Workplace
According to Claudia Brind-Woody, vice president and managing director of intellectual property at IBM, "Inclusivity means not 'just we're allowed to be there,' but we are valued. I've always said: smart teams will do amazing things, but truly diverse teams will do impossible things." So what does that look like in the workplace, and even further, in the flooring retail space? Here are three general tools for successful diversity, equity and inclusion, provided by Bonnie Mayfield, chair, Dykema Gossett PLLC in Bloomfield Hills, Michigan, as applied to the flooring industry.

New Children's Book Addresses Construction Industry's Skilled Labor Shortage
According to the NAHB, The House That She Built demonstrates the impact that women can have on housing and develop the programs and education to make it happen. 84 Lumber and Andersen Corporation are sponsors of the book and support its mission to further workforce development initiatives in home building by generating awareness of the skilled trades to underrepresented communities.

Creating Your Own Lane: Tile Installer Schannon Yodice AKA 'That Tile Chick'
In just one year, Schannon Yodice has made quite a name for herself in the flooring industry. Walking away from an accounting career to focus solely on her passion of designing and installing unforgettable tile applications, Yodice is wowing homeowners with her natural talent, influencing thousands across social platforms and inspiring those looking on with her drive, talent and authenticity. "We need to keep diversity growing in our industry, and just keep showing up," she said.

Building Better Communities with Diverse Perspectives
Communities are better served when the buildings that are designed for them more accurately represent all persons. It is that perspective that is the driving force behind Moody Nolan's commitment to diversity in both its staff and projects, as it leads in the design of spaces that are more versatile, intriguing and inspiring to those that will live, work and play within them.

Sherwin-Williams Donation to Support Diversity in Architecture
The Sherwin-Williams Company has made a permanent endowment to the Architects Foundation to support a Diversity Advancement Scholarship. Through their $150,000 gift, Sherwin-Williams will support a minority architecture student's career path by funding their college experience with $20,000, to be distributed evenly over the course of up to five years.

Diversity in Design
What began as a hobby that allowed Porscha Coney to occasionally flex her design muscle has since catapulted into a full-blown entrepreneurial venture: P.L. Coney Designs, a Kentucky-based, full-service firm offering design solutions for both residential and commercial interiors.
Danielle Clair Simpson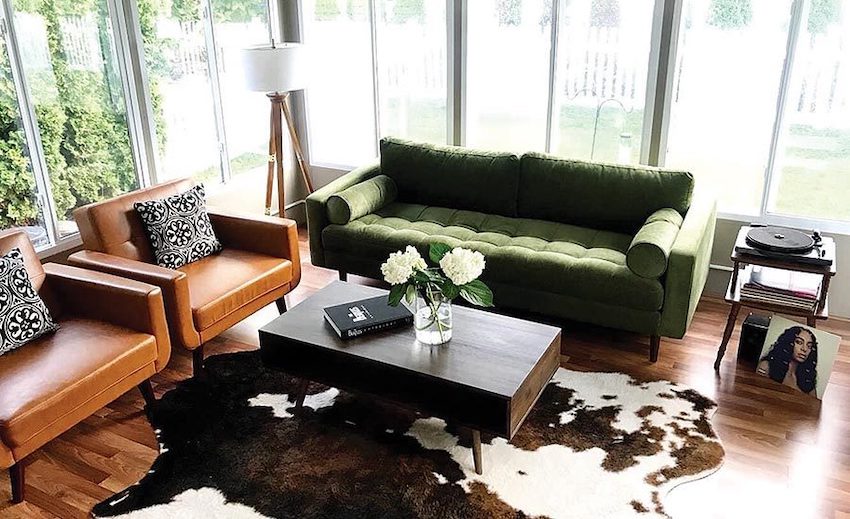 Photo courtesy of Porscha Coney
This test is no longer available for credit
| | |
| --- | --- |
| | As the world's leading producer and distributor of quality commercial flooring, Mohawk Group believes that better floor coverings emerge from better design, innovation, sustainability, project solutions and operational excellence. Mohawk Group addresses the unique challenges and opportunities in contract interiors with a comprehensive carpet and hard surface portfolio of all types and price points. As the commercial division of Mohawk Industries, the company has a heritage of craftsmanship that spans more than 130 years. To learn more about our full line of flooring products, please visit MohawkGroup.com or call 1-800-554-6637. |
Originally published in October 2021
Notice