The Advantages of an IMP Roof
A closer look at the thermal performance and sustainability qualities offered by insulated metal panels
Sponsored by Metal Construction Association's Insulated Metal Panel Alliance
Learning Objectives:
Explain the level of thermal performance that can be designed into an insulated metal panel (IMP) roof system, supporting the creation of a highly efficient building envelope.
Describe the qualities that insulated metal panels possess that allow them to provide continuous insulation to the building envelope, satisfying building codes.
Provide examples of how insulated metal panels provide the continuous air and vapor barriers in the roof or exterior wall system, managing the movement of air and moisture in the building enclosure.
Identify the several ways that the selection of insulated metal panels support sustainable design criteria.
Credits:
This course can be self-reported to the AIBC, as per their CE Guidelines.
This course is approved as a Structured Course
This course can be self-reported to the AANB, as per their CE Guidelines
Approved for structured learning
Approved for Core Learning
This course can be self-reported to the NLAA
Course may qualify for Learning Hours with NWTAA
Course eligible for OAA Learning Hours
This course is approved as a core course
This course can be self-reported for Learning Units to the Architectural Institute of British Columbia
This test is no longer available for credit
There is a common misconception in the design and construction industry that insulated metal panels, often referred to as IMPs, are only suited to provide a solution for an exterior wall in the building envelope. This unfortunate misunderstanding unnecessarily limits designers to roof systems such as traditional built-up and single-membrane roofs with limited service life spans, or traditional metal roofs with independent thermal and moisture barriers that must be detailed and installed as separate materials and might suffer from installation mistakes that compromise the thermal performance or moisture management.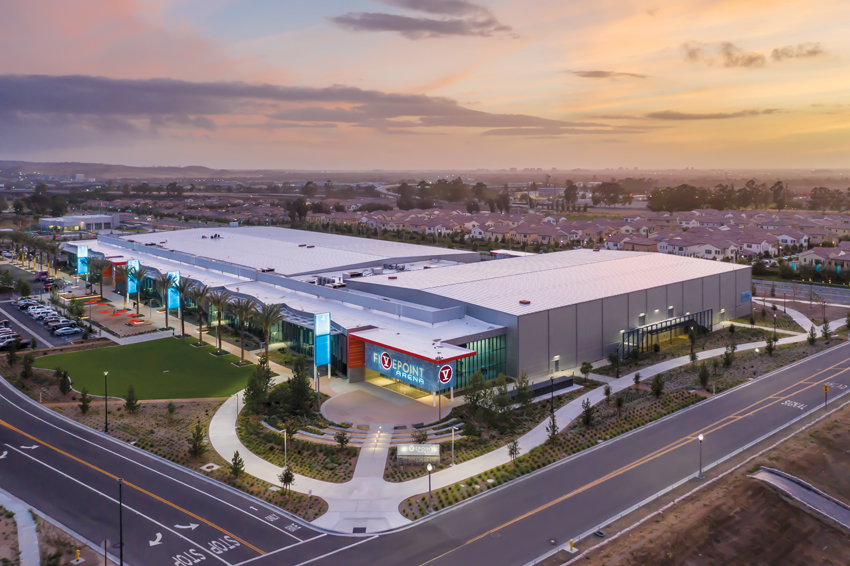 Photo courtesy of All Weather Insulated Panels
This $100-million, LEED Silver certified Great Park Ice & FivePoint Arena is the largest ice facility in California and one of the largest in the United States, and it features an IMP roof.
The truth is that IMPs can provide a high-performance roofing solution that offers exceptional thermal performance, unparalleled ease-of-installation, and gives the designer freedom to create building profiles rich in character. IMPs also meet or exceed multiple sustainable design criteria that contribute toward a project earning green building certifications or simply support the design and construction of healthier and more environmentally conscious buildings.
This course will explore the use of insulated metal panels as a roofing solution. Features of the panels, including their material construction, will be discussed as will the wide range of benefits that these products can offer a project. Multiple case studies will be profiled throughout showcasing how architects around the United States have successfully applied this IMP roofing system.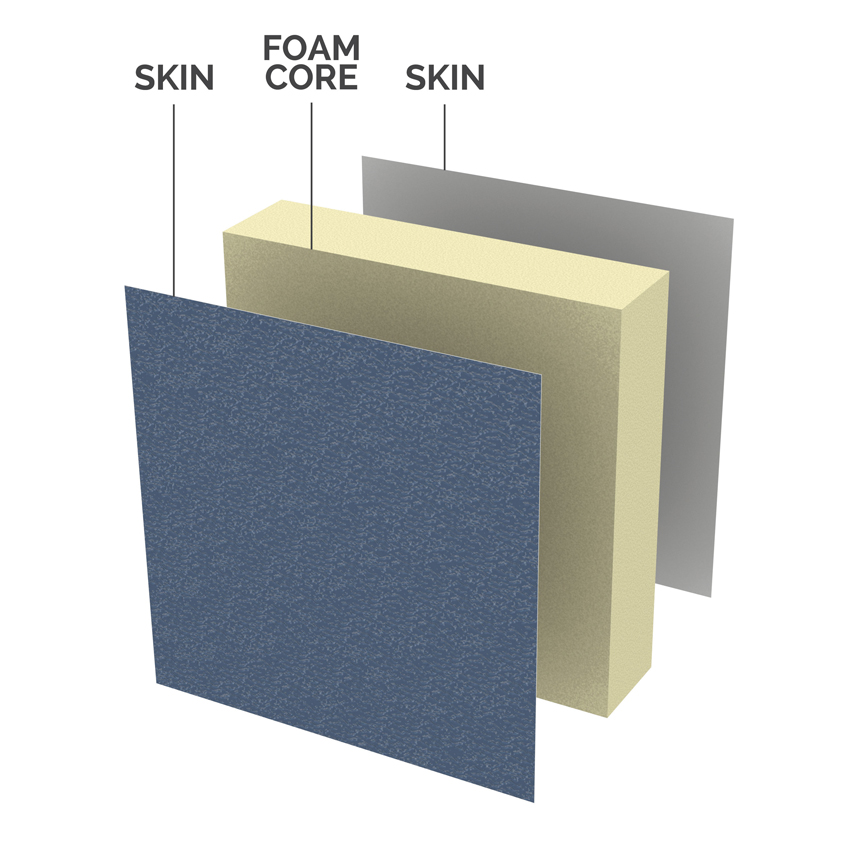 Image courtesy of Metal Construction Association
IMPs are lightweight sandwich panels comprised of exterior and interior metal skins that have an insulating foam core.
Introducing Insulated Metal Panel (IMP) Roofing
IMPs are lightweight sandwich panels comprised of exterior and interior metal skins that have an insulating foam core. The metal substrates most often used for the faces of painted IMPs are G90 galvanized steel or AZ50 aluminum-zinc coated steel, while unpainted roof panels are typically AZ55 aluminum-zinc. Many panels can also be manufactured from stainless steel or aluminum.
The interior-facing surface is typically finished with a nominal standard polyester coating in a light-reflective and easy-to-maintain color. The foam is injected or poured in place between the two metal sheets, where it expands, cures, and bonds to the metal skins in a matter of seconds. The insulation completely fills the cavity, allowing the solution to offer incredible thermal performance.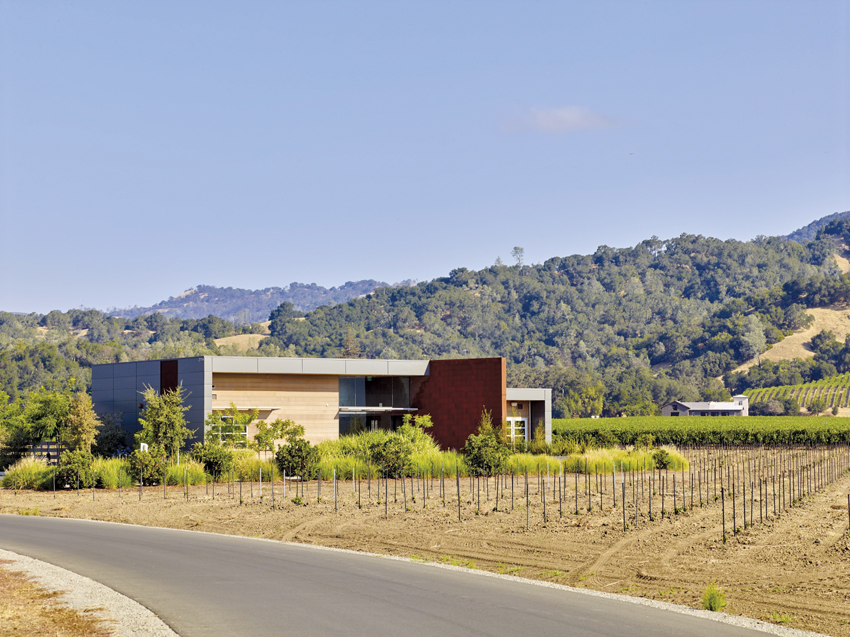 Photo courtesy of Metl-Span
The Zialena Winery production facility and hospitality a in Geyersville, California, was constructed using steel framing and insulated metal panels for the walls and roofing.
The combination of the two metal skins, the interior layer of insulation, and the embedded side joint sealant creates an assembly that serves as a water-control layer, air-control layer, and vapor control with a durable, UV-resistant exterior surface. The insulation provides the thermal control layer, and the interior metal face, in conjunction with the sealant, provide an air-control layer, and a vapor-control layer.
The location of these control layers makes an IMP assembly something of a perfect roof. The water-, air-, and vapor-control layers are all located on the exterior of the structure, with thermal control located inboard along with a duplicate air- and vapor-control layer. Because of their construction, IMPs can be used in all climate zones—cold, hot, humid, dry, mixed, or marine.
As a roofing solution, IMPs provide exceptional insulating properties, superior spanning capability, accelerated installation times, and recycled content. These systems can be installed on both low- and steep-slope roofs, allowing for use in most commercial and residential projects. IMP roofs beat competing roofing systems on weather-tightness and achieve a Class A rating for external fire. They can also be integrated with other wall and roof systems while maintaining proper control-layer continuity.
These panels can be designed to satisfy a variety of performance specifications, including insulation values, span lengths, and load/span capabilities. Their ability to be customized enables architects to find an IMP solution that is the right fit for any project.
History of IMPs
IMPs first emerged as a building product in the 1960s. While predominantly used as an exterior wall assembly, these panels were, even then, used as a roofing solution. Throughout the last 60 years, the materials and production methods have advanced considerably. IMP manufacturers were originally responsible for creating the individual components—the metal panels and the insulation—as well as assembling them. Today, there are major chemical companies invested in improving and producing foam core insulation with increasing levels of thermal performance and fire resistance. This has allowed IMP manufacturers to focus on improving the construction of the overall assembly. This divide-and-conquer approach has resulted in tremendous innovation within the IMP industry.
Wall Panels and Roofing Panel Profiles
Beyond performance improvements, IMPs are available in a wide variety of colors, widths, profiles, and finishes. For exterior wall applications, panel profiles are often described as ribbed, fluted, planked, or flat. These panels can have texture, be embossed, or feature a sprayed-on aggregate that creates a faux stone appearance. Panels can be applied vertically or horizontally, depending upon the joinery.
Roof panels also offer different types of joinery and profiles. There are two basic categories of roof panel profiles: standing seam profiles and through-fastened profiles. Each offers its own blend of benefits. Let's take a closer look at how these profiles are different and the advantages that they offer on a project.
Roof panels with a standing seam profile are mechanically seamed together during installation. This delivers incredible weathertightness. Standing seam panels are also notable because there are no exposed fasteners within the envelope boundaries. The fasteners that connect the panel to the roof framing are covered when the next panel is joined to it.
Several IMP manufacturers offer distinctive profiles, giving architects several aesthetic options from which to choose. A traditional joinery is a standing seam panel with a 2-inch straight leg. Some manufacturers offer panels with a T-shaped joinery. There are also roof panels that feature a trapezoidal joinery. These panels have a 2-inch leg and a trapezoidal lower half, creating a panel installation with greater dimension across the face of the roof.
Through-fastened profiles refer to panels where the fasteners are exposed or visible. While these solutions may not provide the flawless aesthetic created by the standing seam panels, through-fastened panel systems can be installed quicker than the standing seam variety because they do not require that the installer mechanically seam the panels together.
Originally published in Architectural Record
Originally published in November 2020
Notice