Put the Pedal to the Metal
Metal roofing and wall systems' longevity, recyclability, and compatibility with retrofits and rooftop solar technology present an impressive sustainable scorecard
Sponsored by Metal Construction Association
Learning Objectives:
Define the primary advantages that metal and metal roofs offer in delivering a long-lasting, energy-efficient building enclosure.
Identify the predominant aspects of metal roofing systems that make them highly compatible with rooftop solar technologies and life-cycle benefits.
List key integrated building systems and strategies for maximizing energy and performance savings with metal roofing retrofits.
Discuss case studies illustrating the sustainability of metal roofing and wall systems.
Credits:
This course can be self-reported to the AIBC, as per their CE Guidelines.
This course is approved as a Structured Course
This course can be self-reported to the AANB, as per their CE Guidelines
Approved for structured learning
Approved for Core Learning
This course can be self-reported to the NLAA.
Course may qualify for Learning Hours with NWTAA
Course eligible for OAA Learning Hours
This course is approved as a core course
This course can be self-reported for Learning Units to the Architectural Institute of British Columbia
This test is no longer available for credit
None of the three little pigs built a house out of metal, but it would have been a good way to keep away the big, bad wolf.
Sturdy, strong, and sustainable metal walls and roof panels are known for their durable and green features. Metal is almost unbeatable among building materials for its recyclable properties, and metal walls and roofs contribute to reduced energy consumption, as their well-known cool roofing properties reflect heat energy and absorb less heat, keeping buildings cooler and reducing air-conditioning costs.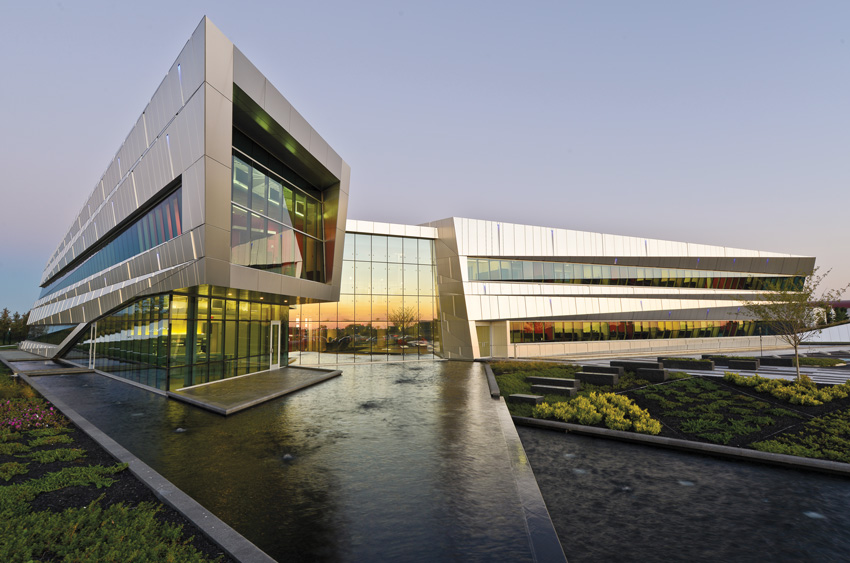 Photo courtesy of Alucobond/Connor Group/Daniel Lunghi Photography
In fact, Andy Feth, project director at C.W. Driver Companies in San Diego, says he frequently specifies metal wall systems solely on account of their sustainable attributes. "Many metal products in the construction industry are manufactured with recycled materials," he explains. Notably, "it's an excellent reuse or repurposing of materials that might previously have ended up in a landfill."
One-hundred percent recyclable, metal walls and roofs can also be manufactured with 40 percent recycled steel. This figure is especially impressive in light of the estimated 11 million tons of asphalt shingles that end up in landfills. Consequently, it's easy to see why Florida's Department of Environmental Protection ranks metal roofing as one of the most eco-friendly roofing solutions in terms of waste reduction.1
Meanwhile, Gloria D. Lee, principal of Swift Lee Office Architects in Pasadena, California, is enthusiastic about what she considers the most noteworthy sustainability attributes of metal walls and roofing retrofits: long life, low maintenance, reduced probability of water intrusion, recycled steel content, high solar reflective index (SRI), light weight, and metal roofs' compatibility with clip-on photovoltaics (PV) or thin-film peel-and-stick PV.
As a highly durable, long-lasting material, metal roofs and panels deliver an excellent roofing return on investment.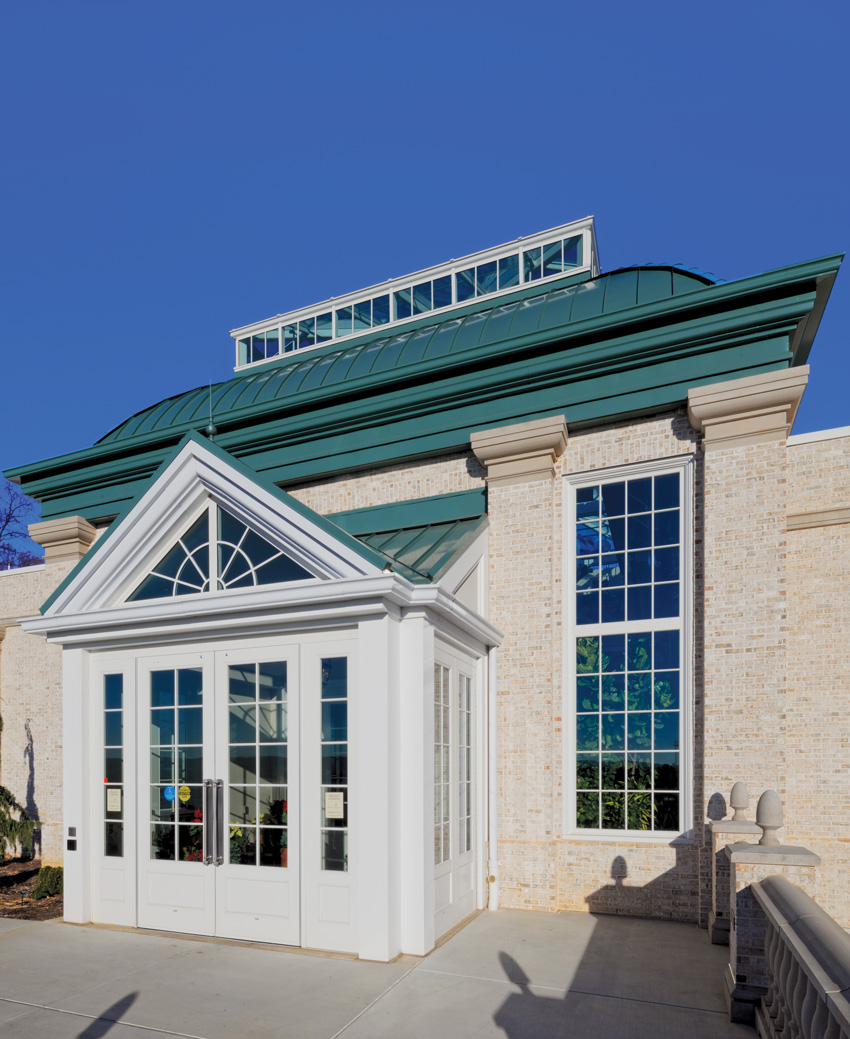 Photo courtesy of Drexel Metals
The Welcome Pavilion at Hershey Gardens in Hershey, Pennsylvania, features a new curved metal standing seam roof that mimics early 20th century design and seems to crown the conservatory.
Furthermore, "metal wall and roof systems offer numerous ways to contribute to a high-performing building envelope," adds Karl Hielscher, CEO, Metal Construction Association, a Chicago-based association.
Beyond these advantages, many architects and builders are turning to metal for its clean lines, ease of use, and versatility, finding inspiration—and innovation—in metal building products.
A Look at the Market
Industrywide, metal construction is on the rise—and for good reason. Recyclable, durable, and easy to install, metal has a loyal and growing following.
For example, out of the U.S. Department of Defense's new construction and reroofing for U.S. military bases, more than half of the facilities' 290 million square feet of roofing is now metal. Moreover, within the United States, about half of all one- and two-story business buildings are now built using metal building systems. "As a result, it's safe to assume that a majority of low-rise government buildings being constructed today are made of metal," says Dan Walker, professional engineer and assistant general manager of the Cleveland-based Metal Building Manufacturers Association (MBMA).2
In low-rise, nonresidential construction, metal buildings have captured more than 50 percent of the market, according to the MBMA business review. Architects in Metal Architecture's 31st Annual Architect Survey report that metal wall panels, metal roofs, and metal building systems were specified more in 2016 than in the previous year—and 2017 looks to be even stronger, with more construction in general, and an increase in metal materials specifically.3
Metal's market share continues to grow, both in new construction—a 4.6 percent increase from 2015 to 2016—and with regard to renovation projects, where it spiked 12.2 percent over the same period. Furthermore, metal roofing is the second most-used residential roofing product on the market today.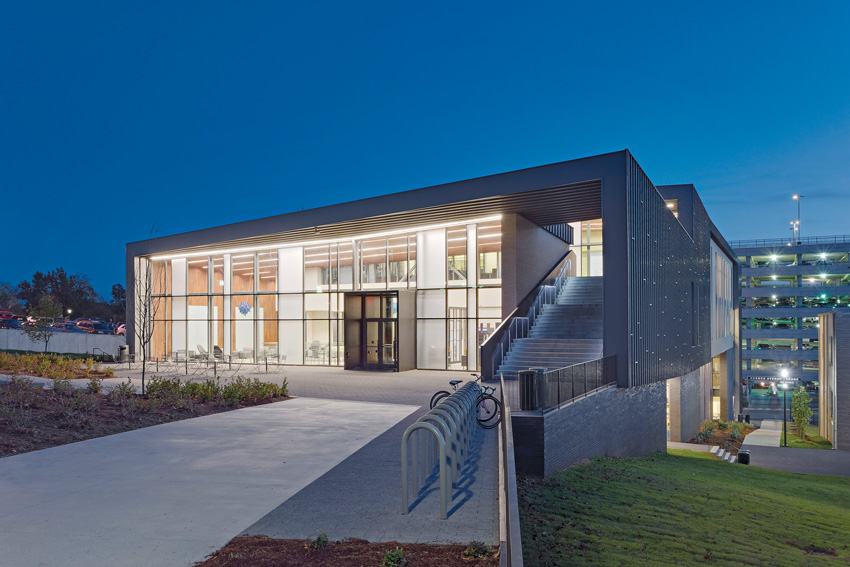 Photo courtesy of Liam Frederick/McElroy Metal Inc.
Metal's durability, sustainability, and optimal building enclosure attributes made it the clear facade choice for the University of Arkansas Champions Hall in Fayetteville. Regionally sourced with a high recycled content, the metal structure contributed toward LEED credits.
Originally published in Architectural Record
Originally published in October 2017
Notice