Insulated Metal Panels: An All-In-One Air and Water Barrier
Ideal for both retrofits and new construction as an all-in-one air and water barrier with continuous insulation, roof and wall insulated metal panels deliver a plethora of performance, erection, durability, and aesthetic benefits
Sponsored by Metal Construction Association, Insulated Metal Panel Funders Group
This test is no longer available for credit
Structural Loading
Among the many features proffered by IMPs, the panels do a good job of resisting transversely applied loading, defined as loading applied normal to the face of the panel. This includes wind loading, and for roof panels, live/dead/snow loading as well.
Because the panels are separated by an insulated core, IMPs are also capable of resisting thermal loading that can be induced when the face and liner sheets are at different temperatures.
As explained in an MCA Technical Bulletin, "Insulated Metal Panels – Structural Loading," despite these performance capabilities, IMPs are not considered "load-bearing" panels in the sense of axial loading. However, they can be used on a load-bearing wall, but only if the axial load is carried by other construction, not by the panels themselves.
Because many IMP products incorporate a progressive tongue-and-groove interlock joint, they are hard fastened to the structure along their leading edge. As a result, these side joint-fastened panels exhibit low resistance to racking type loads.
While IMPs offer these structural advantages, they must undergo a complete structural analysis as nonhomogeneous structural beams addressing the following five basic modes of failure: flexural buckling of the metal facings, shear failure of the core, excessive deflection, clip/fastener failure, and connection failure.
MCA further explains that when placed under a shear load, the foam core cells will elastically deform, to a certain degree, which can cause additional deflection, redistributing reactions among the supports and altering conventional beam analysis equations.
"Accurate structural analysis is best performed by the panel manufacturer's design team or by an independent design professional familiar with composite foam panel design," instructs MCA.
Putting things into perspective, a maximum panel deflection of L/180 is common for wall applications. However, the 2015 International Building Code allows a maximum deflection of L/120 for walls with a flexible finish. For IMP roof applications not supporting the ceiling, up to L/180 is generally acceptable. When the panels are supporting the ceiling, panel deflection is limited to between L/240 and L/360.
Sustained loading, such as a long-term snow load, can cause additional shear deflection, but fortunately, IMPs are quite resilient and will return to their flat position soon after the transverse load has been removed.
Taken together, IMPs contribute to a strong building enclosure, often capable of supporting spans of 10 feet or more between supports. "The composite bond of IMPs produces a building unit that is much stronger than the individual components, even with very light gauge facings," states the MCA Bulletin.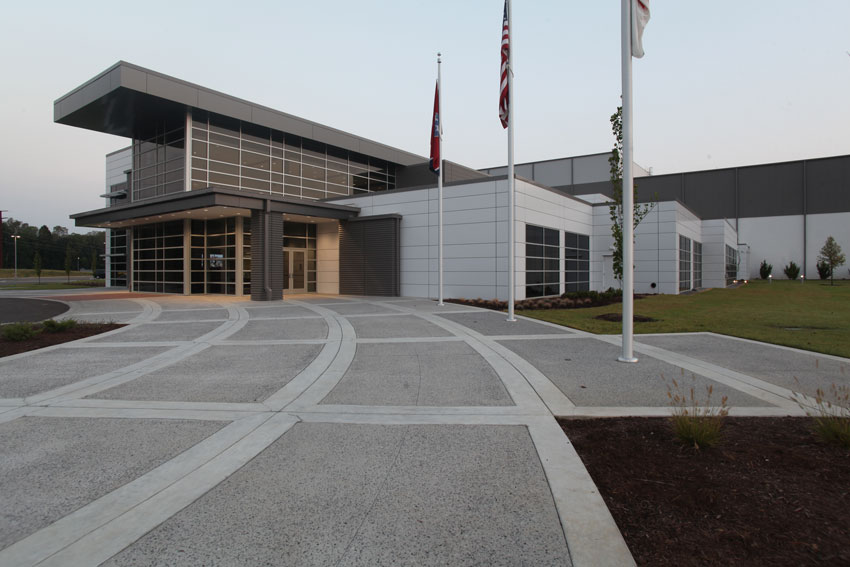 Photo courtesy of Kingspan Panels
The Utah Paperbox Co. in Salt Lake City is faced with insulated metal panels.
IMPS and NFPA 285
When specifying insulated metal panels, architects should be aware that the product's foam insulation ingredient makes it subject to NFPA 285 fire propagation restrictions per the International Building Code. This applies to plastic foam insulation that is used on exterior walls for Type I, II, III, or IV construction.
The good news—as Jesse J. Beitel, senior scientist, principal, Hughes Associates, and the code and fire consultant to the Exterior Insulation and Finish Systems' Industry Members Association reports in MCA's white paper "Insulated Metal Panels and NFPA 285"—is that based on test data and Beitel's experience with IMP panels in NFPA 285 tests, IMPs generally exhibit very good fire performance.
The 30-minute fire test—"Standard Fire Test Method for Evaluation of Fire Propagation Characteristics of Exterior Non-Load-Bearing Wall Assemblies Containing Combustible Components"—evaluates the level of vertical and lateral flame propagation emanating from plastic foam insulation inside the IMP via visual observations and temperature measurements throughout the wall assembly.
As a helpful guide for architects, Beitel lists the following IMP characteristics that may need to be evaluated during NFPA 285 testing:
Foam plastic core insulation formulation, which varies amongst manufacturers, and the maximum density and thickness contemplated for use
Facings, evaluated using the minimum thicknesses contemplated for use and the metal type on the facers
IMP panels size
IMP panel orientation
IMP profiles: Typically, a flat profile is evaluated, although other profiles would be acceptable, assuming the thickness of the foam plastic core insulation remains below the maximum flat profile tested and that the joint system is similar.
IMP panel joints: Typical joints are overlapping joints with concealed fasteners, clips, and caulk. Minor variations from the tested assembly are allowable.
Attachment system: As the most common system, a light gauge metal steel frame is tested.
Window/trim details: The window header, jambs, and sill in its "simulated" window opening must be sealed so that the foam plastic core is not directly exposed.
Use of thermal barrier: Typically, ½-inch-thick gypsum wallboard is used on the interior side of the wall assembly, must be installed over the full height of the wall assembly, and cannot stop in what would be the space above a drop ceiling.
As an alternative to NFPA testing, building code officials and authorities having jurisdiction will potentially accept engineering judgement letters regarding fire-resistance assembly ratings, per the IBC, where appropriate.
"Since every variation of a wall system cannot be tested, and based on the discussions above, if the 'basic' IMP panel system meets NFPA 285, minor variations in items such as caulks, trim, window details, and joints can be allowed without retesting or an analysis," states Beitel in MCA's white paper.
Originally published in Architectural Record
Originally published in May 2017
Notice