Architectural Excellence with Insulated Metal Panels
Insulated metal panels offer environmental benefits, ease of installation, and potential for high design
Sponsored by Metal Construction Association's Insulated Metal Panel Alliance
The manufacturer developed curved panels for the academy to make the design vision a reality. The unique curved wall allows for southern exposure and serves to separate classrooms from the part of the building that houses the gym and cafeteria. Exterior walls for those two sections have linear panels.
The 3-inch panels met new energy code requirements in Michigan using a singular wall panel solution while also delivering a visual expression not yet seen in Flint.
The building's external wall features 28,500 square feet of insulated metal panels in four different colors. The panels are integrated with a brick base. Architects also specified a special flashing to build a sill condition at the transition point and highlight the metal panels.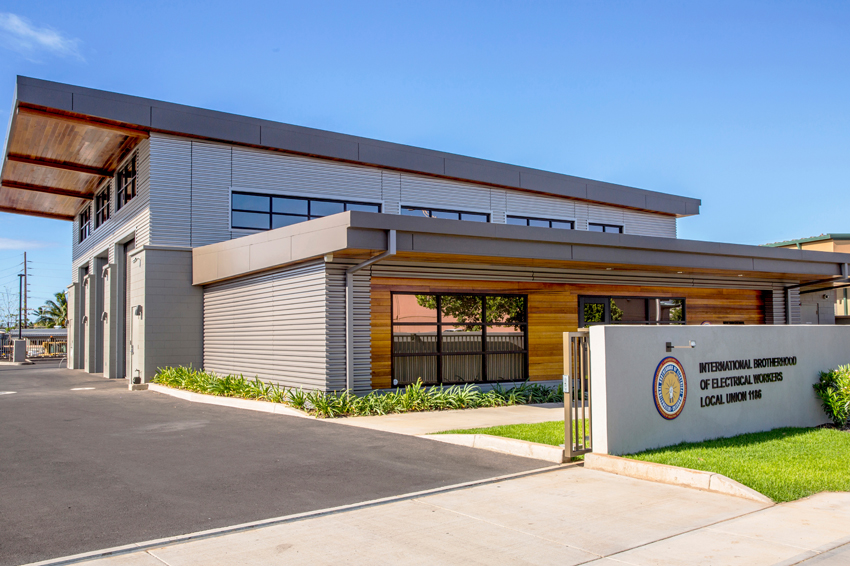 Photo courtesy of Kingspan Insulated Panels
International Brotherhood of Electrical Workers, Kahului, Maui, Hawaii
Metal panels also helped achieve several aesthetic and functional goals in Hawaii. With a growing membership, the International Brotherhood of Electrical Workers (IBEW) local 1186 union in Kahului, Maui, needed a multipurpose space capable of housing offices and a training facility all while having an aesthetically pleasing look appropriate for hosting various social functions.
A pre-engineered structural frame was chosen to facilitate ease of installation, increasing faster build times of both roof and wall. Insulated metal panels quickly clad the walls while standing-seam roofing panel's mechanical seaming process saved on labor costs and ensured superior air and weather tightness.
The metal panels married well with the native western red cedar wood. The sleek, clean ribbed metal is warmed by the richness of the soffit and entryway accent panels.
Said Jeffrey Lee, associate with the AHL architectural firm in Honolulu, "I particularly liked the panels for the ribbed appearance and the metallic finish. I wanted to have the ribs of the panels wrap the corners of the building while maintaining a clean look. The main reason we used (the manufacturer's) products was due to the tight schedule, but the appearance was the real selling point."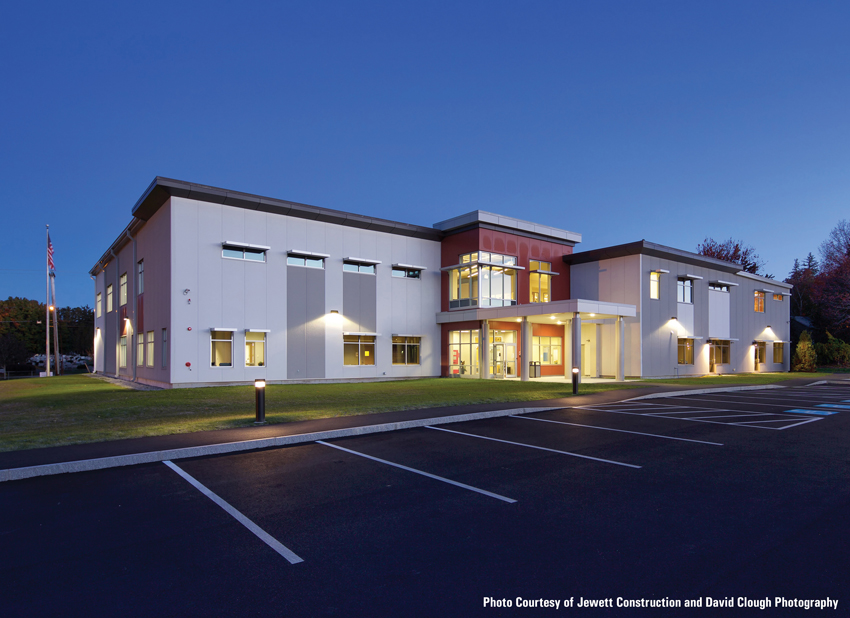 Photo courtesy of Jewett Construction and David Clough Photography
YMCA, Exeter, New Hampshire
Each new YMCA facility is constructed focusing on the needs of the community it serves and the YMCA in Exeter, New Hampshire, is no different. The 33,000-square-foot facility features fitness studios, weight and cardio rooms, a gymnasium, indoor track, and a community room.
Almost 17,000 square feet of insulated metal panels make up the envelope for the building. Brian Hoey, president of Brookside Co. Inc. of Stow, Massachusetts, oversaw construction by Barrett Siding of Londonderry, New Hampshire, including the erection of girts and installation of insulated metal panels.
"We had some tough February snowstorms to deal with and some extremely cold days," Hoey says. "Still, we were able to get everything done in about four to five weeks. The panels were laid out so they were lined up with where they wanted the windows. That's the advantage of working with IMPs. With the exception of some of the extremely cold days, we were able to keep working to get the building closed in by mid-April. Some other products require warmer weather to build."
The exterior of the Exeter YMCA is comprised of three profiles, including 8,388 square feet in a textured white, 3,436 square feet of a striated wall panel in terracotta, and 5,089 square feet in a light gray. All three profiles are coated with an architectural exterior coating that offers a masonry aesthetic often desired by architects and building owners. Some of the panels have a stucco-like appearance, while others offer the appearance of finished precast concrete.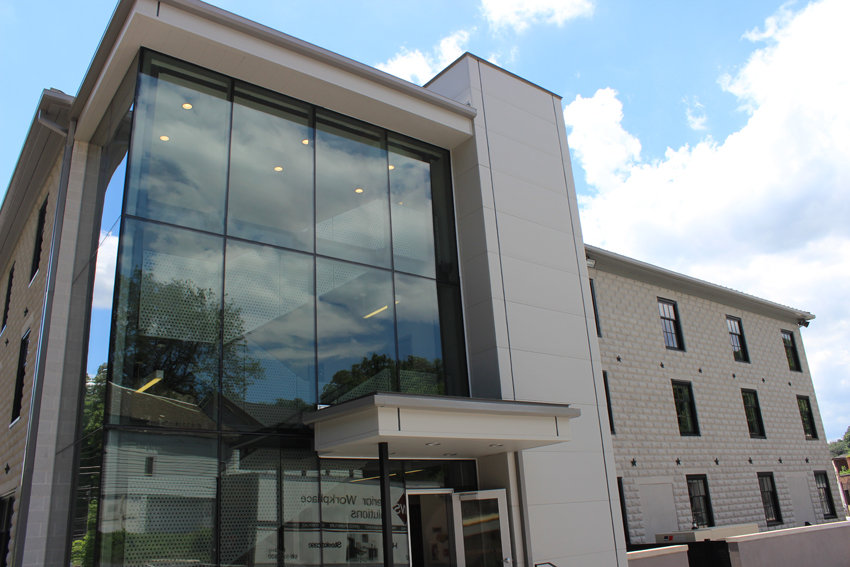 Photo courtesy of ATAS International
Lafayette College's Bushkill Commons, Easton, Pennsylvania
"Insulated metal panels provided us with an aesthetic that made the facility not look like a metal building," says Brittany Blin, an associate with Bruce Ronayne Hamilton Architects of New Ipswich, New Hampshire. "We didn't want it to stick out as a cold building, but a gathering place where families feel welcome. Specifying panels in different colors really warms up the appearance."
Insulated metal panels also serve functional and aesthetic needs for historic buildings. The retrofit of Lafayette College's Bushkill Commons in Easton, Pennsylvania is an adaptive reuse of an existing building originally built by the Speer Lumber Company of Easton in the early 1900s. Over the year, the building had fallen into disrepair. The original post and beam structure wrapped in a masonry facade had survived a few fires as well as the wrecking ball. It would eventually get a new life by being converted to new office space for educational and municipal purposes.
Careful consideration was given to the impact of insulating and conditioning the building as it was historically an open structure. Interior insulated wall panels were built, waterproofed with a breathable liquid membrane, and installed from the interior of the building. The installed system allows for a comfortable interior workspace in the historic building.
Transportation and Aviation
In a city as creative and innovative as Nashville, a new airport concourse just had to be superior in form and function, a goal that insulated metal panels made possible. While the musical city hits high notes with travelers from around the world, the airport struggled to keep pace with unprecedented passenger volume. BNA Vision, a multiyear expansion plan, included a brand-new Concourse D that encompassed six domestic gates and terminal space to accommodate future growth. As BNA Vision looked to the future, energy efficiency was top-of-mind to reduce the airport's carbon footprint.
Fentress Architects specified nearly 60,000 square feet of insulated metal panels for the project, which allowed them design freedom while providing the thermal efficiency that reduces energy consumption. The insulated metal panels provide an all-in-one barrier against air and water penetration.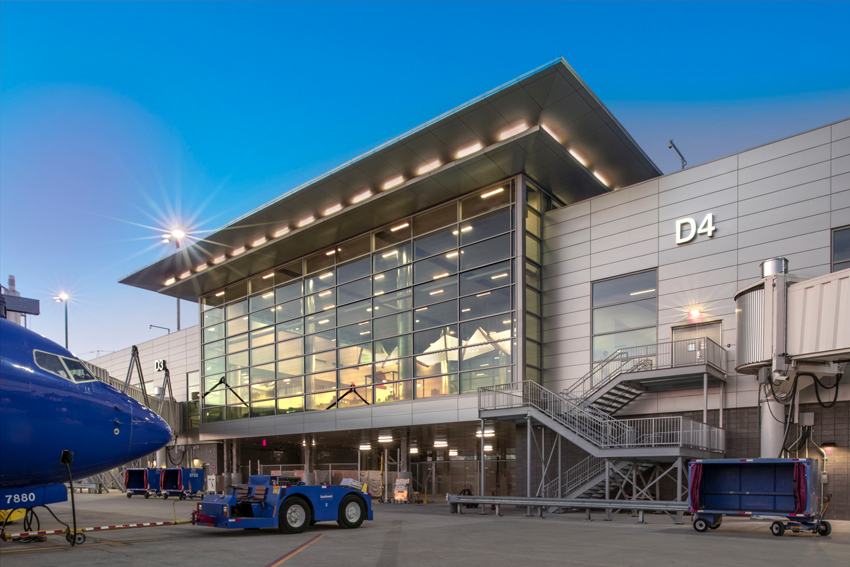 Photo courtesy of Kingspan Insulated Panels
Nashville International Airport, Nashville, Tennessee
The specified panels contain 28 percent less embodied carbon when compared to traditional industrial claddings, already putting BNA on the runway to a more sustainable future. The project was finished in just 25 months, thanks in part, to the insulated panels' speed of build, reducing the number of trades needed on site.
"The new Concourse D gives us more capacity for commercial air service to meet the rising demand for travel to and from Nashville," said Doug Kreulen, Metropolitan Nashville Airport Authority president and CEO. "At the same time, it's an impressive, energy-efficient structure reflective of the world-class airport that is taking shape."
Architects chose a champagne gold tone for the insulated metal panels. The closed-cell insulation technology in the panels is GREENGUARD Gold certified and classified as Red List Free, putting passenger health and safety first. The project achieved a LEED Silver certification.
The new Williston Basin Airport in Williston, North Dakota is another winner of a design competition that showcases the use of metal in exceptional buildings. The new airport, designed by Alliance Architects, is more than double the size of the old airport, a needed increase to serve the booming economy. To reflect the natural landscape of the airport's surroundings, metal was selected to achieve the look of limestone while also being a cheaper, significantly lighter, and more environmentally friendly option.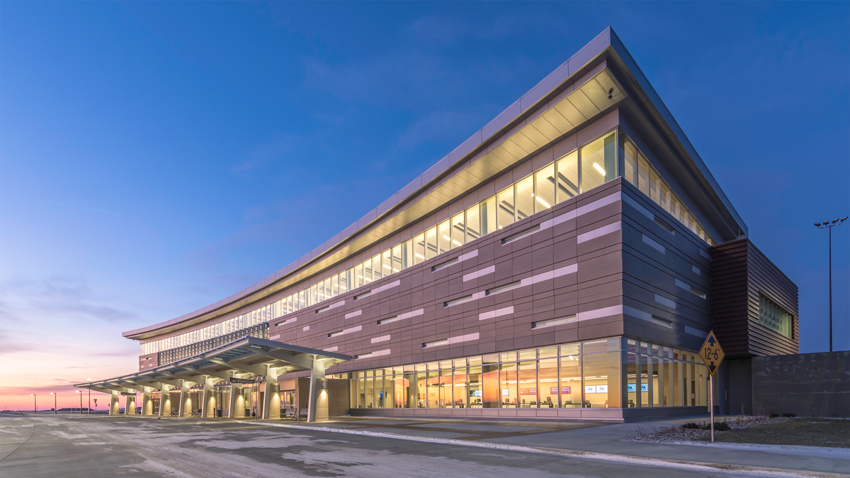 Photo courtesy of Brennan Photo + Video
Williston Basin Airport, Williston, North Dakota
"This is a great exploration of metal," said Stephen G. Blye, an architect and one of the competition judges. "The patterning is strong and done very effectively. Metal is used in a lot of different textures and forms, but it remains cohesive throughout and works well for a greater whole."
A rainscreen facade was used to create a 10,000-square-foot enclosure at the main entrance elevation and north/south returns. The airport uses tens of thousands of square feet of metal products, including perforated screenwalls, corrugated panels in a rust-colored finish, metal panels in flat and embossed finishes of silver and dark bronze colors, and single-skin wall panels in dark bronze. Alliance Architects designed the project.
In Anchorage, a state-of-the-art two-bay hanger was needed to meet Alaska Airlines fleet additions for the next few decades. Construction speed was a unique challenge and especially important for this hangar due to Alaska's shortened construction season. Generally, construction stops in October and doesn't begin again until March or April.
A challenge that comes with hangars is that a large portion of the building is an opening—in this case, a giant 286-foot-wide by 47-foot-tall door was a giant puncture in the envelope. Code in Anchorage requires continuous insulation, and architects had to ensure that the massive hangar doors would not dramatically affect the temperature inside the hangar.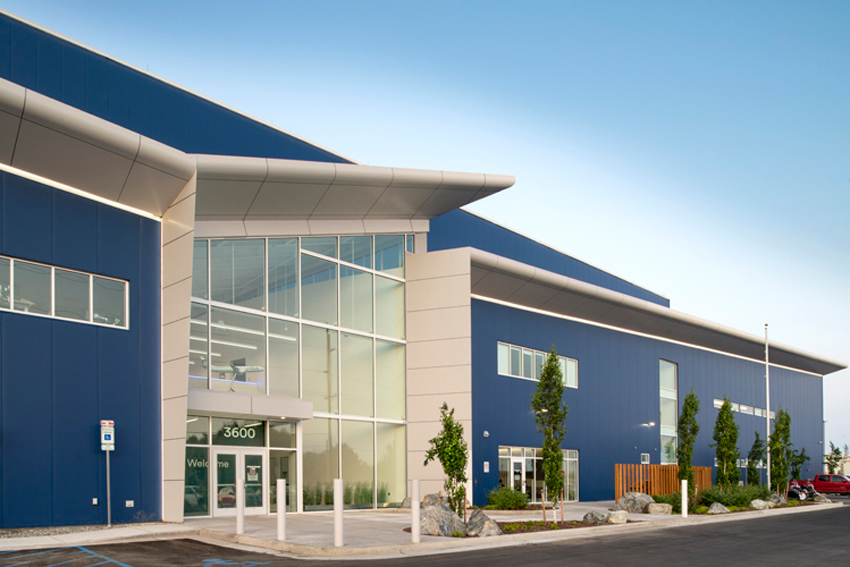 Photo courtesy of Kingspan Insulated Panels
Alaska Airlines, Anchorage, Alaska
Originally published in Architectural Record
Originally published in December 2021
Notice