Aesthetics in Designing With Metal Composite Material (MCM)
Curved, bended, textured, or patterned, metal composite material panels can be used to create decorative, eye-catching facade designs
Sponsored by MCM Alliance
Learning Objectives:
Describe the aesthetic design capabilities MCMs offer including the material's ability to stay absolutely flat or bent, shaped, curved, textured, perforated, and patterned in many colors and finishes.
Explain the sustainable and fire protection capabilities offered by MCMs.
Identify ways in which MCMs are high suitable for branding designs.
Discuss recent case studies where the unique design capabilities of MCMs are showcased.
Credits:
This course can be self-reported to the AIBC, as per their CE Guidelines.
This course is approved as a Structured Course
This course can be self-reported to the AANB, as per their CE Guidelines
Approved for structured learning
Approved for Core Learning
This course can be self-reported to the NLAA
Course may qualify for Learning Hours with NWTAA
Course eligible for OAA Learning Hours
This course is approved as a core course
This course can be self-reported for Learning Units to the Architectural Institute of British Columbia
You are not currently logged in to your CE Center account.
Log in
to view and complete the quiz questions that are embedded in this article.
Metal composite material (MCM) panels are an increasingly popular cladding choice. Being energy efficient, sustainable, affordable, and long lasting—with approximately 70% of its weight made of recycled content—MCMs are a great exterior facade material option.
As compared to alternative exterior products like precast, granite or brick, MCMs are much faster to install and their lightweight nature means reduced structural requirements and cost. MCMs are low maintenance and durable, they retain their color and finish over time, and provide an appearance that resists fading, cracking, and peeling.
But there's more. MCM offer a fantastic aesthetic, turning building facades into sleek, colorful, and textured works of art.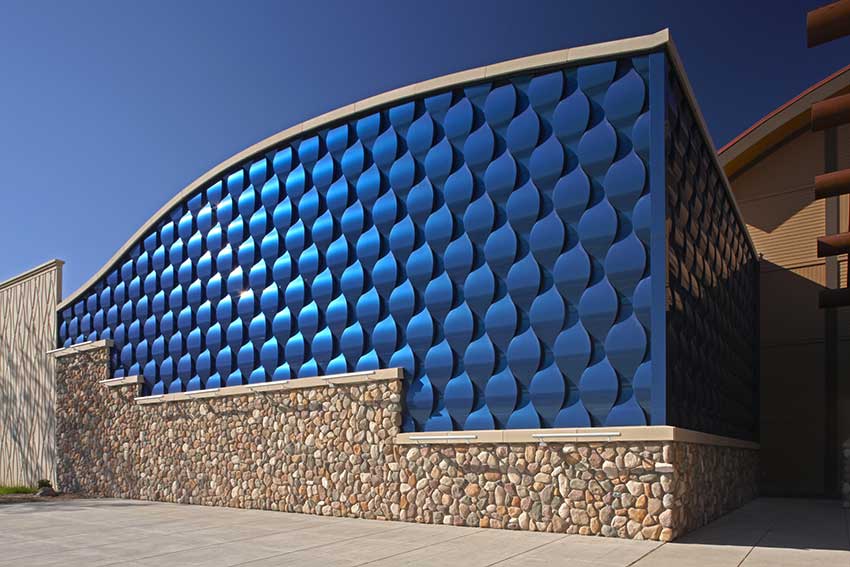 Photo courtesy of 3A Composites USA
Showcasing the beauty and versatility of metal composite material, this custom wet seal system mimics a blue wave pattern at the Seven Clans Casino in Red Lake, Minn.
"Metal composite wall panels impart a very contemporary, high-tech look to a building exuding a high quality finish together with their characteristic ability to be formed into various shapes and patterns," writes Peter J. Arsenault, FAIA, NCARB, LEED AP, in an Architectural Record CEU on metal exterior walls.
In the past, MCMs were reserved for high-end projects. But advanced manufacturing and fabricating capabilities enabled manufacturers and fabricators to be more competitive, thus making the MCMs much more available for a wider range of applications.
Popular for commercial, corporate, healthcare, educational spaces, and more, the material's versatility and flexibility makes it very well suited for a large variety of creative designs. MCMs can also be found in architectural cornices and soffit designs.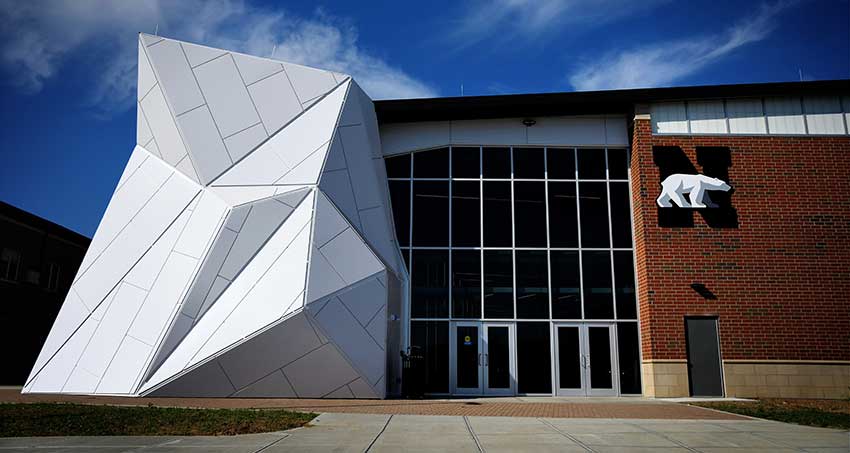 Photo courtesy of East Coast Metal Systems
Capitalizing on the extensive fabrication capabilities of MCM panels, Levin Porter Architects designed an iceberg with a rainscreen system for Northridge High School in Dayton, Ohio.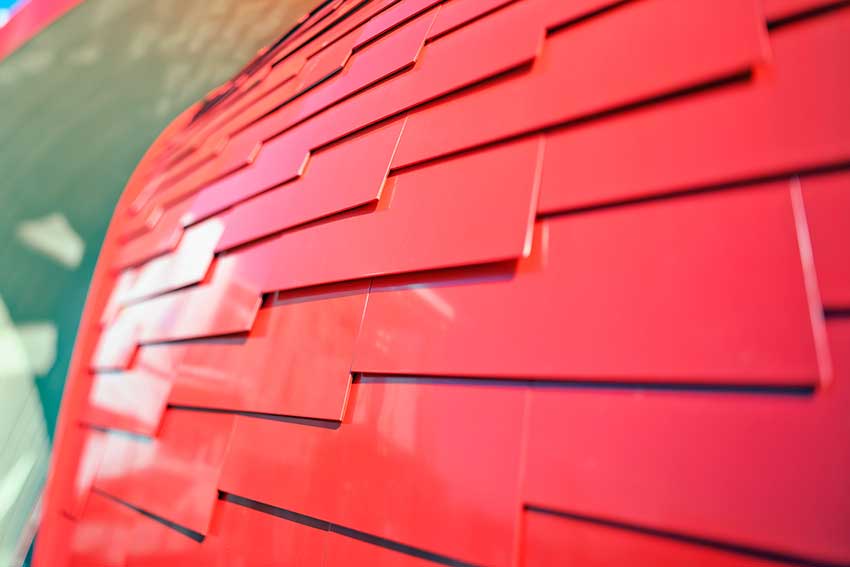 Photo courtesy of Robert Stefanowicz
The Northern Gateway Pavilion in Vancouver, British Columbia, demonstrates a unique fabricating MCM edge detail hiding the core.
Sleek Designs
One of the ways in which MCMs are able to produce such a high quality "canvas" for architects is via its fabrication process which yields extremely flat, consistent panels capable of supporting highly consistent coil coated finishes, not to mention creative and decorative building facade designs.
Essentially, the manufacturing processes leverages bonding technology with heat, pressure, and tension, thereby creating a well-balanced sheet that remains flat even as the temperature changes. In addition, its thermoplastic core makes MCM considerably lighter than a solid metal panel of the same thickness, without any loss in rigidity.
In addition to supporting a vast array of geometric designs, MCMs have the added benefit of being formable into bends and curves. This transports creative design options to a whole other level, enabling architects to bring their more iconic, out-of-the-box formations to life.
Once MCMs are manufactured to thickness and dimensions required for a project, the panels are then sent to a fabricator where many textures, perforations, and patterns can be created through advanced fabrication technologies. In fact, the material is much more versatile and easier to fabricate than solid plate metal, which makes it well suited for interior applications as well.
For example, in the fabricator's shop, the MCMs can be cut, grooved, punched, drilled, bent, or rolled with regular woodworking or metalworking tools with no need for special tools. These types of design capabilities help support those striking, stand-out designs architects are seeking.
More details on fabrication capabilities are provided in the following categories:
Punching and Die-Cutting Fabricated with a computerized numerical control (CNC) machine, this technique enables pointillist or artistic style patterns or more complicated, detailed drawings on the facade. It is recommended that the smallest punch diameter be no less than 4 mm and that the distances between the centers be at least double that of the diameter. Further, the perforated surface area should be less than 35% of the panel's total surface area.
Edging MCMs have the capability of being edge folded on their profile. Edging is performed in three different ways. A simple application hides the edging, a double interior approach hides the edge and part of the back, and a double outside method hides the edge and extends a flange that hides the joints with other panel sheets. For optimal results, the initial panel dimensions should be oversized to accommodate the requirements of each type of border.
Curving: Curved MCM lets designers add unique and functional features to their designs. Proper MCM curving is done with a pyramid roller. A pyramid roller has three rollers, two on the bottom and one on top. Material is fed through the roller, and through various degrees of tension on each of the rollers, you change the radius on the roll.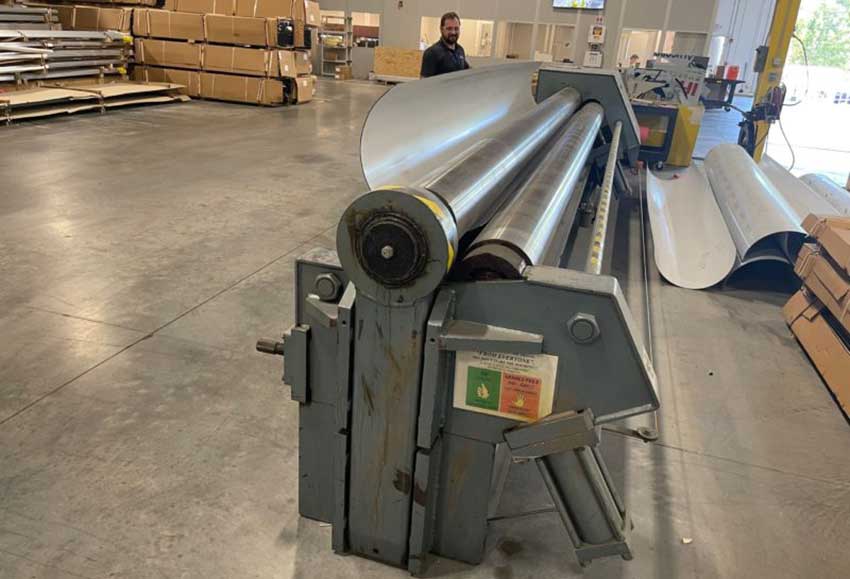 Photo courtesy of Robert Stefanowicz
A pyramid roller is used for bending and forming metal plates.
Stamping and Engraving: CNC machines are used to emboss or engrave the panels. By modifying the panel's depth, engravings can be created with no need to cut-die the panel.
3D Forming:
In addition to its use for manufacturing aluminum composite panels for hanging systems, this process also creates projected 3D surfaces. The panels are formed by bending the perimeter leg and the legs are made by partial routing of the panel with the correct dimensions for the system. To fasten/anchor the panels, aluminum extrusions, or composite material from the panel itself, are attached using pop-rivets or fasteners. To avoid superficial damage, the panel should be well protected during the forming, shipping, and the field installation process.
Routing:
Performed with a CNC machine, a vertical saw with a routing blade, or a portable hand router. The partial routing of MCMs allows them to be bent into shape and allows the subsequent folding of the pieces to give them creative shapes. Scoring is done using 90º or 135º router bits, depending on the bend required. To achieve the desired measurements, the fold must be made on the axis of the routed score line. The remaining thickness of the panel allows it to be bent into shape by hand using specific tools.
Riveting and Screwing: When installing MCMs to each other or other materials with rivets or screws, thermal expansion of the panels must be taken into account. The use of centering bits for correct drilling and fitting of rivets is recommended.
In addition to spacing nose pieces to limit the pressure exerted on the expansion points and avoid creation of a fixed attachment point.
Cutting: MCMs can be cut straight, curved, or angled with CNC machinery or done manually using a vertical panel saw or portable hand-router.

Photo (left) courtesy of AGI; photos (center; right) courtesy of 3A Composites USA
An example of creative curved CNC cutting is seen on the left, while center and right, the striking visual impact of the triangular perforations demonstrate another potential for utilizing MCM.
Drilling: Because drilling may be frequently called for during installation of the product on site—particularly with riveted and screwed assembly systems—the use of a special drill bits is recommended for fasteners with an expansion margin.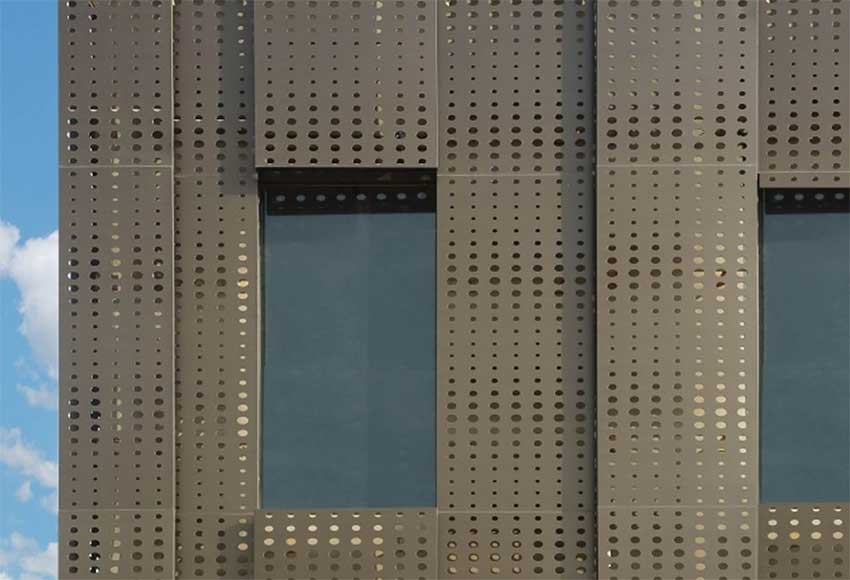 Photo courtesy of 3A Composites USA
CNC drilling gives perforation another option for MCM.
Originally published in Architectural Record
Originally published in December 2022
Notice