Creative Design Alternatives Using Metal Building Systems
There are differences between design perceptions and realities
Sponsored by Metal Building Manufacturers Association (MBMA)
Learning Objectives:
Identify and recognize the characteristics of high-performance metal building systems (MBSs) as compared to traditional construction.
Investigate the design potential to create low-rise, nonresidential buildings of all types that use metal building packages or metal building components integrated with traditional construction.
Assess the inherent efficiencies in design and construction by using a metal building.
Design buildings of all types using an MBS or components that break the perception of limitations for their use.
Credits:
This course can be self-reported to the AIBC, as per their CE Guidelines.
This course is approved as a Structured Course
This course can be self-reported to the AANB, as per their CE Guidelines
Approved for structured learning
Approved for Core Learning
This course can be self-reported to the NLAA
Course may qualify for Learning Hours with NWTAA
Course eligible for OAA Learning Hours
This course is approved as a core course
This course can be self-reported for Learning Units to the Architectural Institute of British Columbia
This test is no longer available for credit
Metal building systems (MBSs), sometimes referred to as pre-engineered metal buildings, have been popularly used in this country for more than 60 years. Many people, including architects, often associate them with rather simple, box-shaped buildings such as industrial warehouses, manufacturing or agricultural facilities, vehicle garages, aviation hangars, etc. While it is true that they have become the go-to solution for many low-rise buildings of this type, they are also now being used for many other types of buildings. Architects are applying creative ideas that often utilize wall finishes such that it is hard to tell it is a MBS. In this course, we look at some of the common perceptions and misperceptions surrounding MBSs. We also explore the reality of the many different building types that are incorporating MBSs into creative, affordable, sustainable designs all around the country every day.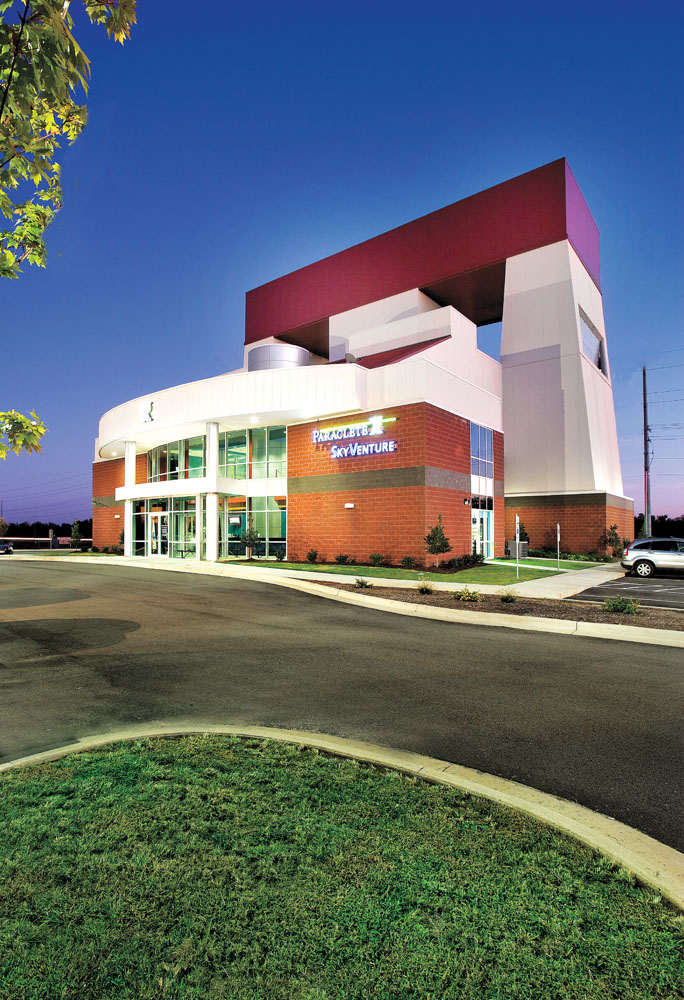 All images courtesy of MBMA
The latest in metal building systems (MBSs) provides architects with great design freedom and high-performance construction for safe, durable buildings.
Metal Buildings Overview
MBSs have been in widespread use since World War II and currently account for almost 40 percent of low-rise, nonresidential construction in the United States. The trade association representing the industry is the Metal Building Manufacturers Association (MBMA) (www.mbma.com). It collectively represents more than 40 building systems member companies who operate 65 manufacturing plants throughout the United States, employing more than 12,000 people. Further, more than 70 suppliers of materials, components, and services are associate members of MBMA. Metal building manufacturer members generally provide a complete package of products and services (e.g., a custom-engineered structure and enclosure.) These include the needed in-house structural-steel engineering and shop drawings for their products. They also provide full fabrication of primary and secondary structural-steel framing, metal roofing, metal wall cladding, and all accessory and trim components. They can also provide supporting products and materials such as insulation, fenestration, and roll-up doors. On-site erection and installation of the entire structural and building enclosure package is typically carried out by an independent erector/installer or general contractor.
The notable design and construction attribute that sets metal buildings apart from others is the common use of a single-source supplier to provide a full, coordinated building enclosure package. That can allow a significant portion of the building to be specified under a single specification section. Nonetheless, that does not mean they are all the same; rather, each metal building is a custom-designed solution to suit the needs of a particular project of virtually any type. Further, extensive research and testing has helped produce advanced engineering and innovative systems to perform better and at less cost compared to a non-package approach. Naturally, it is entirely at the discretion of the design and construction team to employ a full-package approach or create a hybrid one that blends, for example, a metal building structural frame and roofing with non-metal wall cladding such as masonry, concrete tilt-up, fenestration, and others.
The process of incorporating an MBS starts when an architect provides the overall building design and specification requirements to one or more manufacturers, directly or through a general contractor or builder. Based on this information, the needed in-house structural engineering is performed for the metal building products with a corresponding price quote. Once that is reviewed and approved, then fabrication can take place not only for the structural-steel framing system but also for any of the full building enclosure components desired. Those are custom fabricated to meet the design, then the full building package is trucked to the project site. The on-site erection and installation of the metal building package can then be performed by either a local contractor or preferably a certified and trained contractor/installer.
With this working model as a basis, it is easy to see that it is more streamlined and usually more cost-efficient to design and construct a single-source metal building compared to conventional, multi-party construction. However, those who have not worked with MBSs or manufacturers may have some misperceptions about their advantages or disadvantages. In that light, and with the benefit of the long-term experience of the MBMA, we look at some of the common misconceptions about MBSs and share some of the truths about their use.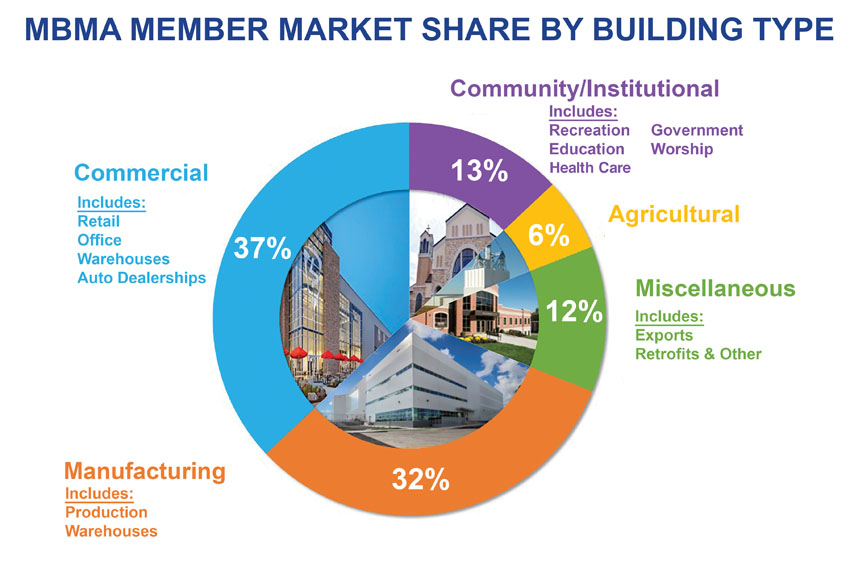 MBSs account for a significant share of many different building types.
Perceptions versus Reality
The term "metal building" often conjures up a particular look or aesthetic. However, upon completion, metal buildings can have virtually any aesthetic and not necessarily be distinguishable from conventionally constructed buildings. In fact, they have the inherent design freedom to look like anything the architect chooses. That is because metal buildings are engineered and fabricated to meet the drawings and specifications just like any other nonresidential building. Also, there is no limit on the size, shape, configuration, or finishes used in designing and constructing a metal building. Many are finished with metal wall panels, but many others are finished with other exterior building materials, such as tilt-wall concrete, CMU, brick, wood, stucco, or EIFS. Virtually any common construction material can be incorporated for the exterior design. Accordingly, some of the most typical building types to take advantage of MBSs include aviation facilities, government buildings, health-care facilities, recreational buildings, open structures, restaurants, retail stores, auto dealerships, K–12 schools, higher-education buildings, offices, places of worship, manufacturing plants, and warehouses. Virtually any low-rise building type that has a need or interest in a faster, more cost-effective delivery process than using multiple suppliers and installers is an excellent candidate for an MBS.
According to the MBMA, it is clear that architects are the biggest decision makers and/or influencers of the choice to use either an MBS or other form of construction, including conventional steel construction (i.e., hot-rolled structural-steel shapes and members). There are a lot of different reasons for this, but it really boils down to a design choice.
Since the process of making this fundamental design decision is informed by the architect's perceptions and information about different construction methods, the following is intended to provide insights into the realities of capabilities, options, and production processes of metal buildings and components.
Originally published in Architectural Record
Originally published in December 2019
Notice