Beyond Function: Designing with Exterior Glass Doors to Improve Well-Being
Current products offer exciting choices in design, style, and performance
Sponsored by Marvin

1 AIA LU/HSW; 1 IDCEC CEU/HSW; 0.1 IACET CEU*; 1 AIBD P-CE; AAA 1 Structured Learning Hour; This course can be self-reported to the AANB, as per their CE Guidelines; AAPEI 1 Structured Learning Hour; This course can be self-reported to the AIBC, as per their CE Guidelines.; MAA 1 Structured Learning Hour; This course can be self-reported to the NLAA.; This course can be self-reported to the NSAA; NWTAA 1 Structured Learning Hour; OAA 1 Learning Hour; SAA 1 Hour of Core Learning
Learning Objectives:
Identify some of the current trends influencing the use of swinging and sliding glass doors in single family residential design.
Investigate the design options and innovative opportunities to create residences that allow for flexibility, openness, and wellness.
Recognize the aspects of manufactured swinging and sliding glass doors that influence their performance and how to select options to suit performance needs.
Assess the functional contributions of large swinging and sliding glass doors as they contribute to healthy living and wellness.
This course is part of the Custom Home Academy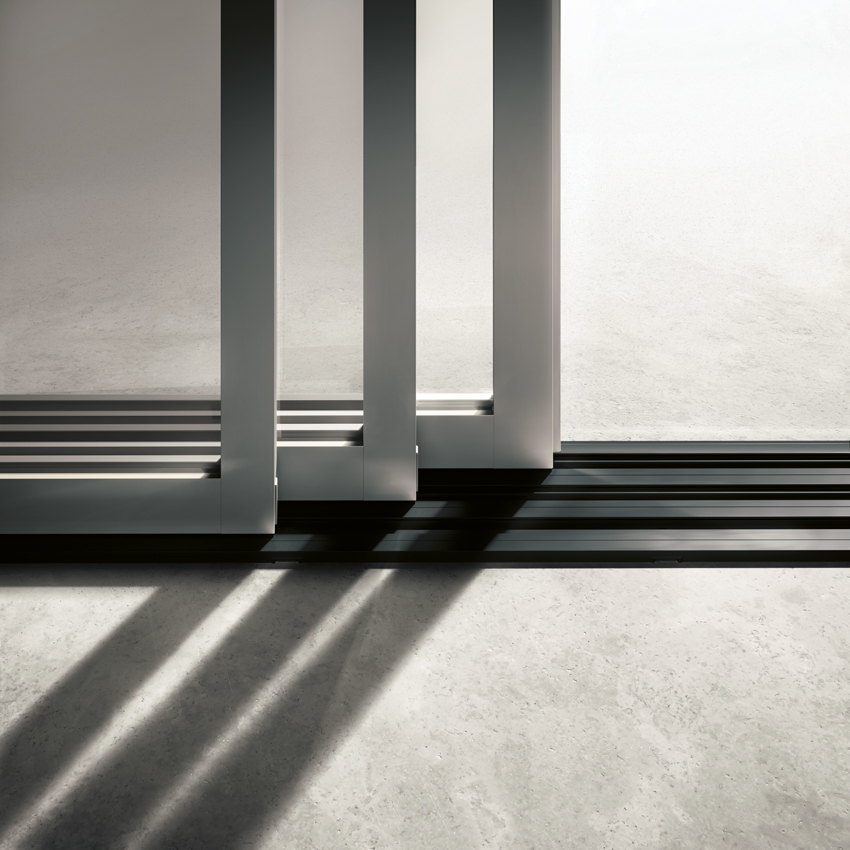 Multi-slide doors allow for multiple panels to move along a single, multiple channel track.
Multi-slide doors have more than one moving panel aligned in a total door system. Using a multi-slotted track, multiple panels slide past each other to stack on one end. Those stacked panels can remain visible over a stationary panel, or all of the panels can be recessed into a wall pocket sized to accommodate them. The operation is usually done manually with minimal effort, although some multi-slide doors are available with push-button motorized operation.
Bi-fold doors, also called folding doors or accordion doors, are comprised of multiple panels that slide to one side or the other, (or both) but have hinges connecting the panels together. That means that in the process of sliding the end panel to open the door, the other panels fold along the hinges. When fully opened, the panels then stack so they are perpendicular to the opening, not parallel, as in other sliding door systems. One attribute of bi-fold doors is the availability to fill a large opening with a number of panels without affecting the jamb depth or wall thickness.
All the door types described can be customized using different finishes for the stiles and rails, different glass types, and different panel designs, particularly for divided lites. Manufacturers also offer a choice in the width of stiles and rails – 6-inch being common for traditional looks and 3 - 4-inch or so used for more contemporary appearances.
Functionality and Performance Considerations
The means for achieving a desired level of functionality or performance for any specific exterior glass door is not limited to any one feature or component. Rather, it is the total performance achieved by looking at all of the various parts of a glass door. The relevant points are summarized as follows.
Door Frames Most swinging glass doors are pre-hung on a frame while sliding doors are inserted into a large frame. It is this frame that provides the structural integrity for the total door unit to operate freely once it is attached to the adjacent construction. The integrity of the framed opening, however, is dependent on the engineered framing of that opening and needs to be addressed properly by the architect or engineer for any given project in order to avoid sagging and interference with proper door operation. Part of the integrity of the manufactured frame comes from the materials used for the frame and their own engineered design. Typically, the frame material matches the door panel material and its appearance. There are different choices which are often selected based on the project conditions, the level of durability needed, and other design and performance requirements. For residences, the common choices include wood, aluminum clad wood, extruded aluminum, or fiberglass. The particular details of each of these choices should be reviewed based on manufacturers' information to be sure that the attributes of individual door frame products are understood.
Glass and Glazing Glass and glazing systems have developed and advanced in recent decades to respond to different needs. From a design standpoint, the glass used in windows and doors can be specified to be clear, tinted, or obscure to suit different uses and needs for privacy. In terms of performance, considerable attention has been paid to enhancements to the glass which improve energy performance. Coatings that reflect or absorb heat and ultraviolet light (UV) can be selected depending on the need with different degrees of performance available. Insulated glass units (IGUs) with two layers of glass are common and allow for the coatings to be placed on the most appropriate inside or outside surfaces of that glass. In cases where higher performance is desired, triple-glazed units are also possible. Beyond the glass itself, however, other components have also been optimized. High-performance spacers between the panes of glass reduce the heat flow there. Attention to proper air sealing of the windows or doors reduces unwanted air infiltration helping with overall performance. In all, options are available that allow the architect or designer to specify the most appropriate choices for design and performance to meet the requirements of codes or goals of the project.
Sills Door sills are a key performance consideration for water management. Swinging doors require different types of sills than sliding doors but the details and configuration of each need to work with the door panel to achieve the needed level of protection. In cases where lower levels of water and weather protection are needed, then a flush sill is possible. In cases where higher levels of protection are needed (i.e., the door is fully exposed on the exterior) then the manufacturer's choices should be reviewed for both leakage resistance and proper drainage. It is worth noting that in some cases, the sills for sliding doors actually have greater performance results than sills or thresholds for swinging doors.

Different types and configurations of sills can be selected based on the degree of weather resistance and performance
desired or required.

Weatherstripping The weatherstripping around a door provides the seal around the perimeter of the door when it is closed. It is typically provided as an integral component of the door and/or frame to address air and water infiltration along with energy performance. The choices here should be directly compatible with the type of door being used. Some are based on compressing seals which works well for swinging doors. Others are based on overlapping materials which is better suited to sliding doors.
Screens Part of the original design consideration for many architects is the need for insect screens to be included for all operable openings, including exterior glass doors. Manufacturers have responded with several options related to the type of glass door being used. Sliding patio doors commonly have full panel sized sliding screens that move from side to side. Swinging doors can utilize either the same type of sliding screens or swinging screen doors can operate opposite the swinging door (i.e., inward swinging door with outward swinging screen). The larger, multi-panel doors may be able to be equipped with retractable screens which roll out of sight when not in use and are pulled across the opening when needed.
Locks and Hardware For most exterior glass doors, the locks and hardware are provided by the door manufacturers and pre-installed. In some swinging door cases, there may be the option to use some available residential door hardware. Either way, the proper selection of hardware is important for the smooth operation of the doors. This is especially true as the size and weight of the door panels increases – bigger doors mean more force and stress on the hardware and its attachments. Hence the size of the hardware, the thickness of the materials, the functionality of moving parts, and the overall durability of the hardware all need to be matched with the particular door and conditions. There are of course options available for the style and finish of the hardware used available from manufacturers. Specialty hardware may also be an option such as a concealed, multi-point locking system. Further, adjustable hinges may be an option to accommodate building settling or creep over time.
Standards Glass doors can generally be evaluated by most of the same third-party independent testing standards as for windows. These include comprehensive testing by the National Fenestration Rating Council (NFRC) which identifies the total energy performance of tested units for heat transfer (U-factor), solar heat gain, visible light transmission, air infiltration, and condensation resistance. It also includes the Fenestration and Glazing Industry Alliance (FGIA), which is a recent collaboration of the American Architectural Manufacturers Association (AAMA) and the Insulating Glass Manufacturers Alliance (IGMA). The FGIA now provides standard testing and standards for all types of windows and doors. Finally, there is also ASTM International, which has developed numerous tests for different types of glass, glazing systems, and window and door products. All of these are relevant performance standards for exterior glass doors of all types, just as they are to windows and similar fenestration.
The performance of exterior glass doors is based on attention to the different elements, including the availability of insect screening as shown here.
Originally published in Architectural Record
Originally published in January 2022
Notice