Beyond Function: Designing with Exterior Glass Doors to Improve Well-Being
Current products offer exciting choices in design, style, and performance
Sponsored by Marvin

1 AIA LU/HSW; 1 IDCEC CEU/HSW; 0.1 IACET CEU*; 1 AIBD P-CE; AAA 1 Structured Learning Hour; This course can be self-reported to the AANB, as per their CE Guidelines; AAPEI 1 Structured Learning Hour; This course can be self-reported to the AIBC, as per their CE Guidelines.; MAA 1 Structured Learning Hour; This course can be self-reported to the NLAA.; This course can be self-reported to the NSAA; NWTAA 1 Structured Learning Hour; OAA 1 Learning Hour; SAA 1 Hour of Core Learning
Learning Objectives:
Identify some of the current trends influencing the use of swinging and sliding glass doors in single family residential design.
Investigate the design options and innovative opportunities to create residences that allow for flexibility, openness, and wellness.
Recognize the aspects of manufactured swinging and sliding glass doors that influence their performance and how to select options to suit performance needs.
Assess the functional contributions of large swinging and sliding glass doors as they contribute to healthy living and wellness.
This course is part of the Custom Home Academy
Larger Sizing
In addition to taller entrance doors, manufacturers now offer larger sizes for all types of glass doors, both in terms of width and height. In particular, larger panels of framed glass are being combined in a variety of ways that fold, slide, or retract to the point that such doors essentially become movable glass walls. This trend goes hand in hand with some of the other trends above, particularly the desire to create smooth transitions between indoor and outdoor spaces. The panel size widths and heights can vary but there are usually practical limits based on the weight of the glass and code requirements for the maximum area of tempered glass, etc. Working directly with manufacturers to identify options, limitations, and opportunities for better design solutions makes the most sense in this case.
Door Selection and Design Considerations
Glass exterior doors have emerged as a key design element in residential architecture in virtually all regions and locations across the United States and Canada. From the classic suburban sliding patio door to the range of glass entry doors to the use of large operable glass walls, these doors are integral, and often central, to many residential designs.
In order to better understand how glass exterior doors are integrated into a project, the best place to start is by looking at the different fundamental types. Each of the doors described in the following sections have a specific method of operating which has implications for the space needed for their operation so that people and objects can pass through them. As will become apparent, there are glass door styles and types to fit a variety of design criteria and occupant desires.
Swinging Doors
There are three common types of doors that operate by swinging open and closed.
Hinged doors are the most common style of door. They are often used in conjunction with large doors or movable walls for everyday use and ease of access. Another option within the hinged doors category is a bi-folding door. They feature panels that can be solid or glazed and swing open and closed by virtue of hinge hardware. Hinged doors can be a single panel or be paired into a double panel – commonly hinged on the outer sides and meeting in the middle. For each panel, the direction that it swings, either to the right or the left, is called the handing. In addition to handing, exterior swing doors are identified as either inswing or outswing depending on whether they open into the house or towards the outside.
Entry doors are typically manufactured as a specific type of swinging hinged door to act as a primary passage between a house and an outdoor space. As a hinged door, they typically feature one or multiple panels that swing open and closed as described above. Entry doors are commonly made of wood, fiberglass, composite, aluminum, or steel and may or may not have glass. Consistent with what we have discussed so far, however, it is very common to find fully glazed doors with many choices in the geometry and layout of the glass within the door unit. Unlike interior swinging doors, entry doors have weatherstripping and a threshold, which provide protection from weather conditions. The ability of swinging entry doors to resist weather, water, wind, etc., can vary quite a bit based on the design and makeup of the weatherstripping and threshold. Therefore, it is common to provide an overhang or porch-like protection for such doors to help with weather resistance. Swinging entry doors are also commonly intended to be used with security hardware such as keyed locks and deadbolts. Entry doors are commonly manufactured in standard sizes as well as larger. Any of them can be used alone or be combined with transom and sidelight windows to accommodate an overall design scheme for a main entry.
Pivot doors are swinging doors that use a different type of hardware to operate. Instead of side mounted hinges, rods or metal extensions extend from the top and bottom of the door to fit into the door head and sill. This hardware is offset from the swinging end and is well-suited for very large openings, up to 6 feet wide and 10 feet tall. This can make a dramatic statement when the door is opened as the door panel appears to hover and be disconnected from the frame. Properly installed, they are easy to operate and offer some uniqueness. They can use standard locking hardware or multi-point internal security hardware.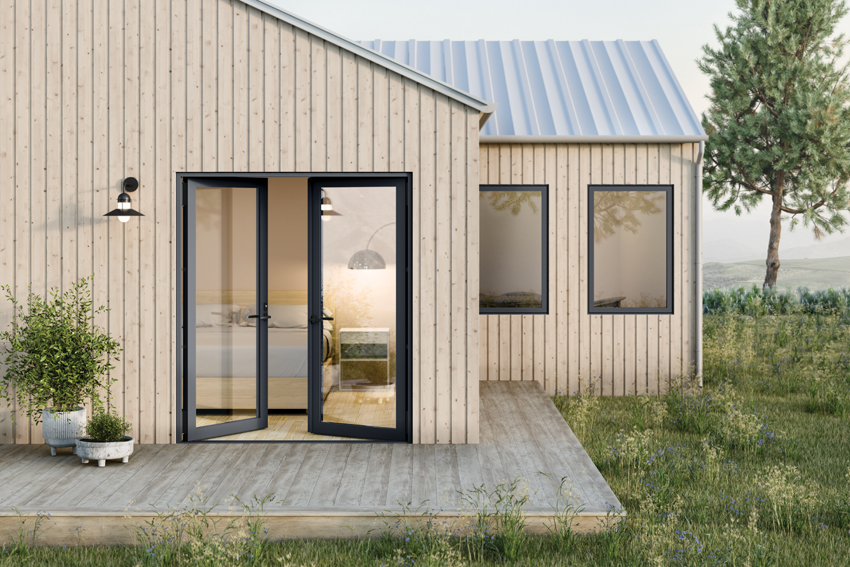 Swinging exterior glass doors are available in single or multiple panel designs.
Sliding Doors
A very common alternative to swinging doors is to use door panels that are designed and manufactured into a frame which allows them to slide back and forth. This type eliminates the need for square footage to allow for the door swing but does require a location for the sliding panel(s) to move to. The hardware for almost all types of sliding doors is supplied and pre-installed by the door manufacturer. This is primarily done to be sure the door works properly and that the hardware doesn't interfere with the sliding operation. There are usually some options to choose from in terms of style, color, and quality.
There are four types of sliding exterior doors commonly available and in widespread use, described further as follows:
Patio doors are the most common and perhaps best-known type of sliding glass exterior door. They typically have one or more door panels that open by either gliding on a track at the sill or hanging from rollers mounted above. The sliding panel most commonly moves to one side or the other and covers over a fixed panel, such that the two panels line up or stack in front of each other when the door is fully open. Unlike swinging doors, which require space to be set aside for the door panel to open, furniture and other household items can be placed near this type of door, particularly by the fixed panel as long as it doesn't interfere with the movement of the sliding panel. Patio door sizes commonly match swinging door sizes and are usually easy to coordinate with transoms if desired or to align with windows in a home design. They can also use multi-panel configurations using both operating and stationary panels.

Sliding exterior glass doors are available in many sizes, shapes, and configurations.

Lift and slide doors are a variation on patio doors. Instead of a simple track system, lift and slide doors use large door panels with an engineered carriage system and hardware that lifts panels up off their track as they are opened or closed. This carriage system produces a near weightless operation even with large panels. Lift and slide doors are commonly available with panel sizes up to 6 feet wide and 12 feet high and a total door system that can span up to 47 feet in width. Different panel configurations can be selected to best suit the layout of a room in terms of the location of fixed and moving panels. Note that the panels can be moved into a wall pocket specifically designed for that purpose which will directly affect the design and construction of that wall. Also note that the sill for lift and slide doors can also be either raised or flush. The raised sill typically provides better protection against air and water infiltration due to direct environmental exposure. A recessed sill can create a smoother transition between indoors and outdoors.
Originally published in Architectural Record
Originally published in January 2022
Notice