Rainscreen Systems Utilizing Laminated Engineered Bamboo
Sponsored by Lamboo Technologies, LLC
Learning Objectives:
Identify the different types of rainscreens available, and which are more durable and sustainable.
Explain how laminated bamboo rainscreens protect the building envelope against moisture intrusion and the transfer of thermal energy.
Discuss how laminated bamboo rainscreens are a rapidly renewable resource and a sustainable solution in green building technology.
Outline best practices for installing laminated bamboo rainscreens.
Credits:
This course can be self-reported to the AIBC, as per their CE Guidelines.
This course is approved as a Structured Course
This course can be self-reported to the AANB, as per their CE Guidelines
Approved for structured learning
Approved for Core Learning
This course can be self-reported to the NLAA
Course may qualify for Learning Hours with NWTAA
Course eligible for OAA Learning Hours
This course is approved as a core course
This course can be self-reported for Learning Units to the Architectural Institute of British Columbia
This test is no longer available for credit
Rainscreen technology dates back to the Middle Ages, with examples seen in Norwegian churches that utilized panels with layers of open-jointed and back-ventilated claddings under wood or stone walls to allow for drainage. Since then, many technological advancements have been developed.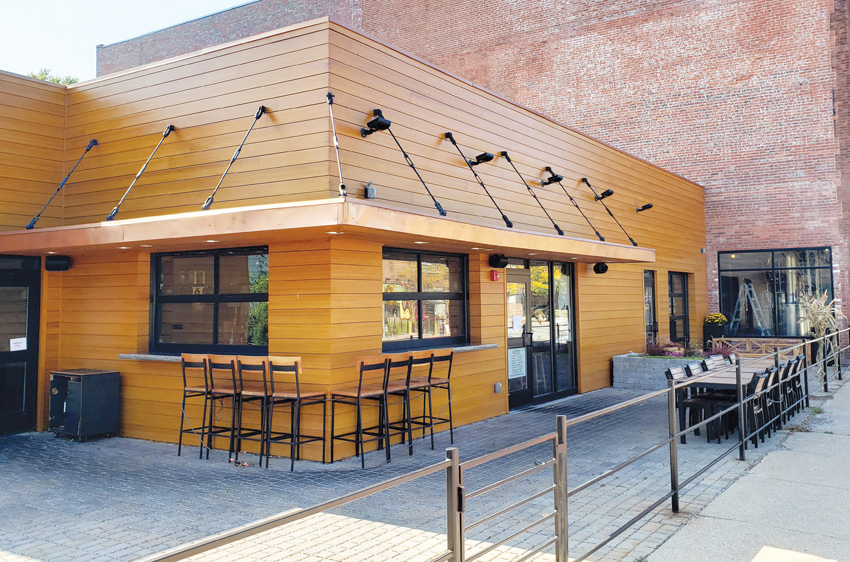 All images courtesy of Lamboo Technologies, LLC
Laminated bamboo panels were installed at the Western Reserve Distillery in Lakewood, Ohio, designed by Larsen Architects.
In the late 1960s, U.S. builders began using exterior insulation finish systems (EIFS), which are a general class of cladding systems that provide exterior walls with an insulated, water-resistant, finished surface. Unfortunately, this led to a rise in moisture-related damage to wall assemblies in EIFS-clad buildings. This resulted in an increase of lawsuits and subsequently encouraged the industry to look for solutions and ways to allow for secondary drainage.
Further advancements were made in the early 2000s with the development of a true rainscreen system that allowed for both ventilation and pressure equalization. Due to the success of this technology, not a lot has changed since then, but rainscreens have become increasingly popular in building envelope design in the United States. Laminated engineered bamboo, one of the newest additions to material choices available in rainscreen systems, provides added features in durability, moisture protection, sustainability, and contemporary aesthetics that most materials used in rainscreen systems today do not.
Protecting the Building from Air and Water Intrusion
Protection of the building envelope is vital to protecting the entire building against unwanted water and air intrusion. All materials in the building envelope must work together to ensure the building is both structurally sound and aesthetically pleasing. The building envelope consists of walls, floors, subfloors, exterior doors, windows, and the roof. It also includes all sealants and fasteners that bind the materials together.
Water is a unique opponent, as it is a fluid that can be forced into tiny cracks and unsealed joints, especially when forced against building walls and soffits by strong winds in hurricanes and blizzards. If moisture from humidity, rain, ice, or snow penetrate the envelope, over time, it can cause mold, mildew, and rot. This can lead to costly repairs and renovations.
Ideally, all exterior surfaces of a building would be airtight, but that is a difficult feat. Over time, temperature changes can cause expansions and contractions in a building, resulting in cracks in drywall, plaster, and cement walls. They can also create cracks in sealants around penetration points.
When specifying materials and design choices to prevent air and water intrusion, architects and designers try and address the "4 Ds" of water management: deflection, drainage, drying, and durability. Engineered bamboo rainscreens address all four Ds, thus protecting the building from costly and destructive water damage.
Deflection
Cladding or window head flashings will direct and deflect water (such as rain or snowmelt) from the building's exterior. They will also keep water away from vulnerable junctions where moisture could enter the wall system. Roof eaves are one example of how rainwater can be deflected away from the walls.
Drainage
Drainage is also important within a wall system so that any water that is not deflected can drain down the back of the wall cladding and out of the full wall assembly.
Drying
Rainscreens help with this by providing an air cavity between the cladding and the exterior substructure. These air gaps also help keep the wall system dry by circulating the air inside the system.
Durability
Rainscreen technology provides the initial layer of defense against driving rain, moisture, and even wind. This allows the building to be shielded from the initial forces that are applied against the system, providing a better overall performance of the building envelope where the system is installed.
Since most rainscreen systems are back ventilated, this allows the actual materials used in the rainscreen system to perform better and be more durable against harsh weather due to any water that makes it past the initial layer of rainscreen to simply drain behind the system and not become trapped. This is where most issues such as mold, decay, and rot with traditional siding and direct fastened siding occurs.
Due to the inherent properties of bamboo, engineered laminated bamboo rainscreens not only provide protection against unwanted moisture intrusion (even from driving rain) but are also naturally nonconductive and thus provide additional thermal protection. Architects can rely on engineered laminated bamboo to provide longer spans and better overall performance compared to other traditional building products. Engineered laminated bamboo also enhances the aesthetics of the exterior facade.
Anatomy of a Rainscreen
The term rainscreen is sometimes thought to refer to the siding itself, while other times it implies a complete building system. The rainscreen system works together to control air and moisture intrusion by creating a barrier between itself and the sheathing to help minimize the amount of moisture that may collect on the sheathing. These systems also often provide equal pressure on both sides of the rainscreen and are typically comprised of an outer cladding, a cavity, and an air and vapor barrier or water-resistive barrier (WRB).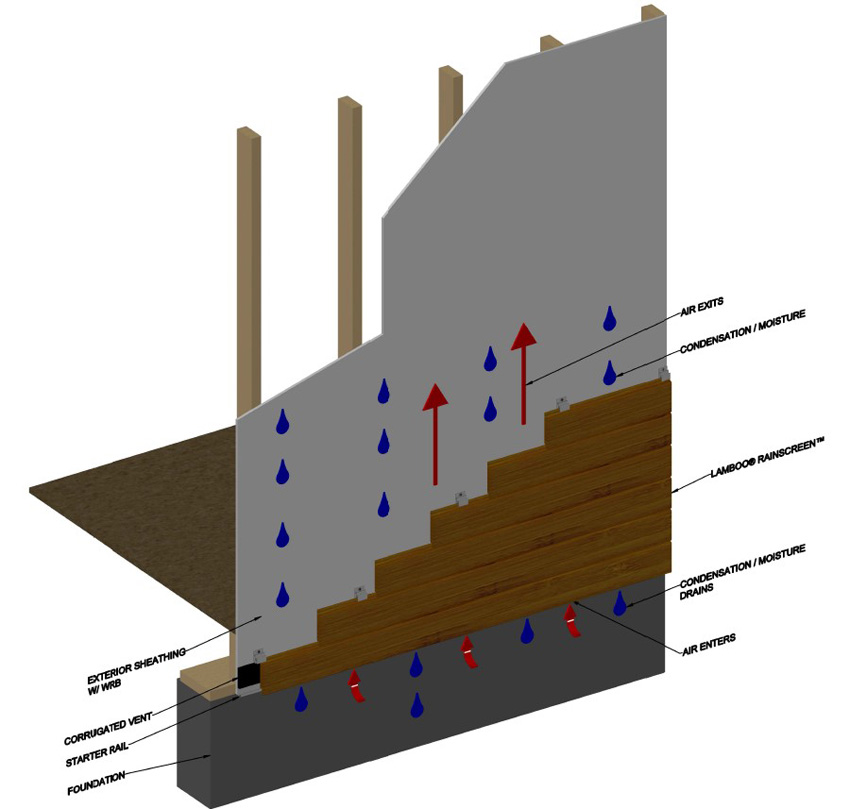 Rainscreens are made up of an outer cladding, a cavity, and an air and vapor barrier or water-resistive barrier (WRB).
Outer Cladding
The outer cladding is the primary barrier to water intrusion. Some refer to this as the "rainscreen." However, the rainscreen system is not fully effective without the other components. The outer cladding is the first line of defense and designed to deflect or shed away the majority of the water that hits the building's surface. This tough exterior must be made from a material that can withstand extreme weather such as driving rain, snow, and ice. In dry conditions, the outer cladding can also protect the building's inner wall and the inner workings of the rainscreen against ultraviolet (UV) rays. The engineered joints between the panels allow for ventilation, which is critical to overall performance of the cladding.
Originally published in February 2020
Notice