Understanding Single-Ply Roofing Systems
Material options and installation methods for specifying single-ply roofing membranes in low-slope commercial applications
Sponsored by Johns Manville
This test is no longer available for credit
Understanding Single-ply Roofing Applications and Performance Characteristics
Designers have many choices when specifying a roof system. It is important to identify the characteristics you need in the roof system before making a selection.
To ensure a single-ply roof system will perform for years to come, it is crucial to hire a knowledgeable, experienced roofing contractor. Consult your manufacturer and specific publication guides, as well.
Now let's take a look at the applications, performance characteristics, and general attributes of the thermoset and thermoplastic single-ply roofing membranes.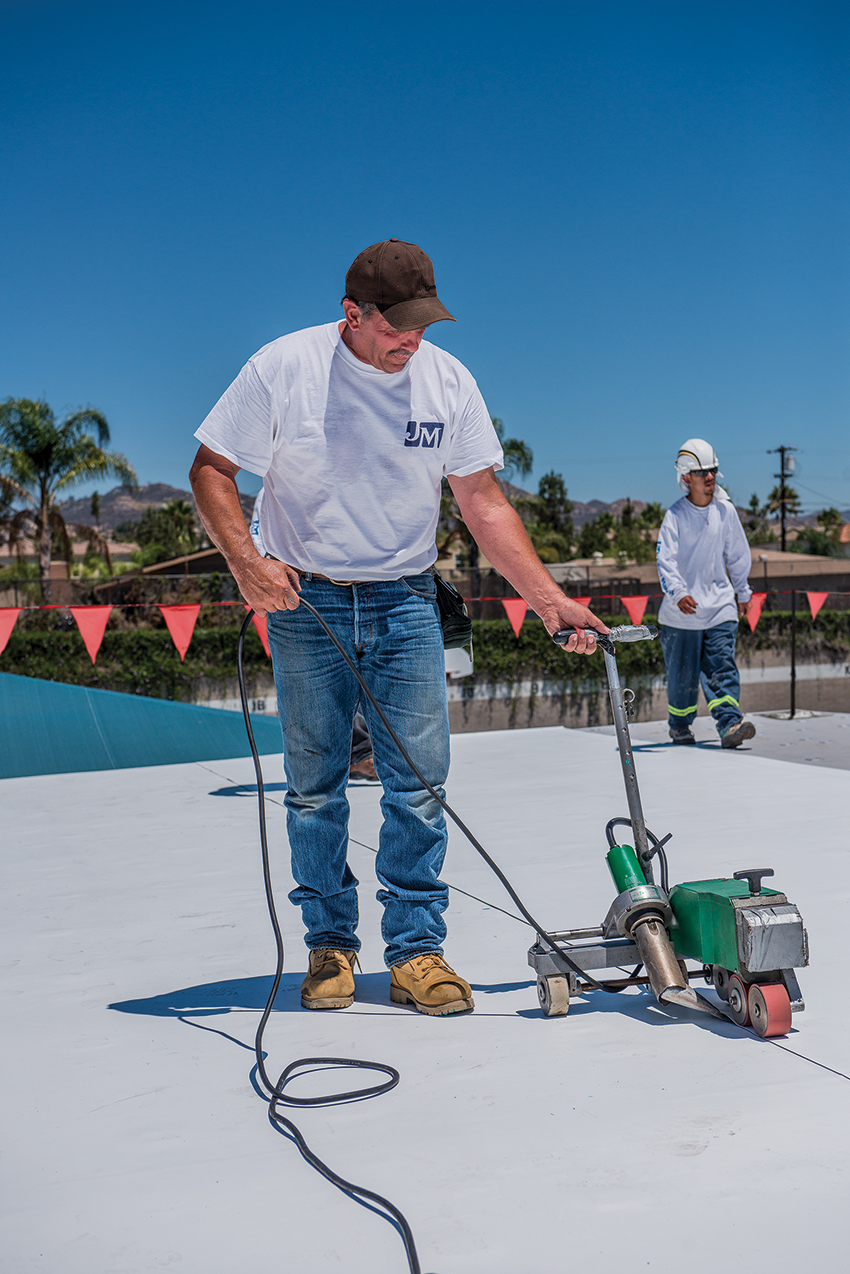 TPO systems can be mechanically fastened or fully adhered using adhesives.
Thermoset—EPDM
EPDM has been a reliable material in the low-slope commercial roofing industry for decades, and its sustainable and durable nature make it a good choice for many applications. It's ideal for low-slope roofing. It can also be used for terraces and balconies, garden roofs, outbuilding and garage roofs, foundations, tunnels, through-wall flashings and flat roof extensions. It can either be mechanically fastened to a substrate or installed by adhesion, or with a ballast system where natural stone or pavers are used to hold the material in place, depending upon the type of EPDM being installed. EPDM withstands temperature extremes and does not absorb moisture.
EPDM membranes come in many sizes and are available as either reinforced or non-reinforced sheeting from 10 to 50 feet wide and up to 200 feet long. Depending on the roof design the larger sheets can be more economical to install. They come in varying thicknesses from .045 to .09 inches thick. Fleece can be added to the underside for alternate application methods.
Well-constructed, thoughtfully installed, and consistently maintained EPDM roof systems are very resilient. EPDM systems are known for their longevity, lasting 30 years or more. They have been shown to withstand extreme weather patterns. EPDM is resistant to the ozone, as well as scuffing, abrasion and impacts from hail. The roofs are durable, even against thermal shock, and also resistant to heat and fire. EPDM's resistance to strong winds is an attractive attribute. An EPDM roof system can attain wind uplift criteria of FM Class 1-60, 1-90 and 1-120 or more.
EPDM sheets are available in black or white; both options are smooth and have reflective surfaces that can lower energy costs. White sheets may not be as UV resistant as black EPDM sheets. Still in any climate, EPDM roof membranes function well. Seaming technology has improved reliability with tape-applied installation methods.
EPDM can be susceptible to swelling if exposed to solvents or oils, so it is important to protect affected areas. Most sheets are non-reinforced, as reinforced sheets can delaminate if water penetrates, so typically only consider reinforced sheeting for mechanically attached applications. Reinforced sheets, however, may offer more resistance to punctures and tearing.
EPDM is known for its low installation cost and lifetime economic value, and it can also be a component of "green" building envelopes. The material is relatively easy to repair and modify as needed, and it provides excellent resistance to ozone, abrasion and weather, along with superior resistance to extreme heat and fire. Finally, reclaimed EPDM membrane can be ground down and reused.
Thermoplastic—PVC and TPO
Thermoplastic membranes—PVC and TPO—are similar to thermoset or EPDM membranes in application and usage, but their structure includes no chemical-crosslinking. Thermoplastic sheets can run from 5 to 12 feet in width. Factory-welded larger sheets are available from some manufacturers.
The lap seams are heat-welded on site, to form an equally strong layer to avoid leaks and keep maintenance to a minimum. Thermoplastic roofs always include a layer of reinforcement. Thermoplastic roofing membranes can be fully-adhered to an approved substrate or mechanically fastened to the building structure.
Both PVC and TPO are suitable for low-slope and commercial roofing applications. A fleece-backed thermoplastic membrane may be ideal for applications that cover abrasive surfaces. One of the oldest single-ply roofing types still in use today, PVC membranes and PVC blends have been verified as highly stable and durable. PVC roofing materials are the most resistant to oils and grease and thus a wise selection for roofs with exposed to exhausts (kitchens, manufacturing facilities, etc.).
Introduced in the 1980s, TPO membranes are the newest membrane on the market. They are typically white, and they differ from PVC in that they do not use added plasticizers for flexibility. The National Roofing Contractors Association specifies the use of TPO membranes that are at least 60 millimeters thick. Like PVC, TPO also comes in rolls, and it can be fastened mechanically to insulation boards or installed with adhesive.
Thermoplastic single-ply roofing such as PVC and TPO is an increasingly popular choice for commercial roofs, and for good reason. The aesthetics of the roof are clean and pleasing. The material is not difficult to maintain and is usually repairable after encountering unexpected damage from a severe storm. It is possible to reduce weather damage by following a few guidelines (see sidebar above).
Installing thermoplastic materials is reported to be a satisfying process with several installation options to consider depending on a location's climate and the contractor's experience and preference.
Flashing and Seams
Flashing, seams and other accessories are designed to ensure and support the excellent functionality of single-ply roofing systems. T-joints, lap splicing, tapes, pre-molded accessories, seam welders and mechanical fasteners are important components that help ensure all parts of the roofing system are intact and work together to protect the building from water intrusion.
Lap splicing and tapes
Lap splicing of EPDM has improved significantly. The seal strength used to be 3-5 pounds per-inch with three steps that employed cement to seaming laps: splice cleaning, lap cement and lap caulk. Now the butyl tapes used provides 10-12 pounds per-inch seam strength. This toughens the seams, increases lap consistency and streamlines installation. Some manufacturers offer pre-taped seams; pre-taping enhances efficiency and consistency of installation. Prepare all membraned for lap splicing by first removing the factory parting agent for best seam performance.
T-joints
When three layers of single-ply membrane overlap, it forms what commonly referred to as a T-joint. Look out for any voids along the middle layer edge of a T-joint, as these could allow water to become trapped in the roof system.
T-joint patches are now standard requirements for all manufacturers with single-ply systems. T-joints need to be protected by a patch that covers at least 3 inches beyond the seam edges. For EPDM, after you clean and prime the membrane sheet, pull the release paper, and lay and press the patch over the joint. Use a wide roller to apply pressure for secure adhesion. T-joint patches are fully welded for TPO and PVC membranes.
Originally published in January 2019
Notice