Student Health. Student Performance. Student Success.
How premium rubber flooring supports exceptional learning environments.
Sponsored by Interface
Learning Objectives:
Discuss the importance of the physical learning environment and how premium rubber flooring fosters reduced absenteeism and speech intelligibility as a performance driver for students and teachers.
Examine the role of premium rubber flooring in the built environment as a component to achieving educational goals through improved indoor air quality to reduce allergy and asthma issues with a never waxed or coated floor.
Review the influence of the built environment on 21st century learning and ways in which a GREENGUARD Gold-certified sustainable premium rubber flooring supports safety, health, and wellness.
Describe how flooring performance characteristics address exposure and risk with improved indoor air quality, reduced absenteeism, lower maintenance outlay, reduce musculoskeletal fatigue, operational cost savings, reduce surface contamination, reduce slips, trips, and falls, and improve speech intelligibility and sustainable life-cycle cost.
Credits:
This course can be self-reported to the AIBC, as per their CE Guidelines.
This course is approved as a Structured Course
Approved for structured learning
Approved for Core Learning
This course is approved as a Core Course
Course may qualify for Learning Hours with NWTAA
Course eligible for OAA Learning Hours
This course is approved as a core course
This course can be self-reported for Learning Units to the Architectural Institute of British Columbia
Design innovation in educational facilities at all levels is undergoing a revolution. Evidence-based design—making design decisions based on research about how aspects of the physical environment directly influence human performance and well-being—has transformed health-care architecture, measurably improving outcomes for patients, families, and staff. Now, the same principles are being applied to the design of spaces for learning. A growing body of research and many impressive examples around the country show an exciting range of new products and ideas for learning environments that give students what they will need to succeed as global citizens in a complex, technological world.
In the K–12 market, for instance, 24 percent of public school buildings were rated as being in fair or poor condition in the 2017 Infrastructure Report Card by ASCE, and 53 percent of public schools need to make repairs/renovations to be considered in "good" condition.1 A federal law, the Every Student Succeeds Act aims to use chronic absenteeism as a factor in identifying the worst schools.2 U.S. Environmental Protection Agency (EPA) studies indicate human exposure to indoor air pollutants can be two to five times higher than outdoor levels, which is a critical fact when you consider that we spend 90 percent of our time indoors. In schools, developing young adults are more susceptible to environmental exposures.3
And when it comes to the higher-education segment, the majority of buildings constructed before 1975 have passed key thresholds for renewal. Capital investment to renew these older buildings has been postponed in favor of new construction. As a result, maintenance backlogs are reaching a level that keep campus facilities managers on a reactive footing.
Campuses implement policies and practices in four specific areas, providing greater success in navigating the relentless trials of facilities management. These steps are:
Lower capital and operational demands.
Make the problem smaller for decision makers.
Make a greater impact with capital funding.
Manage operational resources more effectively.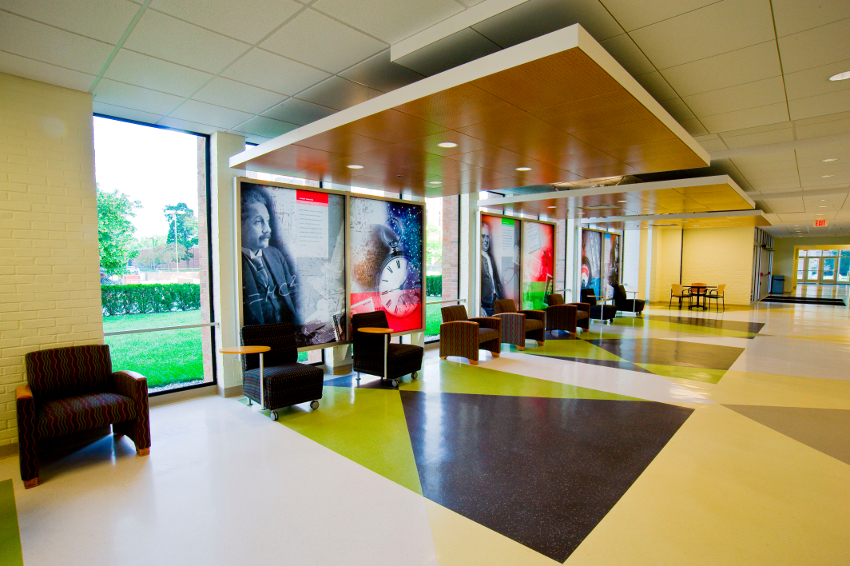 All images courtesy of nora systems, Inc.
Wright State University
The materials selected for these new spaces—from K–12 to higher education—are key to the success of the most innovative designs but also to ensuring the most fundamental needs—healthy air, good light, clear sound, physical safety, and comfort. Even the best decisions about curriculum, assessment, teaching methods, and other important issues can be instantly undermined in the classroom by inferior materials; for example, if students can't hear or teachers have to repeat themselves, if the air quality is unhealthy, or if the floors are hard and unsafe.
On the flip side, physical environments with properly selected materials, effective light, and forward-thinking design have been shown to improve student, teacher, and faculty success on a wide range of measures from test scores to absenteeism to reduction in headaches and asthma.
As with other materials in educational settings, flooring has to perform in new ways. Rubber as a flooring material has many inherent advantages, but there are significant differences even among resilient flooring products (see Figure 1). Premium rubber flooring differs in quality of ingredients, manufacturing, surface density, and performance characteristics that allow it to respond to new demands. The most functional rubber flooring products can stand up to collaborative floor plans and moveable furniture, foster communication by reducing unwanted sound, and provide the comfort and safety that aids concentration and reduces distraction. The performance characteristics help maintain healthy indoor air quality and can be thoroughly cleaned with little more than water, eliminating fumes and the associated man-hours for cleaning and maintenance. In tandem with disruption caused by stripping, waxing, and recoating.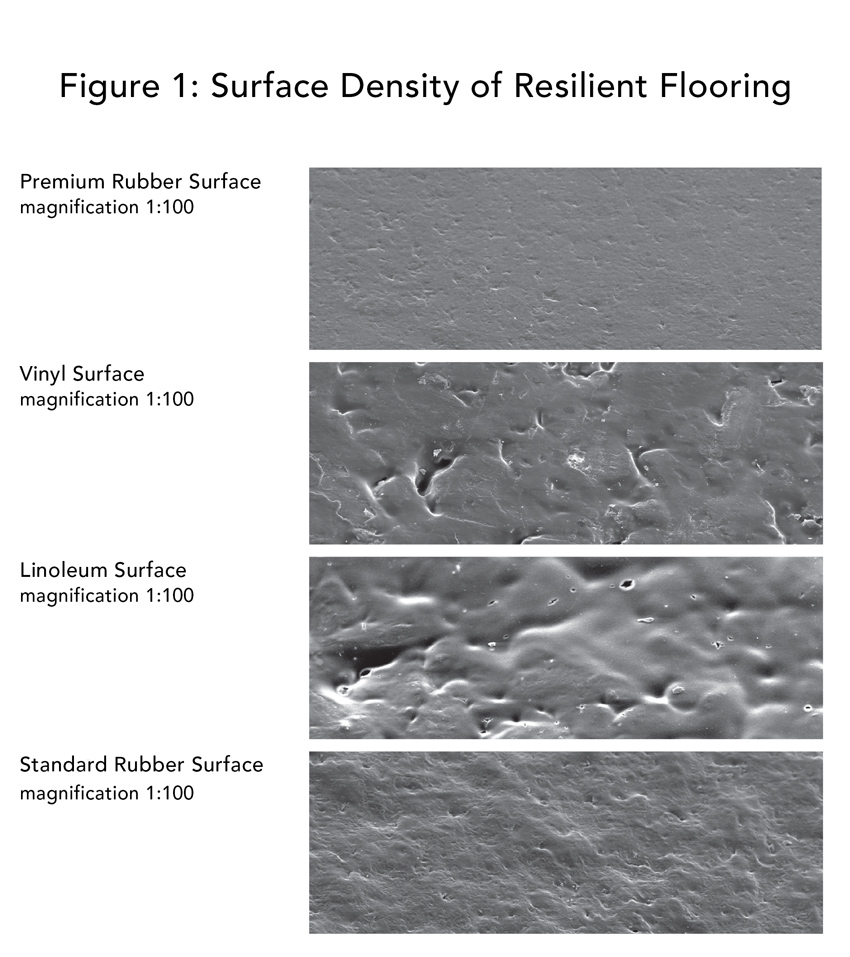 The advantages of high surface density include improvements in safety, acoustics, resistance to dirt and microorganisms, and ease of maintenance.
The large majority of schools are not built to optimize learning, health, and comfort, but to achieve minimum performance at the lowest cost. Many older classrooms are actually working against basic health and safety. Whether for brand new spaces or badly needed renovations, decisions about flooring will have a direct impact on the success of students, teachers, and faculty for many years to come.
This course will illustrate how premium rubber flooring supports some of the most important new concepts in the creation of exceptional learning environments for students of every age—from the littlest learners in daycare and pre-K spaces to higher-education facilities and technical and career spaces for lifetime learning.
Originally published in Architectural Record
Originally published in June 2018
Notice