More than Just Code
ADA and Accessibility Considerations for Inclusive Design
Sponsored by Inpro
Architectural Record

1 AIA LU/HSW; *1 ADA State Accessibility/Barrier-Free; 0.1 ICC CEU; 0.1 IACET CEU*; 1 AIBD P-CE; AAA 1 Structured Learning Hour; This course can be self-reported to the AANB, as per their CE Guidelines; AAPEI 1 Structured Learning Hour; This course can be self-reported to the AIBC, as per their CE Guidelines.; MAA 1 Structured Learning Hour; This course can be self-reported to the NLAA.; This course can be self-reported to the NSAA; NWTAA 1 Structured Learning Hour; OAA 1 Learning Hour; SAA 1 Hour of Core Learning
Learning Objectives:
Discuss ways in which the Americans with Disabilities Act (ADA) has influenced accessibility and inclusive architectural design over the past three decades.
Describe the specific challenges architects faced and the design techniques incorporated within the featured projects to boost accessibility within those spaces.
Identify ways in which accessible design can go beyond the realm of physical disabilities.
Recognize the balance between the strict code aspect of the ADA and its place as a civil rights issue.
This course is part of the ADA Academy
This course is part of the The ADA Academy
Below are a set of links to building type studies from Architectural Record, which are in-depth analyses of particular kinds of buildings, with photos, drawings, specifications, detailed descriptions, and design solutions. Click on each link below, read the article then complete the quiz to earn your credit and certificate of completion.
The Americans with Disabilities (ADA), as described on the ADA website, "is a civil rights law that prohibits discrimination against individuals with disabilities in all areas of public life, including jobs, schools, transportation, and all public and private places that are open to the general public. The purpose of the law is to make sure that people with disabilities have the same rights and opportunities as everyone else." In the 30-plus years since the ADA became law, architects and designers have embraced its challenges and navigated solutions to not only abide by the letter of the law, but innovate to find ways to incorporate the spirit of the law so they may provide inclusive spaces to meet a wide range of needs.
From Veterans centers, places of worship, and facilities designed specifically for those requiring special accommodations, to educational and arts institutions, the projects highlighted in the articles below provide exceptional examples of how designing for accessibility has become top of mind throughout the industry and our society at large.
Accessibility Experts and Architects Consider 30 Years of the ADA
Matthew Messner
The National Veterans Resource Center at Syracuse University by SHoP Architects
Clifford A. Pearson
LightHouse for the Blind and Visually Impaired by Mark Cavagnero Associates
Peter Slatin
Joni and Friends International Disability Center Chapel by Gensler
Boomers Teeter at Edge of Vision Crisis
David Sokol
Grant High School by Mahlum Architects
Randy Gragg
Oakland Museum of California Renovation
Kenneth Caldwell
Billerica Memorial High School by Perkins&Will
Beth Broome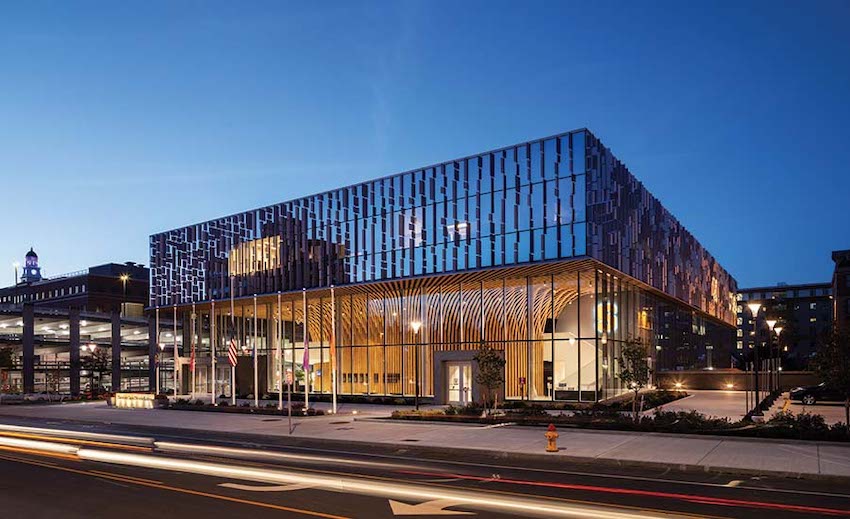 Photo © James Ewing/JBSA
The National Veterans Resource Center
Founded in 1979, Inpro® is a global provider of high-performance, design-forward architectural products for building professionals.

Inpro's product categories include door + wall protection, washrooms, expansion joint systems, privacy, elevator interiors, architectural signage, and commercial window treatments.
Originally published in April 2022
Notice