Educational Buildings: Safety and Durability by Design
Attention to detail in multiple places is key to better performance
Sponsored by Inpro
You are not currently logged in to your CE Center account.
Log in
to view and complete the quiz questions that are embedded in this article.
Printed wall protection systems are commonly made using clear, rigid, sheet plastic with crisp digital imagery printed on the reverse side. This creates greater durability since the rigid sheet protects the image from scratches, dirt, and other hazards, including impacts from backpacks, utility carts, etc. The clear sheet also allows the surface to be cleaned regularly without affecting the graphic image.
From a design standpoint, the possibilities are virtually unlimited in terms of the colors and images that can be printed. Logos, mascots, school mottos, beautiful artwork, or any other type of vibrant imagery is possible. Ultimately, the beauty of these systems is that they help create a design feature that doubles as wall protection that is easy to clean and durable.
The durability and suitability of such rigid wall protection with applied graphics can be ensured by specifying products that meet recognized standards. Specifically, at a minimum, they should provide a Class A fire rating and meet ASTM F 476-84 "System Impact Resistance" and ASTM D 4060 "Taber Abrasion Resistance." For locations that are subject to harsh conditions or where sanitation is a particular concern, they should also meet ASTM D-543 "Chemical and Stain Resistance" and ASTM G-21 & G-22 "Fungal and Bacterial Resistance."
ELEVATOR CAB INTERIORS
Among the most used interior spaces in multistory educational building are the elevator cabs. Over time, elevator interiors can get damaged, especially if the cab is used for both passengers and other purposes, like moving furniture, equipment, etc. Even with the best-padded intentions, furniture movers and delivery drivers can ding up, gouge, and scuff walls with dollies, carts, and crates. Hence, it is quite appropriate to consider protecting elevator cabs as much as other wall and similar surfaces.
Educational building owners often spend significant amounts of money on major elevator renovations. If that only includes elevator equipment upgrades, riders will not notice anything new and will still feel like they are in an "old" elevator. Money spent on things like replacing the jack, power unit, controller, and door operator aren't visible to the public users. Hence, when thinking about elevator renovation, it is worth considering both mechanical and interior upgrades.

Renovated elevator cabs complete the interior design of a building, offer the possibility of greater durability, and can include graphics to promote school spirit.
Some of the main reasons to renovate the cab interior are to update the appearance and make it more appealing by giving it a refreshed look. There may also be an interest in making the cabs more energy efficient with LED lighting or adding extra protection to the cab walls. Another reason to enhance the cab appearance is that some people are terrified of elevators and suffer serious anxiety when riding in one. Interior upgrades can help ease those few minutes they spend riding the elevator by providing a more comfortable and appealing experience. Additionally, graphics can be added to help promote school spirit or a sense of place.
The most cost-effective and innovative way to carry out such an elevator cab upgrade is to use preconfigured elevator cab renovation systems from a manufacturer that has a specialty line of products to address these needs. This system can include any or all the following elements.
New Panels: The elevator panels that line the walls are what primarily make up the appearance of the cab. These panels also typically take quite a beating─from carts, construction equipment, vandalism, and whatever else may come its way. Fortunately, the panels can be made of durable and rugged materials that can be made to look like any range of materials from wood to metal to stone or custom choices.
New Ceilings and Lighting: Elevator ceilings come in many different styles and can be selected to suit an overall design concept. Lighting in elevator cabs can be chosen from among common lamping options such as halogen, incandescent, fluorescent, or energy efficient LED. Keep in mind that people tend to be more comfortable in a well-lit interior, so combining a brighter ceiling with increased lighting output can help people feel more relaxed inside not to mention creating a newer and cleaner look. The energy efficiency of elevator cab lighting is notable since these lights typically stay lit 24 hours a day, 7 days a week, meaning they are running for 8,760 hours a year. Further, selecting energy efficient LED lighting means the lamps have a much longer service life notably reducing maintenance costs for replacements.
New Handrails: Handrails in elevators get attention for ADA or accessibility code requirements, but they also provide stability for users (i.e., something to grasp) while the elevator stops and starts. This is particularly helpful for elderly, disabled, or injured people who need help to reduce the risk of a fall. Beyond the people aspect of handrails, they provide a means for a complete look to the cab and can act as a wall guard, too. By providing a stand-off surface from the wall of the cab, handrails can reduce the chance of equipment or furniture striking the wall panels. As part of a total system for elevator cabs, handrails come in different shapes, sizes, and finishes.
Paying attention to both the appearance and durability of elevator cabs clearly pays off in terms of creating successful, innovative interiors and better experiences for all users.
COMMERCIAL WINDOW TREATMENTS
Adding natural daylight to an educational building is fundamentally a good thing for many reasons, not the least of which is the documented cases of increased student performance and well-being that come about from it. However, the penetration of that daylight and/or direct sunlight into a school needs to be controlled. Too much concentrated daylight can create uncomfortable glare or interfere with computer and audio-visual images. Further, depending on the compass orientation of the building or the time of day, the sunlight could add more solar heat gain than desired, creating spaces that are uncomfortably warm. For all these reasons, providing a solution for controlling or directing daylight into interior spaces is important for a successful outcome.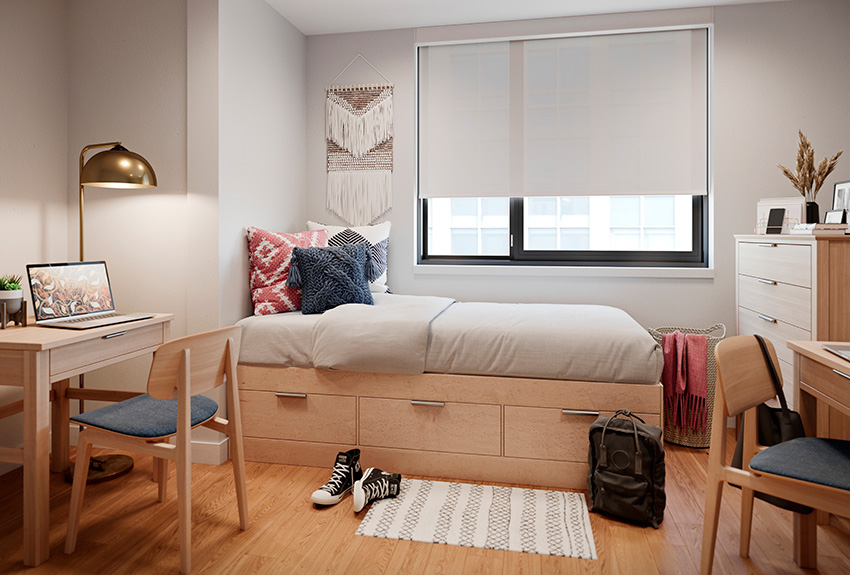 College dormitories use durable commercial window treatments for sun control, room darkening, and privacy.
Originally published in Architectural Record
Originally published in March 2023
Notice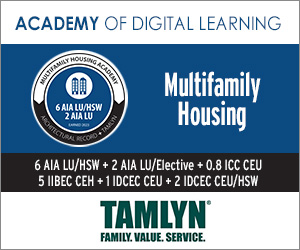 Educational Buildings: Safety and Durability by Design
Buyer's Guide
Aspex® Printed Wall Protection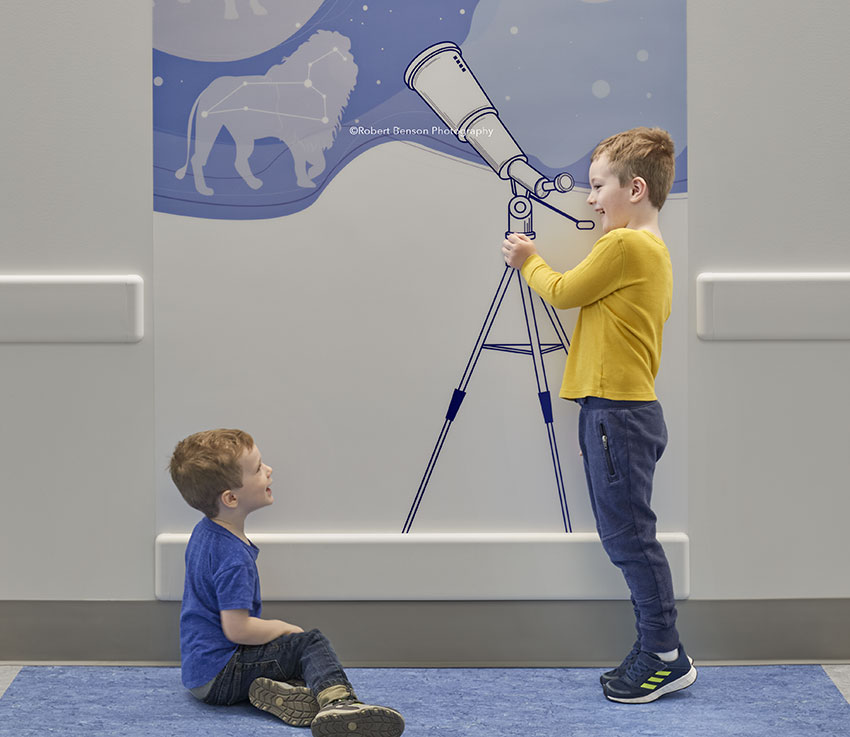 Durable. Custom. Vivid. Aspex Printed Wall Protection provides the high-impact durability of PETG paired with premiere printing capabilities—not sacrificing quality for performance. With the option to select a custom image or even have commissioned artwork backprinted onto our clear sheets, designers are able to protect their walls from damage while also having total design freedom.