The Many Benefits of Barrier-Free Showers
Explore the nuances of and best practices for creating these trending shower spaces
Sponsored by Infinity Drain
Learning Objectives:
Describe the connection between barrier-free showers and the design objectives of aging in place or living in place.
Explain how barrier-free shower spaces comply with the Americans with Disabilities Act (ADA) design standards.
Identify the basic elements and considerations for incorporating this more accessible barrier-free shower into a new construction or renovation project.
Specify the right linear drain system for any given project.
Credits:
This course can be self-reported to the AIBC, as per their CE Guidelines.
This course is approved as a Structured Course
Approved for structured learning
Approved for Core Learning
This course is approved as a Core Course
Course may qualify for Learning Hours with NWTAA
Course eligible for OAA Learning Hours
This course is approved as a core course
This course can be self-reported for Learning Units to the Architectural Institute of British Columbia
Barrier-free bathrooms have been recognized as top bathroom design trends in both 2020 and 2021, and blogs galore in the design and construction industry tout their popularity. Some design trends start because there is a unique need in the market and then catch fire because the new solution is better in so many ways. The rise of the barrier-free shower is a perfect example of this phenomenon. First developed to accommodate the growing interest in aging in place spurred by Baby Boomers, barrier-free showers are now considered the next level in beautiful, luxurious interiors.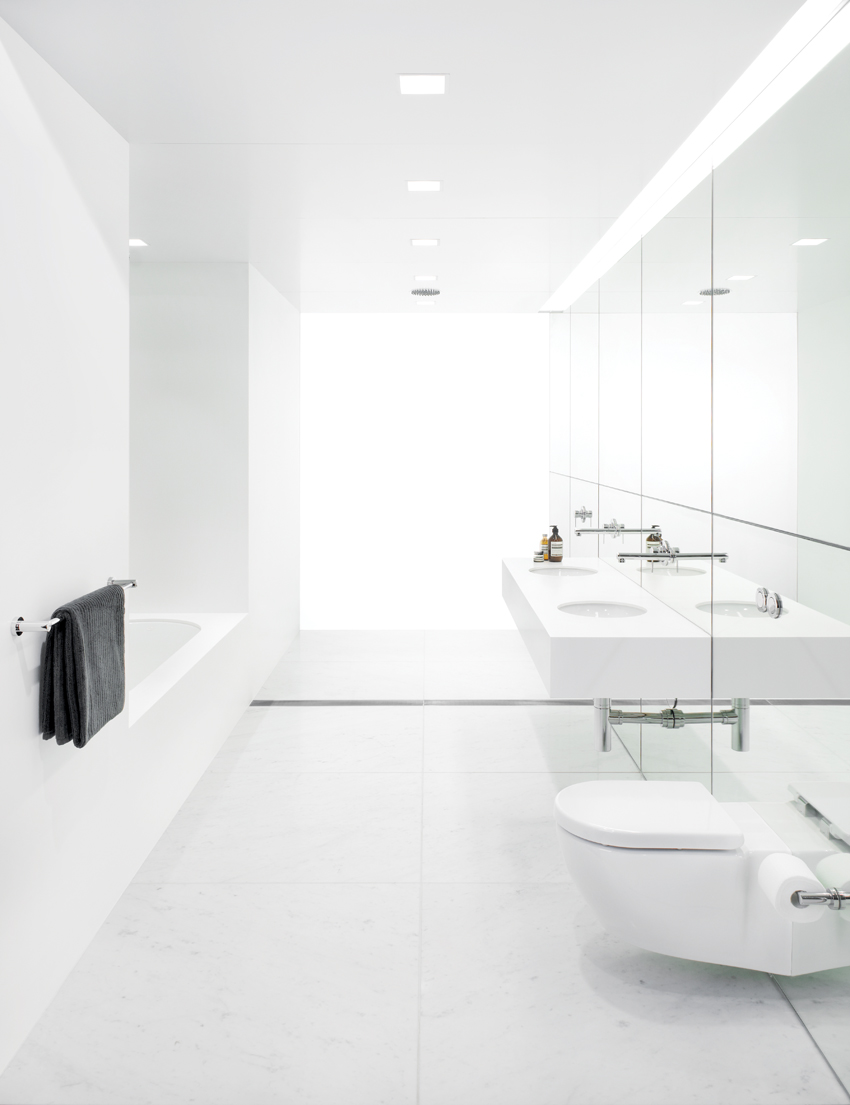 All images courtesy of Infinity Drain
Barrier-free showers designed with a linear drain and single-slope floor pitch create modern and luxurious bathroom spaces that are more accessible and look larger.
This course will take a closer look at the benefits that this aging-friendly and now trending solution can bring to a bathroom, and a few important best practices that will help avoid some of the challenges that can arise during construction.
Introducing an accessible Barrier-Free Shower
The barrier-free shower, also referred to as the walk-in shower, zero-threshold shower, or curbless shower, is a growing trend in bathroom design. The distinguishing feature of this type of shower is that there is no obstacle at the threshold to step or roll over. Barrier-free bathroom design is often achieved with the use of a linear drain system and a single-slope floor pitch. A linear drain is a channel or trench that is built into the floor of the shower. It collects the water and delivers it to the drain outlet, which can be located anywhere along the channel length. With the floor sloped in one direction, the water is aided by gravity and rushes to the far edge of the space, where it is then easily processed.
This barrier-free design offers several benefits over the traditional shower-in-tub and bowl-shaped shower floor with a center drain. These include a more accessible bathroom for people of all ages and capabilities, the removal of a trip hazard, a better overall shower experience, and a shower space that looks larger and is easier to clean.
Beautiful, Bigger-Looking Bathrooms
The barrier-free shower trend may have started to deliver a more accessible type of shower area that made it easier for people to live in place, but it has evolved into an in-demand bathroom feature that allows these spaces to achieve a modern and luxurious aesthetic, while also being more accessible. Architects are finding that these barrier-free bathrooms enable them to use materials that did not fit into a conventional shower-with-a-center-drain solution, and the removal of physical boundaries at the shower eliminate the compartmentalization that before made the bathroom space feel smaller and broken up.
The move from a shower compartment with a standard central drain to a barrier-free shower with a linear drain affects the type of flooring that can be specified in the bathroom. The barrier-free solution offers architects the opportunity to use higher-end materials often found in ultra-modern interiors and five-star spas.
Here is why: When the shower flooring material must accommodate a central drain and four-way pitch, architects will often specify smaller tile or cut large- format tile on a diagonal and then pie-piece it together around the drain. When the shower floor slopes uniformly in one direction, as it does in a barrier-free application, the limitations on tile size and slab material are eliminated. Large-format tiles, stone slabs, or any solid-surface material can be used without being compromised or broken down into smaller pieces.
Barrier-free bathrooms also look bigger, and in real estate, bigger is always better. Instead of having a bathroom broken up into distinct areas, the barrier-free shower creates a seamless transition between the shower space and the rest of the bathroom. This makes the entire bathroom feel larger, even through the total square footage of the space has not changed.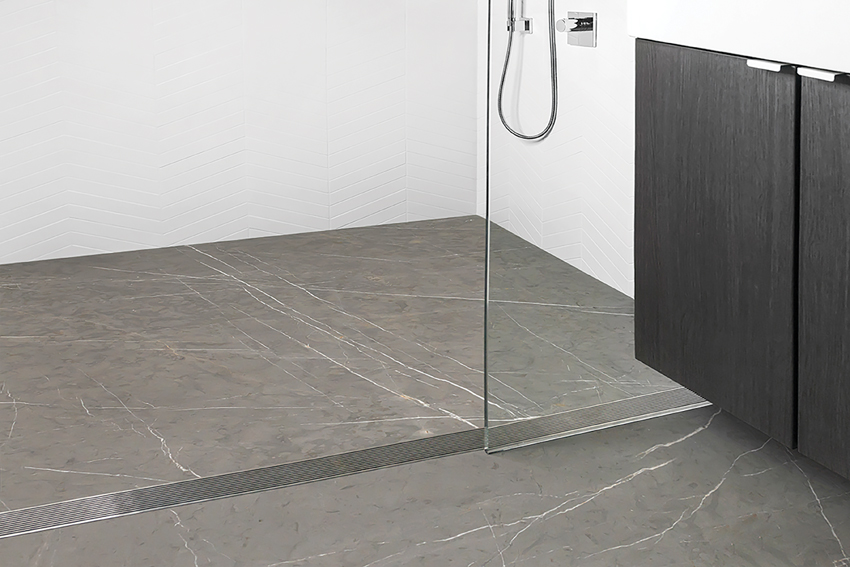 The ADA design standards mandate that roll-in shower compartments shall not have any curbs or edges taller than 1⁄2 inch.
Enhanced Accessibility
Barrier-free showers are more accessible and uphold many of the universal design tenets that ensure products and spaces can be used by as many people as possible. With no curb or barrier obstructing the entrance to the shower, a barrier-free shower offers the most accessible solution for people of all ages, sizes, and physical abilities.
As evidence of this enhanced accessibility, the Americans with Disabilities Act (ADA) design standards specify three types of ADA-compliant shower enclosures. They are a transfer-type shower compartment, a standard roll-in shower compartment, and an alternate roll-in shower compartment. Only one of these ADA-compliant compartments, the transfer type, can have a curb at the enclosure threshold. Any curb or edge in the two roll-in shower compartments must be no taller than a 1⁄2 inch and beveled to make it easier to roll over. Designing a barrier-free shower enclosure would certainly satisfy the limited curb requirements of an ADA-compliant shower compartment.
The ADA also sets minimum guidelines for the size of compliant shower enclosures. The transfer-type shower compartment requires a minimum clearance of 36 inches wide by 36 inches deep. The two roll-in type compartments, which allow for a person to fully roll a wheelchair into the shower area, require a minimum clearance of 60 inches wide and 36 inches deep.
Please note that these measurements are absolute minimums. Larger spaces increase maneuverability and make bathing easier. A barrier-free shower enclosure can be created in any size, enabling architects to realize their design intents in these special spaces.
More Hygienic
Barrier-free showers are also easier to clean. Fewer surfaces, joints, and seams translates to fewer hiding places for mold, mildew, and grime.
More Comfortable Experience
There are a few reasons why the barrier-free, single-slope, linear-drain shower space delivers a more comfortable and refreshing experience than a center-drain scenario. With the center drain, users are often left standing on the drain or in a puddle of dirty water if the drain is slow or even slightly backed up. In addition, a traditional shower, where the drain is in the middle, features a floor with a 360-degree bowl-shaped slope, which creates an uneven surface to navigate while taking a shower. The single slope provides a much more even surface to stand upon and removes water from underfoot more effectively.
Originally published in Architectural Record
Originally published in May 2021
Notice