Ceiling Technology and Aesthetics
Innovative ways to boost performance while adding color and pattern
This course is no longer active
Sponsored by Hunter Douglas Contract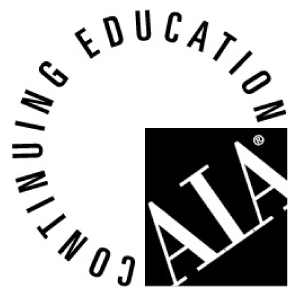 Continuing Education
Learning Objectives - After this course, you should be able to:
Describe the modern development of suspended acoustical ceiling systems in terms of building performance and green building benefits.
Explain how ceiling products and designs impact acoustics, occupant comfort and other indoor environmental quality (IEQ) factors.
Discuss the effect of ceiling system choice, including printed and mass-customized materials, on three or more LEED credit categories.
List the goals of sustainable design or occupant health that affect ceiling product selection.
Credits:
The application of design sensibility to what some architects call "the fifth wall"—the ceiling plane—brings a number of specific challenges that impact building effectiveness and indoor environmental quality (IEQ). Chief among them is design treatment, including the use of color, texture, and form without compromising performance or incurring excessive cost. Other challenges include acoustical performance, which has a direct effect on human productivity and health, yet may conflict with the use of large monolithic planes or the use of special shapes and visual effects. Sustainable design goals often fade in the drive for low-cost, low-value ceiling systems.
Yet a good ceiling specification can benefit indoor-air quality, energy efficiency, daylighting efficacy, and long-term building operations. New tests for flame spread and smoke development help ensure ceilings are safer, too. In sum, ceiling design has a direct effect on the facility's return on investment, or ROI.
In addition, architects are increasingly taking advantage of innovative design techniques that elevate the fifth wall to a higher plane, so to speak, in terms of advancing architecture. A slew of innovations have emerged for ceiling design, including new sizes, shapes, color, and patterns as well as systems for supporting the assemblies and accessing the plenum above.
Innovative techniques for printing and patterning interior surfaces are available, often using fewer material resources than traditional ceiling treatments. Some of these manufacturing technologies allow cost-effective custom runs to match a project's design needs, while retaining desired acoustical and lighting properties. In many cases, they contribute to better occupant health and safer, more sustainable buildings—and more visually impressive interior spaces.
A Short History of Modern Ceilings
A look back at the development of suspended ceiling technology provides helpful context for understanding today's advances. "Eighty to ninety years ago, suspended ceilings were invented to hide HVAC ducts, pipes, and other systems routed along the ceiling," says Ko Kuperus, general manager at Hunter Douglas Contract, Denver. "The acoustic tiles were dropped into metal grid, and the same is true today. The concept has not changed in almost 100 years."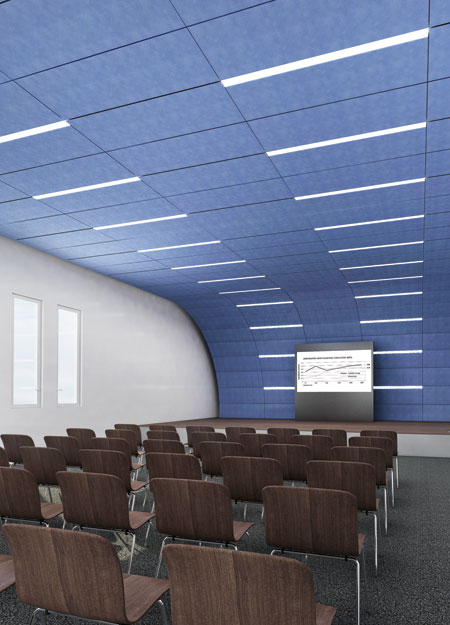 New techniques for applying color on ceiling systems enliven meeting offices. Other treatments include geometric faux finishes that mimic leather, Venetian plasters, wood grain, and metals.
Image courtesy of Hunter Douglas Contract
Originally published in Architectural Record
Notice