High-Performing, Resilient, Wood-Framed Roofs
Designing for storm resistance to meet code requirements and reduce insurance costs
Sponsored by ZIP System sheathing and tape, by Huber Engineered Woods LLC
This test is no longer available for credit
• Felt: Traditional, black, asphalt-saturated roofing felt has been used in residential roof construction for decades and is in fact referenced as the standard in the International Building Code. "Felt paper," as it is commonly called, is either coated or saturated with asphalt to make it water resistant, though not waterproof. Builder's felt paper is available in 15-pound and 30-pound weights, which refers to the historical weight of the papers, though modern production has made them actually lighter. Although considered a relatively easy-to-use and cost-effective option, durability can be a problem. Felt paper can tear easily, especially when wet. The 30-pound paper is thicker and stiffer, less prone to tearing, and provides more protection from water, but it is also much heavier and can be more difficult to work with. Architects should be aware that there are several ASTM standards that offer specifications for asphalt-saturated felt that many manufacturers fail to meet according to the International Association of Certified Home Inspectors—the papers are saturated to a lower level, predisposing these underlayments to absorb water and fail sooner.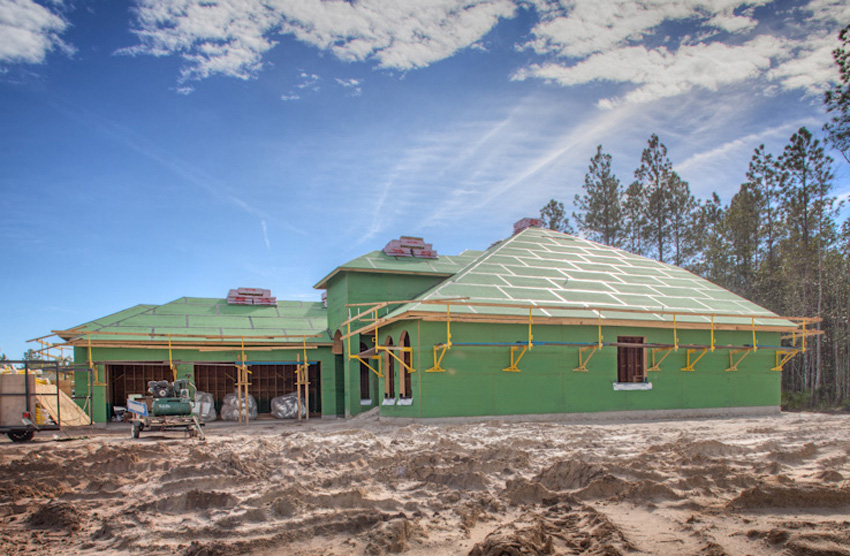 Photo courtesy of Huber Engineered Woods
Synthetic underlayments are available that offer greater resistance to water than felts but require careful installation over sheathing.
• Synthetic: A relative newcomer to the marketplace, synthetic underlayments offer greater resistance to water than felts. Made of synthetic polymers, the exact composition of which varies among manufacturers, synthetic underlayments are lightweight, UV resistant, safer to walk on, and resistant to insects, fungus and rot. More expensive than roofing felt, synthetics are also more resistant to tears and wrinkles, and lay down more evenly. Synthetics also come in light colors, enabling the roof to stay cooler when exposed, and are fabricated in larger sheets, which can save time during installation.
• Peel-and-Stick Materials: A roof underlayment with an adhesive backing that is peeled off and pressed into place, peel-and-stick materials are typically used in areas of the roof where ice dams or leaks are likely to occur. Considered a superior option for ice and water barriers, peel-and-stick underlayments can be a first layer of protection on potentially problematic areas or installed on the entire roof. Should water pool or collect on the roof, this underlayment prevents it from seeping through by forming a true water barrier. Thicker than other types of underlayment, peel-and-stick materials are noted for their durability to withstand the elements during roofing installation. One drawback is that the adhesive is temperature-sensitive until securely bonded to a dry surface and requires a primer when installed below 40–45 degrees Fahrenheit, depending on the manufacturer. Additionally, most of the materials are slippery and unsafe to walk on directly after application.
• Combination Wood Structural Panel and Underlayment: A significant material breakthrough that is now readily available is the use of wood structural sheathing panels with a built-in moisture-resistive barrier. The integrated barrier makes the panel a combination of structural sheathing and underlayment that eliminates the need for an additional felt or synthetic underlayment application. This single-step installation makes roof construction quicker and easier even though it does require that seams between panels be sealed. However, as we have already seen, taping the seams is both a very positive and very inexpensive thing to do. The taped panels create a structural roof system and code-recognized underlayment that can help the building qualify under the FORTIFIED program and, more significantly, hold up better during extreme weather events. Most of these combination panels have a clear fastening guide on the panel surface for fast, accurate installation. Builders report a 40 percent reduction in installation time, which can potentially reduce the size of the roofing crew required. "With these panels, it was a quicker, easier process that got us watertight and kept our job moving," says Trey Little, project manager at Atkins and Associates Homebuilders in Nashville, Tennessee.
Further, because of the integrity of the waterproofing surface, it can typically be left exposed for up to 180 days without damage or concern. Dusty Bitton, owner of Pinetop Custom Homes in McCall, Idaho, says, "I began building a home last November using the wood structural panels with built-in moisture resistance that were exposed through May. Although the homeowner was worried, the strength and moisture protection provided by this system prevented any issues, and we were able to resume building without any delay due to rework."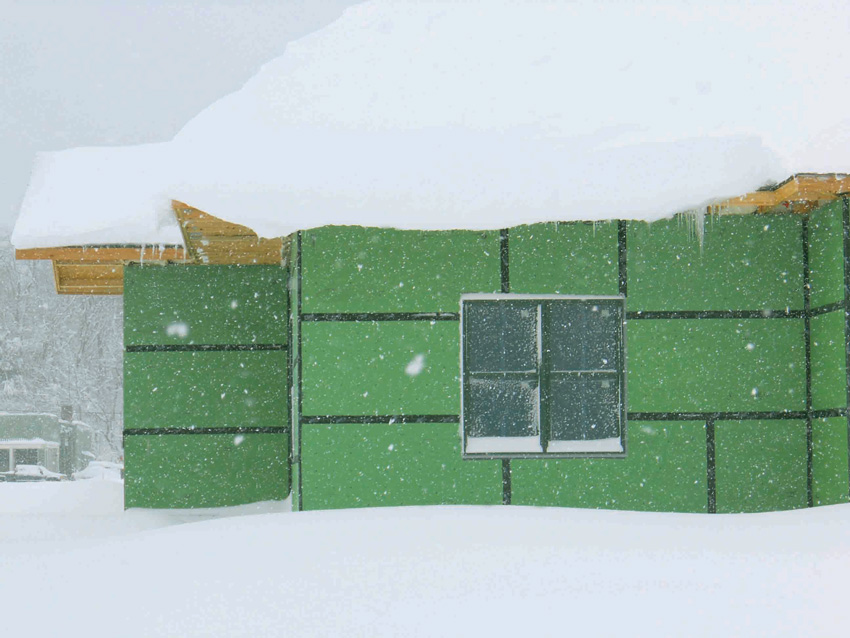 Photo courtesy of Huber Engineered Woods
Wood structural panels with a built-in moisture-resistant barrier provide sheathing and underlayment installed in one step and are rated for 180-day exposure to weather.
Finished Roofing
Once the roof structure, sheathing, and underlayment systems are all in place, then the visible finished roofing materials can be installed. There are, of course, a number of choices, which vary by cost, suitability for different roof slopes, expected service life, wind resistance, and severe-weather durability, not to mention aesthetics. The finish roofing and the underlayment need to be compatible, too, so checking that detail can be important in the longevity of the finish roofing.
There are four common categories of finish roofing materials used on wood-framed buildings: asphalt shingles; tiles made from clay, slate, or concrete; wood shakes or shingles; and metal roofing. Each has different characteristics and capabilities in terms of design and performance. They also have different capabilities to resist severe weather and protect the building in storms. In all cases, they are the first line of protection from the environmental conditions, but all require the reinforcement of a good underlayment. All four types are discussed further as follows:
• Asphalt Shingles: Affordable and reasonably durable, asphalt roofing shingles are the most commonly used option in North American wood-framed roofing applications. They tend to last longer in cool and dry conditions than in warmer and more humid climates, as extreme heat can soften and weaken the shingles, while high humidity can promote damaging mold growth. However, extra ice-guard underlayments may be required in northern climate zones since ice dams can melt and seep under the shingles, causing water damage to the regular underlayment and sheathing. In extreme cold, asphalt shingles can develop hairline stress cracks and break down before their anticipated service life of 20 to 30 years. The international codes (IBC and IRC) address asphalt shingles specifically and impose additional requirements when they are used on low-slope roofs, such as the need for multiple layers of felt underlayment. On other slopes, they specifically require a single layer of felt underlayment or an acceptable alternative as reviewed earlier. In building locations prone to ice damming, the codes requires a peel-and-stick type of underlayment in critical areas, such as along roof edges and valleys.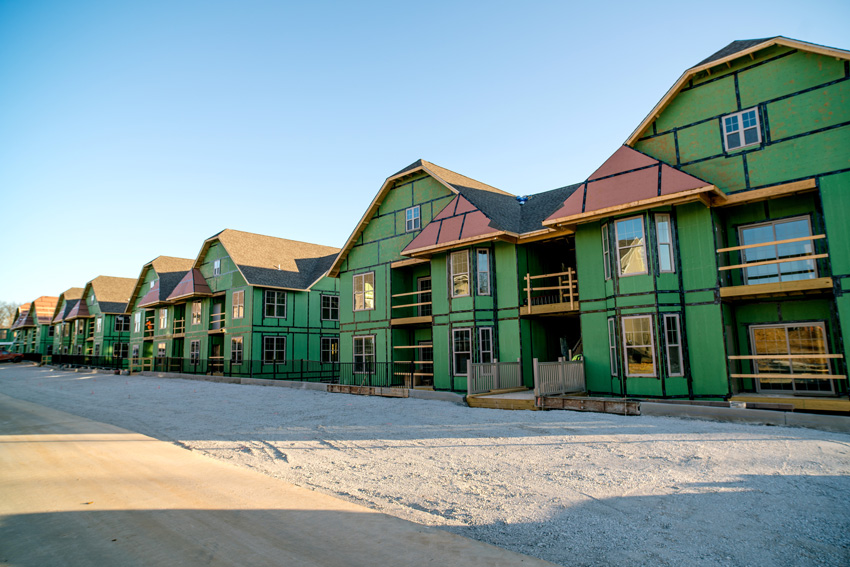 Photo courtesy of Huber Engineered Woods
Asphalt roofing shingles are the most widely used option for wood-framed roofing systems in North America.
• Clay, Slate, and Concrete Tiles: Tile roofs are the norm in Europe and many parts of the world and are used in higher-end homes in the United States. Clay tiles that interlock and create the iconic reddish, textured cap to a human-scaled building not only create a desirable aesthetic in some situations, but have the benefit of a proven, long-lasting roofing solution. Clay tile roofs have been in place for 100 years or longer with some maintenance required if any tiles become loose, broken, or otherwise damaged, but they are generally durable. Clay tiles have performed well in climates that receive a lot of sun, such as the Mediterranean areas of Europe or the southern United States. Slate is a natural material that, when installed properly, can require very little maintenance and hold up well in storms. Concrete tiles are considered a less-costly choice that bring some of the characteristics of clay and slate in resisting severe weather. Of course, all of these tiles will likely add more dead load weight to the roof system compared to other choices, so the wood framing and sheathing needs to be designed accordingly. Underlayment requirements per the codes for clay and concrete tiles are comparable to the requirements for asphalt shingles: two layers of underlayment on low-slope roofs, and one layer on steeper roofs. For slate shingles, underlayment should comply with ASTM D 226, which covers 15-pound and 30-pound felt, or ASTM D 4869 for felt applications in steep-slope roofs.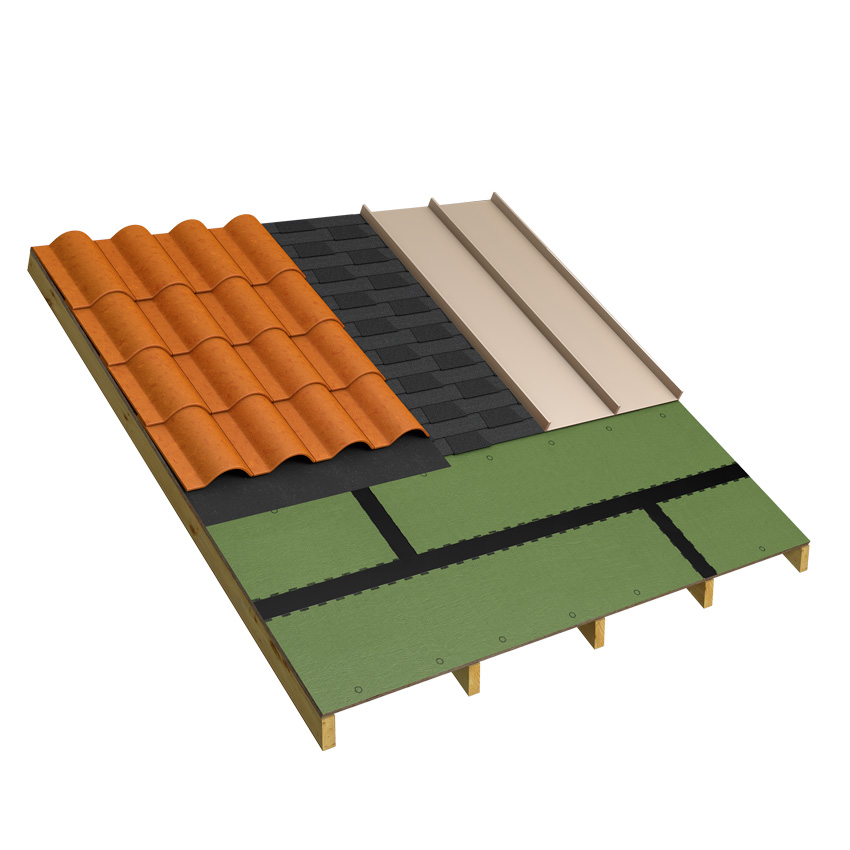 Photo courtesy of Huber Engineered Woods
Clay tiles or metal roofing are alternatives to asphalt shingles that can be used over properly selected sheathing and underlayment.
• Wood Shakes/Shingles: Certain building designs rely on the aesthetic of wood shake or shingle roofing, first used in this country by Colonial settlers that used the abundance of trees as their building material resource for roofing. As long as wood shingles and shakes are from high quality wood, such as redwood, cedar, and some treated pines, they hold up well in most climates. However, constant high heat may cause cracking or splitting. A natural oil in cedar shingles helps repel water, making them ideal in climates with rain or humidity. It also helps stop mold and mildew from forming and rotting the shingle or causing leaks. For both wood shingles and shakes, the international codes require that underlayments comply with ASTM D 226, Type I or ASTM D 4869, and stipulates specific instructions in applying two layers of underlayment cemented together or self-adhering polymer-modified bitumen in ice-dam-prone areas. Wood shakes, in particular, need a heavy underlayment, and the code also requires an interlayment (i.e. a layer of felt between overlapping layers of wood) complying with ASTM D 226, Type 1. According to the Cedar Shake and Shingle Bureau, "The felt interlayment acts as a baffle that prevents wind-driven snow or other foreign material from entering the attic cavity during extreme weather conditions."
• Metal: According to the Metal Roofing Alliance, a metal roof can be expected to last at least two to three times longer than other common roofing materials. While the initial cost may be significantly higher than an asphalt shingle roof, the longevity and low maintenance requirements of a metal roof may result in a much better life-cycle cost. Metal roofing can achieve a 140-mile-per-hour wind rating and is able to withstand extreme weather, such as high winds, heavy snow, hailstorms, and even wildfires. Ice and snow can easily slide off before building up and causing problems. However, care needs to be taken in design to prevent people from walking under metal roofs with accumulated ice and snow. In warm temperatures, metal expands so appropriate allowance for the expansion and contraction of the metal needs to be addressed. Metal surfaces are fire resistant, and the material is lightweight, making it easier to design the supporting structure and comply with fire code requirements. Light-colored metal may also lower energy bills for air-conditioning by reflecting the sun's radiant heat away from the building. The IBC requires underlayment for metal roofing to comply with ASTM D 226, Type I or ASTM D 4869, and gives instructions for installing underlayment in ice-prone structures.
Originally published in Architectural Record
Notice