High-Performance Glass for Sustainable Design
A comprehensive guide to understanding the benefits of and best practices for specifying high-performance glass
Sponsored by Guardian Glass

1 AIA LU/HSW; 0.1 ICC CEU; 0.1 IACET CEU*; 1 AIBD P-CE; AAA 1 Structured Learning Hour; This course can be self-reported to the AANB, as per their CE Guidelines; AAPEI 1 Structured Learning Hour; This course can be self-reported to the AIBC, as per their CE Guidelines.; MAA 1 Structured Learning Hour; This course can be self-reported to the NLAA.; This course can be self-reported to the NSAA; NWTAA 1 Structured Learning Hour; OAA 1 Learning Hour; SAA 1 Hour of Core Learning
Learning Objectives:
List the energy efficiency and aesthetic attributes architects should consider when specifying high-performance glazing.
Evaluate different glass samples to select the most appropriate type and style for a project in order to satisfy comfort and sustainability goals.
Discuss current standards and certification programs that can help support sustainable design goals when specifying high-performance glass.
Explain how lowering visible light transmission through high-performance glass can improve the comfort and health of the occupants, while supporting energy-savings goals and providing ample light within the building.
Note the use of oversized glass as a growing design trend and highlight some considerations.
This course is part of the Glass in Architecture Academy
Heat-Absorbing versus Low-Emissivity Coatings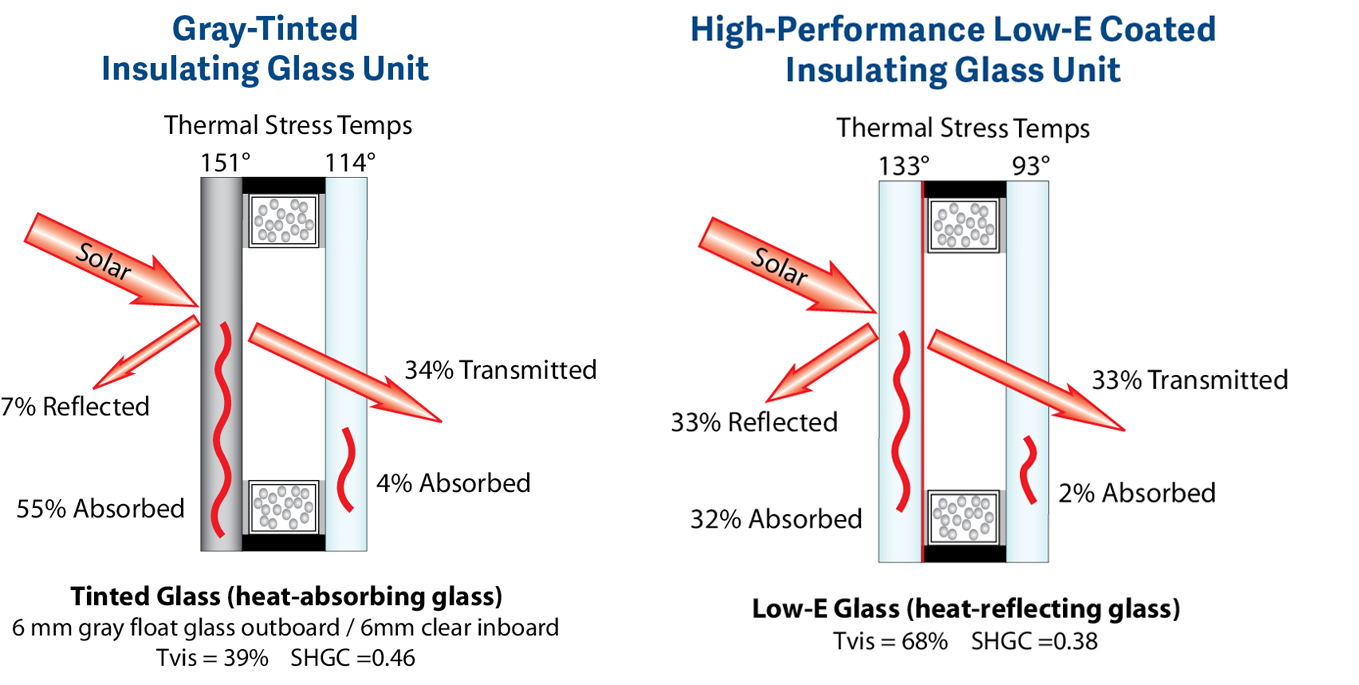 Images courtesy of Guardian Glass
A visual account of how heat-absorbing coatings compare to low-emissivity coatings.
To achieve a lower U-value in a double or triple glazed unit, Low-e glass coatings can be added to various surfaces depending on the application. The diagram below shows four surfaces in an insulating glass setup. Low-e coatings are typically applied to the #2 surface for aesthetics and improved performance. Performance can also be improved even more with the addition of a fourth surface coating, providing an enhanced thermal barrier.

Images courtesy of Guardian Glass
Shown is a visual representation of the surfaces where low-e glass coatings can be applied.
Advanced Glazing Technologies
When considering the light-to-solar-gain ratio, or how efficiently the glazing is letting in light but blocking solar heat gain, triple-silver (three layers of silver sandwiched within other metal layers in a low-e coating) offers best-in-class performance. These coatings are very durable and are designed to be exposed to the interior of the building. Triple-silver coatings can have up to 18 layers.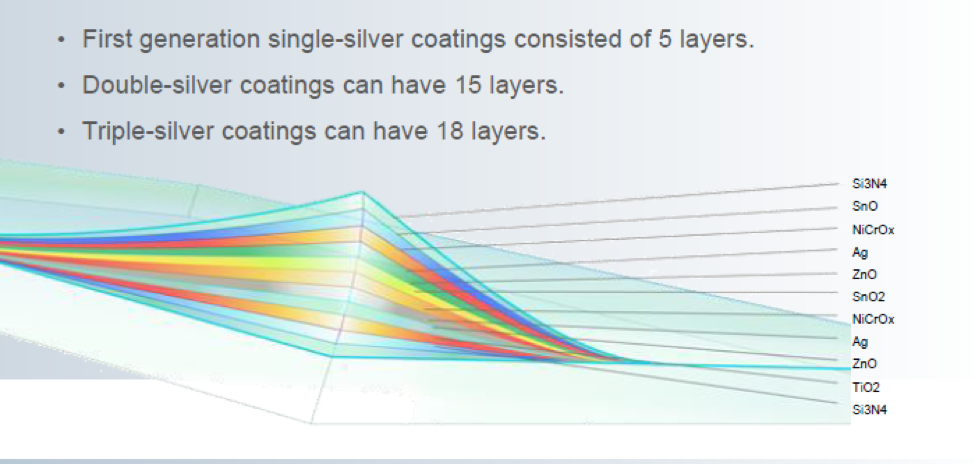 Image courtesy of Guardian Glass
Illustration of coatings and layers that can be applied to glass.
Standards and Performance
In addition to building codes and standards that provide minimal requirements for buildings to ensure physical safety for occupants, additional standards provide minimal requirements for environmental and health safety.
An environmental product declaration (EPD) is a standardized way of quantifying the environmental impact of a product or system. EPDs are verified and registered documents that communicate transparent and comparable information about the life-cycle environmental impact of a product.
Health product declarations (HPDs) disclose the potential chemical concerns of products in accordance with the Health Product Declaration Standard, which provides a consistent reporting format to increase the quality and availability of product content and health information.
Many glass products can be included in global green building programs, such as LEED and Living Building Challenge and Passive House, to help meet that particular program's guidelines.
Two organizations that are active in the glazing community are Glass Association of North America (GANA) and the National Fenestration Rating Council (NFRC). GANA sets industry standards and provides leadership, guidance, education and knowledge to flat glass manufacturers, fabricators and glaziers. NFRC is a non-profit that establishes objective performance standards for windows, doors, and skylights.
While new coatings do an excellent job of letting in light and lowering solar heat gain, energy codes and LEED requirements may dictate even greater solar control. Fortunately, there are many options, including medium light transmitting coatings (40-50 percent) as well as various options to achieve any requirements assigned to the project.
By selecting products that meet or exceed these standards and minimum requirements, architects and building designers can provide optimal solutions for their clients while also building and designing more energy-efficient structures.
Hands-on Approach to Specifying High-Performance Glass
Specifying glass and glazing systems can be complicated for architects and designers, who must maximize energy performance and balance occupant comfort and well-being while achieving desired design aesthetics. When specifying high-performance glass with the intent of improving both comfort and energy efficiency in the building, there are many best practices that architects and designers can use.
The first is to evaluate samples using natural lighting. Coated glass is normally selected based on reflected color, as this is typically seen in outdoor/natural lighting conditions. For the most accurate rendering of transmitted and reflected color, it's preferable to test samples outside in a slightly overcast condition. When viewing the sample, consider various lighting conditions. To see the reflected color of glass, it is best to view samples with a black background. Look through the glass to provide the best indication of the appearance of installed glass.
Originally published in Architectural Record
Originally published in November 2018
Notice