The New Benefits of Designing with BIM
Improve productivity, safety, creativity, and collaboration with the new tools and enhanced functionality now available
Sponsored by GRAPHISOFT® NORTH AMERICA

1 AIA LU/Elective; 1 IDCEC CEU/HSW; 0.1 ICC CEU; 0.1 IACET CEU*; 1 AIBD P-CE; AAA 1 Structured Learning Hour; This course can be self-reported to the AANB, as per their CE Guidelines; AAPEI 1 Structured Learning Hour; This course can be self-reported to the AIBC, as per their CE Guidelines.; MAA 1 Structured Learning Hour; This course can be self-reported to the NLAA.; This course can be self-reported to the NSAA; NWTAA 1 Structured Learning Hour; OAA 1 Learning Hour; SAA 1 Hour of Core Learning
Learning Objectives:
Describe how the new stair tool helps to design stair solutions that are safe and easy to navigate and meet all applicable national and local codes.
Explain how the integrated collision detection feature can reveal potential flaws and weaknesses in the design before construction begins.
Explore how BIM automates documentation updates and eliminates potential errors or miscommunications that can occur when the documentation is not kept current.
Provide three examples of how BIM improves the collaboration between architects and the rest of the consulting and engineering team.
Use new presentation tools in BIM software to engage clients.
This course is part of the Business and Technology of Architecture Academy
Accurate Documentation Made Easy
Historically, the construction documentation phase is where architects spend the majority of their time. Automating the completion and management of the incredible amount of documentation necessary in the building industry is one of the benefits of BIM that is most widely touted. BIM applies a revolutionary approach to documentation in that the model and the documentation are connected to each other. A change to the documentation results in an instant change in the model. A change in the model creates an immediate update to all documentation. Now documentation is a product of the design process and not a separate phase.
As previously described, the BIM process relies upon a single data model that contains layers and layers of metadata that is constantly updated so that all of the details are always current, which is an impressive task considering the iterative nature of the design and construction process. If an architect interacts with the 3-D visualization, pulling or pushing structural elements or redefining materials, the changes ripple down into all of the 2-D documents that pull information from the data model. If an architect makes changes to a 2-D floorplan or detailed section or elevation, the changes are reflected in the 3-D representation and, again, in all documentation.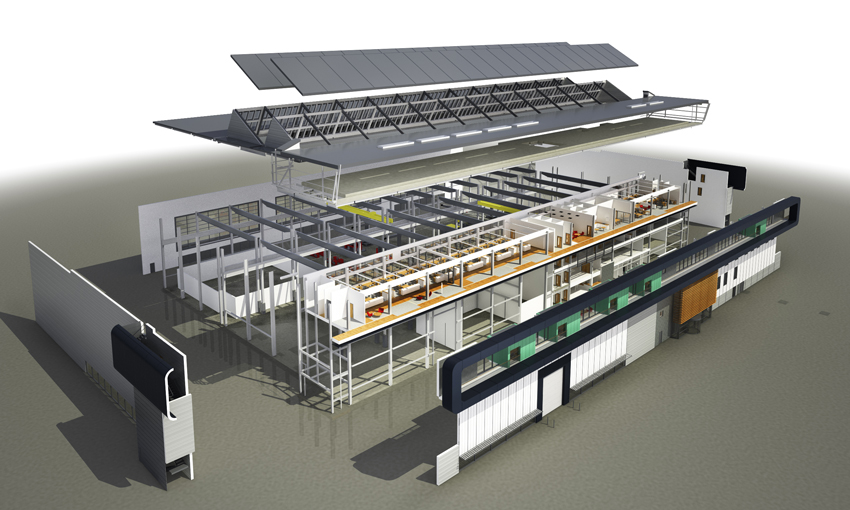 © Bond Bryan Architects, www.bondbryan.com
Project: Nuclear Advanced Manufacturing Research Centre
Location: Sheffield, United Kingdom
With BIM, any design change is immediately reflected across the complete drawing set. For example, if a designer makes changes to the position or height of a door or window, every elevation and piece of documentation updates with this new information immediately, without requiring the designer to update every associated drawing, schedule, or element description by hand.
This automatic process ensures that architects can clearly and accurately communicate design intent with the model, and it eliminates potential errors that result from project members having the wrong information when iterations or changes are not effectively captured in the documentation. BIM software constantly regenerates the most current version of all documentation so team members are never looking at old or outdated details. This minimizes the opportunities for mistakes to occur from miscommunications that could bust project budgets and timelines.
Improved Collaboration
Before BIM, architects passed base sheets and .dwg files back and forth between the engineers and consultants on their team and had to manually input every iteration. Since then, BIM has revolutionized project collaboration, improving the way that a multidisciplinary team communicates, increasing the level of detail that can be shared visually to improve the clarity of the comments and accommodating the many different ways that team members may prefer to work.
Using BIM, architects can easily exchange IFC files between their consulting engineers and use hotlinking solutions to capture and compare the latest iterations of a system or space quickly and efficiently. Objects that have been changed are color coded depending upon the type of change that occurred. One color represents that an entirely new element has been added. Another color represents that something has been moved or modified. A third highlights items that have been removed.
BIM software also allows designers to customize communications to provide greater levels of detail and clarity to the rest of the team. "With BIM software, I can create a vignette, which allows me to pull a piece of the model out, note it up, and include it alongside the orthographic representations of the drawing. It's a clearer way for me to communicate design intent to the engineer. I can say 'I want to bury this beam, and I want that to pull out,' but being able to show them a shot of the model and provide a couple of notes and put that in next to the more traditional drawing is huge," Hampden explains.
Beyond offering tools to help architects communicate more clearly with the team at large, BIM software offers greater flexibility to support the ways in which consulting engineers prefer to work with the architect. The system can still accommodate .dwg files for design consultants who prefer to complete documentation in 2-D.
The system also enables the team to collaborate in real time on the building models. Architects and structural engineers can work in the same drawing at the same time, see each other's work, and join the real-time work session from inside the office or a remote location. This gives the design team the ability to be more flexible with each other.
Another BIM feature that makes collaboration easier today is platform neutrality. In the past, platform mattered because it was a challenge to work on projects across iOS and Android devices. The programs were not capable of jumping across platforms in a way that protected the integrity of the original files and was easy to use. Now programs offer seamless design and review capabilities across iOS and Android platforms, making it much easier to collaborate among all project stakeholders regardless of their device preferences.
The Mobile BIM Model
BIM is built upon a database that contains an enormous amount of information about a project. The value of BIM, however, is not that the database exists but that the data can be easily and readily accessed by all of the members of the AEC team. Ensuring the members of the multidisciplinary AEC team, which is often comprised of an MEP engineer, environmental engineer, civil engineer, architect, structural engineer, interior architect, landscape architect, surveyor, general contractor, and subcontractors, is especially challenging because many of the stakeholders are not proficient in BIM or do not have a computer, relying instead upon a mobile device.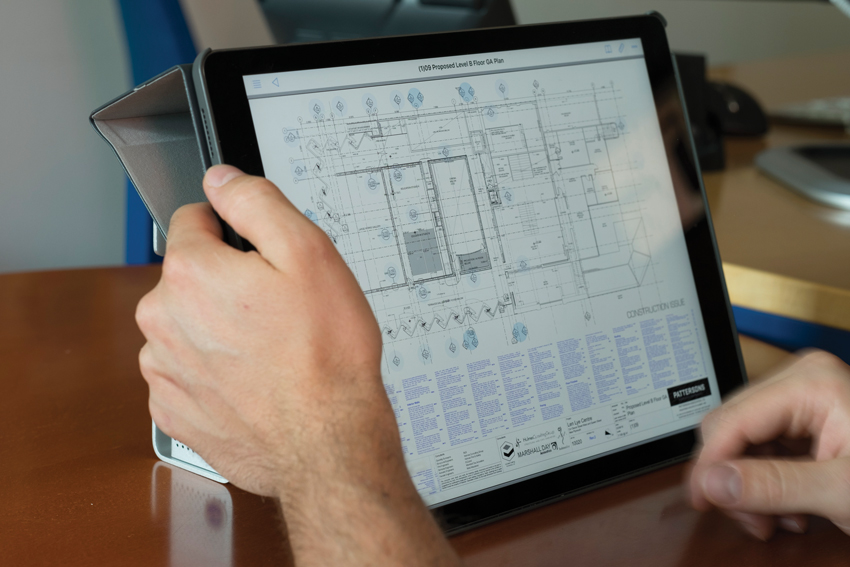 Photo courtesy of GRAPHISOFT
With BIM, accurate project data can be easily and readily accessed by all members of the AEC team from a preferred mobile device.
It is now possible to load the hyper-model of a BIM project and the associated documentation onto a mobile device and take it to the job site, to the client meeting, or anywhere. Now, if an architect is at a construction site discussing an issue with the construction manager, the architect can access the model on his or her mobile phone and even send it directly to the construction manager's tablet. With BIM being mobile, architects and the rest of the team can share and collaborate on projects using the full range of hardware, tablets, and smartphones they possess.
"The mobile BIM solution has enabled our designs to break free of the confines of the desktop and the studio itself. Now we are able to have the entire rich 3-D model in our pockets. We can put it on the iPad Pro and take it to a construction site. We can upload it to the cloud. With this level of access, structural engineers, general contractors, and real-estate sales people can engage with the design in a much more visually rich way," says Anthony Laney, Laney LA.
More Beautiful Renderings
BIM can also produce strikingly beautiful images in a still format, animation, or interactive hyper-model, offering the photo-realistic solution for any type of presentation need.
"I was resistant to change everything I do [and make the switch to BIM], but I did see the beauty of what it offered. My first great experience with the BIM software, where the product really upped my game, was the time I presented renderings to the developer of a huge apartment complex. There is nothing I could have drawn that would have elicited that response. They were gorgeous renderings, and the client said, 'We want to live in that rendering,'" shares Olvia Demetriou, HapstakDemetriou.
Some BIM software now features an integrated rendering engine that offers designers an everyday 3-D window that quickly generates high-quality renderings and project images. This built-in sketch rendering capability makes good presentations filled with project renderings possible on the fly. This is a dramatic departure from past technologies that required architects to dedicate significant time just to developing the images that would be used during a presentation. The software can also produce marquees that carve up the model and provide unique views for clients or members of the consulting engineer or construction team. Animations can also be created by connecting the rendered images with a camera path.
Nudging the quality higher, the sophisticated rendering engine is equipped with light mapping and global illumination (GI) capabilities that adds more realistic lighting to 3-D images. The images now consider light produced by a light source as well as the reflections, refractions, and shadows that occur as a result of the light's path through a space. These improved renderings create brighter interiors and a better representation of the depth of a room.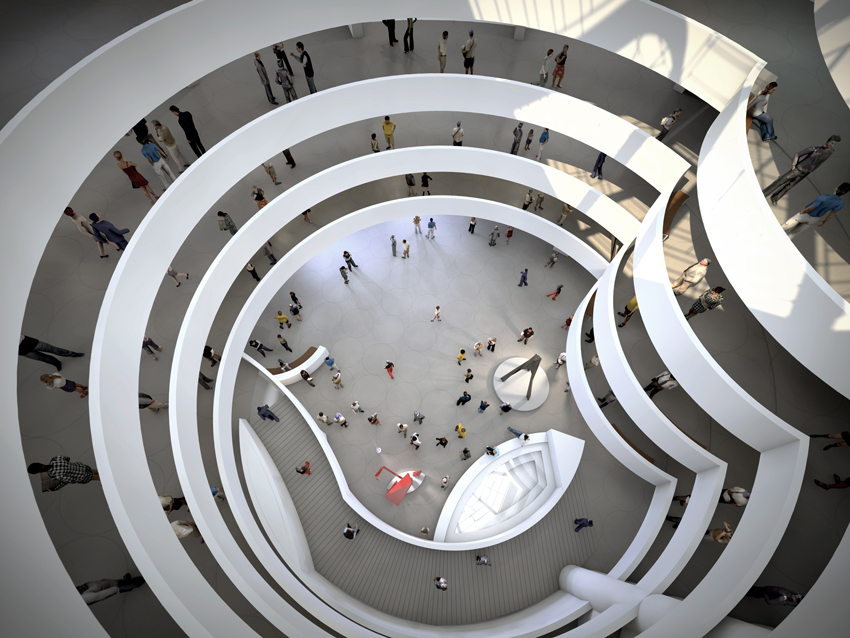 Modeled and Rendered in ARCHICAD
Project: Guggenheim Museum
Location: New York
Architect: Frank Lloyd Wright

This rendering of the Guggenheim, remodeled in BIM, illustrates the beauty of the images that can now be created by this software and the impact of the more realistic lighting capabilities.
Explore the Design in Virtual Reality
Beyond creating beautiful, detailed renderings, the technology now exists to enable designers and clients to walk through these virtual spaces. Some BIM software can export a 3-D file onto an iOS or Android smartphone and allow a designer or client to use a virtual reality platform, such as Google Cardboard, to have an immersive experience of the building design.
Exploring residential and commercial buildings through virtual reality with a smartphone and a viewer offers the design community an avenue for engaging clients and communicating design intent in a high-tech, low-cost way. The BIM files can be exported in under fifteen minutes and will provide images at the resolution level supported by the smartphone technology used.
Some BIM software is capable of providing the files in a number of file formats, enabling designers to save their projects out to third-party applications that may offer higher-resolution images or a more advanced virtual reality experience. While exciting, this third-party compatibility is still cumbersome, requiring intrusive cables that may delay more widespread use.
An interesting use of virtual reality that is emerging as the technology continues to evolve is its use by designers to design. Virtual reality offers designers an unparalleled insight into the scale, layout, flow, proportions, and spatial relationships of the project, providing architects and their team a way for interacting with their design that was previously only possible with the construction of a full-scale mockup. Now a designer may save a basic 3-D model to a smartphone and walk around the space. It provides a powerful perspective during the design process.
In summary, the recent advancements in BIM software have continued to improve every stage of the design and construction process. New tools enable designers to be simultaneously more creative and more productive. The interactive 3-D format allows designers to more quickly visualize new designs and incorporate inspirations onto a project, while these new tools simplify some of the most complex and iterative elements in the building. Stairs, railings, and roofs can be created and modified and moved with clicks of a mouse instead of coordinating pages of disjointed 2-D documents. The use of the 3-D BIM model as the basis for all documentation streamlines workflow and improves collaboration by ensuring that every member of the design team always has access to the most up-to-date version of the building. Improved collaboration and integrated collision detection improves the safety of the overall design by identifying potential weaknesses or issues well before the construction process begins. New BIM software is designed to eliminate much of the busywork and organizational tasks that could best be handled by an interactive repository of all building design and product information. Now designers can focus on their creative process and are empowered to explore new types of space. Ultimately, these are all new benefits of designing with BIM.
Jeanette Fitzgerald Pitts has written dozens of continuing education articles for Architectural Record covering a wide range of building products and practices.
| | |
| --- | --- |
| | GRAPHISOFT® ignited the BIM revolution in 1984 with ARCHICAD®, the industry's first BIM software for architects. GRAPHISOFT continues to lead the industry with innovative solutions such as its revolutionary BIMcloud®, the world's first real-time BIM collaboration environment; EcoDesigner™, the world's first fully BIM-integrated "GREEN" design solution; and BIMx®, the world's leading mobile app for BIM visualization. GRAPHISOFT is part of the Nemetschek Group. www.graphisoft.com |
Originally published in Architectural Record
Originally published in June 2018
Notice