Smart Appliances for a Sustainable Smart Grid: Hot Water Hybrids Save Energy and Conserve Water
To conserve water and save energy, professionals can now choose an ENERGY STAR electric hybrid heat pump water heater that will work with new smart grid and smart meter technologies.
This course is no longer active
Sponsored by GE Appliances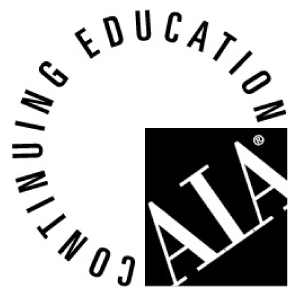 Continuing Education
Learning Objectives - After this course, you should be able to:
Identify the components of a heat pump and hybrid hot water heater that maximize energy efficiency and sustainability.
Define the ENERGY STAR energy factor (EF) rating and discuss the ENERGY STAR program to choose an energy efficient appliance.
Summarize the relationship between energy saving and water conservation.
Discuss the sustainability of smart grid technology.
Credits:
The next hot water heater you specify may be among a number of smart appliances in a residential project that will tell the owner when the price of electricity is high and silently choose the lower rate for its heating mode. It may be able to exchange information about usage needs such as vacation plans or guest schedules. Your next water heater decision should be efficient, smart, sustainable and just one of the many new residential and commercial 21st century products to advance the ENERGY STAR goal of water and energy conservation. The technology to achieve this efficiency is the well proven electric heat pump that is designed to absorb heat from the ambient air, and transfer it into stored water to a desired temperature. By contrast, conventional electric water heaters use direct electric radiation to heat the water which uses more energy, although it responds faster. When an electric hot water heater uses both of these technologies in one unit, it is referred to as a hybrid heat pump water heater and will be the focus of this article.
Smart appliances like hybrid heat pump water heaters are just one of the results of funding provided by the U.S. Department of Energy (DOE) and the Department of Environmental Quality (DEQ) to stimulate research and development to manufacture sustainable, energy efficient products. Government, universities, businesses, researchers have also been working on a complementary "Smart Grid" initiative for the past decade. They met to discuss creating national programs even before being  spurred on by the 2003 blackout that left Americans from New York to Michigan in the dark and demonstrated the flaws in the U.S. electric grid.
This article will also discuss the EPA and ENERGY STAR programs and research criteria that made electric hybrid heat pump water heaters possible. The components of this super-efficient product will be discussed, including the smart electric meters that make it an intelligent part of a home's energy budget plan. Professionals will also review the ENERGY STAR energy factor (EF) rating that helps them select the most efficient appliances. The advantages of smart appliances that work with a smart grid network for a  home and business will include a discussion of the incentives and savings available.
It should be noted that there is a strong relationship between energy savings to heat water and the conservation of water as a sustainable design strategy. Recognizing this, the AIA has provided a guide to assist professionals with readily available tools and techniques to achieve significant savings in buildings. In the 50to50 program for example, professionals can find guidelines that include the use of energy saving appliances and equipment as a tool to achieve sustainable design. In addition, ENERGY STAR labeled heat pump water heaters will contribute towards credits in rating systems such as the USGBC LEED V3® for homes and commercial buildings for innovation and energy efficiency.

An ENERGY STAR electric hybrid water heater is designed to absorb heat from the ambient air, and transfer it into stored water to a desired temperature for homes or commercial heating.
Photo courtesy of GE Appliances
The ENERGY STAR Challenge
According to the US Department of Energy (DOE), water heating currently represents up to 17 percent of the overall national residential energy consumption. The water heater by itself, is the second highest single energy user in the home, behind heating and cooling. Water heaters make up somewhere between 14% and 20% of the energy usage in the average home. However, as of 2008, water heating was the only major residential appliance that ENERGY STAR had not classified for an energy rating.
Smart Grid: A 2030 Vision Plan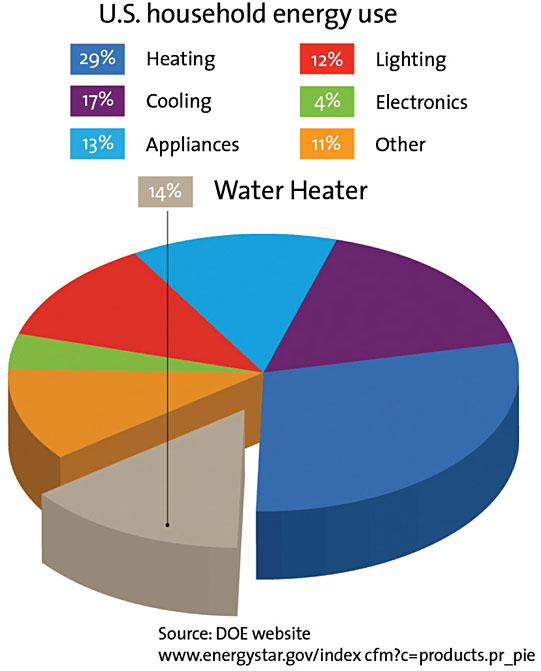 In 2003, senior executives representing the electric utility and the Department of Energy (DOE), published "Grid 2030" A National Vision for Electricity's Second 100 Years. This document outlines a vision for a new electrical power grid that will provide "affordable, clean efficient and reliable electric power anytime, anywhere." This is the electronic superhighway that is planned to modernize all communications.
It was clear to these planners that the entire network that included cables, transformers, storage devices and meters needed to provide intelligent and smart power systems. They created a roadmap that provided timelines and incentives for new technology. In this document are numerous charts, data and fact sheets that forecast the shortage in the U.S. utility capacity and future supply for a growing electrical demand. Through regional meetings of stakeholders, convened under the Modern Grid Strategy project of the National Energy Technology Laboratory (NETL), the modern grid was identified to provide the following characteristics or performance features:
Self-healing from power disturbance events
Enabling active participation by consumers in demand response
Operating resiliently against physical and cyber attack
Providing power quality for 21st century needs
Accommodating all generation and storage options
Enabling new products, services, and markets
Optimizing assets and operating efficiently
Currently, some of the first products from this analysis, assisted with stimulus funding have arrived to market, including the electric hybrid heat pump water heater. Future grid meters will monitor the electricity usage across the smart grid to distribute electricity as needed to the households and businesses, avoiding the spikes and demand power surges. Demand Response electronics, such as those incorporated by some manufacturers in electric hybrid water heaters, can prevent the homeowner from paying higher rates during peak power periods, by reacting to smart meter signals and going into a maximum energy efficiency mode or cycling off and temporarily altering the tank temperature. This sophisticated form of "load control" allows the water heater to continue to function, even during peak periods.

Utilities are now receiving federal funding to develop smart grid technology that will work with home appliances such as the hybrid electric heat pump water heater. According to the  Boston Globe on October 28, 2009, "Officials at Central Vermont Public Service and other utilities say the $69 million in federal funding announced Tuesday will move the state closer to having in-home displays of electrical usage and digitally controlled appliances that operate when power demand is light. The grant will pay up to half the costs of $137 million in improvements across Vermont." Over one hundred utilities applied for this stimulus funding this year forecasting a future where smart grid technology will be part of every residential as well as commercial utility metering system.
ENERGY STAR is a division of the DOE and its goal is to drive technological change in the market to support the national efforts to reduce electrical consumption. ENERGY STAR products ensure that the established criteria:
Provide meaningful differentiation between ENERGY STAR qualified products and those that just meet the Federal standard.
Will result in significant energy savings, both for consumers and the nation as a whole.
Are cost-effective for consumers as well as manufacturers.
Provide consumer choice, both in terms of number of models and a wide range of manufacturers.
Do not compromise functionality or performance of the qualified product.
Do not rely on proprietary technologies.
When a product manufacturer is registered as an ENERGY STAR partner, they can submit products for testing. Once the product is qualified through third party testing, the manufacturer can place the ENERGY STAR label on the product, a sign to the consumer that they are receiving an approved and tested energy efficient appliance.
Water heating can be provided through a number of technologies, solar, electric and gas and ENERGY STAR, categorizes each separately. Energy consumption is based on DOE test procedures and the criterion includes a minimum energy factor, a minimum first hour rating requirement, a minimum warranty and compliance with the appropriate codes.
The Energy Factor (EF) indicates the overall efficiency of a water heater based on the ratio or useful energy output from the water heater to the total amount of energy delivered to the water heater. Energy factors help the consumer know the recovery efficiency, percentage of standby and water cycling losses of a water heating system. EF is determined by the DOE test procedure, Code of Federal Regulations, Title 10, Section 430. A high Energy Factor rating means a more efficient water heater. To qualify as an ENERGY STAR heat pump water heater, the EF must be 2.0 or greater, one of the highest EF ratings of all types of water heaters. Recovery efficiency is a measure of how quickly hot water will be available after use. Standby losses are the percentage of heat loss from stored water compared to the heat content in the storage tank. Water cycling losses determine how much heat is lost as the water circulates through the tank, inlets and outlet pipes.
Originally published in Architectural Record
Notice