Translucent Cellular Polycarbonate Delivers Design Versatility
Lightweight, insulating and translucent, cellular polycarbonate has wide applications.
This course is no longer active
Sponsored by EXTECH/Exterior Technologies, Inc.
Learning Objectives:
List the properties of cellular polycarbonate structural sheeting and how they contribute to energy savings and daylighting.
Summarize the sustainability advantages of cellular polycarbonate over other glazing materials.
Describe framing and fastening systems for different cellular polycarbonate profiles and how they support architectural design goals.
Identify safety, light and heat transmission performance standards relating to cellular polycarbonate material.
Credits:
Cellular or multiwall polycarbonate has been a major building material for architects in Europe (and other parts of the world) but is only now being understood in the U.S. for its many virtues and limitations. Gone are the days when polycarbonate sheets were associated with inexpensive plastic panels that yellowed with age. Now most cellular panels not only receive a UV-resistant coating to eliminate yellowing, but are available in a wide range of thicknesses, structural strengths and configurations that also help meet LEED® requirements.
Since cellular polycarbonate—or polycarbonate structural sheet (PCSS) as the material is generically known—offers architects a multitude of design solutions for canopies, barrel vaults, skylights, translucent walls and signage, familiarity with its characteristics, benefits and appropriate use is essential. But equally critical to a successful application is a framing and fastening design that meets both the technical requirements of PCSS and the aesthetic goals of the design team. Since some manufacturers have the knowledge and experience of framing their products, they can, and do, play an instrumental role in solving technical problems—particularly for innovative projects. More than one design firm credits the input of the PCSS manufacturer/fabricator for the success of an award-winning project.
What is a Polycarbonate
Structural Sheet (PCSS)?
Polycarbonates, named because they are polymers containing carbonate groups (-O-(C=O)-O-), are a widely used plastic made from a particular group of thermoplastic polymers. Unlike monolithic polycarbonate, which has no internal cavities, PCSS is available with multiple honeycomb-like cavities commonly known as "flutes." All such polycarbonates are versatile due to their high impact resistance, optical properties, temperature and fire resistance.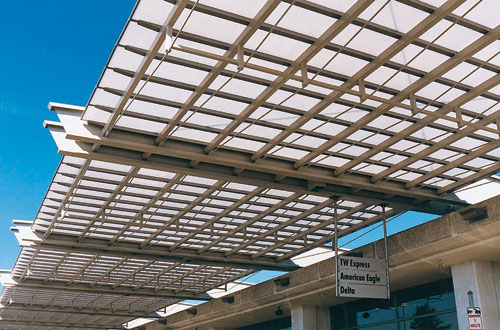 For the Gerald R. Ford International Airport in Grand Rapids, Mich., HOK specified cellular polycarbonate for this 575-ft-long canopy. Low slope problems were solved by using 27-ft-long one-piece panels.
Originally published in SNAP
Originally published in August 2012
Notice