Supporting Performance While Saving Energy
Designing solar shades to cultivate occupant well-being and promote whole building function
Sponsored by Draper, Inc.
Solar Shades
Solar shades are designed to preserve views of the outside and allow natural light to enter a room while controlling unwanted glare. When not in use, solar shades simply roll up and out of the way—whether into a recess in the ceiling or a set point on the window or wall. Besides glare control, shades offer heat control and ultraviolet (UV) light protection. There are many types of shade systems, from manual to fully automated, and many fabrics options, depending on the project requirements.
Solar shades are flexible and allow for unique responses to changing conditions, optimize orientation and occupancy, and are durable. Manually operated solar shades can be operated by a bead chain clutch, crank operation, or spring rollers.
Motorized or automated shades are a relatively inexpensive upgrade within shade technology and allow for better control and maximal benefit realization for occupant welfare and energy efficiency. Average expected operational life for shades is 25-plus years. Shade fabric weave, color selection, and openness affect building temperature, glare, and visual comfort.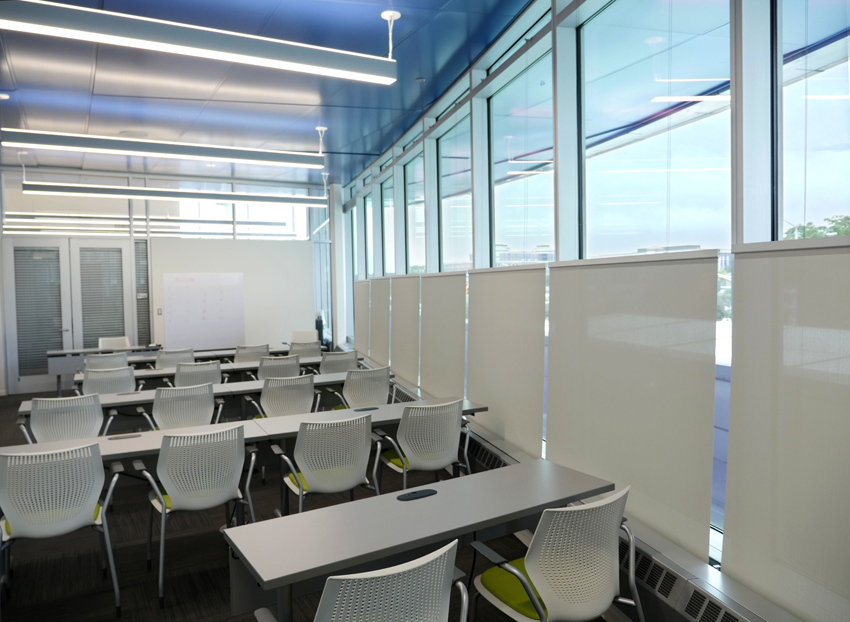 Photo courtesy of Draper Inc.
Solar shades are designed to offer designers optimum control of glare, heat, and UV protection.
Weave
The even spaces in a two-by-two basketweave make it easier for the eye to focus through the fabric, preserving views. Linear weaves break up the view, providing privacy for occupants. Twill weaves create duplex fabrics with distinguishable room and street sides.
Color
Fabrics are either broadly classified as light-colored fabric, dark-colored fabric, or duplex fabric. Light-colored fabric shades are more reflective to provide better thermal comfort. However, the reflective characteristics of light colors also make viewing through the shade more difficult and may offer less glare control. Dark-colored shade fabrics absorb more heat and then radiate heat into the room. These fabrics offer better glare control and view through but less thermal comfort than light fabrics. Duplex fabrics are a single fabric with one light side and one dark side to balance thermal comfort, glare control, and view through. A lighter, reflective surface faces the exterior for thermal comfort and energy savings, and a darker comfort surface faces the interior, providing glare control, view-through capability, and UV protection.
Openness
Fabric color works hand-in-hand with openness factor. Openness factor is the percentage of space between the yarns in the weave. The smaller the openness factor, the less light gets through. The higher the openness factor, the more space there is between yarns. A higher openness factor will typically produce better view-through characteristics. However, that also means more solar radiation getting through into the room.
Openness factor is especially important in reducing glare. Combining a smaller openness with a darker color provides glare control with better view-through characteristics.
Motorized shades add either individual or automated controls to maximize energy efficiency and occupant comfort. When fully automated, motorized shade systems remove the necessity for human interaction to maintain comfort. They also offer the opportunity to create a consistent exterior appearance, facilitate timed events, or augment seasonal building performance.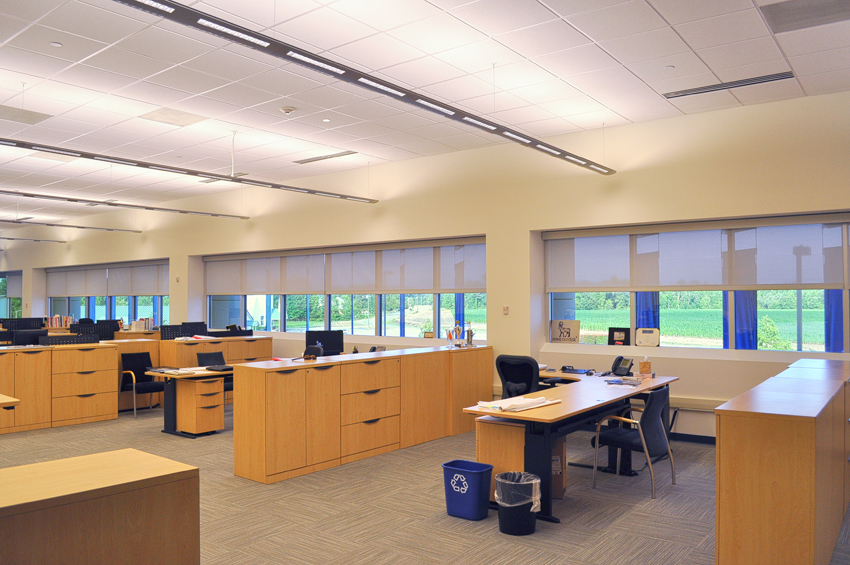 Photo: © Alex Krall
Shades create flexible solutions for interior, exterior, and dual-facade applications that allow a building manager and its occupants to control natural light, manage solar heat gain, reduce energy costs, and improve productivity and comfort.
How Shades Contribute to Whole Building Energy and Sustainability Benefits
Window shading solutions offer a frontline resolution to building energy concerns. Window shades, whether manual or motorized, reflect sunlight and heat, and reduce or eliminate glare. Shades create flexible solutions for interior, exterior, and dual-facade applications that allow building managers and occupants to control natural light, manage solar heat gain, reduce energy costs, and improve productivity and comfort.
Windows have several direct effects upon the indoor environment: its energy efficiency, thermal comfort, visual comfort, acoustic comfort, and indoor air quality (IAQ).
Windows play an important part in the electrical consumption of a building. While 71 percent of all lamps in the United States are installed in residential units, commercial building lighting is by far the largest consumer of energy and lumens (lm).2 Where windows can supplement or altogether replace artificial light with true daylight, the benefits are impressive. In an analysis of six case studies, an average lighting energy savings of 52 percent was reported due to high-performance daylighting systems.3
More daylight also means greater occupant health—access to natural daylight and the ability to maintain outward views is shown to improve mood and productivity. Daylighting in the winter brings in solar radiation to help heat the building.
However, uncontrolled daylighting can lead to critical building issues. Solar heat gain can account for up to 50 percent of a building's energy cost, according to the U.S. Department of Energy. When solar heat gain accelerates beyond the control of heating, ventilation, and air-conditioning (HVAC) design, the building's thermal comfort takes a hit. Thermal comfort affects the performance of office tasks. Temperatures that are either too high or too low deteriorate work performance. High indoor air temperatures also increase the prevalence of sick building syndrome, while IAQ deteriorates.4
The right shading solution can help reduce reliance on HVAC in the summer by reducing solar heat gain, and in the winter by helping a building to retain heat, particularly on cloudy days. The flexibility of shades is ideally suited to this dual-purpose role. Per ASHRAE guidelines, incorporation of automated shading systems allows for a reduction in size of HVAC equipment. Shades are an effective partner in energy conservation and utility cost-reduction strategies. By reflecting solar energy, shade fabrics reduce solar heat gain, lower energy costs, and improve comfort.
Unlike traditional window treatments that take an all-or-nothing approach to sun control, performance shade fabrics are versatile, allowing a certain percentage of light in and preserving the view to the outside, even while the shades are down. Duplex shade fabrics are designed to be uniquely applicable in capturing both energy and occupant benefits.
Selection of motorized solar shades allows for shading strategies to be automated and integrated with whole building automation systems. Shades can now partner with building management systems to actively optimize daylight harvesting strategies, for aesthetic and visual organization, to enhance building productivity, and to minimize exterior visual impact. Incorporating motorized shades as a part of daylighting strategies can also earn points toward environmental certification standards, including the WELL Building Standard and LEED. There are several LEED credits available for daylighting and views, where automated shades earn a project credit.
Leading shade manufacturers are members of the U.S. Green Building Council (USGBC) and maintain LEED-accredited professionals on staff to ensure that environmental and product goals for each project are met. Besides environmental credits from shading and automation, certified shade fabrics are also on the market, offering PVC-free, GREENGUARD Gold, and cradle-to-cradle designations.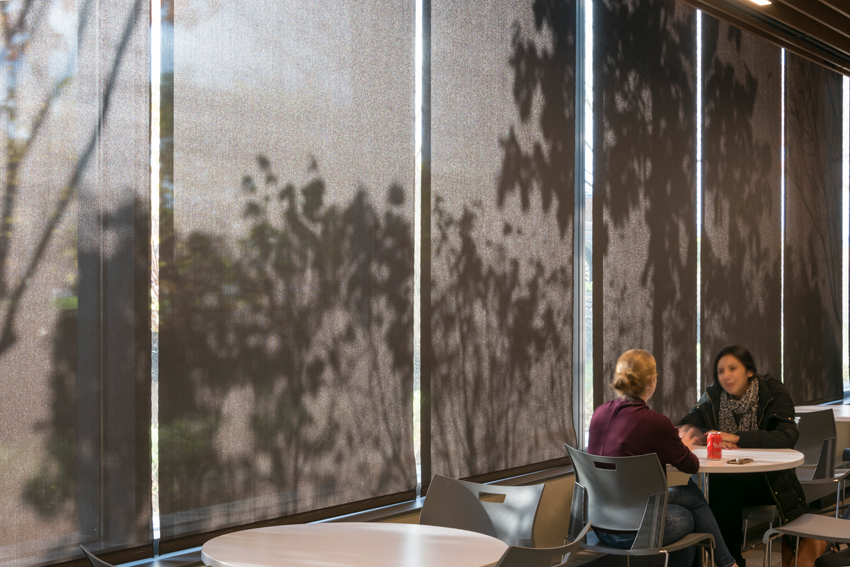 Photo courtesy of Draper Inc.
Productive buildings foster the best environment for their occupants. Shading strategies secure key occupant welfare benefits, such as visual and thermal comfort.
Originally published in Architectural Record
Originally published in July 2020
Notice