Supporting Performance While Saving Energy
Designing solar shades to cultivate occupant well-being and promote whole building function
Sponsored by Draper, Inc.
Learning Objectives:
Discuss both the positive and negative impacts of natural light in commercial buildings, and compare various types of shading strategies.
Explain how a building's energy can be conserved through specification of solar shades and how motorized shades can contribute to sustainability goals.
Describe how interior shading strategies can improve occupant welfare, productivity, and comfort.
Plan and coordinate exterior and interior design details to maximize budget and increase occupant and building benefits.
Defend how motorized shades provide a superior return on investment and amplify both occupant comfort and energy efficiency while preserving aesthetic dynamics.
Credits:
This course can be self-reported to the AIBC, as per their CE Guidelines.
As an IACET Accredited Provider, BNP Media offers IACET CEUs for its learning events that comply with the ANSI/IACET Continuing Education and Training Standard.
This course is approved as a Structured Course
This course can be self-reported to the AANB, as per their CE Guidelines
Approved for structured learning
Approved for Core Learning
This course can be self-reported to the NLAA
Course may qualify for Learning Hours with NWTAA
Course eligible for OAA Learning Hours
This course is approved as a core course
This course can be self-reported for Learning Units to the Architectural Institute of British Columbia
Windows play an integral role in buildings by providing daylighting and ventilation. This role is clearly demonstrated by data, with numerous studies finding that the health, comfort, and productivity of building occupants are improved due to well-ventilated indoor environments and access to natural light. The very sustainability of a building itself—how much energy it consumes and the health of its interior and exterior structures—can be further enhanced by careful fenestration design.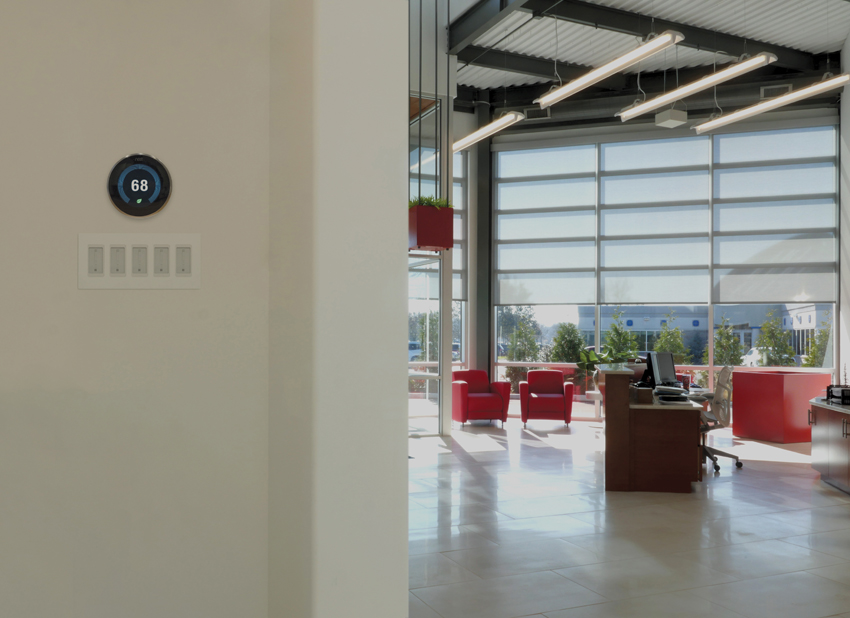 All images courtesy of Draper Inc.
Windows are pivotal in today's commercial spaces. The higher percentage of glass also raises the stakes for shading strategies.
However, these benefits carry a price: Gregg D. Ander, FAIA, Whole Building Design Guide, cautions that windows also represent a major source of building issues, including unwanted heat loss and/or heat gain, discomfort, and condensation.1 In turn, these problems directly impact occupant comfort and productivity as well as the overall building performance.
A successful shading product and plan mitigate the negative issues arising from increased glazing surfaces, while still allowing the building and occupants to enjoy the benefits. Motorized shade systems create ideal environments to promote occupant well-being and increase energy savings. Unlike other shading strategies, natural light can be maximized, energy conserved, and thermal comfort maintained simply through the proper specification of motorized shades and controls. A motorized and automated shade system provides the greatest advantage to the design for a relatively small cost impact on the overall project budget—an expense that can ultimately be offset by improved occupant productivity and energy cost savings.
Comparing Today's Shading Strategies
Modern windows have undergone a high-tech transformation. With technology advancing in huge strides, even from the fenestration of just 10 years ago, today's glazed units are high-performance, energy-efficient systems that dramatically cut energy consumption and pollution sources. According to the National Institute of Building Sciences' Whole Building Design Guide (WBDG), glazing advances in modern windows stack up to lower heat loss, cut air leakage, and create warmer window surfaces that improve comfort and minimize condensation.
While technology has resolved some of the outstanding energy concerns with fenestration, glare, solar heat gain, and direct sunlight on occupants' eyes or workspaces still can diminish the comfort of interior spaces, making it more difficult to perform basic work functions and endangering occupant comfort.
Solar control, a shading strategy, is therefore of paramount importance in the modern commercial building. Because every building type, design, and location is different, there is no one-size-fits-all solar-control solution.
Architects and designers find that many approaches to solar control are available to them. Chief among these options are fixed exterior shading, mini blinds, dynamic glass, and interior solar shades. Whichever type of solution is selected, having a system that can react according to the prevailing conditions, while retaining local control so that individual comfort is taken into account, is important.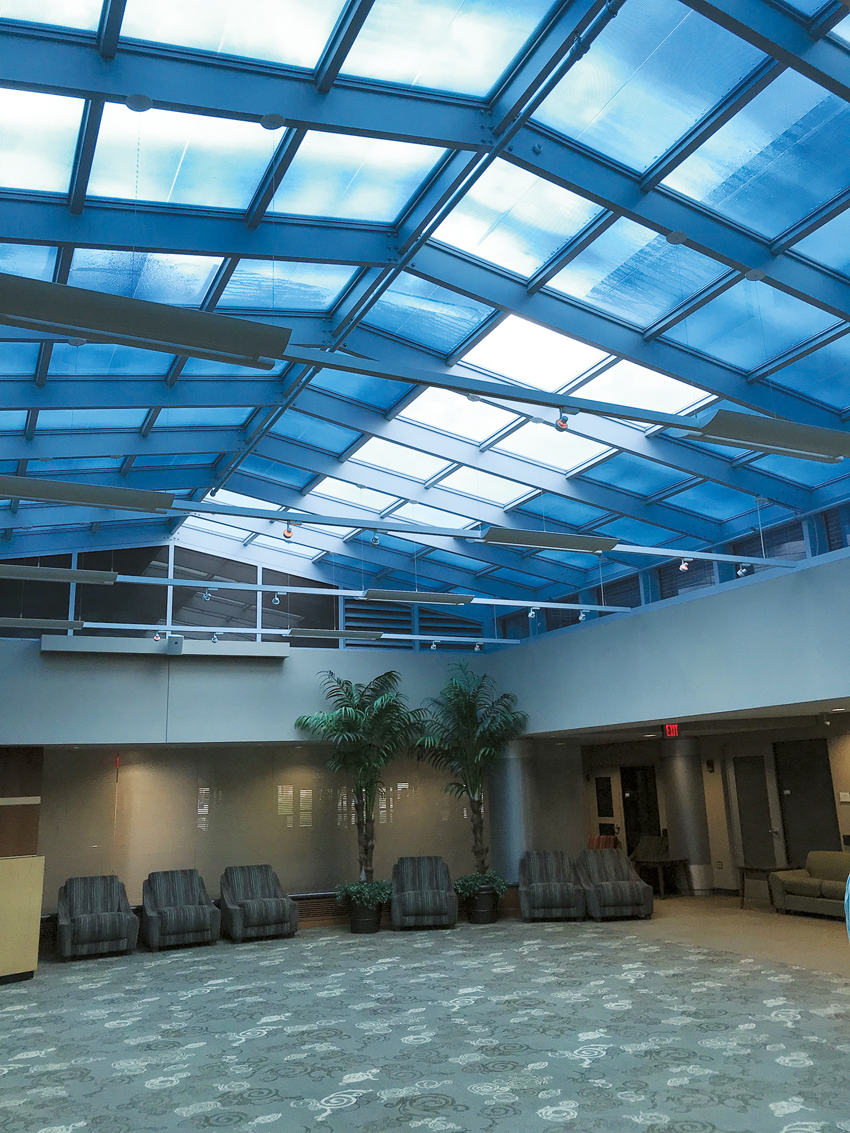 Dynamic glazing offers a new option for shading in buildings, but it is expensive and difficult for retrofit applications.
Fixed Exterior Shading
Fixed exterior shading structures allow for dramatic aesthetic expressions that highlight building architecture. Typically, fixed exterior structures are used to create overhangs that shade windows beneath, which in turn reduce solar heat gain.
However, fixed exterior shade strategies cannot react to changing sky or sun conditions and, practically speaking, can only be effective for southern elevations in the Northern Hemisphere. Eastern and western elevations with low-angle sun exposure are impractical for most exterior shading devices. Generally, these windows will still require interior shading to reduce glare and provide occupancy comfort. To be effective, fixed exterior shades can also be extremely expensive, depending on the material selected.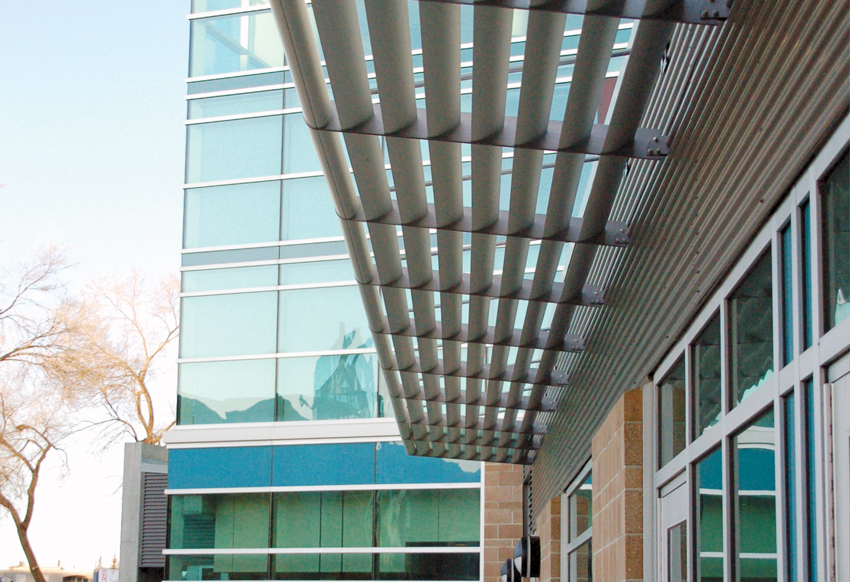 Fixed exterior shading creates an often striking but non-flexible solar shading option for buildings.
Dynamic Glass
One of the newest mainstream technologies for shading is dynamic glass. Dynamic glass uses electricity to alter the chemical composition of the glass or coating to shift window tints in response to the sun's angle or via a switch control. While dynamic glass preserves views, it is expensive and, in certain cases, can be slow to respond to changing exterior conditions. Windows can present an inconsistent color, particularly across a large facade. Dynamic glass can be difficult to retrofit and is often unsuitable for existing multi-tenant buildings. In addition, if true privacy is desired, other treatments may need to be incorporated.
Mini Blinds
One-inch horizontal blinds, or mini blinds, are a conventional solution that are available off the shelf for a minimum cost. Mini blinds can be adjusted for glare control and to allow for personal interaction, but closing the blinds to prevent glare sacrifices both view and natural daylight.
Mini blinds are high maintenance, requiring frequent cleanings to eliminate the buildup of airborne dust and potential pathogens. Frequent adjustment increases damage to slats, wands, and lift cords and requires extensive attic stock, forcing building management to maintain replacement materials in a wide range of sizes. Mini blinds have an operational life of six to eight years.
Originally published in Architectural Record
Originally published in July 2020
Notice