LED Technology and Support Structures: Advantages, Applications, and Attachment
High-quality LED display mounting systems are key to ensuring a crisp, seamless appearance
Sponsored by Draper, Inc.
LED Evolution and Applications
Offering some historical background on the technology, the first visible LED was invented in 1962, and the first LED display was created in 1968. However, video applications only emerged in the 1990s. In 1995, a 1,500-foot-long, 90-feet-high LED video display was erected at The Fremont Street Experience in Las Vegas. And in 1997, a portable video display was designed for a U2 Concert Tour.
Prior to this, the earlier displays used low-resolution, single-color LEDs that were only capable of displaying words. With the emergence of full-color (most notably blue) LEDs, it became possible to show pictures, animations, and video clips in full color.
Today, 4K displays with a horizontal pixel count of 3,840 are quickly becoming the standard, with 8K and beyond also achievable.
While LCD displays still dominate the market at this time, by 2025, LED technology is expected to overtake the prominent market share by revenue, according to the San Francisco-based market research firm Grand View Research.
By leveraging quality, brightness, and efficiencies, LED displays have found their place in numerous applications, including retail, hospitality, entertainment, stadiums, corporate, banking, health care, education, and transportation.
As the most popular application, the retail sector has embraced LED displays for digital advertisements, promoting products and services, delivering customized content, increasing new product visibility, providing wayfinding, and driving business to certain areas. Some retailers are turning their store's interior walls or exterior facade into tools for messaging and grabbing attention.
The next most common application, hospitality, includes hotels, motels, restaurants, cafes, and bars. These establishments are utilizing LED display solutions for advertisements, menus, food displays, and entertainment.
Anticipated to be the fastest-growing application, transportation facilities are actively displaying advertisements and announcements on LED displays in airports, railway stations, metro stations, and bus stands. Further, the displays are appearing on buses, cabs, trains, and trams.
In the corporate realm, LED signs provide wayfinding for visitors, deliver important information to employees, and broadcast a company's corporate message and philosophy. The displays can be found in waiting areas, large, high-traffic atria, and training centers.
In the education sector, large-scale information displays are used in media centers, student unions, and sports facilities. Some schools have leveraged dynamic functionality via interactive elements that can be accessed by touch or a motion response.
Houses of worship are another well-known application. On a simple scale, lyrics and pre-service announcements can be displayed in sanctuaries, entry areas, multipurpose facilities, or as exterior signage. On a more advanced level, LED can be applied to create dynamic, inspiring presentations or create a live concert environment.
In production environments, designers are using LED video walls to create virtual sets that can be quickly and easily changed. For live broadcast, the introduction of LED walls gives the production a more dynamic feel and allows hosts to share more information through the use of graphics.
At government and Department of Defense facilities, LED displays are delivering fine pixel pitch, wide viewing angles, seamless displays, picture quality, and fast refresh rates that modern command and control centers require for a more immersive experience.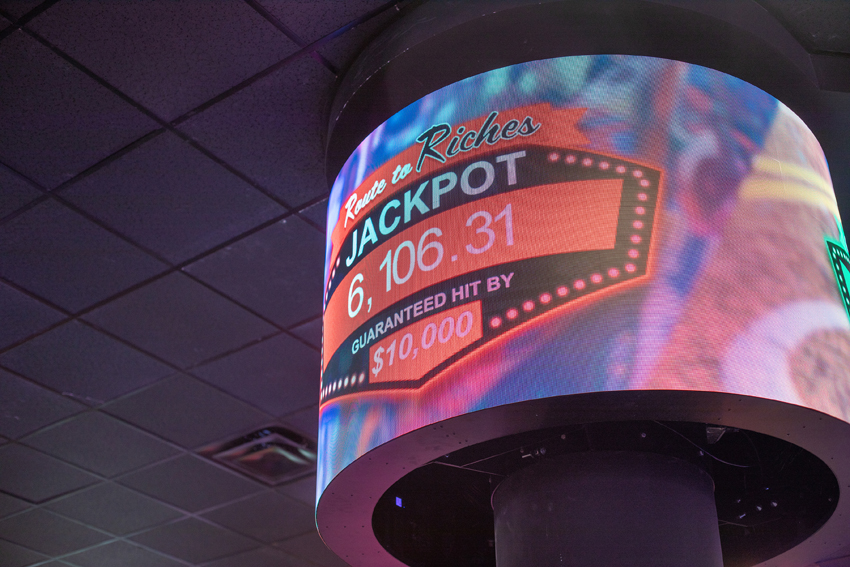 Photo: Matt Oberer
As pictured here at the Route 66 Casino in Albuquerque, New Mexico, an advantage of LED technology over LCD is that there are no seams, even on a curved screen, so there is no visual interruption to information or flow.
Delving into the Technology
A light-emitting diode is an electronic semiconductor that converts electric energy into visible light. The chemical compound used within an LED determines its color, brightness, and power efficiency.
There are essentially three types of LED packages: DIP, SMD, and COB. Dual in-line package (DIP), the oldest of the technologies, has a higher optical decay, and lower color rendering index and efficacy than the later surface-mount diode (SMD) variety. However, DIP LED is still used in certain applications where it remains better suited, such as outdoor displays, on account of its higher brightness level. DIP is less costly and waterproof, while SMD is better in angle of view, precision of image, and reducing weight and bulk. The brightness of SMD is expected to improve over time, but for the time being, it is a limiting factor.
Chip on board (COB) is the newest technology, but it is used in a very limited capacity primarily due to high manufacturing costs. COB technology places the discrete red, blue, and green LEDs in each pixel on a printed circuit board that mechanically supports and electrically connects all the electrical or electronic components. This allows for tighter spacing of the pixels and, more importantly, higher contrast ratios because the area between the LEDs can be filled with black resin. This contrast between the bright LEDs and the black background provides superior viewing characteristics in nearly all environmental conditions.
DIP displays are comprised of separate red, green, and blue (RGB) light sources, while SMD displays are made up of single RGB point light sources.
Direct-view LED (dvLED) is considered an additive technology in that each time an LED panel is added to the X- or Y-axis, the overall pixel count/resolution of the videowall is increased. LED displays are specified based on the viewing distance of the audience to determine the spacing from pixel to pixel, which is known as the pixel pitch and is directly related to the visual acuity of the human eye.
In determining the pixel pitch for an LED display, the main considerations are viewing distance and budget. With a shorter pitch distance, a higher density of pixels will be required at a higher cost, particularly as the size of the screen increases.
"With pixel pitch, you want to make sure that the closest viewer does not perceive individual pixels," Simpson explains. "So the closer the viewer to the video wall, the tighter the distance between pixels needs to be."
As a general rule of thumb, an acceptable viewing experience will use a pixel pitch of 1 millimeter for each meter of viewing distance, while an optimum viewing experience will require a pixel pitch equal to the viewing distance in meters divided by 2.5. As an example, a 3-meter viewing distance (10 feet) will typically use a 3-millimeter pixel pitch for an acceptable view, but it will require a 1.25-millimeter pixel pitch for an optimal viewing
In addition to viewing distance, we also need to consider the content that will be displayed. The smallest character font is 9 points, which is 9 pixels tall. At a 4-millimeter pixel pitch, the smallest text font will be 36 millimeters or 11⁄2 inches tall. Consequently, it is important to make sure the display is sized properly to best display the content and not appear pixelated.
Also factoring into the equation is location. This will be determined based upon audience location and traffic patterns. For example, as the audience is traveling past the sign, what is their viewpoint, and what form of content is the display seeking to convey?
For instance, investing in high pixel pitch may be for naught if the site is not trafficked by viewers at a close distance. Consequently, a better quality screen with a wider pitch may be a better way to go under such conditions, as the display cost can be drastically reduced without affecting the visible image quality from the distance of the closest viewer.
In fact, controlling viewing distances by placing a barrier between the screen and viewer is a good way to keep costs lower. There is no need to invest in twice as many pixels per square meter when they are not needed. For example, a 5-millimeter pitch screen will not deliver an appreciably better image at a viewing distance of 20 meters or more. Instead, a 10-millimeter pitch screen may offer the same results at less cost.
Because differences in pixel pitch can significantly impact first cost, not to mention power consumption costs, it behooves project teams to bring in an AV integrator.
"Getting an AV consultant in early ensures that the power and cooling requirements are met and budgeted for, the cabling pathways are identified, the structural requirements are met, and the rooms are designed for the best viewing and listening experience for everyone," Simpson adds.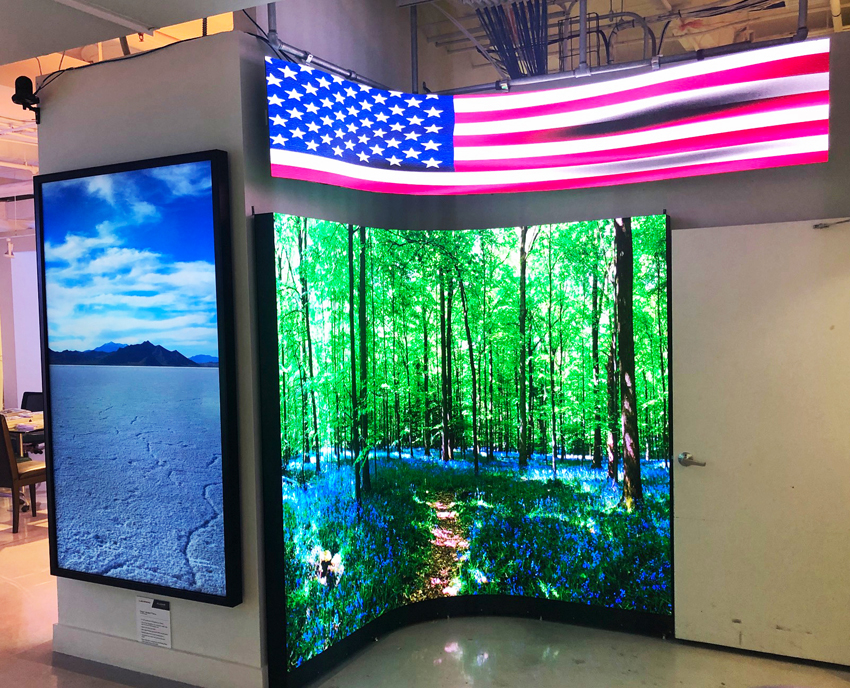 Photo courtesy of Draper Inc.
As shown here in this retail setting, separate LED structures incorporating a mix of still images and video can create a unique look, or a single structure can be designed to match the building flow.
Originally published in Architectural Record
Originally published in December 2020
Notice