Designing high-performance building envelopes with expansive glass spans
Sponsored by CRL
Learning Objectives:
Compare and evaluate the characteristics of curtain walls, window walls, and storefronts.
Glean best practices for properly designing, detailing, and sealing a building enclosure with large expanses of glass.
Review enclosure designs for optimized thermal performance; air, water, and moisture protection; and mitigating condensation.
Understand how to design building envelopes for structural resiliency, enhanced acoustics, and fire protection.
Credits:
This course can be self-reported to the AIBC, as per their CE Guidelines.
This course is approved as a Structured Course
This course can be self-reported to the AANB, as per their CE Guidelines
Approved for structured learning
Approved for Core Learning
This course can be self-reported to the NLAA
Course may qualify for Learning Hours with NWTAA
Course eligible for OAA Learning Hours
This course is approved as a core course
This course can be self-reported for Learning Units to the Architectural Institute of British Columbia
As energy-efficient, daylit, sustainable buildings continue to gain traction, interest in glass facade designs is growing in tandem.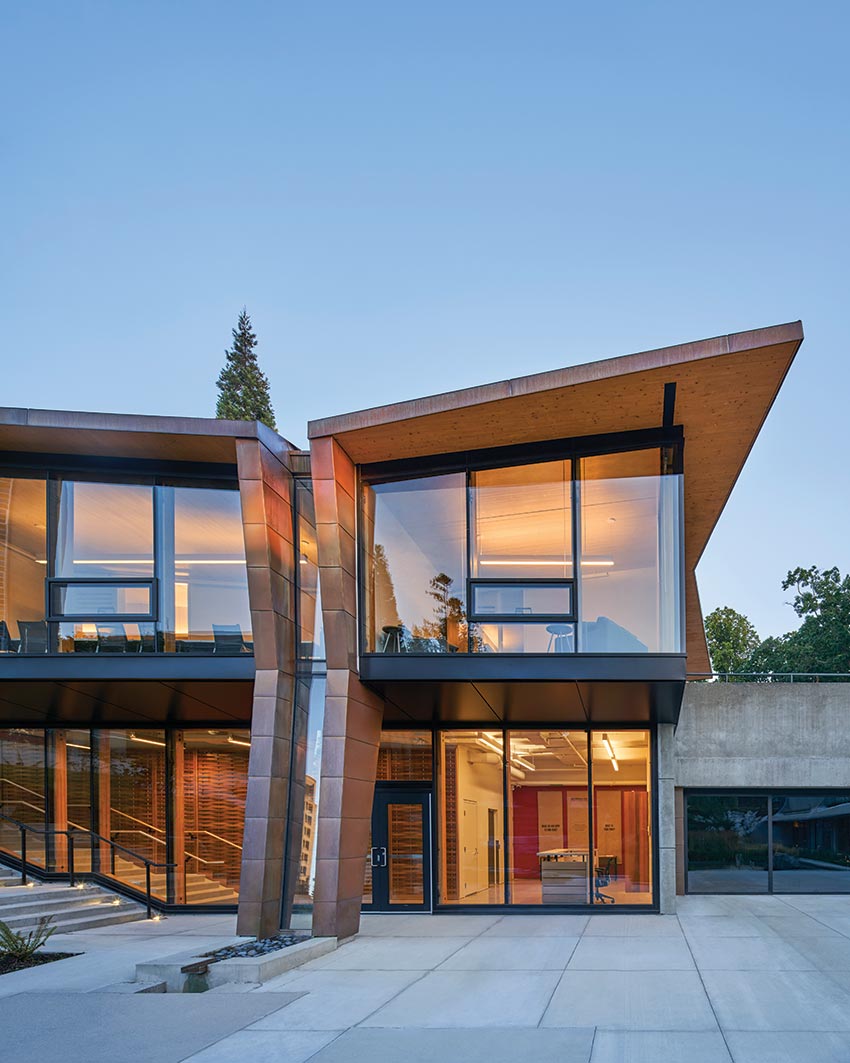 Photo: Andrew Latreille
At the Indian Residential School History & Dialogue Center in Vancouver, British Columbia, an all-glass design with a tight thermal building envelope delivers high energy efficiencies.
"Glass is an amazing material. It is strong, it can be made in very large panels, and it can be curved or formed into complex shapes," relates Damian Rogan, BSc, MSc, CEng, MIStructE, director of facade engineering, Eckersley O'Callaghan, London. "But its most appealing property is its transparency."
Similarly, Linda M. McGowan, PE, AIA, BC&E, Littleton, Colorado, sees a desire to bring the outdoors inside as driving interest in "relatively large areas of glazing with relatively small frame sections."
"Glass walls offer clean, simple lines and are often employed to express transparency and lightness from both visual and daylighting standpoints," adds Eric Schroter, principal at Simpson Gempertz & Heger, San Francisco. "Glass facades can also give the appearance of physical lightness."
While expansive glass spans are appealing for their aesthetics, daylighting, views, and modern look, ensuring a tight building enclosure is key to energy performance, environmental air quality, and longevity. It's All in the Envelope.
Honing in on the enclosure itself, in its "Guide for Designing Energy-Efficient Building Enclosures," RDH Building Engineering describes the building envelope as a system of materials, components, and assemblies that physically separate the exterior environment from the interior environment.
Ultimately, the enclosure must perform a long list of important jobs, including thermal and structural performance; air, water, and condensation resistance; sound attenuation; fire safety, security, and more. In addition to executing all these roles, the most prominent is its post as the building entrance. Consequently, the facade must present a beautiful, striking design and make a great first impression to visitors as they enter.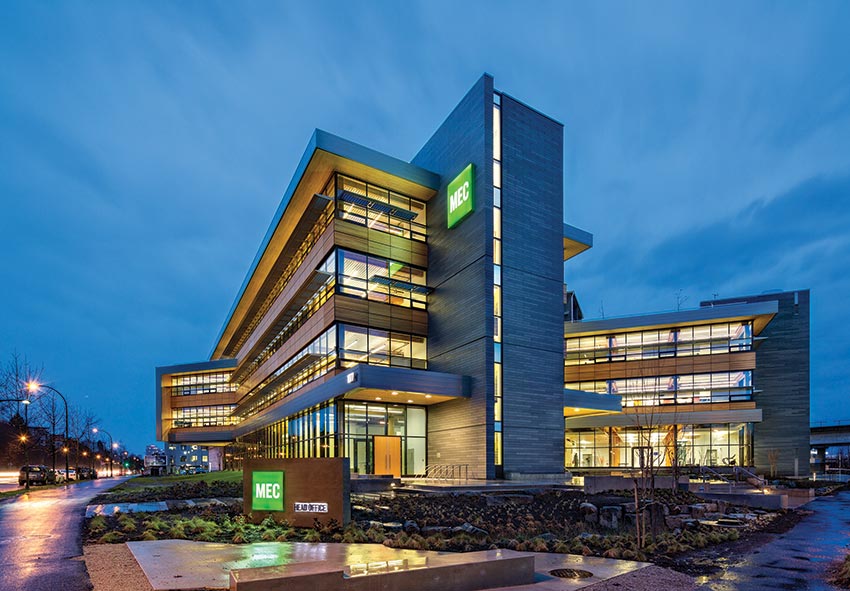 Photo courtesy C.R. Laurence
A high-performance, triple-glazed curtain-wall system clads Mountain Equipment Co-op's four-story headquarters in East Vancouver, Canada.
As delineated in Auckland, New Zealand's Design Manual, the enclosure "has the important functional role of ensuring internal spaces are healthy and pleasant environments for the inhabitants, as well as contributing to the image and character of the building within the public realm."
Along these lines, Chris Arnold, FAIA, RIBA, former building systems development principal, now retired, explains in his Whole Building Design Guide (WBDG) article "Building Envelope Design Guide – Introduction" that the powerful role of aesthetics on the envelope was the driving factor of the development of the curtain wall.
"Since the first all-glass skyscrapers were sketched by Mies van de Rohe in 1919 and 1921, architects strove to achieve ever simpler and purer glass forms," he writes.
It was post World War II that curtain walls began appearing in some European buildings, but the most significant development took place in the United States over that period.
"First designed as an expensive, refined, and elegant custom artifact, it gradually became a standard commodity and today is the least costly way to enclose a structure," Arnold explains. "Perhaps more important, for several decades, the glass box perfectly symbolized, in its image of contemporary elegance and modernity, the aspirations of American corporate architecture from Wall Street to Main Street."
Offering some perspective, Scott Slarsky, director, Shepley Bulfinch, Boston, adds, "The emergence of the curtain wall in the early 20th century transformed the manner in which architects began to understand the use of glass in the facade of a building."
Another noteworthy aspect of building enclosures is the fact that for a multistory building, the envelope can exceed 20 percent of the total construction cost, making it even more critical to invest wisely in design, detailing, and construction.
"The success of the building envelope depends upon the selection of appropriate materials and components, and how these are brought together," states the Auckland Design Manual.
Building the Enclosure
Within the realm of glass facade systems, curtain walls, window walls, and storefronts can be evaluated to determine which is the best choice based upon the project parameters.
Offering a little more history on the emergence of the curtain wall, Slarsky explains that historically, glass was used primarily as an insertion into a masonry, stone, or wood wall to deliver natural light to the building interior. Limited by the technology of the time, the glass windows were only capable of reaching a certain size and were therefore referred to as punched openings in the surface of an opaque wall.
Today, not only has technology advanced to support very large glass units, but the latest insulated units, glazing materials, coatings, and gas-filled spaces can also overcome the code challenges of designs with larger window-to-wall ratios.
In terms of what's driving a strong interest in curtain walls, Dr. Helen Sanders, president of the Facade Tectonics Forum, believes it is the design flexibility afforded to architects and the market's desire for transparency, access to daylight, and breathtaking views.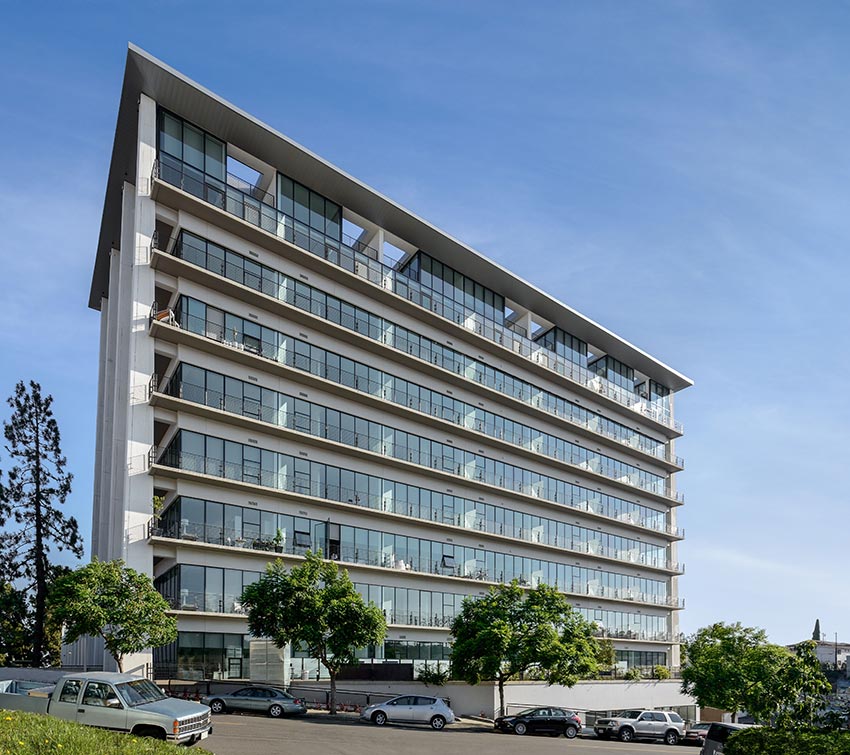 Photo: Geoff Captain
At The Elysian in Los Angeles, a 20-foot floor-to-ceiling thermally improved curtain wall system delivers high thermal efficiencies.
Regarding the former, she explains that the aesthetic choices available in glass—and the opportunity for matching spandrel areas—offers significant design flexibility for architects to achieve their design intent, from high transparency neutral glass to more absorptive and reflective options in a multitude of exterior colors.
Along with a myriad of colors, designers can incorporate a variety of patterns, coatings, and materials into their curtain-wall designs, as well as accessories such as sun shades and light shelves to help mitigate solar gain and glare issues.
As for the latter driver, "the opportunity for floor-to-ceiling glass also provides the market with highly desired views and interiors with open and transparent aesthetics, which are now synonymous with premium properties," she relates.
Based on his 50 years in the industry, Richard Keleher, AIA, CSI, LEED AP, senior architect, The Thompson & Lichtner Company, Canton, Mass., observes that the curtain wall's popularity is due to the fact that it's the current design aesthetic driven by schools of architecture. Furthermore, it's easier to delegate the whole facade to one trade because there are far fewer details to manage. Similarly, contractors prefer to delegate coordination and pricing responsibility to one source.
Originally published in Architectural Record
Originally published in July 2019
Notice