Large, Thin Porcelain Tile Panels: Design Revolution with Advanced Materials, New Standards, and Qualified Labor
Sponsored by Coverings 2023
Learning Objectives:
Define new opportunities and criteria for exterior tile using new 2021 International Building Code (IBC).
Discuss the variety of applications for gauged porcelain tile panels.
Describe substrate preparation for gauged porcelain tiles and flatness concerns for both floors and walls.
Describe several high-end projects where gauged porcelain tile panels solved design challenges.
Identify the three pillars of GPTP success: advances in materials, new standards, and qualified labor.
This course is part of the Tile Academy
This webinar is part of the Tile Academy
What was initially perceived as a niche type product in the tile industry has become popular with millions of square feet manufactured, sold, and successfully installed.
As porcelain tiles become larger, thinner, and stronger, the design potential explodes. Gauged porcelain tile panels (GPTP) range from 40 inches to 12 feet and are specified for an increasingly wide span of applications including walls and floors, indoor and outdoor, and even furniture. With recent material advances in these innovative products and the setting mortar has come new International Building Code standards to guide the proper specification and application of GPTP.
This webinar brings together architects and industry experts to explore design opportunities and problem-solving potential that these forward-looking panels have made possible.
Bart Bettiga, Executive Director of the National Tile Contractors Association, will provide a broad overview of current and expanding applications for GPTP.
Ameen Ayoub,Principal at AADS Architects will present a striking Beverly Hills residence where the light weight of GPTP helped him overcome an exterior design challenge.
Steve Clem, principal at TVS Design, will present various interior projects where gauged porcelain tile panels played a major design role.
Bill Griese, tile standards expert and LEED AP, will provide recent updates to the International Building Code. He will explain how advancements in materials, stronger mortars, and robust training and installation efforts helped to evolve the codes.
The presentations will be followed by a moderated discussion addressing several key issues.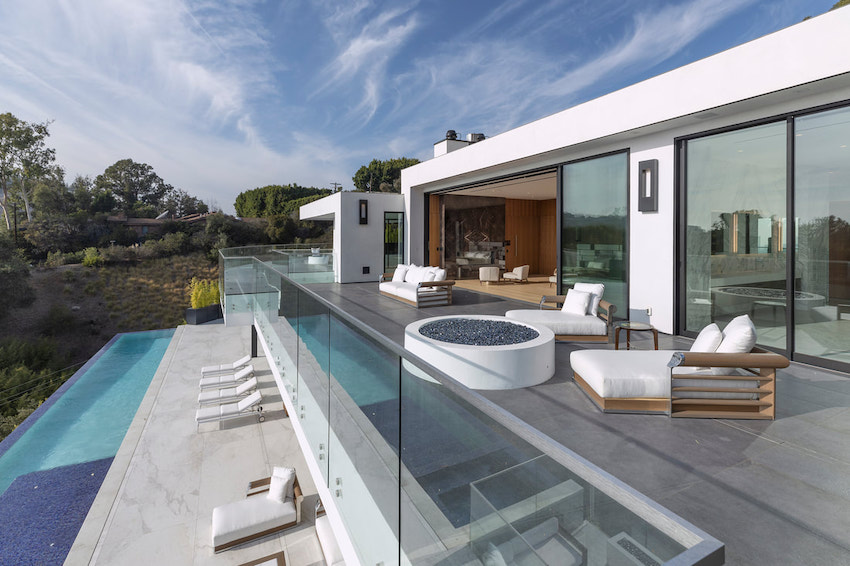 Photo courtesy of AADS Architects
Bart Bettiga,, Executive Director NTCA has over 35 years of experience in the ceramic tile industry and has been the Executive Director of the National Tile Contractors Association since 2002. He is a member of the Executive Committee of the Ceramic Tile Education Foundation and is a board member of Coverings, the international tile and stone exposition held annually in the United States. Bettiga is a voting member of many tile industry standards and methods committees and serves on the board of directors of the Floorcovering Education Foundation. He is the publisher of TileLetter Magazine and has authored numerous articles related to the promotion of proper tile installation and qualified labor. He was the 2018 recipient of the prestigious National Tile Contractors Association Ring Of Honor. The NTCA has over 1600 members and represents thousands of installers and contractor business owners.

Ameen Ayoub ,is the principal of Ameen Ayoub Design Studio. The office is located in Los Angeles California. Ameen received his undergraduate degree from Baylor University and his Masters of Architecture from Washington University in St. Louis. Since 2004 Ameen has worked in Los Angeles on residential projects of various sizes and budgets. During Ameen's time at Frank Gehry Partners he was part of the design team for the Guggenheim Museum in Abu Dhabi. He also worked on many other globally significant projects during this time.

In 2006 Ameen Ayoub Design Studio was founded and has completed residential projects, office renovations, and larger commercial buildings. Currently Ameen is focusing on custom residential design work in Los Angeles. Ameen has developed a design aesthetic that blends global culture with local and regional culture. There are currently six architecturally unique Ameen Ayoub homes under construction in Los Angeles.

Steve Clem , Principal, TVS Design, has the remarkable ability to help people imagine more, deliver bold ideas and masterfully design them to the smallest detail. His vision, creativity, and leadership have produced beautifully crafted environments that create exceptional experiences, including the Kimball HQ and two showrooms, the Georgia Aquarium, the Woodruff Arts Center, the College Football Hall of Fame, and the United Parcel Service (UPS) Headquarters. Clem's designs reflect his innate ability to employ imaginative, innovative solutions in the simplest and most elegant forms. He has mentored many young interior designers and architects to achieve their own success, and is recognized as a thought leader in the design industry. Clem's 40-year career has been with only one firm – tvsdesign – where his work has garnered more than 100 design awards.

Steve holds the honor of being the 2017 ASID Designer of Distinction, the premier award for personal achievement and social consciousness in the interior design profession.?In 2014, Steve was named a Fellow by the American Institute of Architects.

Bill Griese, is director of standards development and sustainability initiatives for the Tile Council of North America (TCNA), an international trade association involved with standards development, product testing, and research, and representing North American ceramic tile and allied product manufacturers in regulatory, legislative, trade, and environmental matters.

Griese is an active participant in the World Ceramic Tiles Forum and serves as a U.S. delegate in several global standardization initiatives. Each year, he speaks at industry events in the U.S. and abroad, and he is a regular author and columnist in several industry publications. Griese is a LEED Accredited Professional (LEED AP) with a specialty in Building Design and Construction (BD+C).
| | |
| --- | --- |
| | Coverings is the preeminent event for the ceramic tile and natural stone industry in North America. Join us April 18-21, 2023 to discover 800 global exhibitors from more than 30 countries, breathtaking product innovations, invaluable insights, and crucial industry connections you need to grow your business |
Originally published in January 2022
Notice