Mastering Movement: How Earthquake-ready Architecture Offers Solutions to Seismic Activity
Sponsored by Construction Specialties
Learning Objectives:
Describe how seismic activity affects the built environment.
Explain how earthquake-ready stairs solve interstory drift.
Discuss how buildings designed with earthquake-ready products improve occupant safety.
List types and aesthetic designs for seismic-related components.
Credits:
This course can be self-reported to the AIBC, as per their CE Guidelines.
This course is approved as a Structured Course
This course can be self-reported to the AANB, as per their CE Guidelines
Approved for structured learning
Approved for Core Learning
This course can be self-reported to the NLAA
Course may qualify for Learning Hours with NWTAA
Course eligible for OAA Learning Hours
This course is approved as a core course
This course can be self-reported for Learning Units to the Architectural Institute of British Columbia
This test is no longer available for credit
This webinar is part of the Mastering Movement™ Academy
According to the National Oceanic Atmospheric Administration (NOAA), the number of earthquakes per year has seen an overall increase in frequency. What does this mean for the built environment? This webinar considers seismic activity from an architecture, engineering, and construction point of view, looking at solutions that handle major seismic events as well as smaller seismic traumas. Mastering movement in architecture means providing a solution that not only keeps occupants safe but also provides health, wellness, and environmental solutions. We will discuss a variety of products that provide earthquake-ready solutions from stairs to expansion joint covers that also offer aesthetic appeal and succeed in the overall design vision for both commercial and residential building designs.
Derrick Roorda, SE Principal, Buro Happold will present Academy Museum of Motion Pictures project. The Academy Museum of Motion Pictures— located in the historic May Company Building in the Miracle Mile neighborhood of Los Angeles— will be the world's premier institution devoted to exploring the art and science of movies and moviemaking. Designed by Pritzker-Prize winning architect Renzo Piano, the Academy Museum of Motion Pictures will consist of a major renovation to the 1930s Streamline Moderne May Company Building (renamed the Saban Building) plus a soaring spherical addition that will house a 1,000-seat theater. Visitors to the museum will experience the magic of cinema and the creative, collaborative process of filmmaking.
The two buildings required very different structural solutions. The Saban Building's original steel and concrete structure required strengthening to be able to resist an earthquake's forces to meet structural requirements for Class A museum space. For the 150-foot-diameter, orb-shaped theater addition in depth analysis argued for an unusual base-isolation system. During an earthquake, base-isolators allow the theater to move up to 30 inches in any direction.
Robert Nebolon, AIA, will present two projects - The Hermosa Beach House and the Tipping Building.
The three-story residence is located in a sandy section of Hermosa Beach, California, which means that the soil conditions under the house and under the entire neighborhood is mostly sand. During a seismic event, the sand can liquefy and cause building failure if the concrete is not designed correctly. This house has an 18-inch-thick concrete waffle slab under the entire house which allows the house to "surf" the earthquake. The intent is that house will remain on the surface and not submerge or partially submerge into the liquefaction. Also, if there is any settlement and/or the house is out of plumb, the entire house can easily be re-leveled. The waffle slab allows that possibility.
The three-story structure has a base-isolator system which allows the top two floors (the superstructure) to move as much as 24 inches in any horizontal direction during any earthquake.
The base-isolated superstructure (the second and third floors) is support by six huge steel base-isolator columns. Four of these columns are visible in the brew pub interior.
All first-floor walls are not connected to the second-floor slab to allow complete movement during an earthquake.
All brew-pub HVAC and any other equipment either had to be fastened to the first floor or to the base-isolated superstructure.
All sewage, plumbing, and electrical utilities for the brewpub and for the entire building had to have flexible connectors that move as much as 24 inches in any direction.
The large commercial kitchen hood required 24-inch movement over the fixed food service equipment on the first-floor slab.
A 4-inch movement and expansion gap separates the first floor concrete block exterior walls from the second floor concrete slab.
Seismic expert Gabe Blasi will discuss the Zuckerberg San Francisco General Hospital project, which set a new standard for mastering building movement. Architect Robert Nebolon will discuss seismic solutions for two projects: a three-story residence in Hermosa Beach, California, that was built on sand, and a 3-story microbrewery that required many specific seismic solutions particular to a commercial food and drink establishment. Structural engineer Derrick Roorda will discuss the newly opened Academy Museum of Motion Pictures project, which is base isolated, and which has won several engineering awards.
The presentations will be followed by a moderated discussion focused on how these innovative projects address several key issues.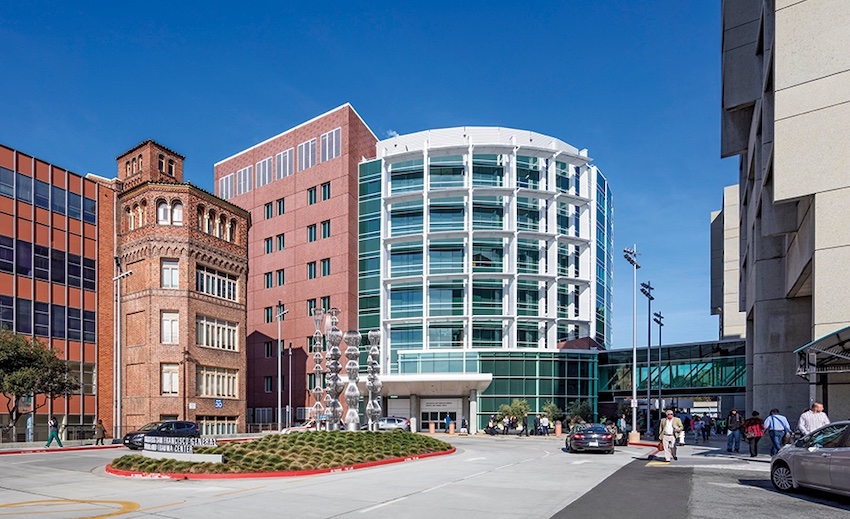 Gabriel Blasi leads and guides the strategic direction of the Expansion Joint Systems and Platform Solutions divisions for the domestic US. He has had the opportunity to be part of many iconic projects across the country where the Construction Specialties(CS) team has advanced the design and pushed the boundaries of resilient solutions. One of the key elements of Gabe's role is organizing cross-functional teams and harnessing talent in the right places. He has been with CS for 18 years. Fun Fact – "I am the family cook."

Robert Nebolon, AIA began his career as architect and planner for various San Francisco Bay Area architecture firms that specialized in Commercial and institutional projects. In 1994, Robert Nebolon formed Robert Nebolon Architects (RNA) that specializes in residential work and small-to-medium commercial work; all of which create a sense of place, have technical issues need to be resolved architecturally, and a possess a high degree of design thoughtfulness.

Over the years, RNA has done numerous interesting projects: floating buildings, uphill houses, downhill houses, and buildings on piers over water. All of these projects share the concept of the sense of place coupled closely with the context of the site and what the site offers back to the building,

With architecture degrees from University of California, Berkeley and the University of Washington, Seattle. Robert has received many design awards including those from the AIA/San Francisco Chapter, AIA/California Chapter, Concrete Masonry Association of Nevada & California, HGTV, and various local civic awards. His work has been featured in the New York Times, the Los Angeles Times, San Francisco Chronicle, Architectural Digest (electronic), Sunset Magazine (print and electronic) , Dwell Magazine (electronic issues), Curbed, and hard-cover various national and international books.

Derrick Roorda is the director of Buro Happold west coast structural engineering group. With over 20 years of experience, he is an expert in the topic of seismic engineering and performance based design.

Derrick participated on a number of expert committees charged with the advancement of seismic design regulations, including those responsible for the development of PBD guidelines for Tall Buildings in San Francisco and Los Angeles. More recently he served on the NEHRP consultants joint venture that published recommendations for seismic design of concrete buildings following the 2010 Maule, Chile earthquake.

Derrick has a strong resume of commercial, entertainment, and cultural projects around the US and internationally. He holds a reputation for maintaining balance between design ambition and construction practicality. Having worked with a broad spectrum of the world's great architects including Renzo Piano and Frank Gehry, Derrick has shown a prowess to advance creative solutions within the confines of restrictive technical regulation.
| | |
| --- | --- |
| | Founded in 1948, Construction Specialties (CS) is a specialty building products manufacturer. CS provides solutions to complex challenges architects, designers, building owners, facility managers, and contractors face every day. Since inventing the first extruded louver, CS has become a global leader in interior wall protection, impact-resistant doors, entrance mats & grids, expansion joint covers, architectural louvers & grilles, sun controls, explosion & pressure relief vents, cubicle curtains & tracks and stairs, awnings & balconies. CS draws upon extensive expertise to design high-quality products—many of which are Cradle to Cradle Certified™ Products Program. For more information please visit: c-sgroup.com |
Originally published in December 2021
Notice