Building with Nature: Resilient Environments and Buildings
Designing for resilience often means living and building with nature, not against it
Sponsored by Construction Specialties
Learning Objectives:
Define biomimicry.
Explain how nonstructural components can contribute to or detract from resilience.
Describe the "living with water" approach used on the Hampton Newmarket Creek Water Plan project.
State two strategies used to create a dynamic and interactive relationship between land and water in the Roberto Clemente Park Inter-Tidal Pool project.
This course is part of the Resiliency Academy
This webinar is part of the Resiliency Academy
Resilience is an essential element of designing for climate change. In this webinar, we will discuss approaches and projects that use nature and the natural environment to create or maintain resilience in the built environment.
Dr. Janice Barnes, AIA, will present the Newmarket Creek Water Plan in Hampton, Virginia, which is Phase II of the Resilient Hampton initiative. The project aims to reduce flooding, improve environmental health, and support neighborhoods. In addition, the project includes a community outreach and engagement component to provide education and interest around resilience, and it will begin to test an evaluation tool that the city can use to determine the resiliency of a project.
Cynthia Fishman, AIA, BSpec, LEED AP, Fitwel Ambassador, will discuss biomimicry, an approach that engages with resilience in natural systems to develop the tools and techniques to help design professionals create impacts that will last. Biomimicry explores new ways of valuing and looking to nature to help create resilient systems in an ever-changing world.
Kevin Smith, PE, will present the resiliency strategies employed at the Zuckerberg San Francisco General Hospital. San Francisco undertook a massive rebuild of the hospital campus to meet current seismic safety standards. An innovative base-isolated system allows the structure to glide 30 inches in any direction and making it able to withstand a strong earthquake.
The presentations will be followed by a moderated discussion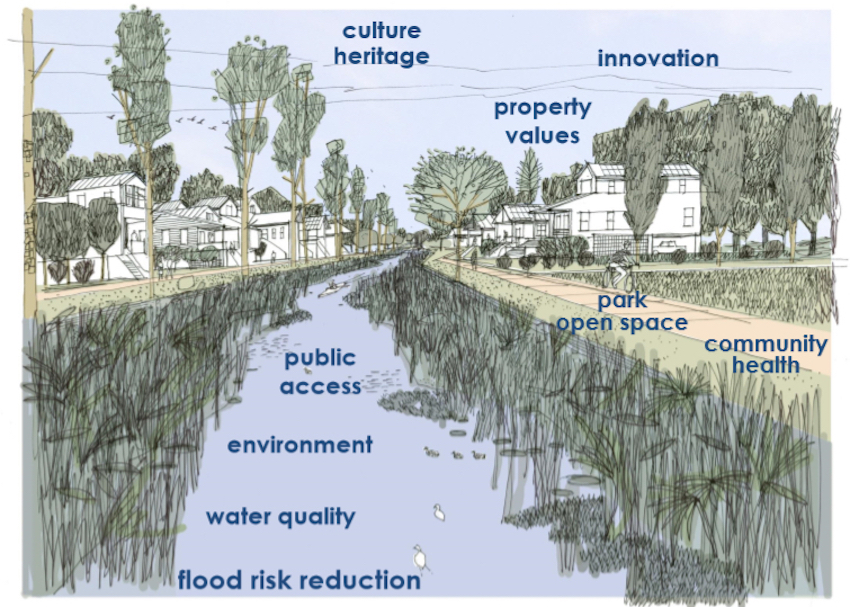 Photo courtesy of Waggonner & Ball
| | |
| --- | --- |
| | Dr. Janice Barnes,, AIA, is the Managing Partner at Climate Adaptation Partners. She works with clients to identify their risks and vulnerabilities and to meet their resilience goals. With nearly 30 years of design experience bridging practical applications with empirical research, Janice recognizes critical organizational processes and links these to appropriate design responses. Internationally recognized for this expertise, she links environmental, social, and economic indicators to advance resilience principles and connect knowledge across communities. |
| | Cynthia Fishman,, AIA, BSpec, LEED AP, Fitwel Ambassador, is the founder and director of the Biomimicry Design Alliance, a research and architecture consulting group consisting of designers and scientists from the Denver area making biomimicry more accessible to the architecture community. |
| | Kevin Smith,, PE, holds a bachelor's degree in civil engineering from the Pennsylvania State University and a master's degree in civil engineering from Kansas State University. He is licensed in 5 states including California and has been working in the engineering profession for 15 years. In his current role, Kevin manages an engineering team that is dedicated to designing, developing, and supporting projects requiring resilient expansion joint cover solutions to accommodate all types of movement (thermal, settlement, wind sway and seismic). |
This test is no longer available for credit
| | |
| --- | --- |
| | Founded in 1948, Construction Specialties (CS) is a specialty building products manufacturer. CS provides solutions to complex challenges architects, designers, building owners, facility managers, and contractors face every day. Since inventing the first extruded louver, CS has become a global leader in interior wall protection, impact-resistant doors, entrance mats & grids, expansion joint covers, architectural louvers & grilles, sun controls, explosion & pressure relief vents, cubicle curtains & tracks and stairs, awnings & balconies. CS draws upon extensive expertise to design high-quality products—many of which are Cradle to Cradle Certified™ Products Program. For more information please visit: c-sgroup.com |
Originally published in June 2019
Notice