The Solution to the Parking Problem
Automated parking systems improve the space efficiency and security of a parking structure
Sponsored by CityLift Parking
Learning Objectives:
Summarize current parking-related issues that can plague projects in urban areas or on severely constrained or unique sites.
Differentiate between four types of automated parking systems.
Describe how automated parking systems make parking structures more safe and secure for patrons and their property.
Identify the environmental benefits that can be realized when projects include automated parking systems instead of conventional surface lots or multistory parking structures.
Demonstrate how reducing parking space can result in building more billable units and offering customized amenities.
Credits:
This course can be self-reported to the AIBC, as per their CE Guidelines.
This course is approved as a Structured Course
This course can be self-reported to the AANB, as per their CE Guidelines
Approved for structured learning
Approved for Core Learning
This course can be self-reported to the NLAA
Course may qualify for Learning Hours with NWTAA
Course eligible for OAA Learning Hours
This course is approved as a core course
This course can be self-reported for Learning Units to the Architectural Institute of British Columbia
This test is no longer available for credit
There is a problem with the conventional approach to parking in the United States: It requires too much space. Conventional parking solutions can take a few different forms: Off-street parking can be a flat surface lot or a multilevel high-rise or subterranean structure. On-street parking spots are another popular solution, and then, of course, there are the spots in residential garages and driveways. The one thing all of these traditional parking solutions have in common is the incredible amount of space they set aside to park a car. As a general rule, a typical conventional parking space allots 320 square feet per vehicle.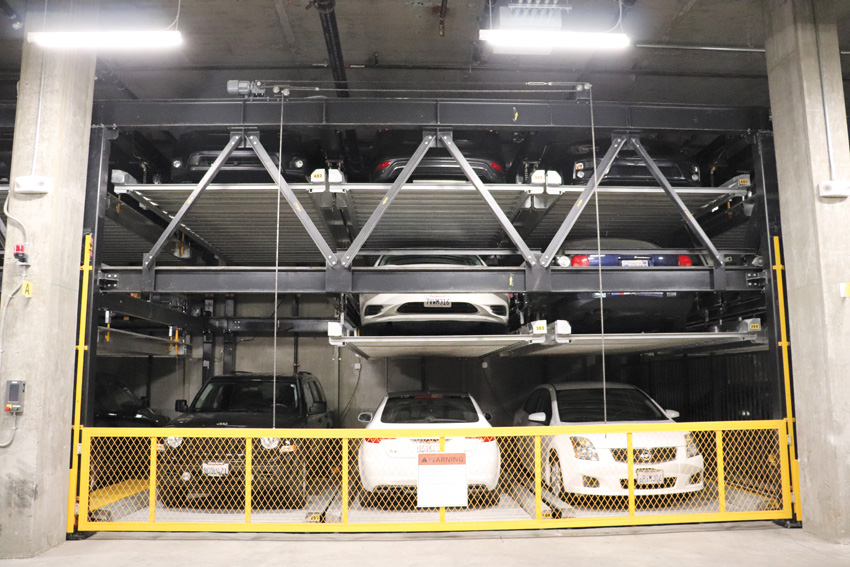 All photos courtesy of CityLift Parking
Automated parking systems safely store cars in a much smaller footprint, dramatically reducing the amount of space that designers must reserve for parking.
The size of the single car's footprint can add up, especially considering that cities small and large are finding space to provide more than 1 million parking spots. The city of Seattle has roughly 1.6 million parking spaces, as does the much smaller Des Moines, Iowa. There are about 1.9 million parking spaces throughout the five boroughs of New York City, and Philadelphia tips the scale with more than 2 million spots. All of this space represents a tremendous real estate value. A report written by Parkingmill for the Research Institute for Housing America estimated that the parking space provided by Des Moines, Iowa; Seattle; New York City; Philadelphia; and Jackson, Wyoming, combined was worth roughly $81 billion.
For cities, and professionals involved in developing buildings and spaces within cities, the size of a parking space is problematic from both a basic cost and opportunity cost perspective. Either way you look at it, it is expensive, because the land used for parking must be paid for and could be used more cost-effectively.
One of the factors driving the pervasive number of parking spots found in urban areas are policies called mandatory minimum parking requirements. Mandatory minimum parking requirements dictate the number of parking spaces that must be included in commercial and residential projects. In the 2005 book by UCLA urban planning professor Donald Shoup titled The High Cost of Free Parking, he provides some background on the mandatory minimum policies: "Planners thought the solution would be to require new buildings to have 'enough' to satisfy the demand. It seemed like quite a miracle; it did not cost the city anything, and it hid the cost of parking." The costs of the parking spots were incorporated into the development costs of a project and could be significant. In Los Angeles, for example, Shoup explained that the mandatory parking space can increase the cost of a new shopping center by 67–93 percent.
Beyond the cost of development, these minimum parking policies have left urban areas with large expanses of parking space that may be better used in different ways, especially if the area is well-served by public transportation.
Across the nation, cities are beginning to reevaluate their mandatory minimum parking policies, and some have eliminated them altogether. But, experts caution, just because the cities are not mandating parking in some areas does not mean it is not needed. According to the IBISWorld report published in May 2019, urbanization has been on the rise, resulting in greater demand for parking garages. Another consideration is funding. Lenders often take into account the available tenant parking to make the building more attractive for renters and purchasers. Luckily, there is another solution that can enable projects and cities to meet rising parking demands in a significantly smaller footprint. The solution is an automated parking system.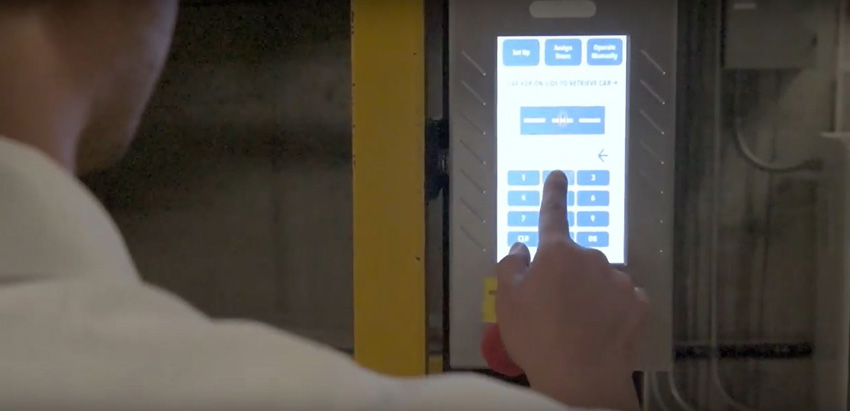 With an automated parking system, drivers retrieve their cars using a kiosk or issued fob.
Introducing Automated Parking Systems
An automated parking system flips the conventional design of a parking structure and the less-than-efficient experience of parking on its head, providing a solution that parks more cars in less space and often speeds up the parking process altogether. It accomplishes all of these things by using a combination of lift and conveyor technologies that lift, slide, and store vehicles vertically and horizontally inside the automated parking structure. Where conventional parking practices required 320 square feet per vehicle, an automated parking solution can safely store a car in as little as 170 square feet (8.5 feet by 20 feet). A 2017 Bisnow article titled "This Company Is Bringing Fully Automated Parking Coast to Coast," author Alec Berkman writes, "Countries like Germany, Japan and China, which faced land constraints earlier or more severely than the United States, have already invested heavily in these systems."
There are four different types of parking systems, offering varying degrees of automation, accessibility, and parking capacity. From least automated to most automated, they are: a manually operated system, a semi-automated system, and fully automated systems that arrange cars either horizontally or vertically.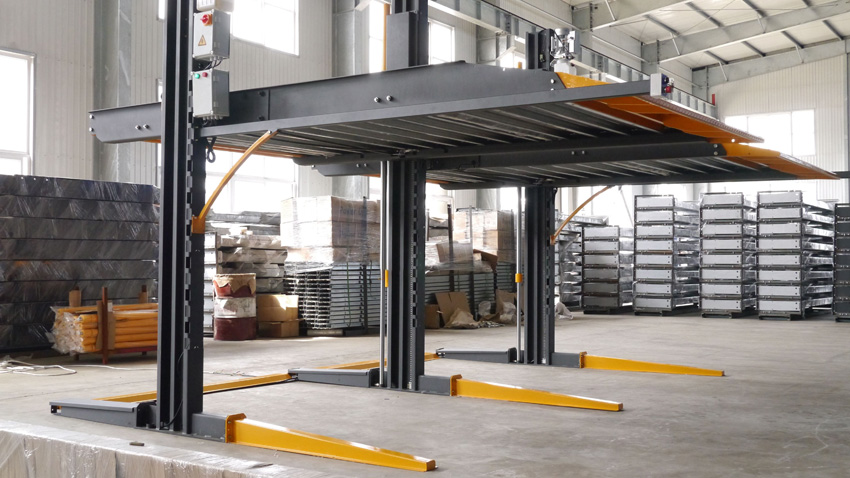 This manually operated parking lift increases the parking capacity of a valet parking area, allowing access to a second-story tier.
Originally published in January 2020
Notice