Low-Slope Roofing: Specifying a Quality, Cost-Effective Roof System While Considering the Skilled Labor Shortage
The skilled labor shortage may impact your choices when specifying low-slope roof systems
Sponsored by CertainTeed
Learning Objectives:
List the ways in which the roofing skilled labor shortage can impact the accurate, durable application of a specified roof system.
Describe how roof design, project parameters, product selection, contractor crew, and project management will impact the labor efficiencies associated with roof system installation.
Discuss the basic advantages of a self-adhered modified bitumen roof system as compared to other popular low-slope roof systems, including durability and decreased person-hours to install.
Integrate data regarding product application, skill level requirements, and time to install when specifying a roof system.
Credits:
This course can be self-reported to the AIBC, as per their CE Guidelines.
This course is approved as a Structured Course
Approved for structured learning
Approved for Core Learning
This course is approved as a Core Course
Course may qualify for Learning Hours with NWTAA
Course eligible for OAA Learning Hours
This course is approved as a core course
This course can be self-reported for Learning Units to the Architectural Institute of British Columbia
According to the Bureau of Labor Statistics, the year 2018 began with more than 252,000 construction industry job vacancies across the United States.1 As aging baby boomers retire and the market struggles to find young people skilled in the trades, labor challenges are becoming a significant concern for many companies, including roofing contractors. As we will learn in this course, the shortage of skilled labor can lead to increased installed costs for certain types of roof systems and an increased potential for an inadequate installation. This can ultimately affect the choices architects make when specifying low-slope roof systems.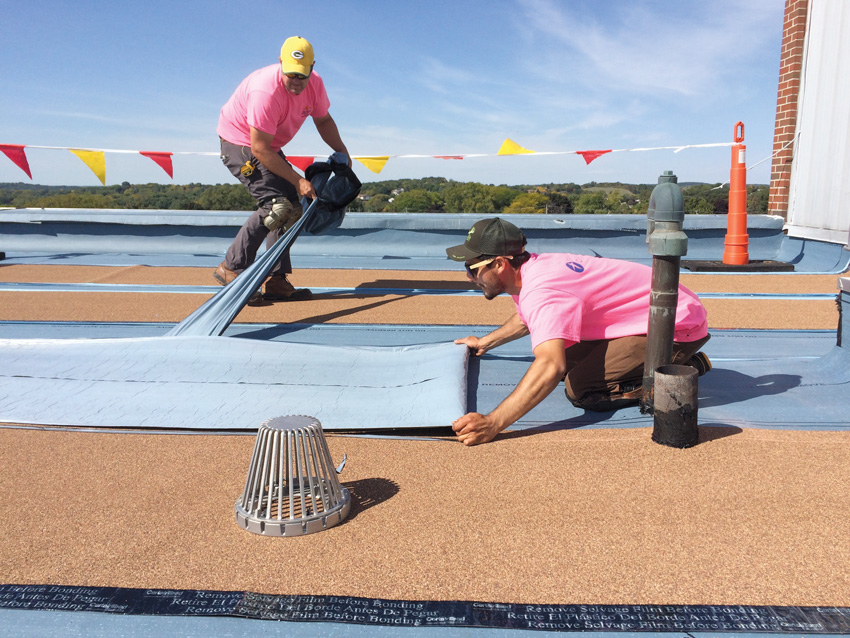 Photo courtesy of CertainTeed and Paul Crandall & Associates
In order to meet the challenge of providing clients with cost-effective opportunities while supporting a durable roof specification, this course will present data regarding the labor advantages provided by self-adhered modified bituminous roof coverings.
How the Skilled Labor Shortage Impacts Low-Slope Specification Choices
While a skilled labor shortage is affecting the construction industry as a whole, the roofing sector has been hit particularly hard. In August 2018, the National Roofing Contractors Association (NRCA) issued an Action Alert encouraging members to urge Congress to address the issues facing the industry. The alert highlighted the difficulty roofing industry employers have finding workers to fill job openings.
To meet demand, an unskilled or under-skilled labor force is frequently employed. Given the labor situation, what are the potential impacts on the installation of the roof system specified on your project?
First, use of unskilled labor can lead to an increase in time to complete the installation of the specified roof system. The application complexity of a roofing product and the required skill level of workers to properly and effectively install the product can magnify this issue. This increased installation time translates directly to increased costs.
The lack of skilled labor also increases the potential for compromised installation quality. Proper installation, according to manufacturer specifications, is key to creating a high-quality and durable roof. A properly installed roof, adequately maintained, should last for decades, thereby decreasing the total cost of ownership. However, a lack of the required skills for proper application and poor management of unskilled crews can lead to costly failures and repairs, compounding this issue.
As an architect, specifying a quality yet cost-effective roof system must take into account the current labor environment. The time and skill required to install a roof system must be understood and considered during the specification process. And these decision factors can be used as talking points when addressing costs with clients.
Originally published in Architectural Record
Originally published in November 2018
Notice