Natural Materials in Biophilic Design
In creating a direct connection to nature, wood ceilings and wall systems can boost occupant health, well-being, and productivity
Sponsored by CertainTeed Architectural
Learning Objectives:
List the factors driving biophilic design with natural materials in commercial spaces.
Identify the research-proven physical, physiological, and emotional benefits of biophilic interiors, particularly wood.
Review the design and installation details of various wood ceiling and wall systems and their applications.
Discuss the pros and cons of natural wood, engineered wood, and faux wood products in relation to biophilia and other sustainable design factors.
Credits:
This course can be self-reported to the AIBC, as per their CE Guidelines.
This course is approved as a Structured Course
This course can be self-reported to the AANB, as per their CE Guidelines
Approved for structured learning
Approved for Core Learning
This course can be self-reported to the NLAA
Course may qualify for Learning Hours with NWTAA
Course eligible for OAA Learning Hours
This course is approved as a core course
This course can be self-reported for Learning Units to the Architectural Institute of British Columbia
This test is no longer available for credit
There is no question that a walk in the park, the fresh air, and the sun's warmth on one's skin surrounded by grass and trees is a refreshing, positive experience.
Driven by a growing body of research proving the physical, physiological, and emotional benefits promoted by connections to nature, architects and designers are actively incorporating natural elements, particularly wood, into their designs.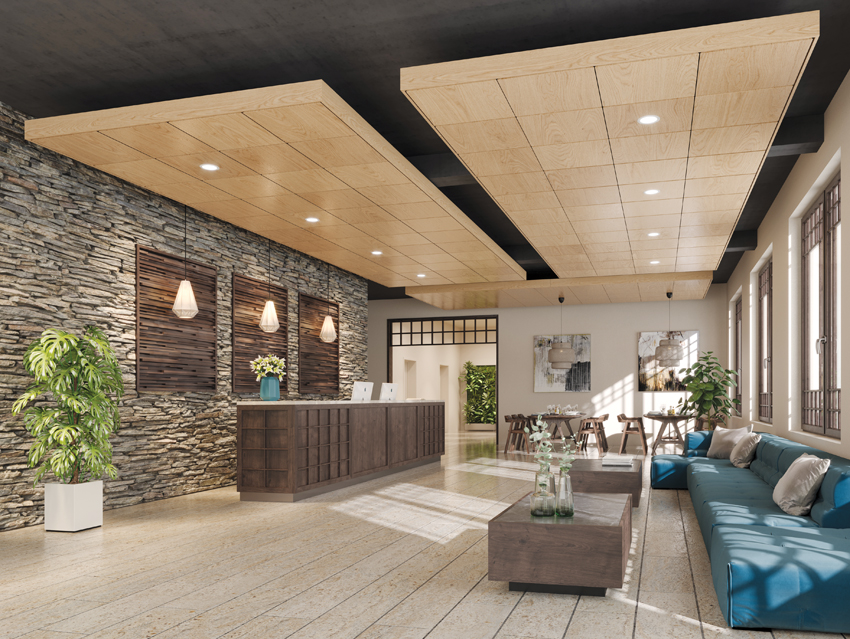 All photos courtesy of CertainTeed
Natural design materials, such as wood ceiling systems, contribute to occupant well-being by fulfilling a fundamental human need: connection with nature.
Biophilia—or the love of living things, as translated from ancient Greek—was first coined by the renowned psychologist Erich Fromm in 1964, in describing humans' attraction to things that are alive and vital. It was then popularized by biologist Edward O. Wilson in the 1980s in response to urbanization's growing disconnection with nature.
While civilization has lived an agrarian existence for centuries, with people predominately living among nature, the advent of the Industrial Revolution changed all of that.
"Throughout history, humans have been reliant upon and connected to nature for basic needs of food and shelter," says Pamela Lucas Rew, AIA, partner, KSS Architects, Princeton, New Jersey. "As we transitioned to an industrial society, we have become more dependent upon machines and technology for our basic needs and less connected to nature. This decreased connection to nature has a negative impact on our ability to relax, concentrate, control stress, socialize, and collaborate."
To help rectify this, the integration of natural materials into architectural designs is a growing phenomenon. And although biophilic design is not a new concept, companies and institutions are recognizing its positive impact on individuals' comfort, attitude, and health in their daily lives.
Although an indirect connection to nature has always been a strong component of architecture, biophilic design is now taking center stage, according to Angelica Paleczny, AIA, LEED AP BD+C, interior designer at global design firm Perkins and Will in Chicago.
While plants and greenery are generally associated with biophilia, designs also extend to water, natural light, stone, and wood. Countering concrete, smog, and noise, a well-designed biophilic environment can provide an oasis of calm and serenity, reconnecting occupants to a healthier outdoor environment.
Wood and Biophilia
Wood occupies its own special niche in biophilic design, doubling as a building material and, in some cases, a structural element. In most scenarios, well-executed wall and ceiling designs can create a unique warmth and feelings of comfort for occupants.
"The natural grain patterns and textures, the natural aroma, and the warm colors contribute to reducing stress responses, lowering blood pressure, and improving overall mood," says Gary McNay, AIA, LEED AP BD+C, ILFI Ambassador, academic planning and design at EYP, Atlanta.
Nash Emrich, senior sustainability consultant at Paladino and Company, Grand Forks, North Dakota, agrees: "There is no question that I behave and feel differently when I am hiking a mountain, floating a river, or riding single track through the trees. I do not feel this sense of wildness, perspective, and freedom when surrounded by concrete in a city or stuck in a typical office building looking at plastic furniture, ceiling tiles, and fluorescent lighting."
To counter this, Paleczny explains that surrounding one's day-to-day life with natural elements brings the comfort of nature into the interior, and it gives visual and tactical reminders of the environment beyond the walls.
Overall, biophilic design also offers sustainability benefits, such as reduced energy consumption by utilizing daylight and reducing artificial light, and better air quality by using natural materials with healthy ingredients.
"But the primary economic benefit has to do with the occupants of the building and their productivity," says Joey-Michelle Hutchison, RA, LEED AP BD+C, CSBA, senior associate, vice president of CallisonRTKL, Seattle. "Payroll is one of the biggest expenses of just about any U.S. business and biophilic design can increase employee satisfaction and productivity, and reduce employee absenteeism and turnover—which are all significant positive economic benefits."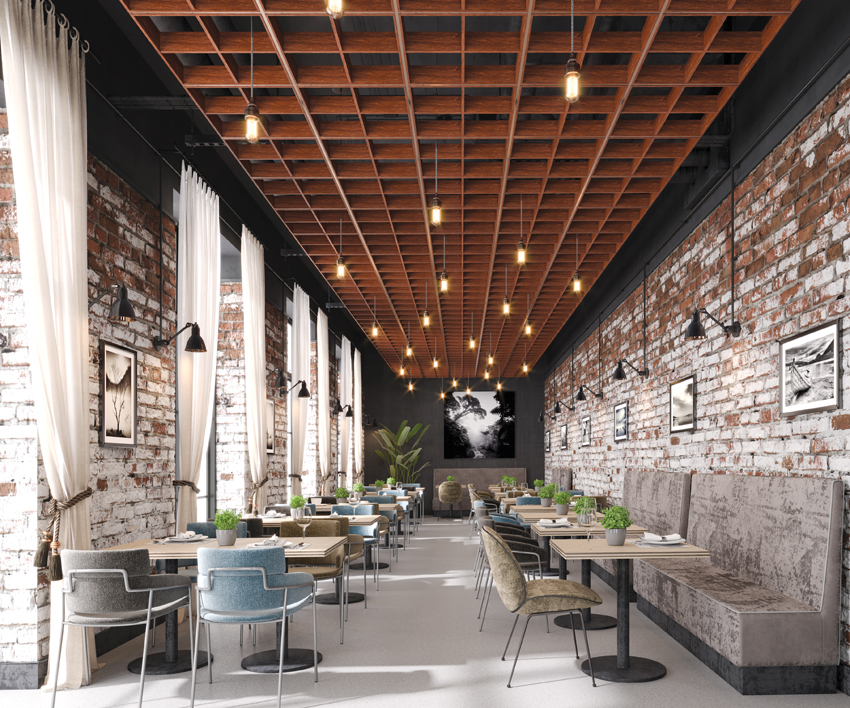 Because of its wide-ranging aesthetic benefits and performance applications, wood emerges as a particularly effective material for biophilic design strategies.
Making the Case
Delving into the growing cache of biophilia research, many aspects of physical and emotional health are boosted in biophilic environments.
One formative concept, the Attention Restorative Theory, was introduced by University of Michigan Professors of Psychology Rachel and Steven Kaplan in their book, The Experience of Nature: A Psychological Perspective. The theory, which has been borne out by additional research, states that humans' ability to concentrate is finite and taxed throughout the day as they encounter numerous stimuli. Contact with nature serves to replenish those resources, thereby enhancing focused attention and memory, and reducing mental fatigue and stress.
Along these lines, a recent study at the University of Melbourne found that something as quick as a 40-second break in nature—regardless of whether its outdoors or indoors—increases one's ability to concentrate by 6 percent.
Another interesting approach called shinrin-yoku, or forest bathing, is the ancient Japanese practice of restorative walks through natural settings, most often forests. The efficacy of this method was best illustrated in one study that took 87 non-insulin-dependent diabetics and monitored their blood glucose levels over the course of six years.1 The project compared the effects of taking 3- to 6-kilometer walks through the forest with exercising on indoor treadmills and indoor pools. While indoor exercise reduced blood glucose levels by 21.2 percent, forest bathing decreased blood glucose by 39.7 percent.
In the bigger picture, Lucas Rew explains that research supports the categorization of five basic human needs that can be satisfied by the connection to nature. These include the following:
Community: People feel comfortable collaborating when they understand their place within a given community.
Identity: People can be creative when they understand the defined identity of a place.
Navigation: People can afford to be curious when they feel safe to explore and navigate an environment with ease.
Transition: People can be confident when they control the way they transition from one space or activity to another.
Choice: People can be independent when they have the choice to control their own experience.
Despite all of these benefits, the bottom line often proves to be the most convincing argument. In analyzing how much organizations spend on their personnel versus other business expenses, more than 100 times more, on average, is spent on people than on energy costs within the workplace.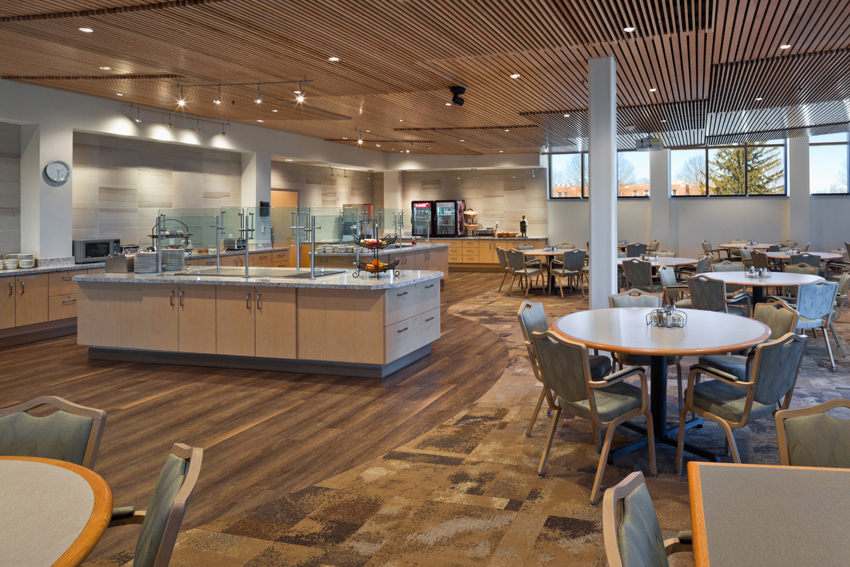 The economic benefits of biophilic design are as convincing as the aesthetic and performance benefits—studies show that connections with natural elements can increase employee productivity and reduce absenteeism and,
as a result, improve bottom lines.
In a white paper titled The Economics of Biophilia: Why designing with nature in mind makes financial sense, the respected New York-based sustainability consulting firm Terrapin Bright Green found that 90.3 percent of costs per square foot are devoted to salary, whereas 8.9 percent go toward rent and mortgage, and 0.8 percent is spent on energy costs. Further, financial losses due to absenteeism and presenteeism (working while sick) account for 4 percent.2
"These statistics make it clear that the smartest economic investment is an investment in employees, their productivity, and their overall satisfaction" according to Terrapin Bright Green. "Commercial spaces that give occupants access to nature serve as a release to outside stresses and tend to cause less environmental stress themselves. It makes fiscal sense for companies to try to eliminate environmental stress that cost them thousands of dollars per year in employee costs. Small improvements in productivity and reduced absenteeism could boost profits and the bottom line more dramatically than reducing energy costs. In short, productivity drives profit."
Originally published in Architectural Record
Originally published in May 2020
Notice