Lighting Effects with Coiled Wire Fabric
Stunning results can be achieved by combining natural or electric lighting with coiled wire fabric
Sponsored by Cascade Architectural
Learning Objectives:
Identify and recognize the specific nature of coiled wire fabric with its abilities to impact lighting, ventilation, and well-designed healthy spaces.
Assess the use of coiled wire fabric to control or enhance the use of sunlight to create improved indoor environments for the welfare of their occupants.
Explain the options available for using electrical lighting, including low-voltage or energy-efficient LED lighting, for interior and exterior installations.
Determine ways to use coiled wire fabric as a means to receive projected imagery, both fixed and moving, for artistic or performance purposes.
Credits:
This course can be self-reported to the AIBC, as per their CE Guidelines.
As an IACET Accredited Provider, BNP Media offers IACET CEUs for its learning events that comply with the ANSI/IACET Continuing Education and Training Standard.
This course is approved as a Structured Course
This course can be self-reported to the AANB, as per their CE Guidelines
Approved for structured learning
Approved for Core Learning
This course can be self-reported to the NLAA
Course may qualify for Learning Hours with NWTAA
Course eligible for OAA Learning Hours
This course is approved as a core course
This course can be self-reported for Learning Units to the Architectural Institute of British Columbia
This test is no longer available for credit
Le Corbusier is attributed with the quote, "Architecture is light." Indeed, most architects spend a lot of their design time working natural and artificial lighting into buildings in ways that are both functional and beautiful. Of course, it is really the interplay of that light onto materials and surfaces and the way it is spread throughout a three-dimensional space that produces a total experience. Factor in time of day and different lighting conditions, and the total process is a very dynamic one rather than just a static event.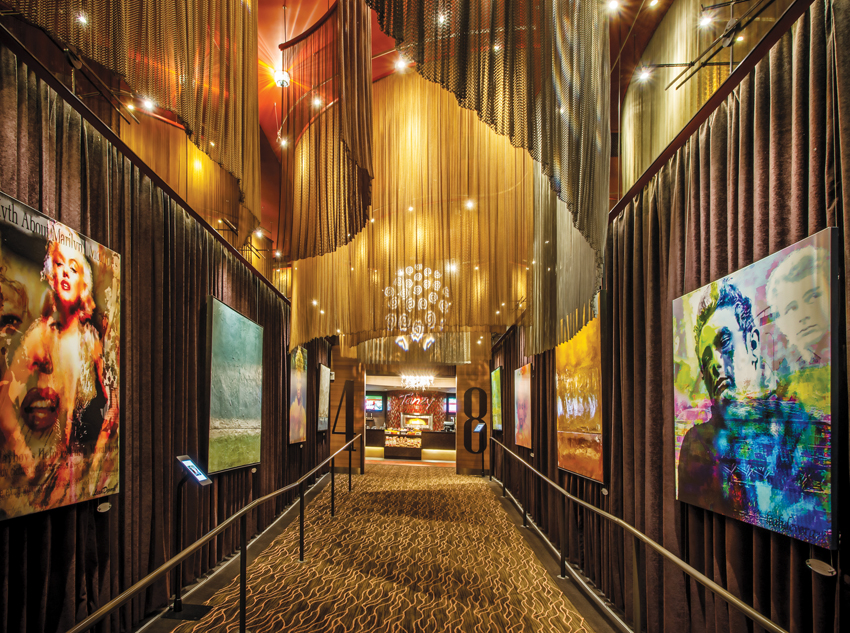 Photo: © CCD, Inc. Architect: ID & Design International
Coiled wire fabric is used creatively on building interiors and exteriors in combination with natural and electrical lighting to produce distinctive results.
Among the materials that are part of an architect's palette for incorporating light into buildings, coiled wire fabric is becoming a more widely used medium. With variable light transmission or reflection qualities, it provides a very customizable but cost-effective and durable option for achieving a wide range of design outcomes. This course delves into the specifics of this versatile material and looks at the variety of ways that it enhances architecture through the use of light. Starting with an overview of the material, we then look at the ways it can be a means of control and enhancement of both natural daylight and electrical lighting. Further, we explore its use as a surface where still or moving imagery can be projected. Ultimately, it is the combination of design prowess, materials, and lighting that create beautiful, functional architecture as seen in examples cited.
Coiled Wire Fabric Overview
From a design standpoint, coiled wire fabric is truly an intriguing material. As a semi-transparent material, the interplay between the woven metal and light combines architecture and art in ways that are noticeable and can stimulate the senses of the observers. It does so by being fundamentally different from traditional metal mesh materials. The essential difference is that coiled wire fabric is designed as an architectural product for use as a finish material, not just a utilitarian one. As a durable, thin material, coiled wire fabric is lighter in weight than traditional wire mesh and offers more design flexibility. For interiors, architects and designers use coiled wire fabric for window curtains, ceiling treatments, wall coverings, security gates, and even as complete sculpting partitions, all adding elegance and purpose to the spaces where it is used. On building exteriors, coiled wire fabric can provide sun shading, fall protection, and visual facade treatments. In each of these cases, it can allow for ventilation or the controlled passage of air and light.
Coiled wire fabric is manufactured by interlocking metal wire coils via a simple corkscrew method: weaving the spirals together to create a flexible metal fabric panel. Beginning with a choice of the metal material, manufacturers combine skilled craftsmen with inventive machinery to form the wire into a spiral of a specified weave size. Typically the length of the fabric is fabricated to match the height of the opening at the project site. The edges are usually hand crimped, and the finished fabric is ready to be secured using a choice of attachment systems.

Photos: © CCD, Inc.
Coiled wire fabric can have different features and attributes that change the way it looks and performs.
To better understand this innovative material and how it works with light, a closer look at the attributes of coiled wire fabric systems follows.
Material makeup: Coiled wire fabric systems begin with a base metal wire in varieties of steel, aluminum, brass, copper, or stainless steel. The choice of the wire material and its gauge ultimately impact the weight, functionality, and aesthetics of the final fabric. By selecting the fundamental makeup of the fabric (i.e., the base metal, weave thickness, wire gauges, weave pattern, finishes), the properties of strength, rigidity, and light transmittance can all be determined to meet the design or performance characteristics that are being sought. It is worth noting that the fabric is available in virtually unlimited widths and up to 40 feet in length, so large installations can be achieved with a single panel in many cases. For projects needing more than a 40-foot span of fabric, multiple coils can be spliced together at the job-site in a routine fashion and still create a continuous or seamless appearance.
Attachment systems: The means of attaching the wire fabric to the building can be done in a variety of ways with a wide range of appearances. The material can be left to hang (i.e., flowing freely, secured at both the top and bottom, and even be pulled taut to create a semi-rigid condition. Because of its fabric nature, curved and undulating shapes are easily achieved, providing facades and interiors with more character and vitality than rectilinear shapes alone. Products are available in either fixed or movable configurations along track attachment systems that are engineered to fit the precise aesthetic and performance requirements of a project. Many attachments are offered in aluminum, steel, or stainless steel and available with optional ceiling, wall, or suspended mounting systems. Engineered attachment systems can be manufactured flat or undulating to varying degrees, then finished with the coating or color of choice.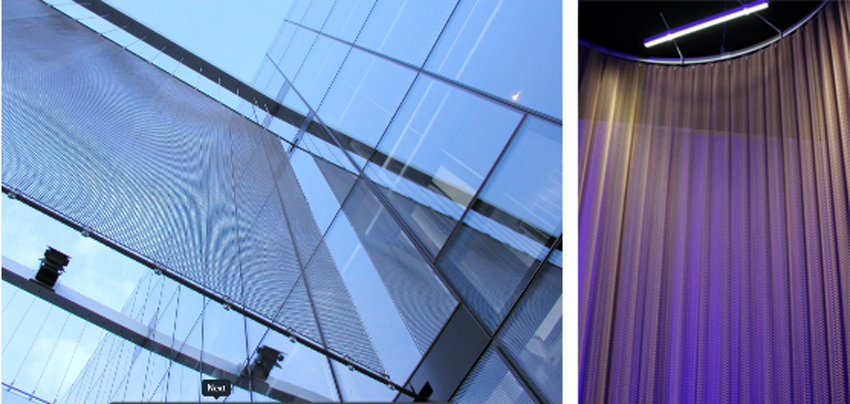 Photos: © CCD, Inc.
Attachment systems for coiled wire fabric are typically based on frames or tracks that can be designed to suit different shapes, sizes, and installations.
Design uses: Coiled wire fabric is used as a highly decorative design element that adds dramatic and elegant screening to exterior and interior applications. It is highly customizable and available in virtually unlimited finishes. Coiled wire fabric is available in either a natural, uncoated state or with resilient powder-coating finishes for a sharp, long-lasting, durable aesthetic. This means that the color choices are broad, allowing it to be a successful part of virtually any design scheme. Further, the finishes can be specified with low-VOC content to protect against that exposure when used on interiors. In fact, some coiled wire fabric products carry Declare labels with the International Living Future Institute.
Light characteristics: The nature of coiled wire fabric is such that it will allow light to pass through, which is often desirable for many applications. The controllable nature of the fabric is such that it can be used for high levels of light transmission or reduced levels for solar shading, which can contribute to energy savings. It can also be used for lighting effects (i.e., illuminated with wash lighting) or light diffusion to further enhance the interior ambient lighting of a space. How much light comes through and how visually transparent a certain product appears will be based directly on the makeup of a particular coiled wire fabric. Those with thicker wires and tighter weaves will obviously allow less light than those with thinner wires and more open weaves. Architects and designers can play with the material's level of transparency by altering these factors to suit their needs to create a material that is simultaneously open and closed at the desired levels. As such, it is sometimes used over windows, as a diffuser for natural daylight, or as room separators where light is intended to be shared. "Fullness" is another factor that designers can alter that will vary the level of light able to pass through the coiled wire fabric. By using more material than what is required to cover a given area, a billowing drapery effect may be achieved, causing the mesh to overlap, which can be used to control the light.
Air movement: The same characteristics that allow light to transmit through coiled wire fabric also allow a controllable amount of air to move through it. This is useful for places that require ventilation but want separation, such as well-ventilated building facades or interior space separations that do not want to interfere with HVAC systems.
Strength and Durability: From a general building material standpoint, coiled wire fabric can be used as a component across a full facade in coordination with other building enclosure systems to protect otherwise vulnerable components. In appropriate strengths, it can provide partitioning for safety, fall protection, blast mitigation, and security. As a material added to a building, coiled wire fabric is a long-lasting and durable product requiring minimal if any maintenance.
Retrofit applications: Coiled wire fabric is lightweight, making it easy to work into a retrofit or renovation project. This is particularly useful in the case of needing to reinforce and protect facades or other building areas from threats of severe weather or other concerns. The gauge of the wire and the spacing of it will determine the overall strength, which can then be selected to suit a particular retrofit condition.

Photos (from left): © Bruce Damonte Photography; Architect: SHOP Architects, © CCD, Inc., Architect: DLZ Corporation
The multiple characteristics of coiled wire fabric make it ideally suited for a wide variety of building types and design options.
Green building design: Coiled wire fabric is able to contribute to green and sustainable building designs in several ways. First, it is typically made up of metals that have a recycled content as high as 90 percent from a scrap base. It can be subsequently recycled at the end of its service life. This all plays well into a favorable life-cycle assessment of the materials used that make up a coiled wire fabric system. Secondly, the products can support a positive indoor environmental quality. The open nature of the fabric supports designs that incorporate natural daylight or ventilation in interior spaces. The prefinished or natural finish of the metals used means that no additional paints, coatings, adhesives, or harmful sealants are needed. Hence, the materials are low emitting or VOC free. Some products are Living Building Challenge Red List Free, 100 percent recyclable, and use no toxic chemicals in the manufacturing process. Hence, they create a low carbon footprint by using domestically sourced materials that are durable and easy to maintain.
Originally published in Architectural Record
Originally published in October 2020
Notice