Reimagining Restrooms for Human Health & Wellness
Evolving design expectations in the COVID-19 era
Sponsored by Bobrick Washroom Equipment, Inc.
Learning Objectives:
Review the hygiene challenges for public restrooms in the face of the COVID-19 pandemic, including the science of virus and bacteria transmission, and CDC guidance for cleaning, disinfecting, and using public spaces.
Evaluate product strategies that minimize touchpoints and promote effective handwashing and drying to maximize hygiene in commercial and public restrooms.
Examine space-planning strategies to optimize traffic flow and promote physical distancing between patrons while maintaining accessibility.
Assess design strategies to enable proactive sanitation, cleaning, and maintenance for reliable operation and optimal hygiene.
Credits:
This course can be self-reported to the AIBC, as per their CE Guidelines.
This course is approved as a Structured Course
This course can be self-reported to the AANB, as per their CE Guidelines
Approved for structured learning
Approved for Core Learning
This course can be self-reported to the NLAA
Course may qualify for Learning Hours with NWTAA
Course eligible for OAA Learning Hours
This course is approved as a core course
This course can be self-reported for Learning Units to the Architectural Institute of British Columbia
This course provides architects and design professionals who must now contend with evolving design expectations due to the COVID-19 pandemic with restroom design strategies that minimize disease transmission by maximizing hygiene, optimizing space and traffic flow, and selecting products that enable proactive sanitation and maintenance. All recommendations are rooted in official Centers for Disease Control and Prevention (CDC) guidelines.
Challenges of Designing Public Restrooms in The Covid-19 Era
First, we will explore and evaluate the hygiene challenges for public restrooms in the face of the COVID-19 pandemic, including the science of virus and bacteria transmission, and CDC guidance for cleaning, disinfecting, and using public spaces.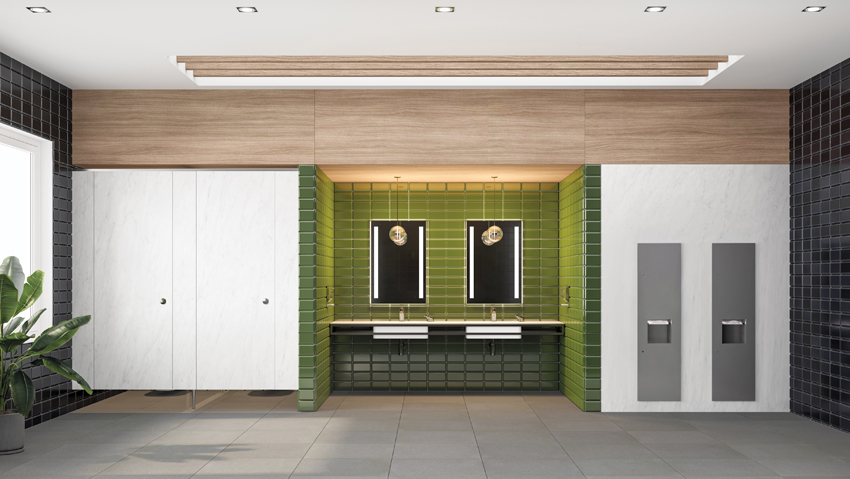 Image courtesy of Bobrick Washroom Equipment, Inc.
The Centers for Disease Control and Prevention (CDC) offers guidance for cleaning, disinfecting, and returning to public spaces during COVID-19.
Disease Transmission
Before evaluating the potential risk to human health in commercial restrooms and solutions to current hygiene challenges, it is important to first understand how diseases, such as COVID-19, can be transmitted from person to person.
According to the World Health Organization (WHO), the COVID-19 virus can spread from an infected person's mouth or nose, in small liquid particles known as droplets, when the person coughs, sneezes, speaks, sings, or breathes heavily.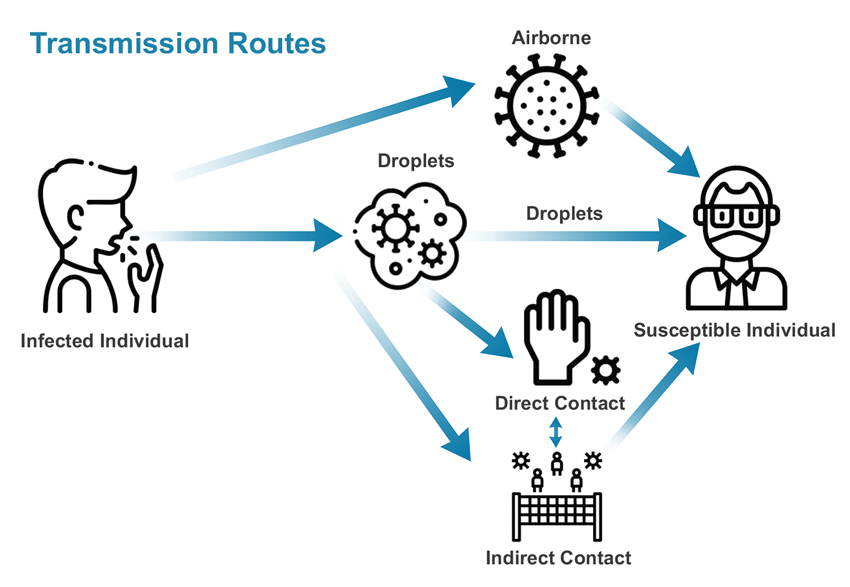 Source: Journal of Hospital Infection 92 (2016) 235–250
These liquid particles are different sizes, ranging from larger respiratory droplets to smaller aerosols. Diseases like COVID-19 can also be transmitted when the virus comes into contact with a person's mouth, nose, or eyes. This is more likely to occur when people are in direct or close contact—less than 3 feet away from an infected person.
These different methods of transmission are important to understand as we design spaces that minimize both direct and indirect contact while still maintaining efficient traffic flow in shared spaces.
From the research that has been done on the transmission of the COVID-19 virus, we know that restaurants, malls, and gyms have been identified as places with the greatest risk of transmission. Where individuals gather (both indoors or outdoors), the overall crowd density, and patrons' ability to keep their masks on throughout their visits are all significant factors in whether a building carries a high or low risk of transmission.
While all restrooms moving forward will require modified design approaches, knowing which building types are at highest risk can help prioritize solutions.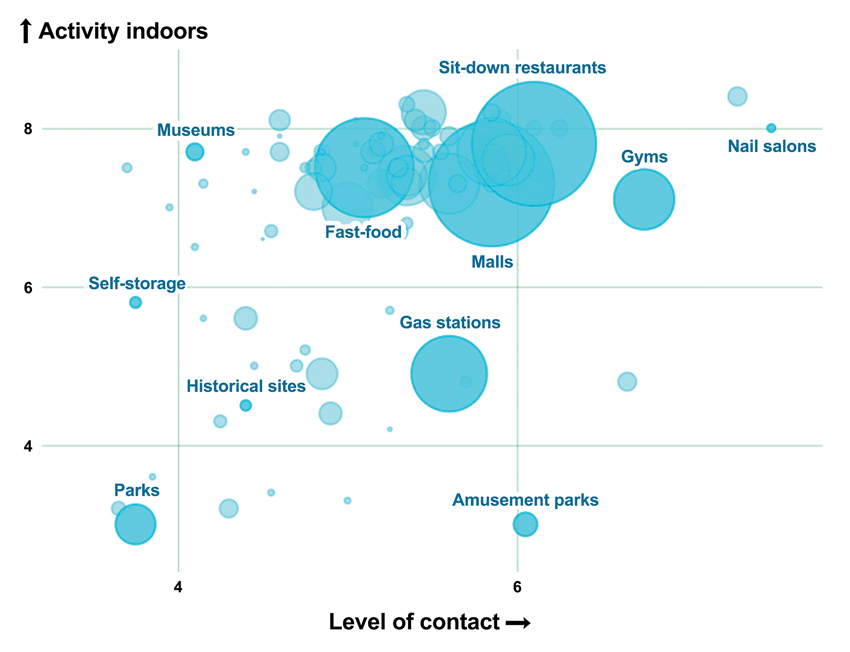 Source: "Is It Safer to Visit a Coffee Shop or a Gym?" New York Times, May 6, 2020
Top Challenges for Public Restrooms
Possibly the biggest challenge facing public restrooms from an infection-prevention standpoint is how crowded and enclosed they tend to be. The reason we hear so much about maintaining a 6-foot distance between patrons is that respiratory viruses such as COVID-19 can be spread easily by respiratory droplets that transmit from 3 to 5 feet. Transmission can occur either from person to person or via the contamination of surfaces within a space.
Other factors that encourage the spread of viruses in this setting include poor air circulation as well as moisture. Viruses live longer on smooth, moist surfaces.
Restrooms also have numerous touchpoints, which promote the spread of disease and pose design challenges. In fact, some restrooms can have up to nine or 10 total physical touchpoints. A single user can touch an entry door handle, a toilet-compartment door pull, a toilet-compartment door latch, a toilet-tissue dispenser, a toilet flush lever, a manual soap dispenser, a manual faucet, a paper-towel dispenser, and an exit door handle all in one trip to the restroom.
Another challenge is the placement of hygiene amenities. Poor placement of amenities like soap and paper towels can lead to water trails in the restroom, which encourage the growth of bacteria.
Entry and exit points are also a design challenge, as they can create very tight quarters and challenging touchpoints, which makes social distancing difficult and contact with contaminated surfaces an issue.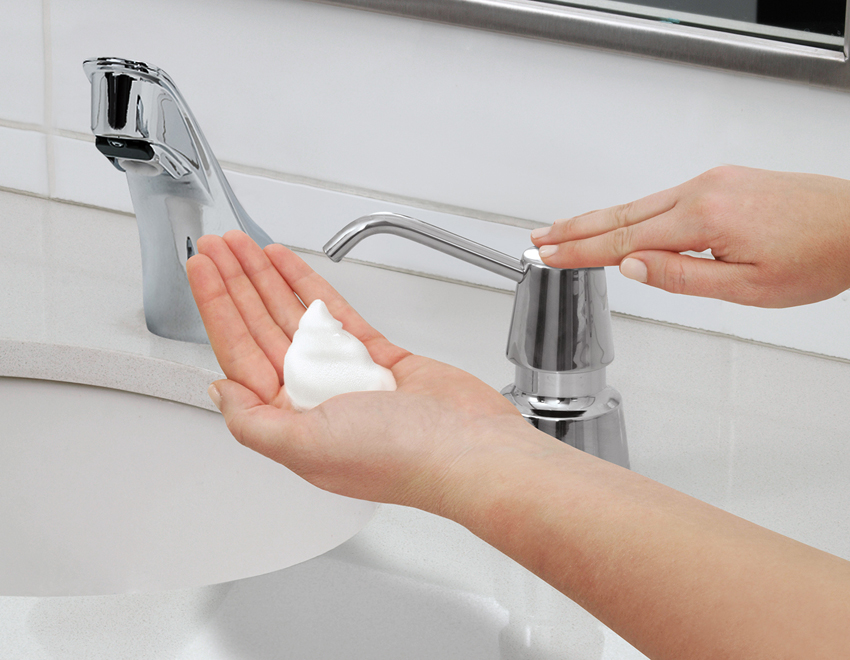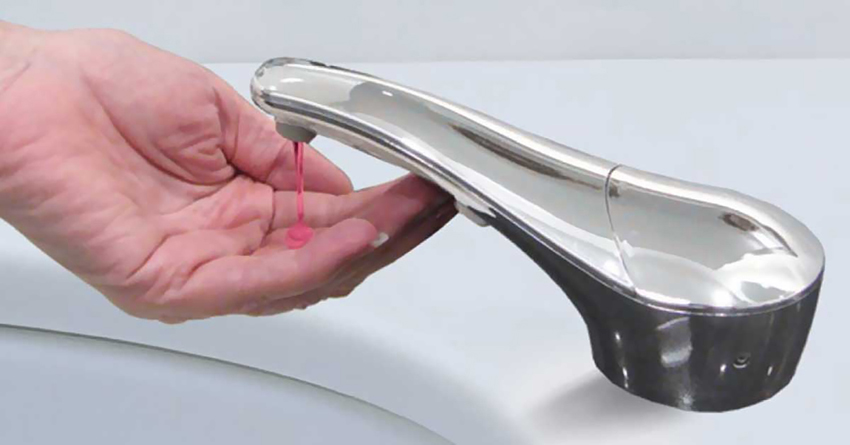 Photos courtesy of Bobrick Washroom Equipment, Inc.
Patrons and building owners prefer automatic soap dispensers over manual for reduction of
physical touchpoints and peace of mind.
Centers for Disease Control and Prevention (CDC) Guidance
The CDC guidance on returning to the workplace environment, which can lead to many design and operational challenges, advises that one of the most effective ways to stop the spread of infections is with frequent, proper hand hygiene—specifically handwashing and drying. Restrooms must be safe spaces where people can clean their hands and feel good about the process.
The CDC also suggests that when returning to the workspace, the traffic flow and occupancy of both workspaces and restrooms needs to be considered. Overcrowding leads to easier disease transmission.
Another key point to consider is the condition and design of airflow to restrooms. Are there adequate air exchanges and outside ventilation?
Another design consideration for the public restroom is the placement of signage and the materials used for the signage or indicators.
Finally, the cleaning and disinfection of public restrooms is a significant factor. The CDC has a list of Environmental Protection Agency (EPA) approved disinfectants for COVID-19 and suggests increasing the frequency that the surfaces are cleaned, when possible.
From a design standpoint, it is critical to consider the types of surfaces used for moisture control, their ease of cleaning, and their ability to stand up to the repeated exposure to disinfectants and general longevity. Viruses and bacteria like to live in any small crack or space they can find. So, considering the surface and the long-term condition of the surface is critical.
Originally published in Architectural Record
Originally published in March 2021
Notice