Designing sink stations that promote well-being for a wide range of ages and abilities
Sponsored by BLANCO
Learning Objectives:
Discuss the features and standards in the kitchen that are important considerations for comfort, productivity, and efficiency.
Explain how advances in kitchen technology promote wellness, healthier eating, and improved ergonomics.
Design a modern kitchen that meets the demands of diverse user groups, including living-in-place and ADA requirements.
Strategize kitchen stations that make prepping, cooking, and cleaning a more seamless experience for all users.
Credits:
This course can be self-reported to the AIBC, as per their CE Guidelines.
This course is approved as a Structured Course
This course can be self-reported to the AANB, as per their CE Guidelines
Approved for structured learning
Approved for Core Learning
This course can be self-reported to the NLAA
Course may qualify for Learning Hours with NWTAA
Course eligible for OAA Learning Hours
This course is approved as a core course
This course can be self-reported for Learning Units to the Architectural Institute of British Columbia
This test is no longer available for credit
To describe performance in a sustainable and modern way, it needs to embrace wellness alongside aesthetics, products, and codes. The Oxford Dictionary defines wellness as "the state of being in good health, especially as an actively pursued goal." Making wellness a goal for residential design and construction means considering how to best enhance the health, comfort, productivity, and efficiency of occupants. Especially for high-use areas like the kitchen, setting wellness as a standard means rethinking materials, features, and layouts.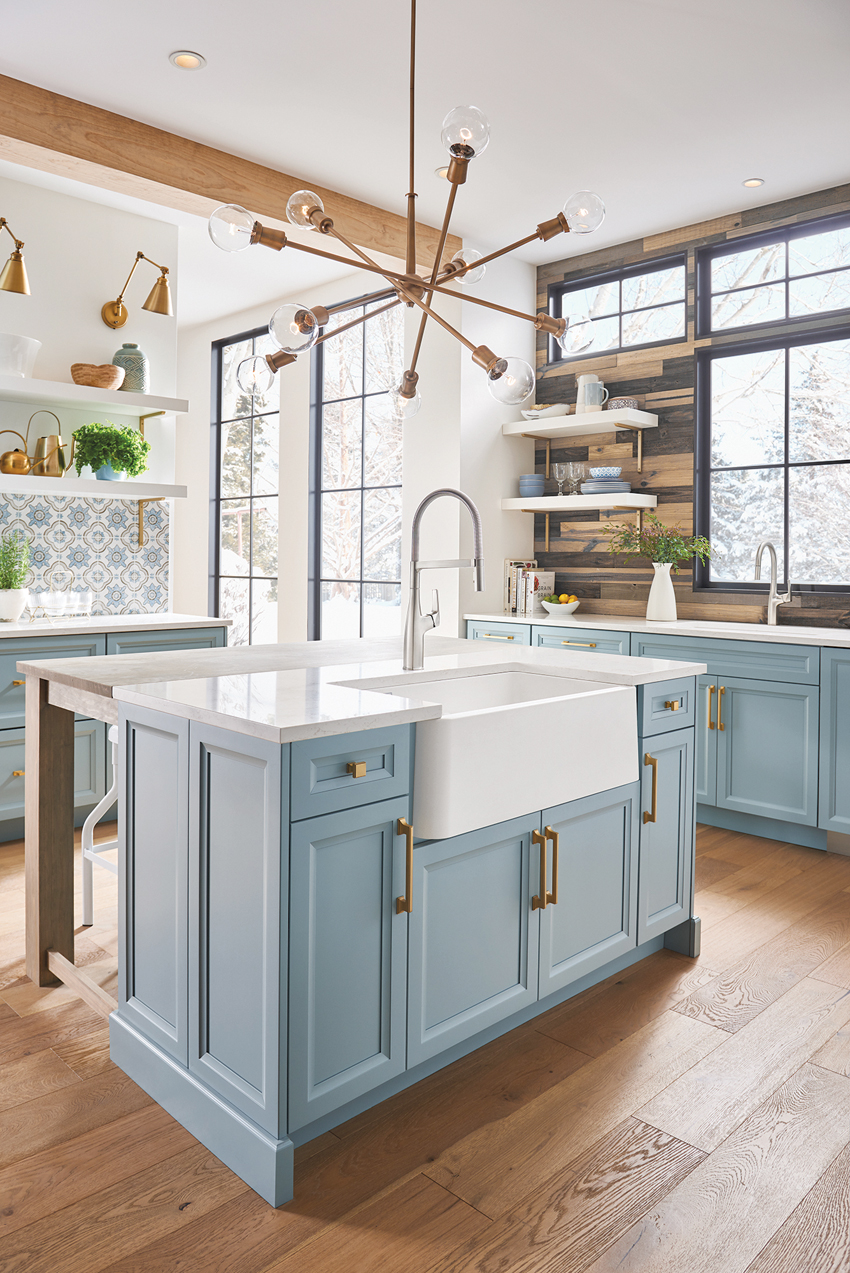 All Photos courtesy of BLANCO
The most sustainable kitchen design will accommodate wellness for all, regardless of age or ability level.
Selecting Materials for Wellness Goals
Today's kitchens face multiple demands from diverse user groups. The kitchen may be placed in a universal design, requiring open accommodation of users aged infant through elderly; it may be serving multiple duties in a tiny home; or it may simply be trying to keep up with a young and growing family.
At the center of the kitchen space is the sink. Since a significant part of all kitchen work happens at the sink, having a sink that is properly designed and easy to use becomes very important. Paying attention to the unique combination of space and user requirements helps guide the selection of the best sink size, style, and material. The selected material will have an impact on the entire kitchen's design and aesthetic, as well as how healthy and usable the sink will be. To promote wellness across all user groups, each material should be carefully considered for its cleanability, hygienic properties, durability, and ease of maintenance.
Sink Material Types
Stainless Steel
Today, the most popular material for kitchen sinks remains stainless steel. As a flexible material, stainless steel sinks are available in a wide variety of sizes, styles, and types. Stainless steel is heat, stain, and chip resistant.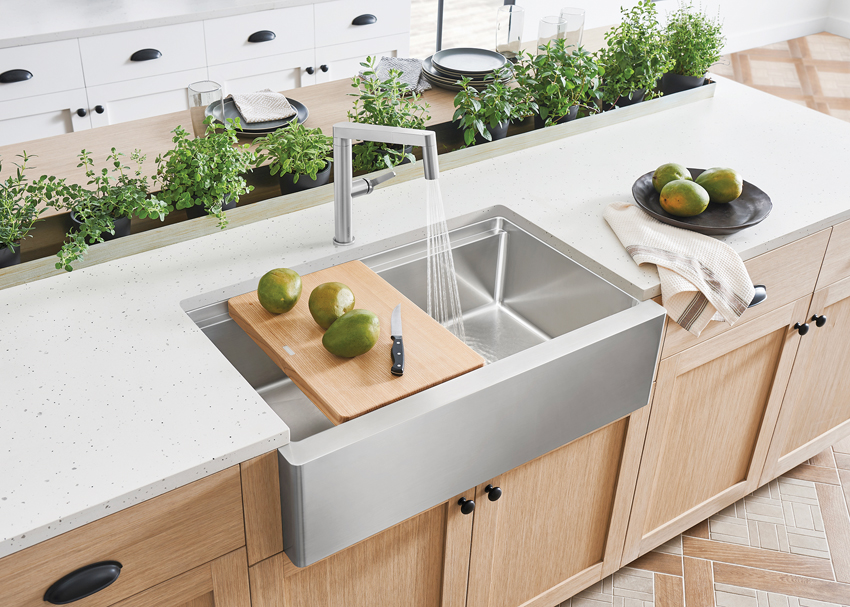 Stainless steel sinks create a nonporous, hygienic, durable product. Leading manufacturers are introducing nontraditional stainless steel sink designs, including apron-front farmhouse styles.
Stainless steel is classified in terms of gauge. A lower gauge number means slightly thicker steel was used in the sink's construction, while a higher gauge number means thinner steel was used. Most sinks fall within the 16-gauge to 24-gauge range, with the majority of residential sinks falling between 18 gauge and 22 gauge. However, it is important to note that the actual difference between gauges is small. For example, the difference in thickness between a 16-gauge and 18-gauge sink is only 1⁄16 inch.
To add extra aesthetic appeal to the stainless steel, manufacturers may offer a variety of different finishes, from satin to glossy.
A superior stainless steel sink is made of 304 series alloy stainless steel, featuring the highest-quality 18/10 chrome-nickel formulation. These two numbers are the ultimate factor in deciding stainless steel sink quality. Type 304 stainless steel contains 18–20 percent chromium and 8–10.5 percent nickel. Type 304 therefore contains more chrome and nickel and has a higher corrosion resistance than types 201, 202, 301, and 302. This formulation creates a nonporous material, providing a hygienic, rust free, and extremely durable product. Certain manufacturer finishes, such as a satin polished finish, help to create an enduring, easy-to-clean luster that is impervious to water stains and calcium deposits.
However, stainless steel sinks do have drawbacks. As a material, stainless steel easily conveys noise, so sound-deadening pads or a spray coating should be incorporated to reduce sink noise from running water and the garbage disposal. Stainless steel also can scratch more easily than other sink materials and is liable to show water spots. Low-quality stainless steel sinks with uneven finishes can quickly discolor and may allow bacteria to grow in finish flaws.
Luckily, leading manufacturers have created a unique material innovation to address these issues: specially finished stainless steel with a velvet-matte aesthetic and homogenous structure. This finish makes the stainless steel more than twice as hard in comparison to traditional stainless steel, highly resistant to scratches, and almost impervious to fingerprints. While prices are dependent upon the gauge, chrome/nickel content, series quality of material, size, and mounting type, stainless steel offers an affordable and durable material choice for the kitchen sink.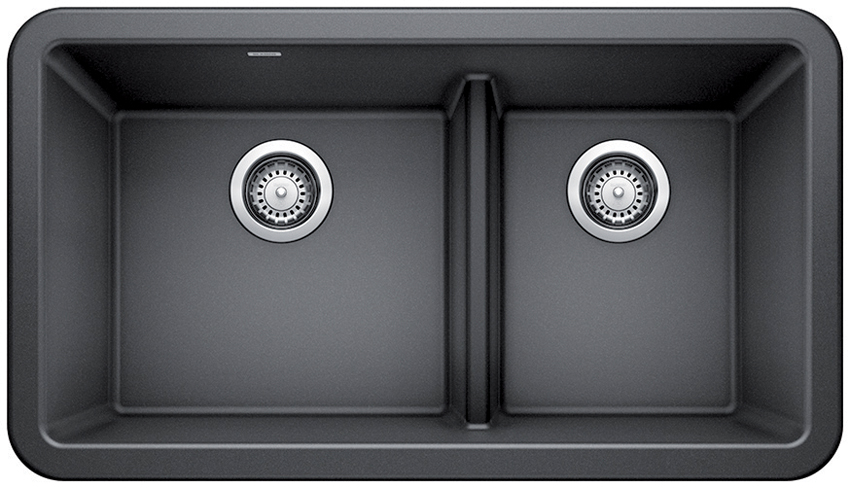 The highest-quality composite sinks offer unique material advantages, including scratch-, heat-, and stain-resistant features, along with a nonporous surface with antibacterial properties.
Composite Sinks
An emerging sink material over the past decade, composite sinks are usually made from either a granite or quartz composite. The crushed stone is mixed with a resin filler. These sinks vary in quality and composition, and quality can be discerned by how the sinks are certified. While quartz and plastic composite sinks tend to have stone content below 70 percent and are regulated under "plastic plumbing fixtures," the leading granite composite sinks feature an average ratio of up to 80 percent stone to 20 percent resin. This combination produces a material that shares the aesthetic qualities of real granite or quartz, without the maintenance and durability issues associated with solid stone sinks. True granite composite sinks featuring an 80 percent stone ratio are certified under "terrazzo, concrete, composite stone, and natural stone plumbing fixtures." It also allows for a range of color options, depending on the manufacturer. The variable color palette allows it to pair well with a variety of natural stone and granite countertops.
Granite composite sinks are tough and highly resistant to stains and scratching, but, as a general rule, true granite composites have a higher durability than quartz composites due to the actual material formula. The leading granite composite sinks also boasts heat resistance up to 536 degrees Fahrenheit, exceptional cleanability with hydrophobic finishes, and resistance to household acids and alkali solutions. Harsh chemicals are not required for cleaning; a clean, soft cloth is appropriate for everyday use, while baking soda works well on tough stains. Entry-level composite sinks have a price point comparable to cast iron and can increase from there, depending on material and color.
There often is confusion about 100 percent natural stone versus man-made materials like granite composite. For example, stone, while natural, is a porous material, so it can be less hygienic and require more maintenance and harsher cleaners. Durability is also a factor with natural versus man-made materials. The best composite sinks are not a coating, but rather the material is consistent throughout the sink.
The highest-quality composite sinks are very easy to clean, scratch proof, and stain resistant, and leading manufacturers have developed nonporous surfaces with antibacterial properties. All of this means a sink that lasts and performs, all while being easy to maintain.
Cast Iron
One of the oldest materials used for sinks, cast iron remains a popular design choice. To manufacture the sink, a glossy porcelain enamel finish is fused over a cast iron base. Because the outer finish is an enamel, cast iron sinks come in a range of colors that offer good resistance to fading. The durable, glossy enamel also resists stains and scratching.
Cast iron sinks do have several drawbacks; principle among these are their weight. Cast iron sinks can easily weight in at more than 100 pounds, up to three times more than a stainless steel sink, meaning difficulty in installation and sometimes the need for additional supports. The weight of cast iron also impacts cabinet choices; selected cabinets must be structurally sound to provide adequate support for the sink over time. Additionally, if the sink's enamel coating does chip, the cast iron beneath is highly susceptible to rust, necessitating repair.
Cast iron also is more expensive than stainless steel, with designer color selections carrying a premium price tag.
Fireclay
Fireclay sinks are manufactured by molding ceramic clay into the desired shape, allowing the clay to dry, and then applying porcelain enamel at extremely high temperatures. This process effectively fuses enamel to the clay, helping to enhance the sink's strength. Because the clay base determines the shape, fireclay sinks are available in a wide variety of sizes and shapes and can suit any installation method. Fireclay sinks are highly resistant to scratches, staining, and chipping, and they are easy to clean. Fireclay sinks are most commonly associated with farmhouse or apron-style sinks. Both the shape and material bring a rustic countryside aesthetic to any classic or contemporary kitchen design.
However, fireclay can be more prone to chipping than other sink materials, requiring proper installation and care to minimize this risk. The enamel coating can also chip under impact from dropped pots and pans.
Fireclay kitchen sinks do command a price premium and tend to be one of the more expensive material options.
Originally published in May 2020
Notice