Designing for building code compliance, maximum aesthetic effect, and sustainability
Sponsored by Atlantis Rail Systems
Vertical Posts
The posts in a guardrail system receive and support the wire cables and are the ultimate receivers of most loads imposed on the guard system. To that point, it is appropriate to consider the load limitations of any posts selected. There is little wisdom in specifying a very heavy-duty cable (say 1⁄4 inch thick) capable of carrying up to 7,100 pounds each if the posts in the system can only carry a fraction of that load. Coordination of the cable and post loading is thus worth addressing. Note that this loading is typically transferred to end posts or corner posts. Mid-span posts are simpler and generally simply support the tensioned cable, allowing it to pass through the post. To limit cable deflection, however, the mid-span posts should be spaced no more than 4 feet apart, unless a cable stabilizer is used, allowing spans up to 7 feet.
When deciding on post design, the first choice is which material to use, typically wood, composites, stainless steel, or aluminum, to match or complement the rest of the building design. Each material carries its own characteristics and considerations based on the size of the post. For example, a 4 x 4 wood post can be the least costly and most flexible design choice, but if an 8 x 8 wood post is selected, the cost escalates, and it can become difficult to work with. Wood also carries the highest maintenance compared to stainless steel or aluminum, often making the metals a more attractive choice in many cases. However, aluminum is not as strong as stainless steel and often requires some manufactured reinforcement, not to mention separation from stainless steel cables to prevent galvanic corrosion.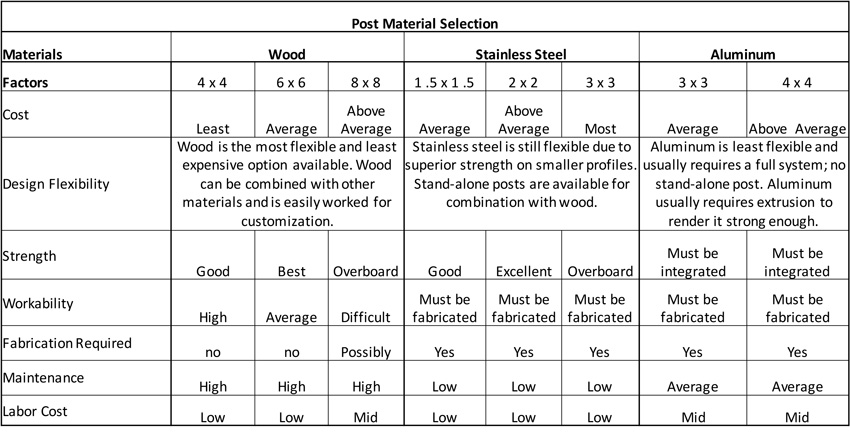 Some of the factors that influence the selection of post materials are summarized above.
Top Rails
Top rails are a very significant part of a cable railing system since they provide some compression support between the posts and contribute to the overall functioning of the system. Typically, these railings must withstand 50 pounds distributed load and a 200-pound load in any direction. When using a completely fabricated system, manufacturers' recommendations and specifications should be followed to be sure that the top rail works in concert with the rest of the railing system. This is particularly true if a wood or composite top rail is used since it may require reinforcement of some type. Care must also be taken that the railing installation and fastening is adequate to withstand the pressure applied by the cable tensioning without buckling or deflection of the top rail.
Green Building Characteristics of Cable Railing Systems
All building products are routinely reviewed by architects and others for sustainability traits and, quite often, how they can help contribute to certification under the LEED green building program or others. Cable railing systems can be used to help contribute to earning LEED credits for LEED for New Construction, LEED for Homes, or other versions of this popular program. They have also contributed to other green building standards including the National Green Building Standard (ICC-700) and Earth Craft. Hence it is worth recognizing the following green building attributes of cable railing systems.
Materials and Resources (MR)
A prerequisite for any LEED building is to reduce the impact of construction materials. Along this line, the average stainless steel building component contains 60 percent recycled content, at least 25 percent of which is post consumer, post industrial. Looking more broadly, LEED recognizes efforts to address the environmental impacts of materials over their full life cycle. Toward that end, a life-cycle assessment (LCA) protocol is used to support certification points for this Materials and Resources (MR) credit. Typically, stainless steel has a very long life cycle, outlasting galvanized steel by a factor of 10. It is also 100 percent recyclable when it has completed its service life and provides no environmental toxicity in the process. By using this information, the environmental impacts can be determined of stainless steel and the railing systems made from them.
Indoor Environmental Quality (EQ)
Healthy indoor environments are paramount among many green building rating systems including LEED, the WELL Building Standard, and The Living Building Challenge. In particular, the use of building materials inside of buildings that do not contain or emit substances that are harmful to human health has been a major motivation behind the creation of these standards and criteria. Their refinement and sophistication have helped define a high-quality, healthy indoor environment. In that light, stainless steel railing systems are very favorable since they require no site-applied finishing over their lifetime, thus helping to avoid the introduction of volatile organic compounds (VOCs) or other harmful substances.
Specifying Cable Railing Systems
When specifying cable railing systems, we have seen that there are clearly a range of choices and options from which to choose. Coordination with manufacturers during the design phases of a project will help gain insight for project specific details, cost drivers, installation nuances, and the latest options. In a standard CSI or MasterFormat, the usual location to include this specification is in Section 05 73 00: Ornamental Railings. Some of the relevant items to address in a standard three-part specification format are highlighted as follows.
Part 1: General
The scope of specification work can include all preparation work, structural system review, product choices, and final installation. In terms of specifying performance, the appropriate ASTM and other testing standards should be referenced, including:
ASTM A554: Standard Specification for Welded Stainless Steel Mechanical Tubing;
ASTM A492: Standard Specification for Stainless Steel Rope Wire;
ASTM E985: Standard Specification for Permanent Metal Railing Systems and Rails for Buildings; and
ASTM E935: Standard Test Methods for Performance of Permanent Metal Railing Systems and Rails for Buildings.
Submittals should demonstrate compliance with code requirements, including submission of certified third-party test reports for verification of all code, engineering, and performance criteria of the system. For custom systems shop drawings prepared by a qualified manufacturer should be submitted indicating verification of the proper material choices and attachment systems. For standard systems, a qualified manufacturer should provide sample design drawings, third-party test reports and installation instructions. Where the appearance or assembly are a particular concern, samples and/or mockups should be provided either by the manufacturer (low cost or free) or the contractor (cost).
Quality assurance is an important part of any field-installed system, and the same is true here. Manufacturer qualifications should include references, certifications such as ISO 9001-2015: Quality Management Systems (QMS), and the ability to provide assistance with design and code compliance for their products. This may include the availability of an experienced engineer to assist as needed. Installers should have qualifications acceptable to the manufacturer, although it is reasonable to request a list of completed projects in the previous two years and recommendations for a distributor or local source.
Part 2: Products
All of the different cable railing products used in the building should be called out and specified. If multiple products are used, they should be identified by type in the specifications and the locations of each type needs to be clearly called out in either the drawings or specifications. The details of the specified products can include the following.
Specify 1 x 19 austenitic 316L stainless steel construction cable in a minimum diameter of 1⁄8 inch, with 5⁄32 inch recommended for full-strength capabilities.
Specify all 316L (low-carbon) stainless steel if the railing is near the ocean.
Specify the type of fastening and the nature of the fastening components needed.
If posts and railings are part of the system, the particular size, profile, and type need to be called out.
For coastal areas, specify electro-polished railing and components.
Always require compliance with ASTM materials standards wherever possible
Use caution in combining aluminum or steel with stainless steel cable and fittings.
When specifying a wood-frame system, select appropriate wood materials suited to the environmental needs of the project.
In addition, all fasteners, trim, and/or accessories need to be identified in the specifications as part of a complete, coordinated system.
Part 3: Execution
As with any site installed product, the installation requires multiple steps that need to be clearly articulated in the specification to achieve the best results, as detailed below.
Examination and preparation: The importance of this step should always be stressed. In addition to the architect, the installer should review and examine the area to receive the railing to ensure it is complete, structurally sound, and able to support the imposed railing loads.
Installation: The cable railing system should be installed according to the layout shown on the drawings and the specific installation instructions presented by the manufacturer. If there is any doubt, the default spacing is 3 inches maximum for cable spacing and 4 feet maximum for post spacing.
Cleaning: Upon completion, the cable and hardware should be cleaned to remove any miscellaneous oil, dirt, impurities, etc.
When specified and installed correctly, the cable railing system should provide the desired look and long-term performance characteristics that are sought.
Originally published in Architectural Record
Originally published in February 2020
Notice